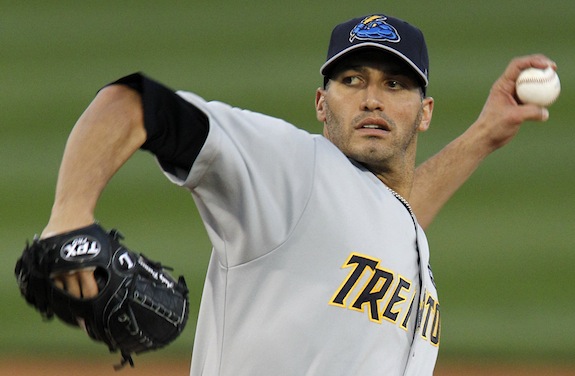 David Laurila interviewed Dellin Betances at Baseball Prospectus, so check it out if you have a subscription. He talked a lot about where he came from, how he got into baseball, lots of stuff like that. It's not your generic "what kind of pitches do you throw" interview.
Double-A Trenton (3-2 win over Altoona in 10 innings) Trenton leads the best-of-five championship series one game to none … Betances gets the ball in Game Two tomorrow
Austin Krum, CF & Justin Snyder, 3B: both 2 for 5 – Krum doubled, drove in a run, scored another & K'ed … Snyder K'ed three times
Dan Brewer, RF: 1 for 3, 1 RBI, 1 BB, 2 K – also made a nice running grab to end the ninth
Austin Romine, C: 2 for 5, 1 RBI, 2 K, 1 PB – drove in the go-ahead run with a single in the tenth
Marcos Vechionacci, 1B & Damon Sublett, LF: both 0 for 4 – Vech walked & K'ed three times … Sublett K'ed just once, but committed a pair of fielding errors
Rene Rivera, DH: 1 for 4, 1 K – what, no homer?
Luis Nunez, SS: 1 for 4, 1 R, 1 2B
Matt Cusick, 2B: 1 for 3, 1 R, 1 BB, 1 K
Andy Pettitte: 5 IP, 6 H, 2 R, 2 ER, 1 BB, 4 K, 2 WP, 7-2 GB/FB – 49 of 67 pitches were strikes (73.1%) … he threw another 15 pitches in the bullpen after coming out … he gave up a homer to the first batter he faced on a 1-0 curveball, but pitched out of a bases loaded, no out jam in his final inning of work … I would say there's no reason not to expect him to be on the mound Sunday in Baltimore
Andrew Brackman: 5 IP, 1 H, 0 R, 0 ER, 1 BB, 4 K, 2 HB, 6-5 GB/FB – the walk was intentional … that's a huge performance right there, great stuff
High-A Tampa beat Charlotte on Monday to win the Florida State League Championship, their second consecutive league title.
Low-A Charleston, Short Season Staten Island, and the Rookie GCL Yanks are done. None of the three qualified for the postseason. Triple-A Scranton's season ended when they lost to Columbus in the first round of the International League playoffs.