Last week during his press conference Mark Teixeira said something that caught my attention. He said that as a switch hitter, it takes him longer to get going because he basically has two swings to find during Spring Training, and has to put twice as much work in. It makes perfect sense, but I had never really thought about it like that.
Anyway, that got to me wondering how other players on the team have hit in April compared to the rest of the season during their careers. So, without further adieu…
Jorge Posada, C
April: .280-.371-.502
Rest of Season: .276-.381-.472
Mark Teixeira, 1B
April: .256-.346-.442
Rest of Season: .295-.383-.558
Robinson Cano, 2B
April: .237-.282-.328 (not so funny now, huh Robbie?)
Rest of Season: .311-.341-.488
Derek Jeter, SS
April: .306-.386-.441
Rest of Season: .318-.383-.461
Alex Rodriguez, 3B
April: .311-.391-.611
Rest of Season: .305-.388-.572
Johnny Damon, OF
April: .273-.344-.410
Rest of Season: .291-.354-.439
Xavier Nady, OF
April: .285-.341-.493
Rest of Season: .279-.332-.450
Nick Swisher, OF
April: .253-.370-.481
Rest of Season: .242-.351-.446
Hideki Matsui, DH
April: .268-.363-.416
Rest of Season: .300-.372-.491
I went with Swisher over Brett Gardner/Melky Cabrera in the third outfield spot just because he has a much bigger data sample, that's all. Feel free to draw your own conclusions from this, there's not really much of a point to it. Just FYI, I suppose.
Oh, and use this as your open thread for tonight. The Steelers are leading the Bolts, and all local teams are off except the Devils, who are out on the west coast. The season premiere of 24 starts at 8pm, don't miss it. Talk about whatever, just be nice to each other.
By

Newsday beat writer Kat O'Brien is headed out on vacation, getting in some R&R before the start of Spring Training. The crew at Newsday invited us to take over her blog for the next two weeks, and we're honored to do so again. Today I took at how Nick Swisher and Xavier Nady matchup, concluding that if the Yanks do decide to deal one of their extra outfielders, Nady should be one packing his bags. Check it out. · (46) ·
By

Some time tomorrow, Rickey Henderson's phone will ring, and he will be welcomed into the Hall of Fame. In the meantime, Jack Curry takes a few minutes to honor the personality behind the man. Rickey may have been the most prolific run-scorer and base-stealer in Major League history, but he's also one of the game's most entertaining characters.

A quote by Don Mattingly just about sums up Rickey's love of the game as well. Henderson, out of the Majors since 2003, played in the independent leagues for a few years, waiting for a team to call. "As great as this guy was, he's playing independent ball?" Mattingly said to Curry. "But then it told me how much he loved to play the game. He was going to play until they tore the uniform off. You know what I say to that? Go for it." Indeed. · (4) ·
Donovan McNabb, Jake Brian Westbrook and the rest of the Iggles storm into the frigid Meadowlands today, looking to get back to the NFC Title Game for the first time in five years. The G-Men were there just last year obviously, but they've lost three of their last four games. The bye week should have helped, as it gave Brandon Jacobs' knee and Justin Tuck's leg (amongst other walking wounded) a chance to rest up and get healthy. The two teams split their regular season matchup. This should be a good one.
In other local football news, the Jets will interview Ravens' defensive coordinator Rex Ryan for their head coaching position today. I approve.
Chat away about the game here. Enjoy.
By

This one comes from old friend Tom Haudricourt, who's still trying to find a way to squeeze another Brewer on his MVP ballot. Apparently the Yanks have "floated the idea" of making another run at centerfielder Mike Cameron after signing Mark Teixeira, this time using Nick Swisher as bait. I don't know if this means they floated the idea internally or to the Brewers. I'd be all about the reported Melky + Igawa for Cameron deal, but not a straight up Swish for Cam deal. (h/t MLBTR) · (36) ·
By

While Bobby Abreu may have to drop his asking price for his Manhattan apartment, A-Rod is facing the same problem in Miami. According to the Wall Street Journal, A-Rod is looking to sell the 8,300-square-foot house on Biscayne Bay in Miami in which he and his ex-wife used to live. The house — which you can view here — was first listed at $14.8 million, but A-Rod has lowered his asking price to $12.3 million. RAB fundraiser, anyone? · (8) ·
As the Yankees have gone on something of a spending spree this winter, netting the team three of the top free agents around, small-market clubs bemoan the spending. The Brewers were unamused with the Yankees. The Marlins' David Samson voiced his concerns, and the Astros have grumbled about the spending as well.
So with all of these complaints come the inevitable discussion about a salary cap. If the luxury tax, designed to penalize the Yankees, isn't reining in the spending, should baseball adopt a spending cap? While the Players Union would never agree to a cap, a few good baseball minds feel that the smaller market teams wouldn't be so keen to take on a cap either. The problem arises not on the upper bounds of the cap but on the lower.
Shawn Hoffman, writing at Baseball Prospectus, elaborates on this argument:
Using 2008 as an example, the thirty teams took in about $6 billion (not including MLB Advanced Media revenue), for an average of $200 million per team. Forty-five percent of that (the players' share) is $90 million, which we'll use as the midpoint between our floor and cap. If we want to make the floor 75 percent of the cap (a low-end figure, relative to the other leagues), we can use $77 million and $103 million, respectively.

With a $103 million cap, nine teams would have been affected last year, and a total of about $286 million would have had to be skimmed off the top. Since total salaries have to remain at existing levels, the bottom twenty-one teams would have had to take on this burden, which had previously been placed on the Yankees, Red Sox, et al. On the other end, fourteen teams would have been under the payroll floor, by a total of $251 million. Even discounting the Marlins' $22 million payroll, the other thirteen teams would have had to spend an average of $15 million more just to meet the minimum. Some of those teams might be able to afford it; most wouldn't.

Imagine being Frank Coonelly in this situation. Coonelly, the Pirates' team president, has publicly supported a cap. Had our fictional cap/floor arrangement been instituted last year, the Pirates would have needed to increase their Opening Day payroll by $28 million. Not only would the team have taken a big loss, but Neal Huntington's long-term strategy would have been sabotaged, since the team would have had to sign a number of veterans just to meet the minimum payroll.
It's clear to imagine a situation in which teams would not be able to support a minimum payroll. Just look at the economic turmoil that has descended upon our nation and its impact on the sport.
Hoffman notes that the best system is one that redistributes revenue and creates opportunities for more teams to make the playoffs. In fact, his proposed best system is the one baseball currently employs, and he's right. The current playoff system works.
In any situation, some teams will always emerge at the top of the spending pile. New York City is bigger and wealthier than any other city in the country, and the Mets and Yanks will have a natural advantage that they should embrace. But baseball has developed ways to spread the money around, and smart GMs can put together very competitive teams with limited resources.
In the end, a cap discussion is mostly just sour beans. Other teams are envious, and they're not as good at putting a roster together under the Moneyball approach. Meanwhile, a salary cap makes for some nice January discussion, but it will never happen.
By

Add the Jim Bowden to the list of GMs calling Brian Cashman. According to MLB.com's Bill Ladson, the Yankees and Nationals are "currently in trade discussions" involving Xavier Nady and Nick Swisher. It's unclear what the Nationals would offer the Yankees, and I still don't think the Yanks should be in such a hurry to trade either of these two players. However, this is one rumor that might carry some weight. The Nationals need some pop, and the Yanks could be trying to clear payroll for one final pitching signing of the Hot Stove League. (Hat tip to MLBTR.) · (139) ·
By

I'm going to be on longtime RAB reader Joey H.'s radio show tonight, and if you want to listen in you can do so here. So head on over to check it out, send in a question, call in, or just listen.

Update (8:50pm): You can go here to listen to the replay the broadcast if you missed it. · (3) ·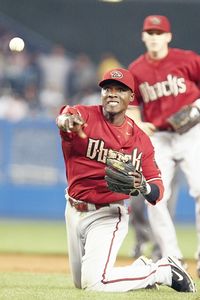 This morning Buster Olney posted "baseball's 31st team," a 24-man (?) squad containing nothing but players still available on the free agent market. Pete Abraham followed his lead with his own need-a-job All-Star team, and now I figured I'd throw my two cents in as well. Here she goes:
C: Gregg Zaun – the best of a bad lot, Zaun's the only legit starting catcher option that posted an OBP north of .321 last year (he was at .340)
1B: Doug Mientkiewicz – I'll take Minky's avg offense and Gold Glove defense over Kevin Millar's & Sean Casey's mediocre bat/no glove offerings
2B: Orlando Hudson – no brainer, my specialty
SS: Orlando Cabrera – another avg bat/GG defense guy, he's easily the best of a terrifying SS crop
3B: Joe Crede – not going to offer much OBP, but he might run into 25 homers … another stud glove guy
LF: Adam Dunn – it's okay Adam, I love your perennial .900+ OPS
CF: Jacque Jones – might have a little offensive rebound in him, but more importantly I need a guy with a ton of range between these two corner OFers
RF: Bobby Abreu – what, were you expecting Brad Wilkerson?
DH: Manny Ramirez – no explanation needed
Rotation: Derek Lowe, Andy Pettitte, Ben Sheets, Braden Looper, John Garland – with above average defense all-around the infield, give me the ground ball guys … and Ben Sheets

Bullpen: Juan Cruz, Aquilino Lopez, Brandon Lyon, Will Ohman, Brian Shouse, Russ Springer, Matt Wise – it's a collection of above avg K guys who throw strikes for the most part
Bench: Pudge Rodriguez (C), Gape Kapler (OF), Damien Easley (IF/OF), Ty Wigginton (IF) – outside of Pudge, everyone on the bench can play multiple positions adequately and hit the ball out of the park … only problem is no lefty hitter
So what do you think? The lineup has a couple big boppers and for the most part they catch the ball, and the starting rotation will give me a ton of innings, enough that Sheets can be handled with care. The bullpen's a crapshoot like always, and some guys on the bench could start for some teams. It's weird, you can see that team winning anywhere from like, 70 games to 90 games.
Here's your open thread for the evening. The Titans are deadlocked at seven with the Ravens at home right now, and the Panthers kick off against the Cards at home at 8:15. The Rangers and Devils are in action (Devs are out on the west coast, so late start), as are the Knicks. Talk abotu whatever, just be nice.