By

When the rosters for the World Baseball Classic teams were unveiled last night, an unlikely name appeared on the list for the Puerto Rican team: Bernie Williams. The former Yankee great will be will be 40 years old and 888 days removed from his last Major League appearance when the PR team squares off against Panama on March 7, but Williams will play because the other four outfielders include Carlos Beltran, Alex Rios, Hiram Bocachica (!) and, in the words of Mike, "some guy named Jesus Feliciano." As I said to RAB's Twitter followers, I don't know if Bernie's making the team is a good sign for my one-time favorite Yankee or a bad sign for the Puerto Ricans' tourney hopes.

As a postscript, Christopher Reina at Real GM Baseball pondered the question of Bernie's Hall of Fame eligibility and the WBC a few weeks ago. His conclusion: Bernie's playing in the tournament won't restart his HoF clock. · (70) ·
As long-time RAB readers know, I have been a particularly vocal critic of the new Yankee Stadium. In fact, until Friday, our mantra was "Because we won't tear down Yankee Stadium." While with its faults, old Yankee Stadium and the four million fans it drew each year for the last three years could have been modernized with an overhaul instead of total destruction.
That said, as Opening Day at the new stadium draws nears, I take no pleasure from being able to say "I told you so" to numerous fans and bloggers who assumed the transition to the new digs would be seamless. In fact, the Yanks have come off looking pretty bad as problems with season ticket relocation plans have mounted.
Here at RAB, we touched upon the issue of relocation back on Feb. 2. Since then, the firestorm has grown louder, and things came to an Internet-inspired head yesterday when Jay Jaffe unleashed his tirade against the Yankees. After 11 years of blissful life in the Tier Boxes, Jaffe was relocated to — wait for it — partial view seats behind the foul pole in fair territory in the right field grandstand at a price three times more than he expected. He was angry, angry that the team is jacking up price, angry that they are reducing capacity by over 4600 seats:
Still, even if one could block that all out and simply focus on the relationship between one customer's wallet and his ability to put his butt in a seat at this new park, the bottom line is that this is an outrage, a disgrace, a catastrophe on the level of Joe Torre summoning Jeff Weaver from the bullpen in Game Four, a Bambino-rolling-in-his-grave nightmare over the successor to the House that Ruth Built. A chorus four million fans strong should be shouting four- and twelve-letter words at Yankee president Randy Levine and every incompetent front-office numbskull who played a role in this fiasco. A pox on the House that George Built.

The Yankees deserve every pixel of bad publicity they receive over this, every blankety-blank karmic quantum of bad yankety-blank karma. My friends and I are hardly the only customers wronged in such a fashion; an informal discussion with a few other longtime Yankees ticket holders who write for various sites (including this one) reveals similarly shoddy treatment. Indeed, all of us who have something at stake short of a full-season ticket package are being screwed because the Yankees have bungled this so badly that they can't possibly fulfill the demand. So naturally, their impulse is to trample the loyal customers who helped carry them past the three million and four million attendance milestones over the past decade. This is a story worth illuminating, not only to fellow Yankee fans who may commiserate about finding themselves up the same fetid creek, but to baseball fans everywhere.
Jaffe of course isn't alone. As The Hartford Courant and Newsday explore today, many Yankee fans are feeling slighted by this move, and it's making even the hardened among us wonder if we should root for this so-called "Stadium Experience" to fail.
The Yankees are mounting their own PR fight over this ticket debacle, but as Ross at New Stadium Insider notes, team COO Lonn Trost is starting off on the wrong foot. Mike Francesca, Ross reports, hopes to have Trost on later, and while Ross presents a bunch of top-notch questions Trost should field, the Yanks' official took a defiant tone with Newsday's Neil Bast:
Is there any chance you will drop prices on your most expensive seats? "No, our prices are our prices."

Is it true there are seats in the bleachers from which you can't see parts of the field? "Yes, but we will have TVs in the walls there."

That's not the same thing as seeing it live, is it? "We had a choice of selling it to somebody or not. If you come to the stadium you'll see there are TVs in the walls. [Some views are obstructed] a little bit, but for $12 it's a choice of taking it or not."
Many of the top price tickets remain unsold; hundreds more fans are upset; and part of me wants to ask, "Who really wanted or needed this fancy new luxury stadium experience thing in the Bronx anyway?" In a few years' time, we'll forget about these troubles, but the Yankees should relearn the old maxim that the customer is always right.
By

Heh, so that's a headline I never thought I'd have to type. Apparently some guy posing as former Yank and all-around good guy Andy Phillips managed to lure the adult film actress known as Delia to a motel in NYC just before New Years, where they presumably performed unspeakable acts. But wait, it gets better. The Andy Phillips imposter also posed as Carl Pavano, Greg Dobbs, and agent Jordan Kapler, and it wasn't until after their motel romp that Mrs. Delia thought something weird was going on. She filed a police report against the real Andy Phillips, and now MLB's Department of Investigations is trying to sort this whole thing out after Phillips' agent brought it to their attention. I'm giving Andy the benefit of doubt because all we've ever heard about the guy is that he's a class act and a tremendous human being, but this is just weird. And hilarious. · (23) ·
By

This offseason was like many others for the Yanks, who brought in a pair of veteran starting pitchers like so many times before. The Baseball Crank took a look at all of the veteran pitchers the Yanks have picked up each offseason dating all the way back to 1975, and concludes basically what you'd expect: sometimes they've struck gold, and other times they haven't (to put it nicely). The highlight for me was being reminded of just how great Jimmy Key was for the Bombers, even though he never seems to get any credit. Make sure you check it out, lots of interesting stuff in there. (h/t Pinto) · (44) ·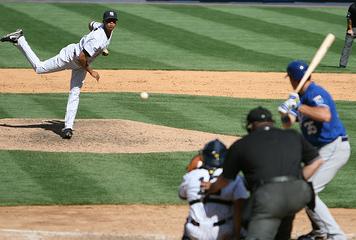 After cutting his Sunday bullpen session short because of a sore shoulder, an MRI has revealed that Edwar Ramirez will be out of action for about three days with bursitis. I'm skeptical that it's not something more serious, especially since Edwar complained of similar pain at the end of last season. Mark Feinsand reminds us that Steve Karsay and Ten Run Sturtze were both diagnosed with bursitis before undergoing major surgery. However, as Ben noted, this gives someone else a chance to win a job.
In other news, here's who's going to making the trip to Dunedin tomorrow for the team's first exhibition game, courtesy of Roderick Boone:
Infielders: Alex Rodriguez, Derek Jeter, Robinson Cano, Justin Leone, Eduardo Nunez, Ramiro Pena, Cody Ransom, Kevin Russo.
Pitchers: Brett Tomko, Jose Veras, David Robertson, Steven Jackson, Kei Igawa, Dan Giese, Christian Garcia, Michael Dunn, Anthony Claggett.
Outfielders: Colin Curtis, Shelley Duncan, Brett Gardner, Austin Jackson, Todd Linden, John Rodriguez, Nick Swisher.
Catchers: Kevin Cash, Jesus Montero, P.J. Pilittere, Austin Romine.
And because I'm a nice guy, here's a schedule of televised games over the next few days:
Wednesday: Giants @ Indians (3pm, MLB Network); Red Sox @ Twins (8pm, MLB Network)
Thursday: Rays @ Yanks (1pm, YES); Marlins @ Mets (1pm, SNY); D-Backs @ Indians (4pm, MLB Network)
Friday: Cards @ Mets (1pm, SNY/MLB Network); Indians @ Padres (5pm, MLB Network)
Saturday: Twins @ Yanks (1pm, YES); Rays @ Phils (1pm, MLB Network); Twins @ Yanks (5pm, MLB Network, guessing it's a repeat)
Hooray for baseball. Oh, and open thread … blah blah blah … be nice … yadda yadda yadda.
Photo Credit: Flickr user shamimsm
It pains me to link to this, but I have to if I want to make the most obvious point in the universe. So go here, to Dugout Central, which in general isn't light on the flimsy analysis. For those who don't want to waste their time, I'll sum up Michael Walsh's premise: Derek Jeter isn't a bad defender because he doesn't make a lot of errors. Not only that, but his errors, in general, are okay because they don't cost his team the game. It's great stuff, compelling and rich. Except that it misses the point by about as far as possible.
The quote that made me laugh the hardest: "Regardless of the conclusions of any individual study, scientific or otherwise, there is no question that Derek Jeter is nothing less than a solid defender." Yes. Damn everything people have studied and observed over the years. Because Michael Walsh says that "to even infer that he may be the worst fielder in all of baseball is simply ridiculous," it must be true. Because he said it. And Michael Walsh is smarter and has an acuter sense of baseball skills than everyone else in the baseball-loving world.
One sentence can debunk Walsh's entire argument. I hand the mic to Pinto: "It's not about the errors Jeter makes, it's about all the balls that he never gets a glove on that other shortstops turn into outs." Anyone who has watched the Yankees for the past decade plus can see that Jeter is poor getting to balls hit to his left. The stats bear that out, but we don't even need them in this instance. It's so obvious that anyone who has watched even a few other shortstops knows that Jeter's range doesn't stack up. Walsh attacks Yuniesky Betancourt and his 21 errors in 2008, but when the Yanks play the Mariners, or when I watch the M's on MLB.tv (usually when Felix pitches), I'm always impressed by how quickly Betancourt gets behind the bag at second to make plays Jeter could only dream of.
Oh, and about that line that made me laugh the most: I lied. This one was by far the best knee-slapper in the article:
However, the 1997 season is a different story. That summer stands out as Jeter cost his team three contests during a season in which the Yanks missed the post season by only two games.
So this "research" and "analysis" comes from a guy who can't even go to Baseball Reference and see that the Yankees did, in fact, make the playoffs in 1997. They did lose the division to Baltimore by two games, but they won the Wild Card by 12 freaking games. So that's two counts of shoddy research by Walsh.
Look, I'm not here to say that if you think Derek Jeter plays solid defense, you're an idiot. I am saying, however, that if you choose to make this statement you're entering a shootout. Bringing a knife to the battle probably isn't the best strategy.
In a piece for The Journal News, as opposed to the blog, PeteAbe took a look into the Yanks' world of pro scouting. Instead of taking the time to sum up what these guys do, allow me to quote:
The pro scouts watch players in the major leagues down to the lowest levels of the minors. Their job is to gather information to allow Cashman to make the best-educated decisions about trades, waiver claims and other personnel moves.

When Cashman gained full control over the team's baseball operations in 2005, one of his first ideas was to better organize how the Yankees went about obtaining and organizing that information. He promoted Billy Eppler, a young team executive based in Tampa, to run the department.

"You see how much work is done on the amateur scouting side, where they have cross-checking, they have meetings, they have regional meetings. They spend so much time and effort for that one day. Why can't we do it like that on the pro side?" Cashman said.
Run by ex-scout Billy Eppler, the department has a group of twelve scouts spread all over the country, and they even handle Japan. It's a thankless job, because if Derek Jeter goes 3-for-4 with two doubles he's the one that gets the credit, but there's nary a mention of the scout who informed the team that Matt Garza tends to tip his breaking ball by fanning out his glove. I recommend you give it a read, but I also want to take this opportunity to talk about the Rays' pro scouting department.
Tampa, you see, is going to eschew human advance scouts in favor of statistical analysis and video. The whole idea is to provide the field staff with the most in-depth info possible, while drawing off a much larger sample.
"When an advance scout goes in there, he's seeing it for three, four days," [manager Joe Maddon] said. "The data we're going to accumulate goes over a longer period of time, which would indicate it's more correct and not as much one man's subjective opinion. We feel as though this may be the next level of advance scouting."
Now, it's important to note that they're not getting rid of human advance scouts entirely, they're just going to use them in a more localized way. A spreadsheet won't tell you that Jason Bay has been in a bit of a funk lately and can be gotten out with off speed junk away because he's stepping in the bucket, and so that's where the human scout comes in. He can provide updated info on the "feel" of a team as well as recent tendencies, but the stats and video can be used for everything else. And, of course, you still need human scouts to watch the minors because those stats are unreliable, especially the farther away you get from the bigs.
Frankly, I think what the Rays are doing is brilliant. They're using their resources more efficiently and taking advantage of state of the art information. It's a copycat league, so it's only a matter of time before we see more and more teams doing this. What do you guys think?
When I asked how Joe Girardi will handle the 2009 lineup, many didn't think it was such a big deal. There isn't any solid correlation between using fewer lineups and team success, and even if there were we probably couldn't prove it a causal relationship. Still, as I said in the article, I'd like to see the Yankees go with a somewhat set one through five. Thankfully, even if the No. 5 hitter is part of a platoon the team should still be in good shape. A big part of the problem last year was that there wasn't any viable No. 5 hitter, at least later in the season, when Giambi sat.
As Ken Davidoff notes, the Yankees used 130 lineups last year, but only used their Opening Day lineup once. That was definitely the "A" lineup in the early going: Damon-Jeter-Abreu-Rodriguez-Giambi-Cano-Posada-Matsui-Melky. It does feel like they did play those nine players together more than once — maybe by "only once" Davidoff meant in that order. Cano slid down the order pretty quickly. And then Jorge got hurt, A-Rod got hurt, Matsui got hurt, Melky started sucking…all that leads to the manager scrambling to find an optimal arrangement of the players available that day.
Once things started to settle down after the trade deadline, we did see some consistency from Girardi. As he says, he'd like to keep things that way:
"I prefer to have a set lineup. I think it works best. But sometimes, similar to some of the teams that I was on, you're better if there's some platoon situations, or your bench is extremely strong, or everyone's in the mix, or everyone's healthy. We just have to see how it shakes out."
I think Ridiculous Upside nailed it in the comments:
Against RHP:
1. Damon, LF
2. Jeter, SS
3. Teixeira, 1B
4. Rodriguez, 3B
5. Matsui, DH
6. Swisher, RF
7. Cano, 2B
8. Posada, C
9. Cabretta, CF
Against LHP:
1. Damon, LF
2. Jeter, SS
3. Teixeira, 1B
4. Rodriguez, 3B
5. Nady, DH
6. Swisher, RF
7. Cano, 2B
8. Posada, C
9. Cabretta, CF
With Posada batting so low you can just substitute Molina for him and it's a seamless change. True, if Posada is truly back to form and hitting like, say, 2006, perhaps he could bat higher in the order. Still, I think considering all the talent the Yankees have on roster, they've got a blessing in that they can arrange the order however they want. If Girardi wants a somewhat set lineup, though, this might be his best bet to achieve that.
By

Baseball America released their Top 100 Prospects List today, with Matt Wieters predictably at the top. David Price comes in at number two, and is followed by the usual suspects: Rasmus, Hanson, Heyward, Snider, et al. Three Yankees made the list, Austin Jackson at number 36, Jesus Montero right behind him at 38, and Andrew Brackman 92. Old pal Jose Tabata checked in at number 72 75. Chime in with your opinion in the comments, I think the Yanks' farmhands are right about where they belong. · (57) ·
Nate Silver has been the man about town lately. Famous within baseball circles for his groundbreaking statistical work with Baseball Prospecuts, Silver broke out in a big way when he, on his site FiveThirtyEight, predicted a Barack Obama win to the electoral vote. When he analyzes, people listen.
Yesterday, in a Baseball Prospectus story syndicated on ESPN.com's Insider, Silver examined the future career of Alex Rodriguez (subscription required). The outcome for Yankee fans is not a positive one.
First, Silver notes that A-Rod is not an easy man to analyze. PEDs or no PEDs, his career numbers to date have been at the top of or off the charts. As Silver notes, though, "past performance is no guarantee of future results."
Yet, A-Rod has numerous factors in his favor. He's very athletic; he is playing for $30 million in incentives; and he could end as he began his career with a bang. However, Silver notes that A-Rod also will suffer from age, an injury risk and the fact that, when push comes to shove, he might just not need that extra. His comparables through his current age include Ken Caminiti and Sammy Sosa as well.
The bad news for Yankee fans is this:
I took Rodriguez's top 20 PECOTA-comparable players and averaged their performances over each remaining season of their careers…Comparables like Frank Robinson, who aged well, have a favorable effect on Rodriguez's forecast, and players like Caminini just the opposite one.

PECOTA's best guess is that Rodriguez will finish with 730 lifetime home runs, running out of steam after another three or four seasons and leaving him just shy of the marks established by Aaron and Bonds. Of course, there is a lot of uncertainty in this estimate. If Rodriguez follows the path charted by Aaron or Frank Robinson, he could finish with well in excess of 800 home runs (and possibly as many as 900). On the other hand, if he draws Albert Belle's ping-pong ball, he might not top 600. Overall, the system puts Rodriguez's chances of surpassing Aaron at only about four in 10 and of surpassing Bonds closer to three in 10.

One needs to remember the ways Aaron and Bonds finished out their careers were far from typical. At least as common are folks like Jimmie Foxx (before Rodriguez, the fastest player to 500 home runs), who hit just 34 home runs after turning 33. Only about a dozen players have hit 200 or more home runs from their age-33 seasons onward; Bonds and Aaron are the only two to have hit at least 300.
The worse news is Silver's home run projection for A-Rod.

| Season | Home Runs | Career |
| --- | --- | --- |
| 2009 | 33 | 586 |
| 2010 | 30 | 616 |
| 2011 | 27 | 643 |
| 2012 | 25 | 668 |
| 2013 | 18 | 686 |
| 2014 | 16 | 702 |
| 2015 | 12 | 714 |
| 2016 | 8 | 722 |
| 2017 | 4 | 726 |
| 2018 | 3 | 729 |
| 2019 | 1 | 730 |
A-Rod is committed to the Yanks until 2017. Based on Silver's projections, A-Rod and his contract will be dead weight by the start of 2013, and he'll still have four more overvalued years left in the Bronx.
Of course, as we all know, baseball isn't played on computers. Chemically aided or not, A-Rod will have his fair share of opportunities to prove the projections wrong, but history isn't on his side.