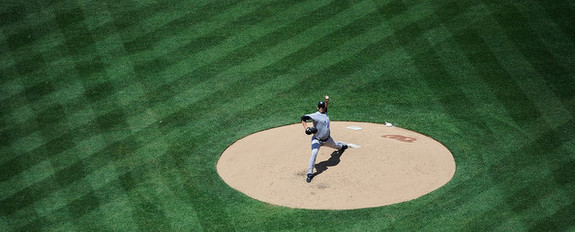 The Yankees improved their rotation this past weekend pretty much the only way a club can improve at this point of the season: they got a player back from the DL. Ivan Nova returned from his shoulder problem to throw six innings of one-run ball in an important game against the Rays on Saturday, striking out eight and looking an awful lot like the guy he was in the second half of last season. Considering how poorly Freddy Garcia had been performing in that rotation spot for the last few weeks, Nova's performance was a big lift.
Tonight, the Yankees will welcome another player back from the DL. Forty-year-old Andy Pettitte will return to the rotation after spending close to three months on the DL with a fractured left leg, a fluke injury suffered when Casey Kotchman hit him with a one-hop ground ball. He'll be limited to 70-75 pitches after throwing just three simulated games and zero minor league rehab games, but returning tonight ensures that he'll be able to make four regular season starts before the club potentially heads into the postseason. These four starts are essentially tune-up starts, which can be a scary thing in the middle of a pennant race.
Prior to the injury, Pettitte was arguably the team's best pitcher. He owned a 3.22 ERA in nine starts (58.2 innings) with peripherals that made wolverines purr — 9.05 K/9 (25.2 K%), 2.30 BB/9 (6.4 BB%), and 58.3% grounders. That's video game stuff. Andy was pitching better at age 40 and coming off a year-long retirement than he was during the prime of his career. Now is it reasonable to think he'll maintain that performance after the injury? Almost certainly not. It's entirely possible that he comes back as, well, an ineffective 40-year-old who sat out a year and missed an additional ten weeks with injury. I have a hard time betting against Pettitte, though stranger things have happened.
Anyway, an added benefit to getting Andy back in the rotation is that it pushes David Phelps into a relief role. Phelps didn't pitch all that well in his latest stint as a starter (5.01 ERA and 5.20 FIP in 32.1 innings), though most of that damage was the result of two subpar outings against the Orioles. We already saw the 25-year-old get some big seventh inning outs in relief on Sunday, and now he'll be able to take some of the load off Joba Chamberlain, David Robertson, Boone Logan, and the other middle guys leading up to Rafael Soriano. If Joe Girardi takes advantage of Phelps' ability to throw multiple innings out of the bullpen, the Yankees will be even better off.
Good or bad, Pettitte returns to the rotation tonight. The club may have rushed him back from his injury and they may suffer for it, but at the same time they didn't have much choice. The rotation had been struggling in recent weeks and the Yankees have welcome two starters back from injury in the last four days. I'll be happy to watch Pettitte on the mound against the Blue Jays this evening just because hey, it's Andy Pettitte, but I'll be even happier if he proves to be the pitching boost we all hope he can be.