In city after city, baseball fans like to claim that their town is home to the most loyal, the most rabid fan base. New Yorkers will fight Bostonians and Philadelphians to the death while Chicogoans just sit back in watch. In Los Angeles, the fans leave in the 7th to beat the traffic, and in Atlanta, well, no one really cares.
While we could all debate the subjectively loyalties of fans until we are collectively blue in the face, a RAB reader took it upon himself to model fan loyalty. Jim Lane has spent the last few weeks refining a model of fan loyalty. The raw data is available here in spreadsheet form. I'm going to drill down a bit on it tonight.
Lane decided to assess fan allegiance by using a payroll figures, average ticket prices, win percentage and 2008 attendance. He started off by computing what he calls team appeal. It's the average of the percentage of payroll of the MLB whole, the average ticket prices also expressed as a relative percentage to the MLB total and the club's winning percentage. He then compared his team appeal figure to attendance capacity to come up with the final fan allegiance number.
As you might guess, the Red Sox with their high win total, high payroll and small park were the top team on Lane's list. Their fan allegiance figure was 31.12, nearly triple the second-place Cubs. Having a ticket demand that far exceeds supply will do that.
The Yankees and Mets, meanwhile, came in at six and seven respectively. They both had fairly high attendance figures and tickets were, all things considered, somewhat reasonable. Combine that with high payrolls and three years of regular season success, and you'll get a formula for fandom.
There are of course a few lessons we can glean from the spreadsheet. The teams on the bottom — Kansas City, Florida, Tampa Bay — suffer from one problem or another. Either the teams weren't very good or they can't draw fans. All three of those teams are finding that low ticket prices don't exactly spur attendance.
The Braves, at number 23, are one of the outliers. The ownership is willing to spend some money, the ticket prices aren't very high and the team's winning percentage is decent. Fans, however, aren't going to the games.
So what conclusions can we draw from this? Well, it certainly doesn't solve that good old fan loyalty question, but we can look at a few patterns. Popular teams that put a winning product on the field are going to draw, and mediocre teams that keep ticket prices low are going to draw. But at some point, fans just won't show up. They don't come to Miami; they don't go to Atlanta. Why is a question we can debate for a long time. Some of it is geographic; some of it is apathy.
Anyway, feel free to chew on this spreadsheet for a few hours as the lazy days of Spring Training tick away. Jim broke the years down so you can see his raw data. Perhaps you'll find a conclusion in the numbers. After all, if the Indians are doing it, so can we.
This is pretty damn entertaining, I must say. Notable rhymes: Jeter with Weiters, "take us" with Markakis, and "Boog Powell and his meat" with Eutaw Street.
hat tip BLS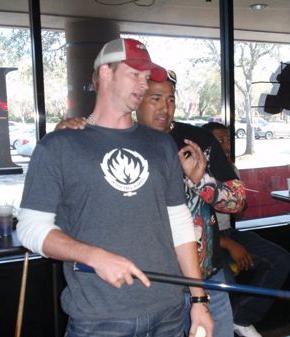 Joe Girardi had his team skip out on their workout today, instead taking all 64 Spring Training invitees to a local pool hall for a tournament/little team bonding exercise.
"We've added some pretty big pieces here and you want to bring them together as quickly as possible," Girardi said. "Every year you're here as manager, you want to have more knowledge about the players. It's important that a group is united when you leave Spring Training."

[snip]

"It's a day to forget about baseball a little bit and think about our family here," Posada said. "It's a little rest and I think it's good for everyone."
Well, I do think that team chemistry is overrated, but I approve. While the "divided clubhouse because of egos" thing gets overplayed, the clubhouse certainly has to be intimidating to young players, so it's good to see Girardi pull something like this. My money was on Brian Bruney, but Mariano Rivera won both tourneys. Sure sounds like the guys had a blast.
Here's your open thread for the night. The Nets and Knicks are both in action at home tonight, but I'll be watching House and 24. Oh, and the Rangers fired their head coach today. Talk about whatever, just be nice.
Update (7:35pm): Forgot to mention this, but reader Rob sent along an email saying that during last night's Georgia Tech-Clemson basketball game, they had a poll asking everyone to vote who their favorite former G-Tech baseball player was: Tex, Varitek or Nomar. Tex won in a landslide.
Photo Credit: Yankees via PeteAbe
Remember the revelation a few years ago that talked about clubhouses having two coffee pots: leaded and unleaded? Clearly, this referred to the presence of amphetamines in the brew. Turns out, both pots can enhance your performance. J.C. Bradbury of Sabernomics post a link and summary of a study done on caffeine, titled "The effect of caffeine as an ergogenic aid in anaerobic exercise." The abstract, with my own emphasis:
The study examined caffeine (5 mg/kg body weight) vs. placebo during anaerobic exercise. Eighteen male athletes (24.1+/-5.8 yr; BMI 26.4+/-2.2 kg/m2) completed a leg press, chest press, and Wingate test. During the caffeine trial, more total weight was lifted with the chest press, and a greater peak power was obtained during the Wingate test. No differences were observed between treatments for the leg press and average power, minimum power, and power drop (Wingate test). There was a significant treatment main effect found for postexercise glucose and insulin concentrations; higher concentrations were found in the caffeine trial. A significant interaction effect (treatment and time) was found for cortisol and glucose concentrations; both increased with caffeine and decreased with placebo. Postexercise systolic blood pressure was significantly higher during the caffeine trial. No differences were found between treatments for serum free-fatty-acid concentrations, plasma lactate concentrations, serum cortisol concentrations, heart rate, and rating of perceived exertion. Thus, a moderate dose of caffeine resulted in more total weight lifted for the chest press and a greater peak power attained during the Wingate test in competitive athletes.
You can read more about Wingate tests here.
Clearly, this is not a cry to add caffeine to the banned substance list. It's legal in all 50 states (obviously), so everyone is on even ground. Yet it does enhance performance, perhaps even more so than some of the illegal substances baseball players use to get an edge. I'll refrain from jumping to any conclusions about how much or little it affects performance, especially when compared to other stimulants and psychoactive drugs. I just think it would be amusing if caffeine actually helped athletes more than certain steroids and amphetamines.
Tickets and ticket sales are a hot topic among Yankee fans these days. For the most part, the news covers the same old story: Long-time Yankee fans are upset with the way the Yankees have handled season-ticket packages. Meanwhile, those of us hoping for single-game tickets have been waiting and waiting and waiting.
As Opening Day draws near, however, the more academic side of ticket sales and attendance figures is beginning to emerge. Last Friday, Shysterball highlighted a profile of the frontiers of baseball analysis. In Cleveland, the Indians' ticket office has engaged, in a thorough analysis of ticket sale patterns. As expected, the Yankees are a big draw.
Using statistical analysis of ticket purchases to understand the preferences and price limits of their fans, the Indians learned that fireworks after a game draw an additional 4,000 fans; every one-degree temperature drop below 70 Fahrenheit costs them 300; and when the New York Yankees come to town, attendance jumps 11,000.

The Major League Baseball club is at the forefront of using statistical analysis to design pricing. The team says its plan will increase ticket revenue 5 percent this season as the U.S. skids into its worst economic decline since the Great Depression.

"The goal was to do a better job figuring out what people were willing to pay for their product," said Vince Gennaro, 57, a Purchase, New York-based consultant who managed the research project. "Where could we add value to convince them to make the purchase or decrease the price where demand is lower?"
Gennaro, by the way, is a leading member of the Society for American Baseball Research.
Meanwhile, in a separate attendance-focused article — again referred to us by Shysterball — Jon Bois examines the impact new stadiums have on local revenue. While he concludes that the Yanks and Mets may not enjoy the revenue they expect, his findings are flawed. He bases his conclusions on projections of stadium capacity without giving nod to the fact that the Yanks' — and Mets' — new parks are significantly smaller than the old ones. The Yankees and Mets will do just fine with their revenue streams despite the economy.
So what does this all mean? Well, it means that a salary cap wouldn't make much sense. The Yankees are a preeminent team in baseball. Opposing fans head out in droves to catch them in action, and limiting their ability to put a top product on the field would eventually do more harm to the overall health of the sport than it would go good. The Yankees haven't won the World Series in 2000, and in baseball, economics will always trump that red-herring hunt for a fair notion of competitive balance.
By

Even though the team told him to prepare for the season as a starter, Joe Girardi told PeteAbe today that the Yanks plan to use Phil Coke out of the bullpen. "He's a guy we see being able to pitch multiple innings out of the bullpen. That's how we're going to try and develop him," said the manager. Unlike Joba Chamberlain, who can legitimately go after hitters with four pitches, Coke's bread-and-butter is a fastball-slider combo that plays up significantly out of the pen. His changeup is decent, but he doesn't project to be anything more than a back-end starter, something the Yanks have plenty of in Triple-A. It's good to see that the Yanks realizes he's more than just a LOOGY. · (53) ·
The Yankees spent hundreds of millions of dollars on players outside the organization this winter to improve their starting rotation and their lineup. Yet they spent zero dollars on players outside the organization to improve the bullpen. For some, this might be cause for worry. We've seen the Yanks have some pretty bad bullpens in the past half decade, and one year with a solid pen might not do much to alleviate concern. However, as we've said repeatedly in this space, the Yankees have little to worry about with their 2009 relief pitchers.
The argument we most frequently employ is that the Yankees are going with the San Diego Padres method of building a bullpen: find as many capable arms as possible and make sure you have some flexibility with them. If some guys stumble out of the gate, they can be replaced by eager relievers in AAA. In other words, there are cases like Heath Bell out there, and you don't find them by signing big-name relievers to fill your pen.
(Also, go me for picking three guys who put up above-average numbers out of the pen in 2008, including one monster year from Balfour.)
There's another argument to be made for the Yanks' above-average and underrated bullpen. Sky Kalkman of Beyond the Boxscore takes care of it for us. It revolves around FIP and Runs Above Replacement, so it covers the sabermetric ground where our argument does not. The bad news: Joba Chamberlain is on his list. The good news: The list also contains a number of players projected to have quality FIP numbers, as well as Runs Above Replacement figures.
As is always the case with BtB, the whole article is worth a read. Sky mentions that the Yankees had the best Runs Above Replacement total from their relievers in 2008, though they did pitch the most innings (higher is better in this situation). He then uses that league-leading figure to show how the bullpen is overrated. The team with the leading RAR in offense was Boston with 332, and the leader from the rotation was Toronto with 216. So the best rotation saved over three times as many runs above replacement as the best bullpen. Hmm…I wonder if we can apply this stat to any other argument…
This Angel Presinal story just won't go away, and something about it makes me think that it might be the proverbial straw that breaks the camel's back. The vast majority of fans may no longer care, but this wide-reaching story has the potential to impact many of the game's top current players. It might end up another tabloid-inspired red herring, but it also may make league and PA officials rethink their PED responses.
To recap: The fun started on Friday when the Daily News recapped an old revelation that A-Rod had trained with Angel Presinal in 2007, a few months before he appeared in the Mitchell Report. On Saturday, David Ortiz and Robinson Cano defended Presinal from hearsay anonymous accusations and not-so-veiled attacks on his character. As RAB commenter J.R. noted, Ortiz's words, coming from a rival team, seemed to carry some weight.
But yesterday, two more stories broke that could trigger an avalanche, if not an investigation. In a four-page feature, the Daily News, filing the story from the Dominican Republic and New York, reported that Presinal is a PED pusher and has a way of ensuring that players pass their tests:
According to a former baseball scout, who worked with players who trained with Presinal in the Dominican, Presinal provided some players with steroids. The former scout declined to be named in this story but says that players refer to Presinal as "The Cleaner," someone who can rid traces of steroids from the players' urine before a drug test.

"He puts them through a cycle and then they flush the body out," the former scout said. "If you're afraid of testing positive, this is the guy to go to." He said players are afraid to discuss Presinal because they depend on his expertise as a trainer. It is also expensive to work with Presinal, according to the former scout, who says the trainer charges as much as $10,000 for an offseason session.
Who knows if this is true? Who knows if these aren't the words of a scout disgruntled with Presinal? As far as I know, MLB testing is random so players wouldn't have the time to flush their system prior to a scheduled test. But if true, these are allegations that will spur another thorough investigation into the current state of drug use in the game instead of some misguided George Mitchell-led effort to stir up the past.
Furthermore, the Daily News also reported this weekend that Presinal won't be training the DR team at the 2009 WBC. He is officially persona non grata from organized baseball, and the current players who train with him should probably rethink that decision.
When all is said and done, these recent developments may push baseball into further addressing PED use today. For the last three of four years, baseball officials and reporters have been singularly focused on outing past drug use, and while extensive testing programs are now in place, this story has become more about exposing and attempting to atone for the past than it has been about cleaning up the present. Those of us who care, even a little bit, about the drug issue may find a current scandal all the motivation for a better fix.
Anyway, that's that. Games start on Thursday. Maybe we can put all of this nasty business behind, but something tells me this story is here to stay this year.
As Mike mentioned in the open thread, game action is starting a bit early this year. That's because of the World Baseball Classic, an event which MLB officials attempt to hype, and about which the American public, from what I can gather, doesn't care for the most part.
I understand MLB's desire to see this tournament succeed. They think it can get people around the world hyped about baseball the same way they're hyped about soccer and specifically the World Cup. While the WBC will never be the World Cup, it could be a successful tournament if it were run properly. Unfortunately, there are a few too many snags at this point for it to be feasible.
Most notable is the detriment it causes to MLB teams. Yes, the opening of the season might be delayed by a few days, but that won't give the WBC players the time in camp they're used to. Players don't show up in mid-February just because. They show up to be around the team and to get in shape for the new season. The WBC represents practice for these players, but it's not practice with their respective teams. Exactly how important that is I don't know, but it has to be of some significance. This goes especially for catchers, who are tasked with learning an entire pitching staff in a month and a half.
Pitchers, though, seem to suffer the most harm from WBC participation. Just look back to 2006 and you can see what I'm talking about. A number of pitchers who participated in the WBC either befell injury or had horrible years. This is why I'm thankful that the Yankees aren't sending any of their arms to the international tournament. They're keeping them in camp where they can monitor their workload and ensure that they perform at peak ability for the 2009 team. That is, after all, what they're paid for, and the entire reason why they were selected to the WBC in the first place.
Look at the starters for Team USA in 2006: Roger Clemens, Jake Peavy, Dontrelle Willis. Roger pulled his half-year thing with Houston that year, so we'll set him aside. Dontrelle Willis had a superb 2005, and if not for Chris Carpenter would have won the NL Cy Young award. Yet in 2006 he faltered a bit. Yes, he pitched 223.1 innings and threw to a 3.87 ERA. That doesn't sound bad on the surface, but his walks shot up from 55 in 236 innings in 2005 to 83 in 2006. That brought his WHIP up to the 1.4 range, making his ERA seem out of line with his actual output (true, true, his FIP was 4.31). This set the stage for his bed-crapping in 2007, and his injury-riddled 2008.
Jake Peavy has had exactly one bad year since 2003, and you'll never believe what year it was. Yep, 2006. In the years 2004 through 2008 he had an ERA over 2.88 just once. His walks, hits allowed, and home runs allowed were far out of line with his career totals. Thankfully for him and the Padres, he rebounded with a Cy Young performance in 2007.
Not satisfied with a two-player sample? Bartolo Colon pitched 222.2 innings in 2005, (undeservingly) winning the Cy Young. After pitching for the Dominican Republic in 2006 managed just 56.1 innings in the majors, succumbing to injuries. He hasn't crossed the 100-inning barrier since. Jae Seo threw 90.1 innings of 2.59 ERA ball for the Mets in 2005, but after participating in the WBC he managed a 4.56 ERA in 2006 split between the Dodgers and Rays. Joel Pineiro, while crappy in 2005, was even crappier in 2006.
Clearly, there were players who weren't adversely affected by the tournament. Kelvim Escobar, coming off an injury in 2005, pitched 189.1 stellar innings after a WBC appearance in 2006. Erik Bedard lowered his ERA by a quarter point and pitched 50 more innings after a WBC stint. Yet, despite these improvements, the trend tends to be that if you pitch in the WBC, you'll see diminished returns during that season.
I'm glad, then, that the Yankees' pitchers are staying in camp and working like a normal Spring Training. Like the Hall of Fame, I don't get much enjoyment out of the WBC. It seems like a marketing ploy by MLB. Get the best players in the world together every three years and drum up worldwide interest in the sport. Unfortunately, I don't think that's the end they will achieve. It looks like the timing of the tournament might have a generally detrimental effect on pitchers, which doesn't bode well for the games that actually count. Clearly, we'll need a larger sample to make any definitive conclusions, but considering the results from 2006, I couldn't be happier that the Yankees' pitchers will go through the spring supervised by team personnel.