By

In an effort to protect the team from staph infections that have plagued baseball clubhouses over the last few years, the Yankees are employing a disinfectant sports coating to keep their new stadium clean. The team plans to spray, according to Newsday, "all public bathrooms and concession areas, along with the home and visiting clubhouses, weight rooms, lounges, showers, coaches' rooms, dugouts and bullpens, are being treated." While one doctor thinks regular cleaning would do the trick, the company behind the coating obviously thinks otherwise. Either way, this move should satisfy all the germaphobe Yankee fans out there. (Hat tip to Shysterball.) · (25) ·
When Andy Pettitte signed a one-year deal yesterday afternoon, the only unknowns were the incentives. Cot's Baseball Contracts via the Associated Press answers that question.
Basically, Pettitte can earn $4.5 million in performance bonuses and $2 million in roster bonuses. The deal is structured in way such that the southpaw would have earned the full $12 million in three of the last four seasons. The only exception was 2008 when Pettitte threw only 204 innings. The bonus breakdown is as follows:
$4.5M in performance bonuses: $0.5M each for 150, 160, 170 IP; $0.75M each for 180, 190, 200, 210 IP
$2M in roster bonuses: $0.1M for 120 days on active 25-man roster; $0.2M for 130 days; $0.25M each for 140, 150 days; $0.4M each for 160, 170, 180 days
As long as the lefty stays healthy and continues to rack up the innings, he'll get his money. His baseline for performance is to pitch well enough to stay in the rotation with the kids knocking on the door.
Meanwhile, speaking of the kids, Mike Ashmore offers up a dissenting opinion on the Pettitte signing. Noting the ever-increasing number of young arms in the Yankee system, Ashmore ponders the depth question:
Yankees fans have to ask themselves…what's more important, Andy Pettitte getting 30 starts or Phil Hughes/Ian Kennedy/Phil Coke/Alfredo Aceves getting 30?

If the consensus is that Pettitte is little more than a placeholder, why not use one of your numerous starting pitching prospects in a meaningful role at the big league level instead of picking up garbage innings as a long man in the Bronx or spending another year in Trenton or Scranton?

And how long before some of these players start getting frustrated with having to repeat levels of the minors?

Things are looking great at the big league level, and the minor leagues certainly look stacked as well. But at what cost?
I've struggled with this one for much of the winter and have no good answer. I was fine seeing Andy leave; I am fine seeing him return. With this incentive-laden deal, he'll put pressure on himself to pitch. As long as the Yanks don't leave him in there to the detriment of the young arms if the time is right to replace him, this one-year contract will work out for everyone.
By the end of this week or the beginning of next, RAB will have its copy of The Yankee Years. After reading it — and only then — will any of us be in a position to comment on the controversy that has exploded across the pages of the New York tabloids and more reputable newspapers this week.
We have all seen an excerpt, but that's hardly conclusive. The rest of us who haven't read the book are simply basing our opinions on the raging "he said-he said" debate. All that leads to is a bunch of ill-informed sweeping pronouncements about who's right and who's wrong.
While we're waiting for the book — now with eager anticipation — one aspect has emerged as the truth, and it is a truth that has been dominating Yankee coverage since 2004: It is, for better or worse, all about Alexander Emmanuel Rodriguez. Torre, from the early reports, never thought too fondly of A-Rod. The Yanks' one-time skipper supposedly couldn't reach the seemingly cerebral slugger, and A-Rod was envious of Torre favorite Derek Jeter while others in the clubhouse weren't fond of A-Rod.
"We never really had anybody who craved the attention. I think when Alex came over, he certainly changed the feel of the club," Torre writes in his book. Of course, baseball-wise A-Rod had a little bit of an impact too. The game's best hitter will do that.
The Yanks, of course, are rallying around A-Rod. "I think we've gone through so much of the Alex stuff that, you know, if anything, maybe this brings people closer together," Yanks GM Brian Cashman said during Monday's Andy Pettitte conference call."There's always going to be some controversy that surrounds this club. The best way to try to deal with it is, I guess, rally around each other the best you can if there's real feelings there."
Defend each is is, after all, what a team is supposed do, and Pettitte got right to it. "I have never one time heard of the term `A-Fraud' until I saw that rolling on the TV, I guess this morning or whenever they started reporting it," he said. "If it did go on, it went on before I was there."
For their part, A-Rod's team is fighting back through anonymous quotes in The Post, according to NJ.com. That's fighting fire with, um, fire.
No matter how this soap opera plays itself out though, A-Rod will remain front and center. Since joining the Yankees in 2004, he has been far and away the team's most productive hitter, but between his perceived playoff failures, his divorce and Madonna, he's made more than his fair share of back pages for non-baseball related antics as he has for his baseball heroics. Until the Yankees win a title with A-Rod, he will remain this powerful, polarizing figure. It's just the way it is, and no matter what it ultimately says overall, Torre's book is just another part of the Alex Rodriguez circus. With that bat around, though, I wouldn't want it any other way.
By

Tim Dierkes of RotoAuthority and MLBTR fame surveyed eleven of the most popular baseball writers around (including RAB's own Joe P.) about how many innings they expect Joba Chamberlain to pitch in 2009. Will Carroll of Baseball Prospectus shot for the moon and said 175, while Jon Heyman brought up the rear at 109. Joe said 142 IP, the same as Jerry Crasnick and three fewer than Peter Gammons, and just about nailed the average total of 143 IP. Joba's career high is the 118.2 IP he threw for Nebraska back in 2005 (100.1 IP last year), and I'm going to go a little high and say he'll throw 160 innings this year. If the Yanks get 140 innings (roughly 22 starts) out of Joba this year, they'll be in damn fine shape. What do you guys think? · (132) ·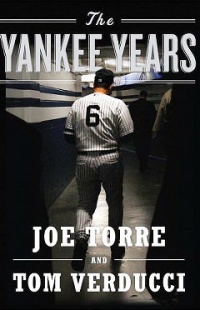 The Torre book drama started yesterday and has been a steady source of conversation into today. Problem is, few if any of us have actually read it. Over at SI, they have an excerpt from the book which revolves around late October 2007. Torre obviously feels betrayed, but if you can look past his "my flaw is that I'm the good guy" rhetoric, you can see that the Yankees had come to a decision, and they intended to follow through on it. One year, take it or leave it. Torre left it, and that was that. Well, until this book was written, that is.
Torre apparently did pitch an idea to Cashman, and to an outsider it doesn't sound half bad:
"Cash, I have an idea. What about a two-year contract? It ­doesn't even really matter what the money is. Two years, and if I get fired in the first year, the second year is guaranteed. But if I get fired after the first year, I don't get the full amount of the second year, just a buyout. The money doesn't matter. I mean, as long as it's not just something ridiculous. It's not about the money. It's the second year."
Apparently, though, the Yankees were not willing to do that. Torre claims that, based on a post-meeting encounter with Brian Cashman, that the GM never even floated the idea to management.
Cashman looked at Torre oddly, as if this were something new. "Uh, I really ­didn't understand it," Cashman said. "Remind me, what was it again?"
Cashman then went back into the room, supposedly approached the Steinbrenners with the idea, and emerged less than a minute later with a response in the negative. Torre's quote on this: "I'm thinking, Well, s—! He never told them!" I'm not so sure it's that simple. From the beginning, it seemed like the Yankees knew what they wanted, and Torre knew what he wanted. The Yankees gave Torre their firm offer, and he deemed it unacceptable. They apparently were not keen on his idea.
I imagine everyone in the Yankees front office was in a tight spot during this time. Torre was a beloved manager of 12 years, an unprecedented run in the Steinbrenner Era. He wanted to come back. The Yankees were only interested under their terms. I'm not sure I can fault them on that. Argue if you want about the manner in which it was handled. But if the Yankees only wanted Torre back under their terms, and Torre did not accept those terms, well, that seems pretty ordinary to me.
You can hear more about the book on the MLB Network…right about now. Matt Vasgersian will interview Tom Verducci on Hot Stove at 7. So you can check that after or while you read the excerpt.
This is your open thread for the evening. The NHL has a night off after the All-Star game, the Rockets are in the Garden, and the Nets are out on OK City. For you Big East nuts like me, you can catch Marquette at Notre Dame at 7 on ESPN.
It's been a whirlwind day for Andy Pettitte and the Yanks. After rumors emerged this morning of an impending thaw to the stalemate between the Yanks and their long-time lefty, news progressed quickly, and the Yanks just announced a one-year, $5.5-million deal with Andy Pettitte. The deal also provides up to $6.5 million in incentives.
According to PeteAbe, the incentives clauses are based on innings pitched and time spent on the roster. It seems that Pettitte will make a good chunk of changes as long as he remains uninjured and effective this season.
Meanwhile, Pettitte is taking a steep guaranteed paycut right now. He had a $16 million deal in 2008 and faced a $10-$10.5 million offer for 2009. In December, it became apparent that Pettitte was not keen on taking even that $6 million cut, and he held out for more. But as the U.S. economy has worsened, Pettitte's options dwindled to one.
Without knowing the details of the negotiation, it seems to me as though Pettitte opted to go with the Yanks over retirement and had to accept a deal more on their terms than his. Reporting on the call, Abraham says that Pettitte felt slighted by the pay cut. He probably feels worse about turning down more guaranteed money.
By guaranteeing a low salary, the Yanks still seem to be on pace to meet but not quite exceed their 2008 payroll for now. The incentives may push them up to that limit, but the team should be just fine financially. Don't hold your breath for any other big moves until much closer to the trading deadline.
Baseball-wise, the Yankees will now head into spring training with a starting five of CC Sabathia, Chien-Ming Wang, A.J. Burnett, Pettitte and Joba Chamberlain with Phil Hughes, Ian Kennedy, Al Aceves and Phil Coke waiting in the wings. Barring any unforeseen injuries, Hughes will get to hone his craft at AAA to start the season, and with Joba's innings limits, he'll have ample opportunity to pitch in the Bronx this season. That's pitching depth we can believe in.
Over the weekend, a few astute readers sent us e-mails about this, and iYankees touched upon it on Saturday: ESPN's Peter Gammons is dreaming about a bidding between the Yankees and the Red Sox for the service of Joe Mauer.
He writes:
Memo to Twins CEO Jim Pohlad: Get Joe Mauer's contract extension completed, because he will be the next great Yankees-Red Sox war if he hits the free-agent market in November 2010.
If the Twins don't wrap up Mauer, he'll be the most sought-after free agent since Mark Teixeira and CC Sabathia. By the end of 2010, the Yanks will be able to shift Posada from behind the dish, and Mauer would be a perfect fit. Meanwhile, the Sox, who have extended something of a two-year deal to Jason Varitek. That would come due after 2010 as well.
If Mauer hits the market — and that is a huge if right now — he would stand to make a killing. It's feasible that half of the teams in baseball could get in on Mauer. I'd love to see Mauer in New York. Who wouldn't?
One of the biggest question marks coming into the season for the Yankees is the health of stalwart catcher Jorge Posada. While all reports seem to indicate that Posada's rehab from major shoulder surgery is going swimmingly, you can never be too sure when it comes to 37 year old catchers. Jose Molina and Chad Moeller played their hearts out in Posada's place last year, but it's clear neither player represents an every day catching option. The Yanks have already brought Kevin Cash aboard on a minor league to fill that emergency third catcher role, but they can do better than that. Specifically, we're looking at Javier Valentin.
Not to be confused with John or Jose, Javy Valentin has spent the last five years of his career a Reds uniform, serving primarily as a backup catcher/pinch hitter. Unlike most backup backstops, however, Valentin has demonstrated that he's not completely useless with the stick. Over the past four season he's hit .272-.334-.442, averaging a .333 wOBP and a 97 OPS+ while providing 4.9 wins over a replacement player. For comparisons sake, that batting line is on par with what Bengie Molina did for the Giants this past year (.292-.322-.445).
As an added bonus Valentin's a switch hitter, though he's proven to be more dangerous from the left side of the plate. That actually works out perfectly, because in a nightmare scenario where Jorge Posada again misses significant time, Valentin can play primarily against righties (.258-.313-.424-.737) while Molina takes on the lefties (.263-.304-.400-.704). Obviously we aren't talking about great production from that platoon, but it would represent a significant upgrade from the .230-.290-.335-.625 line Yankees' catchers produced in 2008.
An offense first catcher, Valentin is no great shakes defensively. His best defensive attribute is his throwing arm, which has allowed him to gun down 41.9% of attempted base stealers in his career (21 of 25 in 2004!), but even that has slipped lately (25.5% over the last three seasons). There's also some durability concerns, as Valentin has never caught more than 553.2 innings in a single season, and has averaged just 340 innings caught over the last three years. He could easily hit that "overexposed in extended playing time" wall that Jose Molina ran into last year.
Valentin's earned $3.725M over the last three years ($1.325M last year), but in this market he's not getting anything more than a minor league deal with an invite to Spring Training. He could compete with Cash in Spring Training for that third catcher role, with the winner heading to Triple-A while the loser hits the unemployment line (minor league deals aren't guaranteed). I'd prefer to see the Yanks go this route before having to swing another midseason deal for a Pudge-type. What about you?
This is some good news on a sunny Monday in New York City. According to SI's Jon Heyman, the Yankees are in serious talks with Andy Pettitte. Heyman relates that "there is a lot of optimism a deal will get done." This would be a nice way to round out the rotation. Strangely enough, Heyman also notes that Pettitte will receive less than $10 million guaranteed. Sounds like another incentive-laden deal, a popular notion this winter.
Ken Rosenthal elaborates a bit:
However, the deal will include incentives that could push Pettitte close to his 2008 salary of $16 million, the amount he was seeking on a one-year deal.
The thing with incentives is that they can't be based on stats; they have to be based on innings or starts. So if Pettitte is ineffective, the Yankees will be forced to pull him from the rotation in order to avoid paying his escalators. That could be another tough situation down the line.
Update by Mike (12:47pm): Buster Olney says Pettitte would receive close to $6M in guaranteed money, with incentives that could push the total payout to $12M.
In response to yesterday's hoopla about Joe Torre's new book, the book's co-author, SI's Tom Verducci, answered some questions about the controversy. He claims that it is a third-person account, and that, as the headline says, Torre doesn't rip anyone, and that "[i]t's not a tell-all book." He goes on to say that the book is a third-person narrative. While it's nice to now know the point of view the authors employed, I don't think this fact alone gets Torre off the hook.
Meanwhile, Michiko Kakutani of the New York Times offers up a review in Sunday's paper. Unsurprisingly, it's a bit more even-handed than the tabloid accounts we saw yesterday. It talks about the actual focus of the book, the post-2001 decline, rather than a few cherry-picked anecdotes. Again, none of this comes as a shocking revelation.
That said, third person point of view or not, it does appear Torre got in his shots:
The book does not hide Torre's bitterness over his departure in 2007 (he was offered a one-year contract that involved a pay cut in his base salary) and takes a few swipes at the general manager, Brian Cashman, and some players — most notably, Alex Rodriguez.
The quote on A-Rod used in this review: "Rodriguez was like nothing ever seen before on the championship teams of the Torre Era: an ambitious superstar impressed and motivated by stature and status, particularly when those qualities pertained to himself." There's also a bit on Jason Giambi, whom Torre says "wasn't part of what we prided ourselves on: playing well defensively." So I guess the whole book isn't third person.
Kakutani notes one of the book's shortcomings:
This book often fails to detail Torre's role in the decisions made over these years. His reactions to the signing of Giambi and management's refusal to grant Williams a guaranteed contract in 2007 are duly noted, but in other instances, it's unclear to what degree he protested specific choices made by the front office or its lack of a long-term rebuilding strategy.
I'm sure it also doesn't discuss Torre's on-field decisions, which had drawn the ire of fans for the last four or five years of his tenure. Despite the point of view, the book is Torre's take on those years, and in all likelihood he didn't see much fault in himself. What I also find strange is that he has these unkind words about the way the teams were constructed after 2001, yet he wanted to come back and manage that same team in 2008 and beyond. That, perhaps, is why many will view this as Torre taking swipes on his way out the door.
In the end, this has turned into more a marketing scheme than anything. Now we're all talking about the book. There have been controversial claims made in the book. The only way to give it all context is to read it.
P.S. Joshua Robinson at the Bats blog has a great line from the Torre: "One thing I've learned is that people are going to feel the way they're going to feel, regardless of what happened." That means you too, Joe. That means you too.