This past week I discussed a favorable trade scenario for Xavier Nady. The caveat, of course, being that it's favorable to the Yanks. Surely the Reds would want a significant add-on if they were to even listen. They might also want to swap Aaron Harang for Bronson Arroyo, at which point Cash should hang up the phone (much like Reds fans think Jocketty should hang up on a Nady/Harang swap).
Mark Sheldon of MLB.com notes that the Reds are still looking for some right-handed power to sandwich between lefties Joey Votto and Jay Bruce. At this point Brandon Phillips seems to be the leading candidate, though he's no bopper. After smacking 30 homers in 2007, he followed that up with a .261/.312/.442 performance. That's not at all ideal production for your No. 4 hitter. This is what fuels the speculation that the Reds are looking outside the organization for some pop. Hence, the link with Nady.
Sheldon acknowledges that the Yankees surplus (is it really a surplus, though?) of outfielders could make the two teams viable trade candidates. But, as he notes:
On the trade market, the Yankees have a surplus of outfielders and could be willing to deal either Nick Swisher or Xavier Nady, with Nady being the most likely to be moved. The Yankees need starting pitching in return and probably wouldn't settle for anyone less than a Reds veteran such as Bronson Arroyo or Aaron Harang.
I'd obviously change that from an or statement, saying that the Yanks wouldn't settle less for a veteran such as Harang. As I said in the original, though, a one-for-one swap would be inequitable. Chad from Redleg Nation says "no thanks" to the proposal. The commenters on that post are also taking me to task. That I can understand. I would imagine Reds fans have become attached to Harang over the past few years, and don't want to trade him for a guy coming off a career year (and whose production dropped in the second half).
If not Harang, though, it doesn't seem the Yanks and the Red would match up on a trade. Take a look at their 40-man roster. There are some good young players there, one quality veteran pitcher (Harang), and some middling talent. Not at all what the Yanks should be seeking in a Nady trade. I'd far rather go into the season with depth than make a trade for the sake of making a trade.
By

In their on-going effort to capture the low-risk signing market, the Red Sox inked former Dodger closer Takashi Saito to a one-year, incentive-laden deal, according to Ken Rosenthal. Saito will make between $1.5 and $2.5 million with incentives that could push his contract value past $7 million. When he's on and healthy, Saito is utterly filthy, and while he did pass his physical, he missed much of 2008 with a sprained elbow ligament. All in all, this is a very nice pickup for Boston. · (91) ·
By

Lost in the hoopla of the last week was a very brief note at the end of a Newsday article. The Yankees are going to have Melky Cabrera and Brett Gardner fight it out for the center field job during Spring Training. Interestingly, this news seems to confirm that Johnny Damon and Nick Swisher probably won't be in the mix for that job if all things go according to plan. Melky, by the way, had x-rays after getting hit by a Daniel Cabrera pitch on Thursday. They came back negative. · (45) ·
When it comes down to the Yankees and the Red Sox, it's always a competition. One team has to be better, smarter and more popular than the other. One team always has to win.
This off-season, the Yanks have emerged the winners. They've out-spent the Red Sox, and they even snatched Mark Teixeira seemingly out from under Boston at the least minute. Yet, still, their fans insist that the Red Sox may come out ahead. Just take a look at this post by a Sox fan using Win Value to show how much smarter the Sox are. Never mind the Yankee injuries and other 2008 speed bumps.
Of course, two can play that game. Courtesy of frequent RAB reader Scott Falivene, let's take a look at some payroll figures. Scott writes:
Red Sox fans — and their front office it seems — love to cry about the advantage the Yankees have over them in spending. So with the Sox signing Smoltz, I was curious what the cost of their rotation will be, you know, because they can't compete on the Yankee's level. I used the top seven guys most likely to see time in the rotation because it's unlikely the same five guys start and end the year in the rotation.
Here are the total 2009 expenditures in millions, courtesy of Cot's Baseball Contracts. Homegrown players are denoted with an asterisk:
Red Sox
Beckett
10.5
Dice-K
8.0
Smoltz
5.5
Penny
5.0
Wakefield
4.0
Lester*
0.5
Buchholz*
0.4
Total
33.9
Yankees
Burnett
16.5
Sabathia
14.0
Wang*
5.0
Hughes*
0.4
Kennedy*
0.4
Chamberlain*
0.4
Aceves*
0.4
Total
37.1
Scott adds some more commentary:
Granted, that CC figure is a bit misleading, and the Yanks might still sign Pettitte. But that's the way [Sabathia's contract] is structured. $3.2 million sure doesn't seem that crazy different, no?

Better yet, the Red Sox have "bought" $33M of pitching for 2009 while the Yankees have only "bought" $30.5M. Evil Empire indeed.

Also, EVERY team in baseball has the ability to sign Smoltz and Penny as their 6/7 starters, right? Those Red Sox sure have it a lot tougher than the Yankees. They should really complain more often. I don't want this to seem as if I'm not aware of the spending advantage the Yankees have but, seriously, aren't Red Sox fans supposed to be hyper-educated about the game? They need to stop.
We'll have some more guest opinions on the Red Sox over the next couple of days, but I think Scott raises some valid points. Sure, the Yankees can outspend the Red Sox by a significant amount, but when push comes to shove, officials, fans and columnists in Boston don't really have much credibility if they start claiming poverty. The Red Sox may not be the wealthiest team around, but they're in the top five. No one will be too sympathetic to the team's self-perceived plight.
By

Using the rosters as of this week and The Hardball Times' projections, RLYW has run a simulation of the 2009 season, and the results are encouraging. The Yanks end up winning the AL East 76 percent of the time and the Wild Card 19 percent of the time. They average out to be about 102-60. I'll take that. · (19) ·
"When you're down, you expect your organization to pick you up, not kick you when you're down," Pavano said. "I've had to pick myself up quite a few times the last four years."
Really? I mean … seriously?
I'm pretty sure Brian Cashman stood by this guy's side all four years, constantly reminding everyone that all of his injuries were legit. Hell, he called him up this year when he could have just left him toiling away in the minors on a rehab assignment.
Give me a break Carl. When you stay healthy for two months, then you can think about running your mouth.
Here's your open thread for the evening. The Nets are in Milwaukee, the Rangers in Buffalo. MLB Network is showing highlights if the 1996 World Series starting at 8pm. Talk about that, or whatever else you like, just be nice.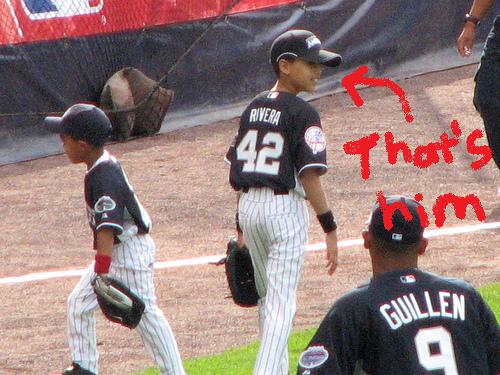 Melvin Croussett | LHP
Background
Born and raised in Santa Domingo, DR, Croussett is the child of the world's first female areo-nuclear chemical engineer and a world record setting shotputter/javelin thrower. His talent for throwing a baseball was obvious at an early age, as he used to ward off rodents at his uncle's sugar cane farm by throwing softball sized rocks at them. He initially worked at a distance of about 20 feet at age five, but eventually reached as far as 430 feet by age thirteen. Yankees' scouts first noticed him when he picked off a bandicoot at 325 feet from the back porch without getting out of his chair or spilling his beer.
As the new Yankee Stadium near completion and the date rapidly approaches for the NYCIDA to determine whether or not the Yankees and Mets deserve another round of tax-exempt bonds, more stories are coming out that don't portray the latest bond request in the latest light. Before we get to those, however, let me give some air time to the Yankees.
Earlier this week, Darrell Rovell interviewed Randy Levine about the state of Yankee economics, and the two got to talking about the stadium. Since CNBC doesn't allow embedding of their videos, watch the video by clicking below.
Rovell posted a transcript of the interview on the CNBC website. The relevant part from the Yanks' team president:
We'll, I'd like to make this very clear. The way this stadium is being constructed and financed, every single penny, every single penny, is going to be paid for by the New York Yankees. There are no taxpayer funds that are being used to fund this stadium, which is different from 99.9 percent of stadiums all over the world. No taxpayer money will be used to fund this stadium. The Yankees are funding the entire bill of the construction and, unlike today, the maintenance and operation of the stadium. The Yankees are on the hook, there's no liability for the city or any governmental agency. So this is a $1.3 billion investment in the poorest congressional district in the country. It's the largest investment in the Bronx and, in these hard times, this has generated over 6,000 construction jobs by moving us across the street from the old Yankee Stadium to the new Yankee Stadium, we're going to create approximately 1,000 new jobs. So this is a good thing.
In one sense, Levine is arguing semantics. In another sense, he's flat-out wrong. I guess it's not inaccurate to say that taxpayer money isn't being spent on the stadium itself. Tax-payer money is getting spent on infrastructure improvements in the South Bronx, but those do have a value to the community. Whether the South Bronx, though, needs more parking lots is up for debate. The Metro-North stop is a wise and overdo investment.
Levine's statement is not quite accurate though because the city isn't getting money it should be getting through taxes if they continually grant the team tax-free bonds. I'm certainly not opposed to an initial outlay of tax incentives for construction, but at some point, that outlay has to stop. When the team wants more bonds to cover cost overruns and items such as bathrooms, suites, fancy video boards and team offices. Clearly, at this point, the team should be awarded taxed bonds. Enough is enough.
Meanwhile, I'd challenge Levine on the job statement too. This work has generated a bunch of temporary construction jobs, and that's good. That "1000 new jobs" figure, however, is completely inaccurate. According to a recent examination of the Yanks' own bond application (available here as a PDF), the stadium will generate a whopping 22 new permanent jobs, and the taxpayer subsidy would be around $2 billion if this latest round is approved. An economic stimulus it is not.
Now, I know many people are fine with subsidies for the stadium. To a extent, I am too, but not to this extreme. The city needs the taxes, and the Yanks shouldn't get any exemption that others constructing $2-billion buildings wouldn't get. It's just bad government.
Hat tip to iYankees on the Darrell Rovell interview.