By

Testwell Laboraties, Inc., the company originally hired to provide concrete for the new Yankee Stadium, has been indicted on state racketeering charges. Concerns over the company first came to light in June when The Times revealed that Testwell officials had been arrested and that the company had not been testing their concrete. As the Yankees said then, they say now: The concrete at the new stadium has been independently tested, and everything is OK. · (13) ·
This morning marks the official opening of Hot Stove Season. You're going to see a ton of rumors flying over the next few weeks and months. All we ask is that you keep things in perspective.
Writers have a job to do. They need to fill column inches of a newspaper with material which will garner eyeballs. This can bring about legitimate rumors for sure. However, it can also bring idle speculation. Case in point: Ken Davidoff this morning. I know he doesn't write the headlines, but this one is particularly misleading: "Don't expect Yankees to meet Teixeira's price." I read through it, hoping to find some kind of indication of the Yankees' thinking. Instead, I got this disappointing payoff: "It would be a shocker if the Yankees paid Teixeira the 10 years and $200 million that Boras will request."
Gee, thanks for that. I won't rip the rest of the article — I'm trying to cut down on that — but I think I've made my point. There's a lot of rewriting going on which can be masked with a spiffy new headline. Most of the time, you can take a lesson from Public Enemy: Don't believe the hype.
Then we have Frank Della Femina from the Star Ledger. His blog post this morning quotes the Paper Which Shall Not Be Named, saying that the Yankees "did not rule out interest" in Manny Ramirez. The headline: "Yankees may be in market for Manny Ramirez.". Once again, this is taking a small quip — or non-quip, if you will — and turning it into an attention-seeking headline. yet, after reading the article we have no greater understanding than before.
We're going to see a lot of this. We're going to get a lot of comments saying "I read so and so, and he said the Yankees might be interested in [blank]." Yes, the Yankees might be interested, just as they might be interested in every player on all 30 rosters, including their own. This does not, however, mean that they're going to do something about it. Chances are, it's just idle speculation based on some over-interpreted quote or non-comment.
Taking all this into consideration, I'm going to lay out a few things we need to keep in mind as winter rolls in and the Hot Stove gets warmer. It'll help keep things in perspective, and keep some sanity amongst us.
1) The Yankees could potentially have interest in any free agent. You're going to see reports connecting the Yanks to many players, most of which are a ploy to bump up the player's price tag. Sometimes they'll be interested, sometimes they won't be. Until there's an agreement in principle, though, it's all just noise.
2) Brian Cashman does not have mind control capabilities. I remember back in June or so, someone I know went on a tirade about how the Yankees have to get Matt LaPorta. The Brewers need pitching, and supposedly we have a lot in our farm system. If Cashman doesn't get him, either we don't have a good system, or he's not doing his job. Sorry. This is poor, poor logic. You can't just force another team to trade you a player. If you're getting someone established, or someone with a perceived high ceiling, you're going to pay the price. Many times, the price tag on a player is more than a team is willing to pay. Yeah, having these players is nice, but sometimes the cost doesn't justify the move. Cashman can't make someone trade us a valuable player for Melky, IPK, and Shelley Duncan.
3) IPK and Melky will get us no one good. Dems the breaks. They both have low perceived value, and the Yanks are better off holding onto them at this point. You can argue that the Yankees should have traded Kennedy last winter, but first you have to ask yourself 1) who was interested? and 2) what would we have gotten back? None of you can answer those questions. The only Kennedy deal we ever heard of was Santana, and clearly he was not the centerpiece of that one.
4) The Yankees have a plan. You don't go into the off-season without having a few plans, really. Your primary plan, then a few backups in case one signing or other doesn't work out. They're going to act according to this plan, not according to what we yell on the boards. We aren't aware of all the parameters they work under, just as we aren't aware of all the information they have.
By

With the World Series over and the Hot Stove ready to ignite, it's time to unveil a new feature for you here at RAB: the 2009 Draft Order Tracker. It is what it sounds like it is, a means to keep track of the changes in next year's draft order due to free agent compensation. I'll update the page throughout the winter and leave it up until next year's draft so you can check back any time to see who's picking where. Cool stuff, no? · (40) ·
It's cold outside. With the temperatures in New York hovering at an unseasonable 40 degrees and the ever-present wind chill making it much, much worse. As the wind in New York howled, as Brad Lidge struck out Eric Hinske, as the Philadelphia Phillies downed the Tampa Bay Rays in a disjointed and prolonged World Series, winter finally settled upon the baseball world.
For the Yankees, this winter promises to bring change, and we'll get to that over the next few days, weeks and months. Tonight, let's bury the baseball season.
The last few weeks have been a trying time for many baseball fans. We've seen a lot of starts and stops in the playoffs. We've suffered through a series of mostly dull games that, outside of a seven-run Boston comeback on a day that seems like it was ages ago, left little to the imagination. While there may only be one October, this October, for the vast majority of baseball fans, failed to elicit much excitement.
For the most part, national baseball writers have focused on the World Series. Jeff Passan's Tuesday column about the indifferent reaction to the World Series is indicative of the prevailing views. Between games that normally start too late, one game held to 10 p.m. due to a rain and another — the clincher — suspended mid-inning because Bud Selig failed to read a Doppler forecast, this World Series came off as irrelevant to baseball fans outside of Philadelphia and insulting to baseball purists.
But the truth is that this problem extends well beyond one boring World Series. This year, it extended back to a postseason that really laid bare how badly MLB sells its baseball soul to the networks. It started with five-game sets that take seven or eight calendars days to play, followed by seven-game series spread out over 10 days. Do teams really need three days off over seven games? Do we have to sit through a 2-2-1-2 format for a seven-game set and a 1-1-2-1 format for best-of-five series?
Now, while the playoffs aren't as far gone as the baseball writers would have you believe, this format seems broken. Allow me to humbly present a few suggestions for fixing what should be the game's crowning tournament.
First, excitement for the World Series and the playoffs has to begin well before October. It has to start with FOX and TBS' broadcasting schedule. While New York, Chicago, LA and Boston offer big markets, baseball — and good baseball at that — exists outside of the major media markets. While it may not be in the best interest of FOX's bottom line to broadcast the games between Tampa and the Twins, these games should be on national TV as part of an effort to promote the game of baseball. If Bud Selig and the owners didn't negotiate contracts with FOX and TBS that allows for the national TV rights to promote the best interests of the game, then they have failed at their jobs as the game's gatekeepers.
Second, Bud Selig has to retain more control over the postseason schedule. It simply isn't doing anyone any favors to have sets that don't make sense given the daily nature of the regular season. During the season, teams don't play a game, have a day off, play another, have another day, play two, have a day off and then play again. This isn't hockey or basketball. In baseball, the teams play every day, and the same should hold true in October. If the sport needs to schedule travel days for the Anaheim-to-Boston trips, then play a 2-2-1 set. Everyone else should be able to survive on one or no days off.
Breaking up the series simply curtails fan enthusiasm. If fans get into a game only to have to wait 48 hours for the next, they simply grow impatient and disinterested. Again, the network suits might like it, but baseball's overall national popularity should transcend the wishes of a few rich executives.
Third — and this point is related to the second one above — start the games earlier. There is no good reason why a game between Tampa Bay and Philadelphia should start at 8:30 p.m. I understand that West Coast fans can't see the games if they start much earlier, but an East Coast-dominated World Series will draw predominantly East Coast fans. The supporters in these two towns can't stay up until midnight or later to watch a game, and forget about the kids.
When the Yankees were in the World Series throughout my years in high school, the games would start between 8:08 and 8:17. Over the last few years, FOX has inserted a creep into the broadcast, and for once I'm not talking about Joe Buck. Every year, the first pitch is later and later. This practice should end. Games should start at 7:30 p.m. local time. I doubt ratings would dip that much if at all. The game should be more accessible for the fans.
Fourth, in a rather dismaying exchange, Bud Selig expressed his desires for more October day games but says that the networks flat-out said no. This is a completely wrongheaded approach to baseball. If Selig wants day games, if everyone else wants day games, if no one wants to sit outside on a cold night in 38-degree weather, then schedule some day games. While FOX is well within their rights to say no — they did, as David Pinto points out, after all, pay for night games — baseball should hold the line the next time they can and demand day games from whoever is paying. Again, it's for the good of the game.
And finally, I can't leave out good old New York. In the annals of American society, New York holds a special place these days. While for a few months in 2001, Americans rallied around New York, we're once again the city too good for the rest of the country. Everyone hates us, and that's the way we like it.
To that end, the playoffs need the Yankees. It's no coincidence that the Yankees draw the highest TV ratings; baseball fans need someone to root against as much as they need someone to root for. When that someone to root against is also from the country's most arrogant and insufferable city, even better. Baseball shouldn't root against the Yankees.
Now, granted that final point is a rather contrived conceit. I want to see the Yankees in the playoffs every year no matter what, but there is some truth in it. The Yanks are a draw. But the playoffs should be a draw no matter what. If they weren't exciting this year, if they've gotten less compelling as time marches on, then something is wrong not with the games or with the fans but with the system. It's time to fix it.
We all know what happened Monday, there's no need to go back over that. What we're looking at tonight is a three-and-a-half inning mad dash to the finish, almost a sudden death baseball game.
The game will resume in the bottom of the 6th inning, tied at two. The pitcher's spot is due up for Philly, so they'll presumably announce a pinch hit for starter Cole Hamels. Grant Balfour is still in the game for Tampa, and was already announced in the 5th inning, so if Charlie Manuel goes to a lefty pinch hitter, Joe Maddon can counter with a lefty reliever without Balfour having to face one hitter first.
When the Rays come to back in the top of the 7th, Dioner Navarro will lead off, with the pitcher's spot due up fourth in the inning. Philadelphia has a major advantage tonight because they have 12 outs to play with while Tampa only has 9.
The game should be a blast tonight, all the excitement of a postseason nail-biter finish without the drag of he first six innings. Brad Lidge hasn't thrown more than one inning in an outing all season, but with everything on the line tonight, I suspect you'll see him out there at the first hint of trouble in the 8th. David Price is available for multiple innings, and it's pretty much a forgone conclusion that Tampa's season will be decided when he's on the mound.
First pitch is scheduled for 8:37pm, and this one might be over by 10. Imagine that.
Tampa Bay
6. Dioner Navarro, C
7. Rocco Baldelli, RF
8. Jason Bartlett, SS
9. Pitcher
1. Akinori Iwamura, 2B
2. Carl Crawford, LF
3. BJ Upton, CF
4. Carlos Pena, 1B
5. Evan Longoria, 3B
Philadelphia
9. Pitcher
1. Jimmy Rollins, SS
2. Jayson Werth, RF
3. Chase Utley, 2B
4. Ryan Howard, 1B
5. Pat Burrell, LF
6. Shane Victorino, CF
7. Pedro Feliz, 3B
8. Carlos Ruiz, C
By

Venditte, the Yanks' 20th round pick in 2008, took home the Minor League Yearly Award for Best Reliever in a Short Season League. The ambidexterous hurler made will be remembered for an exchange with a switch hitter, but he was untouchable on the mound: 32.2 IP, 13 H, 3 ER, 10 BB, 42 K, .117 BAA, and a league leading 23 saves. Congrats to Pat. MiLBY today, Cy Young tomorrow. · (23) ·
By

SI.com is still trying to get Derek Jeter to own up to his relationship with Minka Kelly, but Derek will have none of that. Other than that, Derek does in that interview what he does: He talks a lot and says very, very little. I wonder if he's more verbose with the women. · (16) ·
By

Tim Dierkes at MLB Trade Rumors has, using the rankings from Detroit Tigers Thoughts, compiled a list of all Type A and B free agents. The Yankees have five potential Type A free agents — Bobby Abreu, Damaso Marte, Mike Mussina, Andy Pettitte, Ivan Rodriguez — and no Type B players. It's hard to believe that Jason Giambi didn't make the cut, but that appears to be the way the cookie crumbles. What that means for their draft picks will depend on which players the Yankees sign this winter. · (78) ·
The Detroit Tigers were arguably the American League's biggest disappointment this year. They beefed up payroll and landed Miguel Cabrera through a key trade only to find their pitching in shambles. Their 74-88 last-place finish was not expected.
Now, as the Tigers dig out from this debacle, the team has a few tough decisions to make. One of them surrounds Magglio Ordoñez. The Tigers' right fielder is due $18 million in 2009, and the team holds two options for 2010 and 2011. This contract severely limits the team's financial flexibility, and as MLB Trade Rumors pointed out earlier this week, the Tigers may try to move Ordoñez.
To that end, long-time RAB reader Justin wrote to me this week:
What would it take to trade for Magglio Ordonez? The Tigers need to shed payroll and Magglio is still a very productive right fielder, certainly more so than Bobby Abreu. What about a package of Kennedy, Nady and someone like Marquez for Magglio with the yanks taking on his full salary?
Now, Ordoñez on the surface is certainly an attractive target. He's always crushed the Yankees both at Yankee Stadium and in either Chicago or Detroit. But this may be another case of A.J. Burnett syndrome where the target looks more appealing than he actually is. Let's hit the numbers.
Ordoñez is actually six weeks older than the Yanks' current incumbent right fielder, and their numbers are fairly identical. In 2008, Abreu hit .296/.371/.471 with 20 home runs and Ordoñez hit .317/.376/.494 with 21 home runs. In terms of park effects, Ordoñez's home splits were significantly better than his road splits (.350/.397/.577 and 13 HR vs. .286/.356/.415 with 8 HR) while Abreu's numbers display a similar but not quite as dramatic split. Comerica Park did not play any more a role of a pitcher's park as Yankee Stadium did last year.
Sabermetrically, the two in 2008 were nearly the same as well. Ordoñez's VORP of 38.3 was a hair higher than Abreu's 36.1 mark. These trends project over the course of their careers as well, as the two have very similar career lines. The differences then are in the terms of their contracts. Abreu is a free agent at age when teams are looking to shed 35-year-old outfielders; Ordoñez is still under contract at a high price for at least another year and possibly two more after that.
To that end, I'd say pass on Ordoñez. He doesn't incrementally add much to the Yankee roster that the team couldn't add by re-signing Abreu. Plus, he's going to cost, at least for 2009, significantly more than Bobby, and the Tigers will ask for something beyond fiscal relief in a trade. If the Yankees are interested in Ordoñez, they may as well just stick with Abreu for less money, and they wouldn't have to give up prospects to boot.
Of course, if the Yankees pass on re-signing Abreu and need a warm body in the outfield until Austin Jackson is ready, they could do much, much worse than Ordoñez. But again, I'm loathe to trade away anything valuable by a 35-year-old outfielder set to make $18 million next year. It's just not worth it.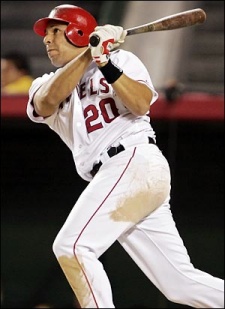 At FanGraphs yesterday, Dave Cameron mentioned Juan Rivera as a free agent bargain. The 30-year-old will hit free agency for the first time this off-season, though his stock is far from its highest. His 2007 and 2008 campaigns left much to be desired, the former being dramatically shortened after breaking his leg during winter ball, the latter due to the Angels having a logjam in the outfield and only getting him 280 trips to the plate. In those 280 appearances, though, he hit a paltry .246/.282/.438. Not much of a contract year performance there.
Presumably, the Angels will let Rivera walk. They already have Torii Hunter, Gary Matthews, and Vlad Guerrero under contract for 2009, they have Reggie Willits to fill in as a 4th outfielder, and there's a chance they could bring back Garret Anderson, whose 2009 option they declined yesterday. With those options, plus Rivera's ineffectiveness, the outfielder could find himself in a new home in 2009. Why not bring him home to the Bronx?
Don't get me wrong, though. I'm not advocating we sign Rivera to replace Bobby Abreu, per se. Given his issues, Rivera could be a cheap signing this winter. A few teams may be in for his services, but it's not like he's going to score a 3-year, $15 million deal anywhere. Likely, he'll get a year and maybe an option, and a salary, I dunno, below $2 million, maybe with some incentives. That's just a guess, though. You never know what's going to happen during the Hot Stove.
Ideally, the Yanks get Rivera as their fourth outfielder. This leaves them with Damon in left, Melky/Gardner in center, Xavier in right. Rivera is mostly a right fielder, so when he plays Xavier can move to left and Damon can shift to center or play DH. Or Xavier sits. There are plenty of ways the Yanks can work this. It means that both Melky and Gardner start in center field — one for Scranton-Wilkes Barre, though.
We do know that Rivera had skills, and could bring it at the plate. Those skills have certainly eluded him over the past few years, and there's no guarantee that they'll come back. Say they do, though. Say he takes to an off-season workout and comes into camp ready to hit like he did in 2006. You then have a good problem on your hands. You can play him in right, Xavier in left, and then have three center fielders to choose from. You can dish Damon to a team whose center fielder bites the dust early. You can put him in center and hope that your offensively superior outfield can hang defensively. The chances of this are slim, but it's still a possibility. That's why it's called a flier.
Outfield certainly isn't the top priority of the off-season, but the Yankees could pull a small move like this in order to give them some flexibility and open up their options. Rivera is a guy who has the potential to start, but you can live with as a bench guy. Even if his best years are behind him, he still has some power — he hit 12 homers in those 280 plate appearances. It's doubtful any team pursues him as a starter, so teams should be on pretty much even ground. Since the Yankees have the financial advantage, they could probably pull him in if they really wanted. I think they should. Do you?