By

Our stint over at Newsday continues today as I take a look at the Yanks' lack of pitching depth. As it stands now, the Yanks' rotation features Chien-Ming Wang, Joba Chamberlain, Phil Hughes, Ian Kennedy and Al Aceves. It's a good thing Spring Training is still nearly three months away, and the big-name free agents remain unsigned. Check out my musings on the topic On the Yankees beat. · (36) ·
Toward the end of the day yesterday, Sports Illustrated's Jon Heyman wrote a piece with the headline, "Yankees not in ballpark for Lowe, Burnett." The article wasn't quite as accurate as that though:
The Yankees intended to make four-year offers on A.J. Burnett and Derek Lowe for about $14-15 million annually (in other words, close to $60 million each). However, Burnett's agent, Darek Braunecker, is telling teams he's only considering five-year proposals, and Lowe's agent, Scott Boras, apparently also suggested the Yankees aren't in the ballpark.
Well, maybe metaphorically, the Yanks "aren't in the ballpark" these players' agents want them to be. However, the Yankees are set to make opening offers to two of their free agent targets. As is custom in a negotiation, the agents will then counteroffer.
It's fun to dump on the Yankees. They're the big bad rich guys who want to buy up everyone. But it's less fun to stretch the truth about a contract negotiation. Don't let Heyman's piece scare you. The Yanks and Burnett or Lowe are simply involved in a business deal, and that's how these play out, bad baseball metaphors or not.
When comparing the top of the 2008-2009 free agent class, the first year that comes to mind is 2000-2001. A-Rod, Manny, Hampton, Mussina, and Juan Gone to this year's Teixeira, Manny, Sabathia, Burnett, Lowe. After browsing through some New York Times articles from November 2000, I'm wondering how Yankees fans would have reacted on blogs back then, had blogs existed.
On November 7 of 2000, Buster Olney reported that the Yankees had "an either-or interest in Mussina and Ramirez, who figure to be the most expensive free agents who are not named Alex Rodriguez." I wonder how fans would have reacted in the comments if we linked to this article. After all, the 2000 Yankees finished with just 87 wins. They could have used the upgrades both at the plate and on the mound.
Like the speculation this year about a backup plan in case CC doesn't sign, the Yankees had alternatives in mind if Mussina re-upped with Baltimore.
So Plan A for the Yankees seems to be this: Sign Mussina, and bring back Paul O'Neill to play right field for another year. Plan B: Sign Ramirez to play right field and another pitcher who would cost less than Mussina, such as the left-hander Denny Neagle or the right-hander Kevin Appier (whose agent has been contacted by the Yankees).
Neagle would have been a disaster, worse than signing Jon Garland. After posting a 5.81 ERA with the Yanks in the second half of 2000, he went out to Colorado and wasn't very good. Though he did post a 5.38 ERA in 2001, which was just a few points above the league average ERA of 5.32. Damn you, Barry Bonds. Damn you.
Ponder this, too. According to Murray Chass, the Yankees actually coveted Mike Hampton more than Mike Mussina.
They really preferred Mike Hampton to Mussina. Hampton is four years younger and left-handed. But they determined that Hampton didn't want to play in the American League.
Think Cashman would still have a job today if they signed Hampton instead of Mussina? Who knows, though. Maybe he fares better away from Coors Field. History could have written a different story for Mike Hampton had he decided to continue pitching in New York.
I can only imagine the arguments we had if RAB was around back then. Good times would have been had.
P.S. Don't pay any mind to this. It means nothing.
By

We've talked about Bobby Abreu quite a bit since the season has ended. While the Yanks will offer him arbitration, they won't give him the three-year deal he wants. But does he even deserve this deal? In a must-read piece about Abreu's future, Eric Seidman posits that Abreu will be among the most overpaid or the most disappointed free agents on the market this year. I believe it. · (37) ·
Junichi Tazawa, the 22-year-old amateur free agent, is creating something of an international incident between the Japanese and American baseball leagues. Some teams from Japan are irked that Major League teams seem to be so heavily invested in landing the highly-touted right-hander.
In The Times today, Alan Schwarz and Brad Lefton covered the issue:
Many Japanese baseball officials are outraged that United States teams are courting Tazawa, a hard-throwing right-handed pitcher, because they insist it is long-established practice for amateurs like him to be strictly off limits to major league clubs. Even some American general managers, including the Yankees' Brian Cashman, agree.

Major League Baseball officials maintain that the letter of their protocol agreement with their Japanese counterparts, Nippon Professional Baseball, does not forbid either league from courting amateur talent from the other's nation. When one Japanese representative characterized the rule as a gentlemen's agreement during a meeting in New York, he was angrily rebutted by a Major League Baseball official, according to two attendees.

The Tazawa dispute extends beyond one pitching phenom and an interpretation of honor. The Japanese major leagues have already seen established stars leave for American clubs, and amateurs following Tazawa's path away from those leagues could further hurt the leagues' long-term viability.
As the Tazawa dispute has brewed this offseason, NPB officials released a statement on it: "This was more than just a gentlemen's agreement, but rather an implicit understanding that the major leagues would do no such thing. That a handful of clubs from the majors is trying to break this gentlemen's agreement is truly regrettable."
As Schwarz and Lefton offer up an overview of the situation — including the typical glowing scouting reports on Tazawa — they bring the issue back home to New York:
Officials of major league teams have a wide spectrum of views as to whether Tazawa should be signed…The Yankees' Cashman was unequivocal.

"I'm old school — there has been an understanding," said Cashman, whose team has a formal cooperative relationship with the Yomiuri Giants, a team particularly upset with the Tazawa affair. "There's been a reason that Japanese amateurs haven't been signed in the past, so we consider him hands off."
So my question is this: What do you think of Cashman's stance? The Yankees have some deep-rooted economic and baseball interests in Japan. It behooves the team's bottom line to keep the NPB officials happy. In all likelihood, the Yanks will benefit in the long-term by respecting this gentleman's agreement.
But what about Tazawa? Should the Yanks forego this stance to pursue young, amateur free agents who aren't explicitly breaking a rule but are simply exploiting a free market? I'd probably say no. It's far better to keep things amicable between the Yanks and Japan, but maybe others see things differently.
So feel free to discuss this issue. I find it a fascinating one as baseball explores an international expansion of the game.
If you don't feel like talking about this topic, use this thread as the evening's Open Thread. Anything goes. Just keep it civil.
By

Via Chad Jennings, the Yanks have added LHP Mike Dunn and RHPs Chris Garcia, Steven Jackson & Anthony Claggett to the 40-man roster to protect them from the Rule 5 draft. Notable players not protected include LHP Zack Kroenke, IF Ramiro Pena, and RHPs JB Cox & Alan Horne. Shows what I know, I thought Cox & Horne were shoo-ins to be protected. The Depth Chart has been updated. · (73) ·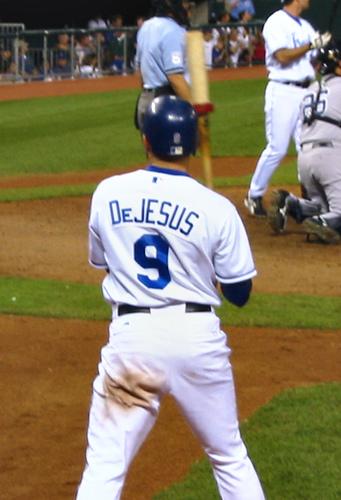 Yesterday the Royals swung a deal for Coco Crisp, landing the man who was once traded for Chuck Finley in exchange for ex-Yankees' prospect Ramon Ramirez. The deal gives the Boys in Royal Blue five players capable of playing the outfield everyday, meaning there's excess to use as trade fodder. We've already heard rumblings about the Cubs being interested in Moneyballer Mark Teahen, although there has been no further movement on that front.
Having maintained interest in Mike Cameron, it doesn't appear that the Yanks' braintrust is content with Melky Cabrera and Brett Gardner duking it out for the centerfield gig in Spring Training. That's where David DeJesus comes in. The Brooklynite and Rutgers alum is one of KC's most marketable pieces, and luckily for Dayton Moore is centerfield market is bone dry.
DeJesus offers plenty at the plate, consistently producing on-base percentages in the .350-.370 range despite minimal lineup protection. He also has a nice amount of pop, slugging at least .445 in three of his four full seasons. His line drive rate is nearly 25%, and last year he saw 3.86 pitches per plate appearances, good for tenth among AL outfielders.
If you're down with clutchiness you'll be down with DeJesus. The dude hit .419-.484-.562 with RISP this year, while his 2.63 WPA was 11th in league. His Clutch tied for third in the league at 1.14. Weak hacks at balls off the plate to strike out with runners on base is enough to annoy anyone, but DeJesus has incredible bat control that allows him to make contact on 89.5% of the swings he takes (good for 6th in the league), keeping his strikeouts down.
DeJesus' defensive reputation took a bit of a hit last year when he slid over to leftfield in deference of Joey Gathright, but rumors of his defensive demise have been greatly exaggerated. Check it out:
Revised Zone Rating
Innings per Out of Zone play
2007
2008
2007
2008
Melky Cabrera
.910
.938
32.5
16.5
Coco Crisp
.909
.927
21.0
20.6
David DeJesus
.910
.938
29.4
9.0
If you're unfamiliar with RZR and OOZ, they measure the percentage of balls hit into a player's zone that are converted into outs, and the number of outs made on balls out the player's of the zone, respectively. All the stats in the table are for the CF position only, and because Melky & DeJesus bounced around outfield spots, I presented OOZ in terms of innings played at the position.
Essentially what this data tells us is that DeJesus runs down balls hit into zone just as well as Melky & Coco, and that he also makes a fair number of tough plays on balls out of his zone. He's never going to be confused for Carlos Beltran out there, but he's fully capable of playing the position on an every day basis. Of course the Yanks always have the option of sliding him over to left late in game, allowing Johnny Damon to get a little break while Melky/Gardner shore up the outfield defense.
So here comes the part none of us can answer, what would it take to get him? He comes dirt cheap, as he's owed just $3.6M in 2009 and $4.7M in 2010 before a $6M club option (or $0.5M buyout) comes into play. Picking up DeJesus would allow the Yanks to remain patient with Austin Jackson, and also gives them some depth for when Xavier Nady, Johnny Damon and Hideki Matsui hit the free agent market next year.
It's not a buy low situation like Nick Swisher, but it's a chance at a guy who could be available because of a numbers crunch. If the price is right, say a young pitcher like Ian Kennedy plus a reliever to replace Ramirez/Leo Nunez, then you almost have to pull the trigger. He brings much needed youth and athleticism, and is a perfect two year stopgap for Jackson and replacement leadoff hitter for Damon if he leaves after '09.
Plus, just think of how much fun Michael Kay will have mentioning that DeJesus is a local kid living out his dream every time he comes to bat.
Or: Wins are a really stupid metric for evaluating anything
This post comes from RAB commenter tommiesmithjohncarlos.
I was thinking about this again this morning, so I did some quick research on Baseball-Reference.com. Enjoy the following narrative, brought to you by The Committee to Induct Michael Cole Mussina into the Hall of Fame.
#1: June 22, 1992
Mike pitches 8.0 innings, giving up 5 hits, 1 walk, and 2 runs, strikes out 7, and is replaced after the 8th with a 4-2 lead. In the top of the 9th, Orioles reliever Mike Flanagan gives up a single to Mel Hall and is then pulled for Orioles closer Gregg Olson, who gives up a game tying home run to the first batter he faces, Roberto Kelly. In the bottom of the 9th, the Yankees bullpen gives up a run and the Orioles win, 5-4. Moose gets the ND.
#2: August 15, 1992
Mike pitches 7.2 innings, giving up 9 hits, 3 walks, and 3 runs, strikes out 5, and is pulled during the 8th with a 4-3 lead. In the bottom of the 9th, Orioles closer Gregg Olson gives up a single, a walk, a bunt groundout, a single, and a sac fly and the Royals win 5-4. Moose gets the ND.
#3: August 17, 1995
Mike pitches 8.0 innings, giving up 6 hits, no walks, and 2 runs, both unearned (on a dropped flyball by Bobby Bonilla in the second inning that would have been out #3), strikes out 8, and is replaced after the 8th with the game tied at 2. In the top of the 10th, Orioles reliever Jesse Orosco gives up a leadoff homer to Gary Gaetti in his second inning of work and the Royals go on to win, 3-2. Moose gets the ND.
Mike pitches 8.0 innings, giving up 4 hits, 2 walks, and 1 run, strikes out 9, and is replaced after the 8th with a 2-1 lead. In the bottom of the 9th, Orioles closer Armando Benitez gives up a one-out home run to Ed Sprague to tie the ballgame. In the top of the 10th, Roberto Alomar hits a home run of his own to retake the lead and the Orioles go on to win, 3-2. Moose gets the ND.
#5: July 7, 2001
Mike pitches 7.0 innings, giving up 6 hits, 1 walk, and no runs, strikes out 10, and is replaced after the 7th with the game still a scoreless tie. After two more scoreless innings from Jay Witasick, in the top of the 10th, Yankees reliever Mariano Rivera has one of his rare implosions and gives up a walk sandwiched around 4 line-drive singles, all with two outs, to score 3 runs and the Mets go on to win, 3-0. Moose gets the ND.
#6: July 17, 2001
Mike pitches 7.0 innings, giving up 8 hits, 3 walks, and 1 run, strikes out 3, and is lifted for a pinch hitter in the top of the 8th with the game tied at 1. Much later, in the top of the 12th with the game still knotted at 1, Phillies reliever Wayne Gomes gives singles to Jeter and Tino and a homer to Jorge and the Yankees go on to win, 4-1. Moose gets the ND.
#7: August 12, 2001
Mike pitches 8.0 innings, giving up 2 hits, no walks, and 2 runs, strikes out 9, and is replaced after the 8th with the game tied at 2. In the bottom of the 9th, Yankees reliever Mike Stanton walks Johnny Damon and, one batter later, gives up a two-run homer to Jason Giambi. The A's win, 4-2. Moose gets the ND.
Mike pitches 7.0 innings, giving up 5 hits, 2 walks, and 1 unearned run (on a first inning error by centerfielder Raul Mondesi), strikes out 8, and is replaced after the 7th with a 2-1 lead. In the bottom of the 8th, Yankees reliever Steve Karsay gives up a game-tying homer to the first batter he faces, Randy Winn. Two innings later, Yankees reliever Sterling Hitchcock gives up a single, a double, an intentional walk, and then a single and the Devil Rays win it, 3-2. Moose gets the ND.
Had Moose had a slightly better collection of relievers (or fewer defensively challenged outfielders) over the years, and had the 2001 Yankees not been utterly shut down by Mets "ace" Kevin Appier in that 7/7/01 game, etc., Moose could have won these 8 contests, since he pitched damn well in all of them. What's the significance of these eight games, you ask? Well, if we use our magical time machine to alter these games and give Moose the victories instead of the no-decisions, not only would Mike's career record now be 278-153, he'd now have SIX, COUNT 'EM, SIX twenty-win seasons:
1992: 20-5
1995: 20-9
1996: 20-11
2001: 20-11
2002: 20-10
2008: 20-9
…which means none of us would be having this conversation about "Is Moose a Hall of Famer"? Bill Plaschke, Jon Heyman, Jay Mariotti, Wallace Matthews, George King III, Joel Sherman, and even Mike Lupica himself would be singing Moose's praises from the mountaintops and viciously excoriating anyone who dared question the credentials of an absolute stud ace who won 20 games an unbelievable six times.
(And don't forget that Moose went 16-5 during the strike-shortened 1994 season, where he was robbed of probably 10-12 potential starts. Do your own math on that one.)
So please, people. Seriously. We can't allow media idiots to keep Mike Mussina out of the Hall of Fame because of a few bad games from Gregg Olson, Armando Benitez, Bobby Bonilla, Raul Mondesi, Steve Karsay, Mike Stanton and one good game from Kevin Appier. That's insanity.
I think RAB Radio Show sounds a lot better than River Ave. Blues Podcast, don't you? Cool, because that's what we're going with. Mike and I have plenty to talk about this week, including the Swisher deal, which was announced shortly after last week's show. Then we have CC, of course, the Rule 5 draft, some Q&A, and a farewell to Moose.
Regarding Swisher and CC, there isn't much left that hasn't been said. I know a few people are pissed off that this decreases the chances that the Yankees go after both CC and Teixeira, but I don't see it that way. Swisher gives them insurance. He's a flexible player, and the Yankees can continue as planned with free agency without getting roped into a huge bidding war for Tex.
The biggest item for the day is the Rule 5 draft. Not the event itself — that will come on the last day of the Winter Meetings. Today, however, is the last day to make adjustments to your 40-man roster to protect eligible players. The Yanks don't have many position players worth protecting. Possibly Ramiro Pena, but even he's no lock. Plenty of pitchers, though: Chris Garcia, Alan Horne, J.B. Cox, Zach Kroenke, Mike Dunn, Anthony Claggett, Stephen Jackson. A lesser team might snag one of those guys, figuring it can't hurt to sock them away in the bullpen. The Yanks have four spots, plus they could DFA a few guys. Who do they keep?
We had some neat questions in our Q&A. We'd really like to beef up this portion, possibly with real call-ins. Any suggestions?
Finally, we bid farewell to Mike Mussina. It's been great having Mike on our team for the past eight years. May his quest for the HOF move quicker than his quest for 20 wins — or worse, his quest for a World Series or Cy Young.
The podcast is available in a number of formats. You can download it here by right clicking on that link and selecting Save As. If you want to play it in your browser, just left click the link. You can also subscribe to the podcast feed, which will send it to you every Thursday. You can also subscribe in iTunes. Finally, we have the embedded audio player below.
Audio clip: Adobe Flash Player (version 9 or above) is required to play this audio clip. Download the latest version here. You also need to have JavaScript enabled in your browser.
We appreciate any feedback. You can leave it in the comments or email either of us.
Podcast: Play in new window | Download (52.1MB)