By

At this stage in his career, with 13 straight playoff appearances and four World Series rings as a manager, Joe Torre is probably the most deserving non-Hall of Famer around. While he never received more than 22 percent of the vote while on the player ballot, he is again up for eligibility under the rules of the Veterans Committee, and this time, as MLB.com's Tom Singer explores, he just might make it in. The Veterans Committee is tasked with considering a candidate's "total contributions to the game of baseball," and I think that Torre has a legitimate case for inclusion in Cooperstown. Despite his unpleasant departure from New York and his recent lack of playoff success, I'd vote for him given the chance. · (37) ·
By

David Pinto directs our attention to an interview with Ian Kennedy. The once and future prospect has been working hard to improve his breaking pitches and command this winter with the current USC pitching coach Tom House. Kennedy is optimistic about 2009 but realizes he has a long way to go after his disastrous 2008 season. While a lot of Yankee fans have an irrational hatred of Kennedy, he's still very young and still very well regarded. A bounce-back season would not be out of the ordinary. · (68) ·
Update: Comments are back on, and I've added a few more stories.
==
We have a lot of CC Sabathia quick hits this morning. Let's dive in.
For a long, drawn-out take on Brian Cashman's trip out west — replete with a "he's going to stare him straight through the eyes and into the heart of his soul" analogy — check out Jon Heyman's latest. It features two anonymous-to-him bids for Sabathia and a growing sense that the Yanks want to judge Sabathia's interest before withdrawing their offer and pursuing Mark Teixeira.

The more I think about it and the long Sabathia stews, the more I prefer Teixeira. It has nothing to do with Sabathia's perceived desire and everything to do with Teixeira's offensive and defensive prowess. The first baseman may just be a better cog.

Ken Davidoff believes that the Brewers won't go higher than six years and $110 million. The Yanks' offer would remain the best known deal by a significant amount.
Anthony McCarron disputes Heyman's report. Those other two anonymous deals, according to McCarron's sources, aren't really there. One source speculates that they are smoke screens tossed up by Sabathia's agent to draw more out of the Yanks. That source really doesn't see the Giants as a legitimate option. Bruce Jenkins, writing for the San Francisco Chronicle, isn't ready to write the Giants off yet.
GM for a day. It is of course the greatest role play another obsessed baseball fan likes to play.
Over at Baseball Prospectus, in an article not buried behind the subscriber wall Jay Jaffe played Yankee GM and tried to put together a team, within reason, that would be an improvement over the recent flawed and overpaid clubs. His results and approach are worth a look.
Jaffe begins with his basic premise before restructuring the club:
Unfortunately, Cashman appears to have settled for Swisher as his first baseman in the hopes of saving his money for Sabathia. For that, and for his arbitration transgressions, he's been reassigned to the mailroom while I take over.

My regime is taking a different approach. Behind nominal staff ace Wang, the Yanks still have those three healthy young pitchers, along with more pitching prospects on the way, starting with reliever Mark Melancon. Improving the rotation is a priority, but given that the organization has only one prime hitting prospect with experience above A-ball—center fielder Austin Jackson, who's coming off of a .285/.354/.419 season in Double-A as a 21-year-old—a long-term play to improve the offense is the more pressing concern.
It's Friday before the Winter Meetings. That means it's time for the Red Sox to scare the crap out of Yankee fans everywhere. Via the tireless Buster Olney:
The Red Sox are meeting with CC Sabathia sometime in the next few days, and so will Yankees GM Brian Cashman, who reportedly met with Scott Boras, the agent for Mark Teixeira and Derek Lowe. It's unclear whether the Red Sox are seriously interested in trying to compete with the Yankees' $140 million offer to Sabathia, or if they are just doing their due diligence and preparing alternatives in their winter shopping.
The Red Sox are doing what any team in their position would do. They're being a pain in the neck for the Yankees, Angels and any other team interested in Sabathia. Are they going to sign him? No. Do they want to make their opponents pay more? Of course. Welcome to business.
Anyway, that's that. Use this thread as your Friday night open thread. Discuss anything. Play nice. Just don't accidentally shoot yourselves in the hip.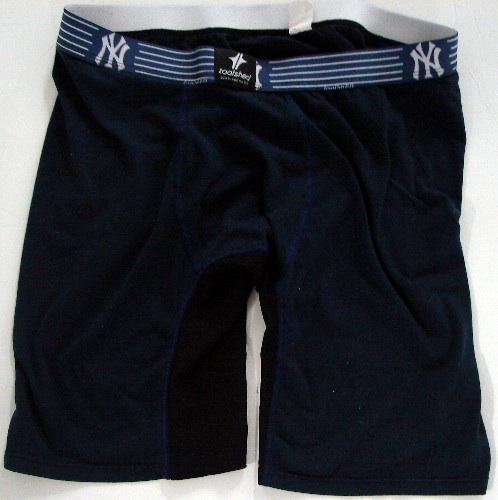 We tend to ignore A-Rod's personal shenanigans around here. What he does with Madonna is his own business and has little-to-no impact on the rest of the team. And while David Ortiz thinks that A-Rod is going to play for the Dominican team during the WBC, that soap opera bores me.
When A-Rod's undies, however, wind up for sale on eBay, well, now we're talkin'. As John Shabe reported yesterday, a Massachusetts-based memorabilia company is selling A-Rod's game-used spandex on eBay. Phil Castinetti, the owner of SportsWorld, won't say how he got the undies, but he claims they've been washed after use.
The bidding is, as of this writing, currently at $177.50. Get on that. How often can you buy a pair of game-used underwear anyway?
Following up on everything…
While watching the O.J. Simpson sentencing, my eyes wandered to the ESPN crawl, and I saw some news that Yankee fans will both bemoan and appreciate. As part of the free agent transaction chain, we should now be rooting for Mark Teixeira to sign sooner rather than later. Peter Gammons reports that CC Sabathia is waiting to see what happens between Teixeira and the Angels, and Derek Lowe is waiting to see what happens with Sabathia. From a business perspective, that all makes perfect sense. Those of you impatient for no reason with the seemingly slow pace of the Hot Stove League won't like it.
This news will of course rekindle the misguided line of reasoning that Sabathia hates New York and wants to pitch only for a West Coast team closer to his home. To combat that, check out Tyler Kepner's latest. He writes:


"It's not that he doesn't want to be a Yankee; that's not it at all," said a friend of Sabathia's, who was granted anonymity because Sabathia had not authorized him to speak on his behalf. "It's just the aspect of being out there, his family, that kind of stuff."

That's all it is. Sabathia would prefer to be on the West Coast and is waiting to see what shakes down. If the Yanks' offer emerges as the best, he'll come to the Bronx with open arms. Just because he is waiting, smartly, doesn't mean he doesn't want to be here.

Finally, Robinson Cano's name keeps popping up in various rumors. The Yanks have committed a lot of resources and time to Cano this off-season, and I doubt they would move him. If they're so inclined, however, Buster Olney has word of the asking price. The Yanks would first ask the Dodgers for Clayton Kershaw or Chad Billingsley. When they can't get one of those two pitching studs, they'd turn their attention to Matt Kemp. In other words, Cano ain't goin' nowhere.
By

As we noted, Scott Boras and Brian Cashman met yesterday to discuss some of the über-agent's free agents. According to Tyler Kepner, Cashman met with Mark Teixeira as well, and this finally seems to confirm the Yankee interest in the man who would be, to channel Buster Olney, a great fit. No word there on an offer.

But on the Derek Lowe front, Mark Feinsand has somet developments. According to the Daily News scribe, the Yanks may be gearing up to make Lowe an offer. While Boston has also expressed interest in Lowe, I'd rather see the Yanks pursue Teixeira. Lowe doesn't do much for me, but some of that might just be my personal reaction to him. · (81) ·
By

With GM Brian Cashman set to meet with CC Sabathia and the market for A.J. Burnett taking shape, Ben Sheets' name has popped up in Yankee rumors for the first time this Hot Stove season. "There's increasing buzz," wrote Jayson Stark, "about the Yankees' interest in Ben Sheets, possibly an indication that they're not confident they're going to be able to sign Burnett. A few RAB tipsters have noted a similar vein of discussion on Michael Kay's ESPN radio show as well. We like Sheets. Hopefully, the Yankees do too. · (165) ·