Splitting a four-game series on the road against a first place team is a pretty good outcome all things considered, but man, dropping the fourth game when you had a chance to win the series always sucks. The Yankees had no answer whatsoever for Collin McHugh in Sunday afternoon's 3-1 loss to the Astros.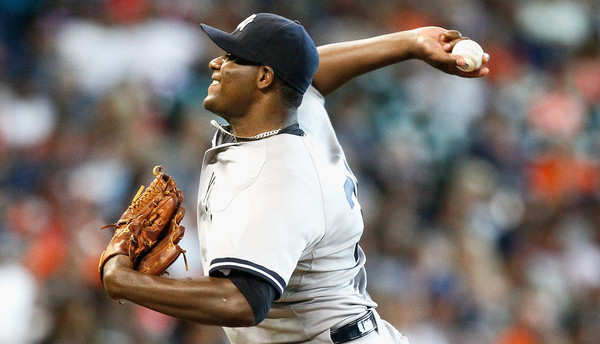 Three Runs? Two Too Many
In the grand scheme of things, this was a really good bounceback start for Michael Pineda, who got hammered by the Tigers last time out. Three runs in eight innings against one of the better offenses in the league? Have to be pleased with that. Of course, Pineda's effort also resulted in a loss on Sunday, though it's tough to blame him. Three runs (two earned) on seven hits and no walks with eight strikeouts in eight innings is a fine performance.
The Astros scored their first run because of what was ruled a Brett Gardner error. It was an easy fly ball off the bat, both Gardner and Garrett Jones converged, then both pulled up, and the ball dropped in. Carlos Correa hustled around the bases for the inside-the-park homer. (Double and a two-base error, whatever.) The ball has to be caught and it appeared Gardner called it before pulling up, probably because Jones was charging after it as well. Either way, catchable ball and an unearned run.
Houston scored their second run in the seventh inning in a more traditional way — Correa doubled to left, moved to third on Jose Altuve's sacrifice bunt, then scored on an Evan Gattis triple. Gattis smashed a slider off the wall and Gardner was just short of catching it. Far from routine. The fly ball on the first run has to be caught. The triple? It's a highlight play if it gets caught. A double, a ground out, and a sac fly created the insurance run in the eighth. So it goes.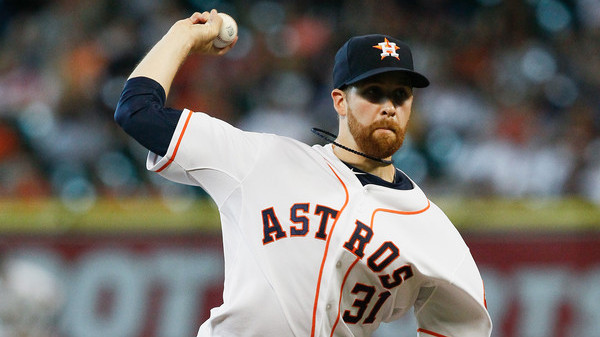 One Run? Not Enough
McHugh came into Sunday's game with a 4.80 ERA (4.21 FIP) and an unsightly 1.25 HR/9 on the season, so, naturally, he held the second best home run hitting team in baseball to no homers and one run on two singles and two walks in eight innings. The Yankees scored their only run when Stephen Drew walked with one out in third, moved to second on a wild pitch, then scored on Gardner's soft ground ball single up the middle.
Aside from that third inning, the Yankees did not have a runner advance as far as second base. The five-pitch seventh inning was a killer because McHugh started the inning at 89 pitches and the Yankees had a chance to get his pitch count up over 100, likely ending his day after seven innings, but nope. They couldn't do anything with his rainbow 12-to-6 curveball in particular. McHugh threw 26 curves according to PitchFX and the Yankees swung and missed nine times. Nine times! McHugh could have told the hitters the curve was coming and they still weren't going to hit it. Totally dominated.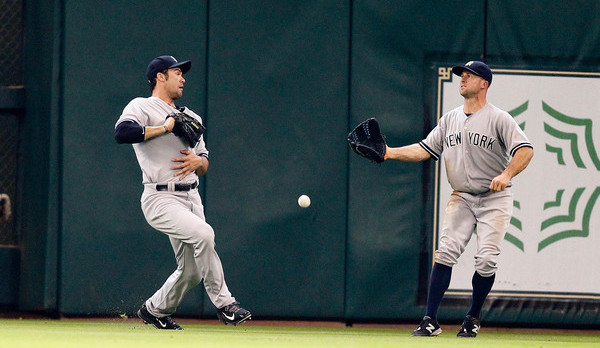 Leftovers
Not surprisingly, Gardner was the only batter who put up much of a fight against McHugh. He went 1-for-3 with a walk and smashed a fly ball to the warning track in right. Alex Rodriguez slapped a soft single to center with two outs in the sixth. That plus Drew's walk is all the offense. The 4-5-6-7-8 hitters went a combined 0-for-15 with three strikeouts. Yeesh.
Heck of a game for Brian McCann behind the plate. He threw both Jose Altuve (fourth inning) and Domingo Santana (sixth) out trying to steal second base with great throws. The throw to get Altuve was flawless. McCann has thrown out 39% of base-stealers with the Yankees after throwing out 23.8% with the Braves. He's not the first catcher to improve his throwing under Joe Girardi and Tony Pena.
And finally, the Yankees were held to two hits total, their fewest of the season. They were one-hit by the Blue Jays last season and were held to two hits or less four times in 2013. Yuck. That 2013 season was awful. Never a good thing when you can reference it.
Box Score, WPA Graph & Standings
Here are the box score and video highlights, and also the updated standings. Now here are our Bullpen Workload and Announcer Standings pages. And finally, the loss probability graph:

Source: FanGraphs
Up Next
The Yankees are finally done with Houston and now are heading to Anaheim for a three-game series with the Angels. That place used to be a house of horrors but not so much the last few years. That was more of a mid-2000s thing. Anyway, veteran lefties CC Sabathia and C.J. Wilson will be on the mound for Monday night's series opener.