By

Michael Pineda threw a 30-pitch bullpen session this afternoon and reported no discomfort in his strained back/shoulder, according to Meredith Marakovits. They will determine the next step — either another bullpen session or throwing to hitters — after they see how he feels tomorrow. "I don't know exactly when the date (for the start of a rehab assignment) is going to be," said Joe Girardi to Chad Jennings.

Pineda, 25, started a throwing program last week and this was this third bullpen session. Girardi has already said he will need longer than the original 3-4 week rehab time to return to the team, and given their usually conservative approach, I wouldn't be surprised if Pineda threw another bullpen before facing hitters again. The important thing is that he's making progress. Pineda went from great story fifth starter to key piece of the rotation in the blink of an eye. · (2) ·
3B Eric Jagielo is day-to-day after leaving last night's game with an injury, according to Nicholas Flammia. "We'll go day-by-day from there," said Jagielo to Jake Seiner. "Tomorrow, we'll reevaluate and see how I feel. It was in my right side. Not my oblique, but in the back rib area."
Both Triple-A Scranton and Low-A Charleston had a scheduled off-day.
Double-A Trenton (9-0 loss to Harrisburg)
CF Mason Williams: 1-2, 1 2B, 2 BB — hasn't hit at all, but his 24/22 K/BB in 39 games is pretty good
LF Ben Gamel: 0-4
C Peter O'Brien & DH Tyler Austin: both 1-4 — O'Brien didn't go deep, but he did pick a runner off first with a snap throw
2B Rob Refsnyder: 0-4, 1 K
RHP Caleb Cotham: 6.1 IP, 6 H, 7 R, 7 ER, 4 BB, 5 K, 1 WP, 11/1 GB/FB — 62 of 106 pitches were strikes (58%) … yay grounders, boo everything else
LHP Cesar Cabral: 0.2 IP, 1 H, 2 R, 2 ER, 3 BB, 0 K, 0/1 GB/FB — only 11 of 30 pitches were strikes (37%) … last 50 batters faced: nine hits, 14 walks, eight strikeouts, three hit batsman, 16 ball-in-play outs
One night after Masahiro Tanaka suffered his first regular season loss in nearly two years, the Yankees are giving the ball to rookie Chase Whitley for his second MLB start. It's his 16th career start overall, which shows you how desperate the team is for pitching right now. Whitley was solid his first time out but he clearly ran out of gas in the fifth inning. Expect to see another few innings of bullpen this afternoon.
The Cubbies will have lowercase-a ace Jeff Samardzija on the bump in what is essentially a firsthand audition for the Yankees. They need pitching and, with Cliff Lee's elbow acting up, Samardzija figures to be the best available starter at the trade deadline. This start won't change his trade value much (unless he gets hurt), and if you're trying to figure out what it'll take to land him, just look at last summer's Matt Garza trade and adjust up a bit. Here is the Cubs lineup and here is the Yankees lineup:
SS Derek Jeter
RHP Chase Whitley
It's cloudy and on the cool side in Chicago, but there is no rain in the forecast. They won't be playing through rain drops like last night. This afternoon's game is scheduled to begin at 2:20pm ET. You can watch live on YES locally and MLB Network nationally, depending on where you live. Enjoy the game.
By

Shawn Kelley has been shut down after waking up with more stiffness in his back, according to the various reporters with the Yankees. Tests did come back clean, but they have halted his rehab and will proceed slowly.

Kelley was set to play catch this week, pitch in a minor league rehab game within the next few days, then rejoin the team either over the weekend or early next week. Back issues have a way of lingering, so this might be more than a few extra days. Adam Warren and Dellin Betances will remain David Robertson's primary setup men for the time being. · (21) ·
If he continues to hit like he has the first few weeks of the season — he's shown no signs of slowing down at this point, amazingly — Yangervis Solarte will go down as one of the best minor league free agent signings in baseball history. The switch-hitter has been a godsend for the Yankees, solidifying the infield and adding serious thump to the lineup. It's been remarkable to watch.
I like to think that I'm pretty well-versed when it comes to prospects and the minors, but even I had never heard of Solarte before he signed with the Yankees. He came out of nowhere. Major League teams sure knew who he was, of course, and the Bombers were not the only team who pursued him over the winter. Joel Sherman says the Tigers were aggressive as well, so much so that they even promised him an opportunity to win their second base job. Here's more from Sherman:
As a player who had spent eight years in the minors and was consistently — in (agent Peter) Greenberg's words — "the 41st man" in a sport of 40-man rosters, Solarte wanted to see a road to make a team and perhaps start.

But then Detroit obtained (Ian) Kinsler. The Yanks were aggressive from the outset. They often have trouble convincing minor league free agents to sign with them because those players believe in the organization's rep to go with stars over unknowns. The Yanks try to use money as a lure, and Greenberg said the $22,000 a month was the most any of his minor league clients ever had been offered, plus the Yankees were willing to guarantee three months of that contract.
Not only had Solarte never been in the big leagues before this season, he had never even been on a 40-man roster either. At least as far as I can tell. Solarte had several years of Triple-A experience though, so, according to Jeff Blank, he was earning upwards of $2,700 per month the last few years. Probably a bit more since he signed with the Rangers as a minor league free agent in both 2012 and 2013, when he had some negotiating leverage. It wasn't $22k per month though, according to Sherman.
Being a pro baseball player is a good gig if you can get it, and if you injected every player in the world with a truth serum, I'm sure every one of them would say they are in it for the money, at least to some degree. It's impossible to ignore the millions and millions of dollars on the table. Solarte signed with the Twins for a relatively small bonus as an amateur player out of Venezuela back in the day, and he didn't exactly make huge bucks in the minors all these years. A $22k a month salary with $66k guaranteed would have been hard to pass up. Now it's likely Solarte will earn more this season ($500k, the MLB minimum) than he did in his entire minor league career.
Like every other team, the Yankees sign a bunch of minor league free agents every year. Some work out — Solarte is an extreme example of one of these deals working out, but other minor league signees like Jayson Nix, Cory Wade, and Clay Rapada have contributed to the MLB team in recent years — and most don't, but these deals are super low risk. No 40-man roster spot is required, and in many cases the actual salary is measured in the low six figures (or in Solarte's case, five figures). It's a place where the Yankees can flex their financial might by offered those extra couple thousand bucks per month, amounts that barely put a dent in the team's bottom line.
Minor league salaries and free agency are still a bit of a mystery these days, especially when it comes to guys like Solarte, who have yet to make their MLB debut. He's an outlier, and building a team around minor league signings is not something that will win titles, but these players are necessary to provide depth and fill out Triple-A (and sometimes Double-A) rosters. Even the best farm systems have holes — the vaunted Cardinals farm system had no shortstops, hence four years for Jhonny Peralta — and this is one way to fill them. It's another spot where the Yankees can flex their financial muscle and it helped them strike minor league contract gold in Solarte.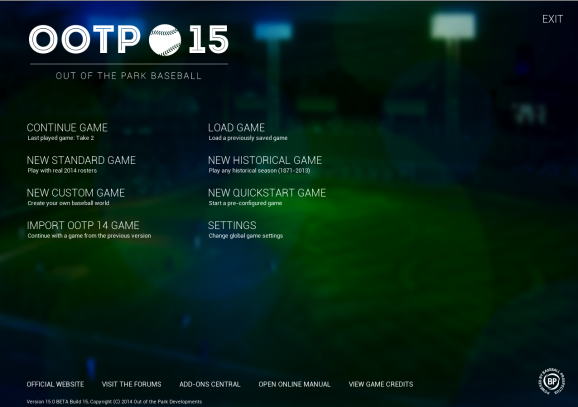 You might remember a review of Out of the Park Baseball 14 from about a year ago. For those who don't, OOTP is a powerful baseball simulation game that provides a fully customized experience. If you like the management aspects of The Show, but think that actually playing the games takes too long*, OOTP can scratch that itch.
* From what I've read, The Show is much more manageable this year due to a number of new features. It's also apparently not impossible to score runs in The Show 14. Too bad this is the year I decided not to buy it.
For a full treatment of OOTP, please click the link above and read last year's review. There are also some great points in the comments from long-time OOTP players. The beauty of OOTP is that the engine largely stays the same from year-to-year. Yet there are always changes that make the newest version better than the previous.
3D Live Simulation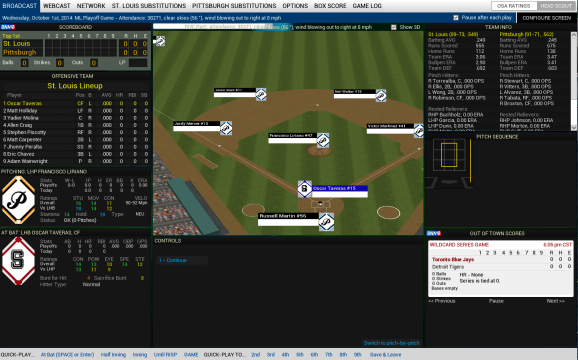 If, for some reason, you would like to watch and manage one of your games, OOTP has a new feature to make it more worthwhile. You can actually watch the game in 3D mode. It might not be my bag — I want to plow through seasons and see the fruits of my labor — but OOTP has at least made the sim process interesting.
I imagine in a few years they'll have actual 3D player models to stand on the 3D field. A few years after that, actual pitches and swings. For now we have this. It's not the most compelling feature, but it certainly beats the old watching method, if you prefer to play the dramatic games rather than just hit the sim button.
All sorts of leagues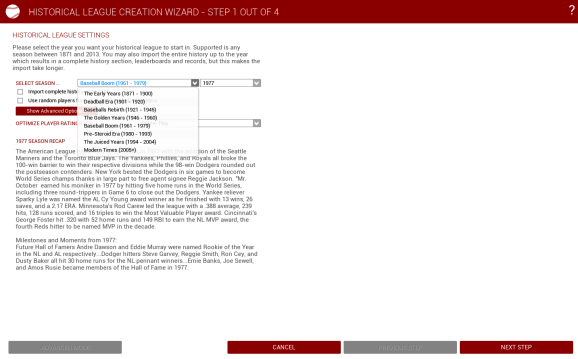 You don't have to play starting at the 2014 MLB season. You can start from many historical points, which is part of what makes this game stand out. It's pretty fun to start a historical team and sim like crazy.
You can also create a completely custom fictional league, even with fictional players. Have ideas for different rules? You can implement them. If you want to play with an international league — Japan, Korea, Taiwan, Mexico, Cuba, Netherlands, Italy — you can do that, too.
The ratings system
One thing I love about OOTP is the ratings system. When you set up a new league, make sure that scouting is on. You'll have to hire a scouting director, and the strength of your scouting director will determine how well you evaluate players.
For instance, your scouting director might rate a guy as having five-star potential, but the default ratings might have him as two-stars. If you have a great scout, you might have a diamond in the rough on your hands. But your scout can be wrong. To me this is one of the most realistic aspects of the game.
You can, if you're so inclined, eschew the star rating and put guys on the 20-80 scale. It's not for me, but it might give you some granularity you don't get with the 10-point system (half stars).
The ratings seem to be stronger this year, too. There are a number of ratings, both actual and potential, that underlie a player's star rating. It's a lot of information to process, but it ultimately makes the game satisfying.
Strongest suggestion: make trades hard
If you leave trades at the default setting, they're far too easy. There is just no way the Pirates would deal a healthy Jamison Taillon for Jeff Samardzija and a three-star prospect. Yet that's what happened during the first year of my first franchise. It's almost like MVP 2004: if you make enough trades, you can get a team full of four- and five-star prospects and players.
If you bump up the trade difficulty one setting, you'll have a much more difficult time trading. That makes it more realistic. If you have a poorly performing reliever on a one-year contract, you won't get any offers for him. That's the way it should be. Teams just don't do that; otherwise maybe the Mets could have traded Kyle Farnsworth. It also means that you can't go plucking top prospects from teams. They don't trade them unless there's a need and it makes sense for them.
iOOTP 2014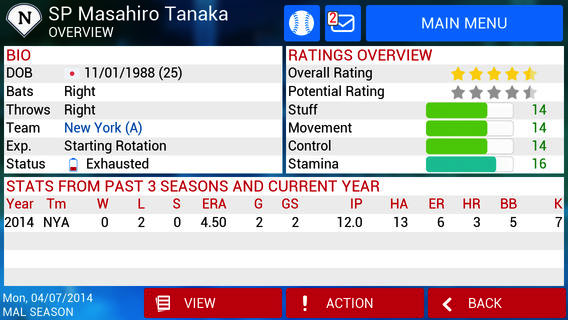 I also got a chance to check out iOOTP, the stripped-down iOS version of the game. For $5 you could do a lot worse. It gives you the most basic version of the game. There is no minor league system, just a list of 20 to 30 minor leaguers who you can call up and send down at will. They develop, but they don't play any games while in the minors.
I find the interface a bit obnoxious, but that's because I'm used to the desktop version. You have to tap through a few screens to edit your lineups. In fact, the entire problem with the UI is the sheer number of times you have to tap the screen. But other than that, it's a nice alternative if you'd rather just lay on the couch and sim some seasons.
Where you can get it
Head over to OOTP Developments website to pick up a copy of OOTP 15 for Windows, Mac, or Linux. It costs $39.99, so less than a copy of The Show. I don't know about anyone else, but I find myself engaged in OOTP for far longer than I am with The Show or any other console baseball game.
You can get iOOTP 2014 from iTunes. Again, it's $5. Not bad at all.
You know, I had a pretty crummy day on Tuesday. Not a bad day, I didn't get bad news or anything, I just felt out of sorts. I hit off instead of snooze and overslept by like three hours, which is probably why. I was hoping the Yankees and Masahiro Tanaka would make everything feel better in the series opener against the Cubs, but nope. They lost 6-1.
Tanak'd Around
For the first time in his big league career, Tanaka allowed four runs in a start on Tuesday night. Only three of them were earned because, well, the Yankees have a terrible team defense, but runs are runs and they all count. The first two runs scored on base hits through the drawn in infield, the next two on sacrifice flies. It could have been worse had the Cubs not bunted into two (!) outs at the plate in the fourth inning. Cubs gonna Cubs.
Tanaka was facing a team for the second time for his first time as a big leaguer, and while that may have contributed to his worst start of the season, I thought he just made a lot of bad pitches. Lots of hanging offspeed pitches. It's not like they were laying off the splitter — seven strikeouts including nine misses on 18 swings against the splitter, identical to his 50.0% whiff rate for the season — or hitting pitchers' pitches. Tanaka just made a bunch of mistakes and he paid for them. That's life. Chances are the steady rain had more of an effect than the lack of a surprise attack. Oh well. Tanaka lost a regular season game for the first time since August 2012, which is very clearly not what the Yankees paid for.
Audition
Remember when A.J. Burnett dominated the Yankees like five times in 2008? Then the Yankees went out and signed him as a free agent after the season in part due to that dominance? This feels like the kind of game that could lead the Yankees going out and trading a bunch of prospects for Jason Hammel. The ex-Devil Ray held New York to one run on four hits and a walk in 5.2 innings, though he was in total control for most of the game. Things went off the rails a bit in the sixth after Brett Gardner doubled and Mark Teixeira came through with a two-out hit to score the team's only run.
The Yankees put two men on in the first inning without the ball leaving the infield — Gardner infield singled literally off Hammel and Teixeira was hit by a pitch — but then Hammel settled down to retire the next six and 13 of the next 14 men he faced. It looked like he would be forced to leave the game after Gardner hit him with a comebacker leading off the game, but the Yankees weren't that lucky. Outside of Gardner and Teixeira, the lineup mustered nothing all night. (The Yankees did load the bases on an infield single and two walks in the ninth, but that went nowhere.) Gardner and Teixeira went 3-for-6 with a double, two walks, and a hit-by-pitch while the rest of the lineup went 3-for-26 with two walks. Two-man army.
Leftovers
The Preston Claiborne/Matt Thornton/Matt Daley portion of the bullpen let things get out of hand in the late innings because that's what the Claiborne/Thornton/Daley portion of the bullpen does. They combined to allow two runs on five base-runners in the seventh inning and it would have been a lot worse had Daley not stranded the bases loaded. David Robertson, Adam Warren, Dellin Betances, and healthy Shawn Kelley are pretty awesome. Every other reliever? Hide the women and children.
Jacoby Ellsbury went 0-for-4 and has one hit in his last 27 at-bats. He's mired in a 5-for-49 (.102) slump and is down to .269/.347/.391 (102 wRC+) on the season. Gardner, on the other hand, is up to .303/.376/.428 (125 wRC+) on the year. The Yankees have committed $231.7M to five veteran outfielders since the start of last season and the homegrown guy is better than all of 'em right now. By a mile too.
The umpires reviewed — at the urging of Joe Girardi (it wasn't an official challenge, the umps reviewed it on their own) — a potential strikeout/foul ball by Anthony Rizzo in the fifth inning. The umps got on the horn with the Midtown office and were told that play wasn't reviewable, so it was a big waste of time.
The Yankees seem to be getting burned by the infield shift more and more often these days. It happened twice in this game — the first time leading off the two-run sixth — and hopefully it's just part of the randomness of baseball. Regardless, it's annoying.
Box Score, WPA Graph & Standings
For the box score and video highlights, head over to MLB.com. FanGraphs has some other stats and the updated standings are at ESPN.

Source: FanGraphs
Up Next
This quick little two-game series ends with a classic Wrigley Field day game on Wednesday afternoon, when Chase Whitley makes his second career big league start. He'll be charged with stopping a two-game losing streak. Trade bait Jeff Samardzija will be on the bump for the Cubbies.
Some notes and links:
Based on his Twitter feed, RHP Ty Hensley (hernia) will throw his first simulated game on Saturday. Seems like he's on target to join either Short Season Staten Island or the Rookie GCL Yanks when their seasons start next month.
Ken Rosenthal has a short note about how the Yankees found RHP David Phelps prior to the 2008 draft. Long story short: scouting director Damon Oppenheimer was their to see another prospect and fell in love with Phelps' competitiveness.
Ben Badler wrote about the lack of information available for international prospects because teams get them to verbally agree to contracts early, then essentially hide them at their Latin America academies. No one else sees them.
Triple-A Scranton (3-0 win over Pawtucket)
2B Jose Pirela: 1-4, 1 R, 1 BB, 1 K, 1 E (fielding)
LF Adonis Garcia: 4-5, 1 R, 1 2B, 1 HR, 2 RBI, 1 SB — got picked off first and threw a runner out at home … 32-for-71 (.451) during his 17-game hitting streak to raise his season line to .340/.369/.490 in 37 games
RF Ramon Flores: 1-4, 1 RBI, 1 BB, 1 K
3B Scott Sizemore: 0-2, 2 BB, 1 K
1B Kyle Roller: 0-4, 3 K
RHP Shane Greene: 6 IP, 4 H, 0 R, 0 ER, 2 BB, 5 K, 4/4 GB/FB — 56 of 88 pitches were strikes (64%) … I wonder if he or RHP Alfredo Aceves is next in line to join the rotation if a need arises
RHP Jose Ramirez: 1.1 IP, 2 H, 0 R, 0 ER, 2 BB, 1 K, 1/1 GB/FB – 21 of 39 pitches were strikes (54%)
It's that time of the week again. The Yankees open their two-series, six-game stay in Chicago with their ace on the mound tonight, as Masahiro Tanaka and his unique belt buckle take on the Cubbies at Wrigley Field. Tanaka held these same Cubs to two infield singles and a walk in eight scoreless innings in the Bronx last month. It will be the first time a team sees him for the second time.
The Yankees come into Chicago week having won four of the last five games and somehow still in first place in the AL East. I mean, it's a little too early to worry about the standings, but it's surprising to see the Bombers atop the division when it feels like they've been playing meh at best for the better part of a month now. The AL East is a mess this year. Both the Cubs and White Sox are rebuilding — the Cubs have literally the worst record in baseball right now — so this a good week to pad the win total and start creating some separation with the rest of the division. Here is the Cubs lineup and here is the Yankees lineup:
SS Derek Jeter
RHP Masahiro Tanaka
It's warm and cloudy in Chicago right now, but there are thunderstorms in the forecast later tonight, starting around 10pm ET or so. That might be a problem. We'll just have to wait and see. First pitch is scheduled for a little after 8pm ET and you can watch the game on My9. Enjoy.
By

5:31pm: Beltran will try to swing a bat on Monday, Joe Girardi announced. If that doesn't go well, he will have surgery.

3:26pm: Via Mark Feinsand: Carlos Beltran will try to play through the bone spur in his elbow. If there is too much pain, he will have surgery and be sidelined for roughly two months. He received a second cortisone shot over the weekend.

Beltran, 37, is not eligible to be activated off the disabled list until next Wednesday, so I assume he'll spend the next several days trying to hit. He might try to "play through" the bone spur without actually playing for the Yankees, if that makes sense. If it bothers him in the batting cage or in minor league games, Beltran could decide to have the surgery without ever actually being activated. Seems like he knows he needs the surgery but will try to put it off until the offseason. We'll see. · (35) ·