The Yankees snapped their six-year Opening Day losing streak with an authoritative 6-1 win over the Blue Jays yesterday afternoon. Always good to start the new season with a win. Been a while since the Yankees did that. Anyway, ready for some small sample size thoughts and observations? Let's go.
1. Stress-free first game for new manager Aaron Boone. Some other rookie managers didn't have it so easy yesterday. The Red Sox blew a 4-0 lead in the eighth inning without Alex Cora even warming up Craig Kimbrel. Phillies manager Gabe Kapler didn't start one of his best players (Odubel Herrera) on Opening Day for matchup reasons and he yanked ace Aaron Nola after 5.1 scoreless innings and 68 — 68! — pitches. The bullpen promptly blew a 5-0 lead. Yikes. Both Cora and Kapler are getting raked over the coals today. Boone had it easy. The Yankees scored early and continued to tack on runs, Luis Severino was excellent, and bullpen retired ten of eleven batters faced. Nice and easy. Boone challenged a play he should've challenged (Justin Smoak coming off first base in the sixth), and after the final out, he had a chat with home plate umpire Kerwin Danley because the thought the second-to-last pitch of the game was a dropped strike three, not a foul ball as ruled, so even though the Yankees won and the game was over, Boone was still looking for answers. The players made life easy for Boone during his managerial debut — Dellin Betances told Brendan Kuty both Boone and Brett Gardner addressed the team after the win to say "just keep thing going and congrats on that first victory" — and I'm sure he appreciated that. We'll see what happens in a closer game or when the first crisis strikes, though with any luck, there are many more easy games to come.
2. How great is the new look middle of the lineup? I understand the temptation to break up the Aaron Judge, Giancarlo Stanton, Gary Sanchez trio because three righties in a row just looks wrong, but man, it looked oh so right yesterday. The Judge/Stanton/Sanchez portion of the lineup batted five times and not once were they retired in order. Four of those five times through the lineup, they produced at least one extra-base hit. With Greg Bird sidelined, Didi Gregorius is the obvious left-handed hitter to break up the three big righties. We all love Didi, but he's a good hitter more than a great hitter, and squeeze him between the righties and I feel like you're giving the opposing pitcher a bit of a reprieve. You're worrying about a potential bullpen matchup when those guys might put the game out of reach before the bullpen even becomes a factor, which is basically what happened yesterday. Russell Martin told Dan Martin there is "no break in that lineup" following yesterday's game, and that is especially true with the middle of the lineup. I know yesterday the Yankees faced a lefty, and tonight they'll face a tough righty (Aaron Sanchez), but I am still pro Judge/Stanton/Sanchez hitting 2/3/4. Every time that portion of the lineup came up yesterday, it felt like runs were going to be scored. Pitchers need to be perfect to get those guys and they know it. Let's not overthink things here. Stack the great hitters together and good things will happen.
3. Even beyond the big guys in the middle, the lineup right now is just so deep. Neil Walker spent most of the last few seasons hitting 2/3/4 somewhere and yesterday the Yankees had him batting eighth. He doubled and had two other hard-hit balls. It felt like, top to bottom, everyone at the plate was capable of doing damage yesterday, even No. 9 hitter Tyler Austin, who has power. Everyone felt dangerous. We're all going to focus on Judge/Stanton/Sanchez because they're awesome and they're the guys the Yankees are counting on to lead the way, offensively. They deserve all the attention, But when you have someone like Walker hitting low in the order, and either a speed threat like Tyler Wade or a power threat like Austin hitting ninth, you're in good shape. There have been a few too many easy outs at the bottom on the lineup in recent years. Not so much last season, but the few years before that. Thankfully that is no longer the case.
4. Speaking of the deep lineup, the Yankees really wore Toronto's pitching down yesterday. J.A. Happ threw 96 pitches in 4.2 innings and the bullpen averaged 5.8 pitches per out. Overall, the Yankees forced the Blue Jays to throw 172 pitches in nine innings, and that's with most of the offense coming from quick strike homers rather than prolonged rallies. Heck, the Gardner/Judge/Stanton top of the lineup saw 79 pitches in 15 plate appearances, which included five full counts. Every time you looked up the Yankees were running a deep count, fouling away pitches, and not chasing out of the zone. There are going to be games where the pitcher is pounding the zone and the Yankees don't really have an answer for it, could happen as soon as tonight, but generally speaking, it doesn't feel like there is an easy out in the lineup right now. Gregorius is the only free swinger and hey, having one free swinger is no big deal, especially when he can pop a homer and spray the ball to all fields like Didi.
5. Something is wrong with Josh Donaldson. Blue Jays manager John Gibbons called it a "dead arm" after the game, but whatever it is, he can not throw. Donaldson had to make three throws to first base yesterday and all three were weak. We've seen plenty of infielders intentionally bounce a throw to first base on the turf. That is not what Donaldson was doing. He had no zip on his throws at all. Look at this:
Here's Donaldson making a barehanded play on March 16th
. That's a strong, accurate throw. There is no "dead arm" there. Whatever's wrong with him, it must've happened fairly recently. Because of that weak throwing arm, the Yankees should look to strategically bunt on him the rest of the series. Wade, specifically, should test him as the unproven No. 9 hitter with lots of speed. Telling Gardner or Aaron Hicks to bunt on Donaldson every time up isn't really practical. You need them to swing the bat and, if you keep bunting on Donaldson, eventually the Blue Jays will change their defensive alignment. Seems like dropping down a bunt might be better as a surprise attack thing than an every speedy hitter thing. Whatever it is, dead arm or more serious underlying injury, Donaldson's arm is a glaring weakness right now and the Yankees should attack it. Wade in particular stands out as a potential candidate to exploit that weakness.
6. The YES Network has an ESPN style strike zone overlay now. (I think Michael Kay referred to it is "Pitchcast," but I could be wrong.) I don't remember seeing it in Spring Training. It was there yesterday though, and I imagine it'll be there the rest of the season. Here's a screen shot: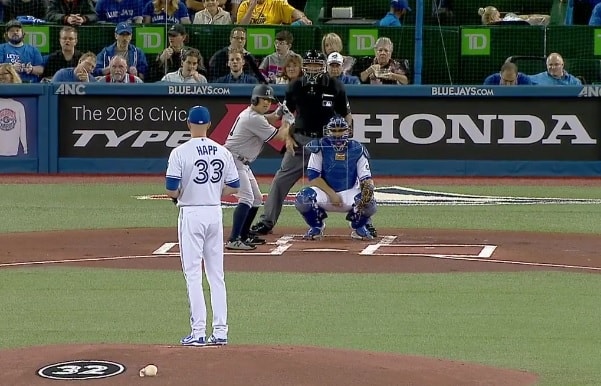 The strike zone graphic, while well-intentioned, doesn't do it for me. I feel like it takes away from the broadcast more than it adds to the broadcast. The strike zone overlay itself isn't distracting, I'm used to it by now, but the overlay represents a level of accuracy that just doesn't exist. Like it or not, the strike zone is subjective. Pitches just off the plate will sometimes be called strikes and pitches at the knees will sometimes be called balls. That's baseball. The strike zone overlay makes the calls that go against your team more obvious — remember how many called strikes seemingly below the knees went against Judge during the postseason? — and that doesn't add any value to the game-watching experience. At least I don't think it does. All the strike zone overlay does is draw attention to imperfect umpires and an imperfect strike zone. I know a bad call when I see it. The strike zone overlay makes more borderline pitches look bad than we'd otherwise think. That's how I feel, anyway. Shrug.
7. We need to talk about John Sterling's home run call for Stanton. You can listen to it here. He blurted out the Italian phrase "Giancarlo, non si può stopparlo," which apparently means "Giancarlo, you can not be stopped." Two obvious problems here. One, Stanton isn't Italian! The internet tells me he is part Puerto Rican, part Irish, and part African-American. And two, no one knows what the hell that phrase means. Everyone was plugging it into google translate — with different spellings, of course — and getting different results. Sterling's best home run calls are simple. An a-bomb from A-Rod. Bern baby Bern. Robbie Cano, don't'cha know. So on and so forth. "Giancarlo, non si pue de parlo?" No. Just … no. I'm not saying coming up with home run calls is easy — "Stanton drops the Mike" seems pretty great and straightforward to me — but Sterling might have to go back to the drawing board with this one. He's been doing this forever. He's allowed a mulligan. Use it here.