Got a dozen questions for you in the mailbag this week. Yeah, I know it's Thursday, but tomorrow is going to be pretty busy with the draft and the series preview and Yankeemetrics and all that. The options were either post the mailbag a day or early or not post it all this week. The mailbag will go back to its usual Friday morning slot next week. Send any questions to RABmailbag (at) gmail (dot) com.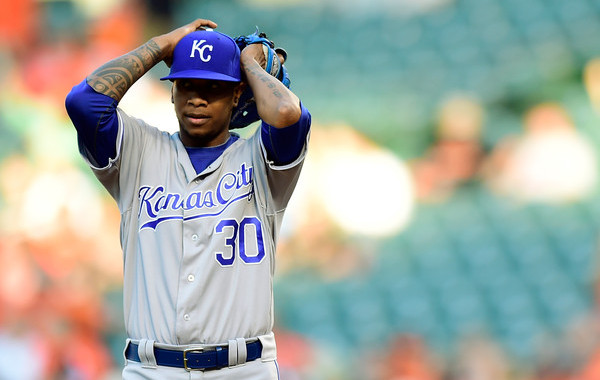 Joe asks: Any chance the Yankees make a run at Yordano Ventura? Sure he's been bad this season, he's a hot head and he's likely facing a suspension after the Machado disaster, but he's only 25 and had been good the prior two years. Plus he obviously has October experience. This feels like it could be a classic Cashman buy low move.
It seems Ventura wants to be Pedro Martinez, but he's more like Carlos Zambrano. It's clear he's a big time hot head — Tuesday's brawl with the Orioles was the fourth benches clearing incident he's incited since the start of last season — and according to Jeff Passan, his act is starting to wear thin on his teammates as well as the Royals coaching staff and front office. Passan says they've been trying to trade him.
Ventura was pretty good from 2014-15, pitching to a 3.61 ERA (3.59 FIP) in 346.1 innings, and yeah he does have a lot of postseason experience. That never hurts. This season has been a different story though. Check out his ranks among the 106 qualified starters heading into last night's game:
ERA: 5.32 (94th)
FIP: 5.29 (97th)
K%: 14.7 (96th)
BB%: 11.7 (100th)
The only thing is keeping this guy on the roster right now is his age, his contract (owed $21.7M through 2019), and the fact that he throws 99 mph regularly. I'm all for taking chances on young pitchers with live arms who might be able to be had on the cheap. That's never bad business.
There is a difference between Ventura and, say, Nathan Eovaldi though. Ventura might be a crazy person. I think there's a decent chance his ineffectiveness this season is a hangover from two long postseason runs the last two years, but, at the same time, you can't help but wonder if his immaturity is going to prevent him from taking that next step. Fair or not, there are plenty of folks asking that question. I have long been anti-crazy players. They always seem to be more trouble than they're worth.
Michael asks: Assuming Beltran maintains his current performance, what do you think he could fetch at the deadline? Trading him seems like a no-brainer if (dear god I hope they do) they decide to sell from both the team and Carlos's perspective.
It is really tough to gauge Carlos Beltran's trade value. He's obviously still very productive and he has a reputation for being a clutch hitter and a big game performer. Teams are going to look at him as an impact hitter who can help get them over the hump. At the same time, he's a major defensive liability and a bit of an injury risk. Plus he's not young and you have to worry about him wearing down.
The Giants traded Zack Wheeler for a half-season of Beltran a few years ago — Wheeler was in High Class-A at the time and still a few years away from MLB — and holy cow, that would be the dream scenario. Beltran's a few years older now though, and he's a worse defender. Using the Yankees as a reference point, could they get a Bryan Mitchell caliber arm for Beltran? Maybe a Mitchell and a Ben Gamel? I don't think they'll get a top prospect. Two useful pieces seems much more likely.
Zac asks: The Rangers need to find playing time for Profar and the Yankees need a first baseman. Does a Mitch Moreland trade make sense?
I don't think so. Moreland is having an awful season (64 wRC+) and he'll be a free agent this winter. I'd rather see the Yankees keep running Rob Refsnyder out there at first base to see what they have while Mark Teixeira is out injured. Moreland figures to come cheap and yeah, he's probably better than Chris Parmelee, but taking on a player making decent money to be a band-aid at first base isn't all that appealing. Roll with Refsnyder. Let's see what the kid can do, finally.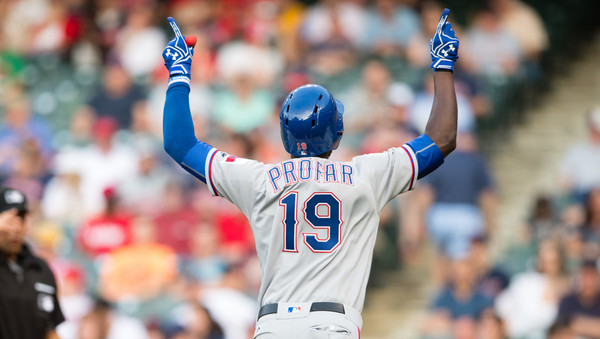 Lonnie asks: What about a Miller for Profar trade? Rangers need relief pitching more than any other contender and even though Profar doesn't fit a position of need, he is still a top talent. Get him and then figure out what to do, maybe move Castro to 3b for the time-being?
That's the kind of talent the Yankees should be targeting. Andrew Miller is unbelievably valuable. He's no worse than the fourth best reliever in baseball right now and he's signed for another two years at a salary well below what he'd get as a free agent nowadays. Everyone's going to want him and the Yankees should set a very high price. An elite young player feels like a must get in any trade.
It's early, but Jurickson Profar has bounced back well after missing the entire 2014-15 seasons with a shoulder injury. He hit in the Arizona Fall League last year (115 wRC+), hit in Triple-A this year (113 wRC+), and he's hit since being called up about two weeks ago (170 wRC+). The Rangers might be willing to move him since their infield is full too. They're locked into Adrian Beltre and Elvis Andrus on the left side, and Rougned Odor is quite productive at second.
The Yankees have inquired about Profar before, but the Rangers understandably did not want to move him when his value was down due to the shoulder problems. He's healthy now and he's rebuilt value. Profar is exactly the type of player the Yankees lack as a true potential franchise cornerstone. Right now all they have is a bunch of complementary players (at least in my opinion). Get him and figure out where he plays later.
Andrew asks: With Marlon Byrd now suspended for the whole year and the Indians needing an outfielder. Any chance we can flip Beltran or Gardner there for some pitching? (Obviously Gardner brings the better haul back).
Not only is Byrd suspended, Michael Brantley might miss an extended period of time with his shoulder injury too. The Indians have needed an outfielder since the offseason — these days their starting outfield is Jose Ramirez, Rajai Davis, and Lonnie Chisenhall — and that need has only grown with the Byrd suspension and Brantley's recent setback.
The problem with Brett Gardner is his salary, which we discussed over the winter. The Indians have a very tight budget and they simply can't afford a $13M a year outfielder. The Yankees could always pay down some of Gardner's salary to facilitate a trade, but would the Indians be willing to kick in more to make it happen? Beltran might be the better fit here because he's a pure rental. I definitely think there will be interest there.
Randy asks: When healthy, should the Yanks call up Sanchez and move McCann to first?
You know what, that really wouldn't be a bad idea at all. Brian McCann is 32 now and he's been beat up pretty good this year. He took that foul tip to the toe in Toronto (I think it was Toronto, anyway) and more recently hyper-extended his elbow. The Yankees want to keep him healthy and productive, and if Teixeira ends up missing the rest of the season, putting McCann at first base in the second half wouldn't be a bad idea.
Now, that said, I don't think there's any chance this will actually happen. The Yankees seem to love McCann's leadership and the way he works with pitchers. The only way I could see something like this happening is if they crash hard and really fall out of the postseason race. Otherwise I can't see them trusting Sanchez as their everyday catcher right out of the gate. They seem wary of giving their young catchers too much responsibility too soon.
Steve asks: Do you know why the Yankees don't play Beltran at First Base?
Teams usually don't ask regulars to change positions in the middle of the season. Beltran played a few innings at first base two years ago in an emergency and I remember him saying he wasn't comfortable there at all. I believe the word he used was "terrifying." He might not be up for it. I mean, it makes sense on paper, but I don't think the team wants to put Beltran in that position though. First base is not as easy as it looks. The ball comes at you pretty fast, especially when you've been playing the outfield your entire life.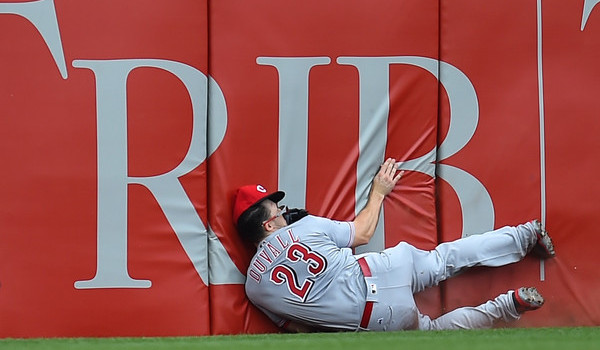 Rhett asks: What about looking into trading for Adam Duvall?. Ya he had a career month and his strikeout + BB %'s are terrible… BUT he is a righty power bat that could play some first if Tex is out for the year. Not to mention, long term, he profiles as an excellent defensive left fielder should Gardner get moved. Righty power bat with the ability to play multiple positions no? Worst case scenario he's turns into Mark Reynolds.
Heading into last night's game Duvall ranked fourth in MLB in homers (17), second in SLG (.628), and second in ISO (.351). The power hasn't come out of nowhere. He's hit 30 homers in the minors before, and he whacked 53 homers in 191 Triple-A games from 2014-15. The Reds got Duvall from the Giants in the Mike Leake trade and he's finally getting a chance to play everyday.
Duvall is 27 and he's much more Shelley Duncan than Chris Davis. His strikeout (29.6%) and walk (3.6%) rates are awful, he doesn't steal bases, and scouting reports indicate he's a first baseman who can handle left field if necessary. The Yankees will need a right-handed caddy for Greg Bird next season at the very least, and sure, Duvall would make sense in that role. (He can also be an emergency third baseman. He's played there before.) I just feel like his value is at an all-time high right now, so you'd be playing everyday player prices for someone who figures to settle in as a role player long-term. Duvall is someone to revisit down a road a bit.
Michael asks: Dave Cameron wrote an article this week about how Jacoby Ellsbury – other than the second half last year – has actually been pretty good as a Yankee. He concluded with the notion that there might even be a market for him this summer, especially with how well he's been hitting lately. Could you speculate on such a trade – Ellsbury seems like a very Cardinals type of player, the Cubs have the FO connection, the Nats could use somebody, the Tigers, White Sox…your thoughts?
I can't say I'm optimistic a trade market will develop for Ellsbury, at least not if the Yankees aren't willing to eat a bunch of cash. The blueprint here might be Prince Fielder for Ian Kinsler. Big name player with a big contract for a big name player with a big contract, each team dealing from a surplus to fill a need, and a willingness to make the money work. (The Tigers ate some of Fielder's salary.)
Kinsler for Fielder was kind of a perfect storm because the two teams matched up so well. What contending teams need a center fielder and a leadoff hitter? The Cardinals and Nationals jump to find. Maybe the Giants too, with Denard Span not looking so hot and Angel Pagan a free agent after the season. I guess maybe the Tigers, White Sox, and Rangers? That seems like it. Now what big contract can those teams give up? I've looked at this already and didn't find much.
Ellsbury was legitimately awful last season and he's been able to rebuild value this year. If a team comes along and wants him, the Yankees should be all ears, especially if it means saving money and adding young talent. If it's a bad contract for bad contract deal, then they should still listen, because that other player may be a better fit. I have zero expectation of the Yankees ever trading Ellsbury though. I think he'll wear pinstripes for the entire seven years of the contract.
Vidhath: I've heard rumblings that Chapman could get Erick Fedde in a trade withe the Nationals. Is this plausible? I think I'd prefer to get AJ Cole & Austin Voth; possible or does my trade proposal suck?
I haven't heard any such rumblings but that seems realistic for sure. Fedde was Washington's first round pick in 2014 even though he was rehabbing from Tommy John surgery at the time. The team picked him, signed him, and rehabbed him. Fedde's stuff has come back well enough, though even when healthy before the draft, he needed to improve his slider and changeup, and that is still the case today. He's at least a year away from the big leagues, maybe more. I'm personally pretty high on Austin Voth and would prefer him over Fedde as part of a package for Chapman.
Ken asks: Do you think the Yankees would and/or should add a second Low-A minor league affiliate? The four short season teams they have is more than most other organizations, and it seems like there is a bit of a choke point at this level in the minor league development chain.
I get these questions often and they're worth answering from time to time. Minor league baseball is a zero sum game. There are only so many teams to go around. For the Yankees to add another Low-A affiliate, another team would have to drop their Low-A affiliate, and that doesn't happen very often, especially in the full season leagues. The Yankees grabbed their second Gulf Coast League team a few years ago when the Mets dropped out of the league to save money. They picked up Pulaski when the Mariners pulled out of the Appalachian League. The Yankees have actually been pretty aggressive picking up extra affiliates whenever possible. They just don't become available very often. The more affiliates the better in my book. If a Low-A franchise becomes available, I fully expect the Yankees to show interest.
Gene asks: Would you rather be a 25th man type 150 AB bench player for the Cubs, or an everyday starter for the Braves? I absolutely hate losing, but I think I'd rather play everyday.
I'd rather play everyday personally, but I think the answer depends on your situation. Are you a rookie looking to prove yourself in the big leagues? Then playing everyday for the Braves is absolutely the better situation. On the other hand, if you're a vet who's already made a ton of money but are still looking for a World Series ring, then accepting a reduced role with the Cubs makes more sense. That's essentially how the Yankees got Tim Raines back in the day. He wanted to win and was okay with having his playing time cut in half.