No, it's not Friday. It's still only Thursday. Sorry if I got your hopes up. I'm posting the mailbag a day early because it's a holiday weekend and I won't be around much starting later this afternoon. So, the mailbag goes up a day early. I have seven questions this week. RABmailbag (at) gmail (dot) com is the place to send questions.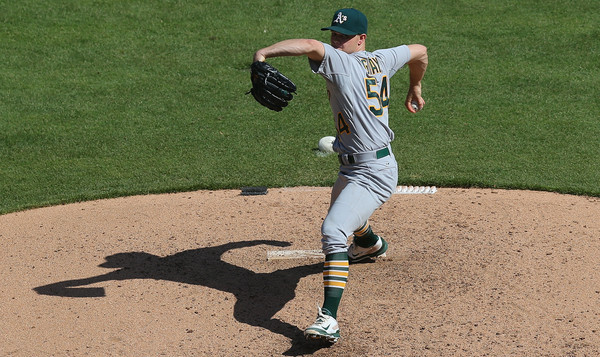 Chris asks: What would it take to trade for Sonny Gray? Coming off a bad year with injuries maybe his stock is a little low even though with 3 controllable years left.
My guess is the Athletics will want exactly what the White Sox got for Chris Sale. Why not ask for that? Sale is better than Gray, but they're both excellent when healthy and under control another three years. You're never going to get Scott Kazmir for Victor Zambrano if you don't ask. Start by asking for a Sale package and negotiate down from there. One tippy top prospect and two or three strong secondary pieces feels like the minimum to me. Why trade Gray for something less? Then again, the A's have made some terrible trades, so who knows.
I'm all in on Gray — he was the centerpiece of my silly offseason plan — and would be pretty thrilled if the Yankees acquired him, assuming he's healthy. He missed time with trap and forearm problems in 2016. Gray's not a conventional ace with huge strikeout numbers and a low FIP. He's Hiroki Kuroda. A dude who knows how to pitch and is fearless on the mound. You could do a heck of a lot worse than handing the ball to Sonny Gray for a big game.
Ryan asks: When the Yankees agreed to eat $16.5 MM of McCann's contact, could they have offered to pay his salary this year instead of over 5.5 for 2 years, and get any McCann money off the books early? Or would it all count the same for the luxury tax like A-Rod's front loaded contract?
When a player is traded and his former team retains salary, that salary is applied to the luxury tax payroll in terms of actual dollars, not average annual value. The Yankees made it easy with McCann. They're paying him $5.5M next year and another $5.5M the year after. But, if they paid him all $11M in 2017 and $0 in 2018, he'd count $11M against the luxury tax in 2017 and nothing in 2018. At least that's how the just expired Collective Bargaining Agreement worked. Not sure if the new one just changed things.
Remember though, there are two parties in this transaction. The Astros might not have wanted to be on the hook for McCann's entire salary in 2018, which is understandable because they're going to have some big arbitration cases to deal with (George Springer and Dallas Keuchel, most notably). The Yankees might not want to pay the full $11M in 2017 either. Yeah, it'd help them get under the luxury tax threshold in 2018, but it may not have been the best big picture financial move.
Richard asks: Do you feel the Yankees will have a significant improvement in offense this year? I do, with the addition of Sanchez, Holliday, and Bird. And, I have a funny feeling that Hicks will be much better this year.
I do, actually. Mostly because I have a hard time believing Greg Bird (and Tyler Austin?) and Matt Holliday will be as bad as Mark Teixeira and Alex Rodriguez were this past season. Is it possible? Of course. But Teixeira and A-Rod gave the team 681 combined plate appearances of .203/.276/.358 (~68 OPS+) in 2016. Yuck. Getting even league average production from Bird and Holliday would be a big step up.
Simply put, the Yankees aren't banking on older players as much as they were a year ago. Players over 35 have a ton of downside no matter how talented. What Carlos Beltran did this past season was an extreme outlier. It was a top 20 season all-time among 39-year-olds. The Yankees will have much more youth in the lineup next year, and with youth comes upside. Are they guaranteed to reach that upside? Of course not. But when the veterans were mostly bad in 2016, I can't help but be optimistic about the kids in 2017.
Matt asks (short version): There are some really good values still on the free agent market, do you think the Yankees still might make a few moves to bolster the roster? Brett Anderson, Doug Fister, Jason Hammel, and CJ Wilson come to mind as buy-low candidates for the rotation. Greg Holland, Sergio Romo, Joe Smith, and Boone Logan could really deepen the bullpen as well.
The Yankees say they need to move money before making any more moves, though I have a hard time thinking Hal Steinbrenner would squash a low cost one-year deal if something worthwhile came along. I do like the idea of Anderson on an incentive-laden one-year contract, though aside from him, I'm not all that excited by any free agent starters. Fister and Hammel are okay and will probably end up getting more than I'd feel comfortable paying.
I can't imagine Holland will come to the Yankees at this point. He's going to go to a team where he'll have a chance to close and soon. At best, he'd be the No. 3 closer option in New York. Other free agents who stand out as potential low cost, late offseason pickups include Jorge De La Rosa, Jon Niese, Joe Blanton, and Yusmeiro Petit. Blanton was really good with the Dodgers this past season and he might end up with a nice contract. The Yankees have been connected to De La Rosa for years, and I feel like they'll swoop in to sign him super cheap in February.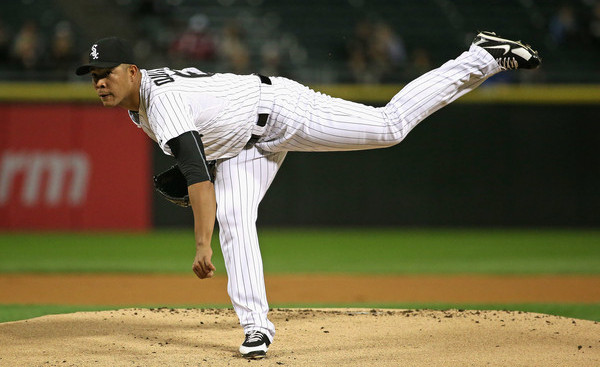 Ryan asks (short version): How about a three-team trade that sends Masahiro Tanaka to Team X, prospects from Team X to the White Sox, and Jose Quintana to the Yankees?
Interesting! Team X would have to be a contending team, so maybe the Astros or Nationals? Also, I don't think the trade would be that neat. The Yankees would have to send a prospect(s) to the White Sox as well to even things out because Quintana has more trade value than Tanaka. The differences in their contracts and injury history are too great to ignore. My trade proposal sucks, but:
To Yankees: Jose Quintana
To Astros: Masahiro Tanaka
To White Sox: Francis Martes, Kyle Tucker, Jorge Mateo
Obvious question: why wouldn't the Astros just kick in another prospect to get Quintana instead of Tanaka? That's the big obstacle here. A potential three-team trade might not get off the ground because the third team may decide to keep Quintana for themselves.
As far as the Yankees go, trading Tanaka would really suck, but if the team is convinced he's going to opt-out next winter and they're not planning to re-sign him, they have to trade him. Letting him go for a dinky draft pick would be a mistake. Quintana is every bit as good as Tanaka if not better, and he's signed long-term. Ideally the Yankees would have Tanaka and Quintana, but, if it has to be one or the other, I'd prefer Quintana.
Matthew asks: So the Orioles are going to sign Colby Rasmus for 1 year and he's going to lead the league in HRs, right?? Any interest from the Yankees perspective? I've long been enamored with his swing in Yankee Stadium.
Rasmus to the Orioles makes a lot of sense, actually. They need corner outfield help and he'd fit well in that ballpark. The Yankees don't have much use for him though. They have a lot of young outfielders and signing Rasmus creates even more of a logjam. The Yankees are trying to trade Brett Gardner to clear space for the kids. Imagine signing Rasmus to block them further? I can't see it.
Also, holy crap, I didn't realize Rasmus was so bad in 2016. He hit .206/.286/.355 (75 wRC+) with 15 homers in 407 plate appearances. Eek.
Albert asks: Say the Yankees ate 32 Million dollars from Ellsbury's contract, 8 million a year for 4 years. Wouldn't they be able to get a solid prospect? And even if they didn't get much of a return, wouldn't paying the 8 million a year for the next 4 years help get them under the Luxury Tax threshold since they will be saving about 14 Million a year? Love the site, keep up the good work!
Including the $5M buyout of his $21M club option for 2021, there are four years and $89.5M left on Jacoby Ellsbury's contract. Eating $32M turns it into a four-year deal worth $57.5M. Would Ellsbury get that as a free agent this offseason? I don't think so, but I suppose it's possible in a world where Ian Desmond got five years and $70M. I feel like the Yankees would have to turn Ellsbury into a $13M a year player to drum up trade interest, which means eating nearly $10M a year.
Eating all that money would stink, but you know what? It's probably worth it. Ellsbury's contract is a sunk cost. The Yankees have to pay it anyway. Eating $10M a year still sheds $13M a season, which is roughly what the Yankees would save by trading away Gardner. Let's do the math quick. Here's the trade Gardner/keep Ellsbury scenario:
| | 2017 | 2018 | 2019 | 2020 |
| --- | --- | --- | --- | --- |
| Gardner | $0 | $0 | $0 | $0 |
| Ellsbury | $21.85M | $21.85M | $21.85M | $21.85M |
| Total | $21.85M | $21.85M | $21.85M | $21.85M |
Trading Gardner and eating zero money is a dubious assumption, but I suppose it is possible. Let's stick with that to make the math easy. Trading Gardner would clear an outfield spot for a young player and remove his $11.72M luxury tax hit. Now here's the keep Gardner/eat $10M a year to trade Ellsbury scenario:
| | 2017 | 2018 | 2019 | 2020 |
| --- | --- | --- | --- | --- |
| Gardner | $11.72M | $11.72M | $0 | $0 |
| Ellsbury | $10M | $10M | $10M | $10M |
| Total | $22.72M | $22.72M | $10M | $10M |
That's better! The Yankees save more money long-term for a slight luxury tax payroll bump up front, and they'd also get to keep the homegrown Yankee. Now, the hard part: finding a team willing to take on Ellsbury at $13M a year for the next four years. I had a hard time coming up with potential landing spots for Gardner, who has two fewer years on his contract and has been the better player the last two or three years. What's the market for Ellsbury going to look like? Nonexistent, basically.