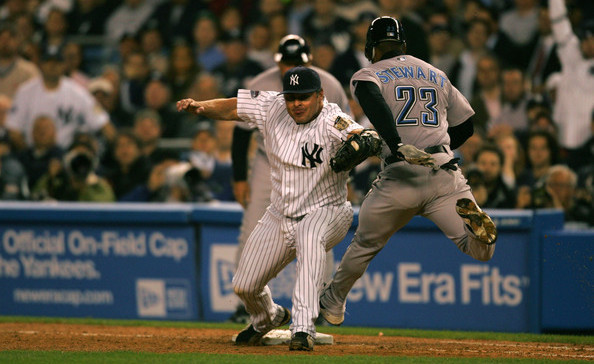 It's a new month, and that means it's time to take our monthly trip back through the MLB Trade Rumors archive. As a reminder, I'm not trying to make fun of Tim or anyone else at MLBTR. Those guys are awesome and do a great job. I just like to look back at everything we talked about years ago to see how silly it looks in hindsight. What good are rumors if you're only going to read them once, right? This is the gift that keeps on giving.
Last month we covered January 2008, so now it's time to jump ahead to February 2008. February isn't the best month for rumors — the Johan Santana race was mercifully over at this point as well — but there was still plenty of interesting stuff going on seven years ago. I was surprised, honestly. By the way, this is a monthly feature now, at least until everyone gets bored of it, and I'm going to try to post it during the first week of each month. (I'm closer this month than I was last month!) Anyway, away we go.
Two teams are showing significant interest.  Rosenthal believes the Reds are one, and the Twins or Rays could be another.  He rules out the Dodgers, Yankees, Rockies, and Indians.  The Reds have had preliminary discussions for Blanton already.  How about the Phillies?  They came calling in July.
This was back when Joe Blanton was good and a desirable trade target. He had just turned 27, and he'd put up a 3.95 ERA (108 ERA+) with a 3.50 FIP in 230 innings in 2007. Blanton had a career 4.10 ERA (106 ERA+) and a 4.00 FIP at the time and there was reason to believe he was just about entire his peak, especially since his FIP had gone from 4.43 to 4.16 to 3.50 from 2006-08.
The Athletics didn't trade Blanton that offseason though. He opened the year in Oakland, had a 4.96 ERA (83 ERA+) with a 4.23 FIP in 127 innings before being sent to the Phillies for a three-prospect package headlined by ex-Yankee Josh Outman. Yeah, that one didn't work out too well for A's. Blanton, meanwhile, had 4.79 ERA (85 ERA+) with a 4.39 FIP through the end of his career after the trade, so no, he wasn't about to enter his peak. He'd already had his peak.
Yankees GM Brian Cashman expects an arbitration hearing for Chien-Ming Wang.  It would be the team's first hearing in eight years, even though the two sides are just $600K apart.
The Yankees and Wang did ultimately go to an arbitration hearing and I remember thinking it was pretty dumb on the team's part to potentially create bad blood with their ace. Arbitration hearings are not pleasant. The Yankees beat Wang in arbitration and paid him $4M in 2008 rather than the $4.6M he was seeking. Ultimately, it didn't matter. Wang hurt his foot that June and his days as an effective MLB pitcher were over. The Yankees haven't been to an arbitration hearing since.
Carl Pavano doesn't seem too popular in the Yankees' clubhouse.
Pavano was still around back then — he was entering the final year of his contract — and he was working his way back from Tommy John surgery. This isn't really a rumor but the linked story is pretty funny. Check it out:
To say Pavano is a pariah is an understatement. He asked one of the clubhouse kids for a small box today to store some things he had in his locker. The kid went over to a garbage pail, fished out an orange Nike shoebox, dumped a half-eated sandwich out of it and handed it to Pavano.
That more or less sums up Pavano's tenure in pinstripes.
Peter Abraham thinks the Yanks should trade Hideki Matsui.
Not a rumor, just speculation. Matsui was pretty awesome in 2007, hitting .285/.367/.488 (123 OPS+) with 25 homers in 143 games, but his knees were starting to give out on him and the plan was to use him as the regular DH in 2008 with Johnny Damon in left, Melky Cabrera in center, and Bobby Abreu in right.
I remember thinking the Yankees should look into trading Matsui as well. Damon and Abreu were insanely durable players who never got hurt and Matsui at DH meant Jason Giambi would have to play first base. If they could get something decent for him with two years and $26M left on his contract, why not? The Yankees didn't trade Matsui though, thankfully, and he hit .294/.370/.424 (108 OPS+) with nine homers in 93 games in 2008 while missing a bunch of time with knee problems.
It sounds completely insane now — trade Matsui, really?!? — but back then it wasn't crazy at all. Trading a guy in his mid-30s who was in the middle of breaking down physically wasn't a ridiculous idea.
SI.com's Jon Heyman says Yankees outfielder Johnny Damon considered retiring a year ago in the spring.  He would've been walking away from $39MM.  He was coming off a fine season, too.
For some reason the link now redirects to Bleacher Report (?), so I can't see if Heyman explained why Damon was considering retirement. Damon hit .285/.359/.482 (115 OPS+) with a career-high 24 homers in 2006, his first in New York, so there's no performance reason why he would consider calling it quits. Then he hit .270/.351/.396 (96 OPS+) with 12 homers in 2007 and was banged up all year. Maybe Damon was hurting more than he let on and didn't want to play through pain anymore? Either way, he didn't retire. He still hasn't, really. He's been looking for a team to give him a chance since last year.
Freddy Garcia's agent talks about the Mets, Yankees, and Red Sox for his client.  Garcia is targeting a June or July return.
This was right when Garcia was going through all the arm injuries that robbed him of his hellacious mid-90s sinker and turned him into a junkballer. He threw only 58 innings for the Phillies in 2007 and was terrible (78 ERA+ and 5.85 FIP) before having surgery to repair his labrum and rotator cuff, and he remained unsigned until the Tigers took a flier in August 2008. So his agent was out there trying to get Freddy signed but no one bit.
Garcia made three okay starts for Detroit (eight runs in 15 innings), signed with the White Sox after the season, then had a 4.34 ERA (109 ERA+) with Chicago in nine starts while again battling injury. From 2007-09, Sweaty Freddy had a 5.02 ERA (92 ERA+) and 4.55 FIP in 129 total innings. He looked done after the shoulder injury. Garcia has stayed relatively healthy since 2009 though and he did ultimately end up with the Yankees from 2011-12. Here are his ERA+ marks by year from 2010-13:
92
119 <– Yankees!
81
91
Freddy was alright.
Rosenthal notes that the Yankees, in search of a right-handed outfielder, considered Shannon Stewart and Mike Cameron this winter.
The Yankees had been connected to Cameron on and off for years, so that's not surprising, but Shannon Stewart! Remember when he got traded to the Twins at the deadline in 2003, had that absurd second half (.322/.384/.470 for a 124 OPS+), and finish fourth in the AL MVP voting? What the hell was that about?
Anyway, Stewart had just hit .290/.345/.394 (100 OPS+) with 12 homers in 146 games for the Athletics in 2007 after putting up a weak .279/.329/.383 (87 OPS+) line with Minnesota from 2005-06. The Blue Jays signed him, he hit .240/.325/.303 (71 OPS+) in 52 games and got released in August. Hasn't played since.
The Yankees, meanwhile, tried Shelley Duncan (43 OPS+), Morgan Ensberg (34 OPS+), and Richie Sexson (101 OPS+) as right-handed platoon bats before picking up Xavier Nady at the trade deadline. Platoon bats, huh? They always sounds like such a great idea until they actually get on the field.