This is your open thread for the evening. There is no baseball again tonight — ALCS starts tomorrow, NLCS starts Saturday — but both the (hockey) Rangers and Devils are opening their season. The Colts and Texans are the Thursday night football game. Talk about any of that stuff and more right here. Have at it.
By

Via Dan Barbarisi: Mark Teixeira has already started offseason workouts after admitting he wasn't strong enough to get through this past season. "I just didn't have the strength. The rotation wasn't there. The explosiveness wasn't there. I just wasn't strong enough to get through the season," he said. "I'm doing light workouts right now, and when I start hitting the weights heavy here in a couple weeks, I'll be prepared. I'm not shutting it down for a month like I usually do."

Teixeira, 34, hit .216/.313/.398 (100 wRC+) with 22 homers in 123 games this year, though after the All-Star break he could only muster a .179/.271/.302 (62 wRC+) line with five homers in 50 games. It's worth noting both David Ortiz (2008) and Jose Bautista (2012) needed a full season to get back to where they were after suffering the same wrist tendon sheath injury as Teixeira. I don't think the guy we saw in the second half is the real Teixeira but I'm also not convinced he'll get back to being the ~120 wRC+ guy he was from 2010-12, before the injury. Either way, the Yankees are stuck with him for two more years and have to hope he will rebound going forward. · (83) ·
The 2014 season is over and it's time to look back at the year that was. Our old What Went Right/Wrong format has gotten stale, so it's time for a new review format. We'll review individual players, performances, tendencies, all sorts of stuff in the coming days and weeks.
By just about any measure, last season was the worst of CC Sabathia's career. He did manage to soak up 211 innings and that's worth something, but he ranked 76th with a 4.78 ERA and 72nd with 0.3 bWAR out of 81 qualified starters. Sabathia led baseball with 112 earned runs allowed and his 2.69 K/BB fell off big time from the 4.48 K/BB ratio he put up in 2012. It was an awful season and everyone and their mother had theories why CC dropped off so much.
Despite the terrible year, there were some reasons to believe Sabathia would rebound this year, specifically that he was a year out from elbow surgery and would have a normal offseason. He was also working to add a cutter. I, personally, also thought he couldn't possibly be any worse. Maybe he wouldn't get back to being an ace but he would be a serviceable mid-rotation horse, someone who soaked up a boatload of innings and was league average or better at preventing runs. I would have taken that in a heartbeat.
Instead, Sabathia did get worse in 2014. He got worse and he got hurt. Sabathia made just eight starts for the Yankees this summer and threw only 46 innings — he failed to complete six full innings of work three times, equaling his total from 2011-12 combined — with a 5.28 ERA and 4.78 FIP. It all started in the first inning of the first game of the season too. The Astros (!) tagged Sabathia for four runs in the first inning on Opening Day and only twice in those eight starts did he allowed fewer than four runs.
There were flashes of Sabathia figuring it out but one of the ways we cope with Ace Sucking Syndrome (ASS) is over-analyzing the hell out of every little thing. I did it. More than once. But none of the positive signs — the times he's retired 12 in a row in the middle of a start, stuff like that — meant anything in the end. Sabathia was getting bombed on the regular, allowing ten homers in those 46 innings (1.96 HR/9 and 23.3 HR/FB%). Hit Tracker says those ten homers averaged 403.1 feet, so they weren't wall-scrapers.
Sabathia's season came to an end following his May 10th start against the Brewers, when the Yankees placed him on the disabled list with fluid in his twice-surgically repaired right knee. He was expected to return in June or July and he actually did go out on a minor league rehab assignment at one point — I completely forgot about that — but Sabathia eventually suffered a setback. It was feared he would need career-threatening microfracture surgery after a stem cell treatment didn't work, but additional tests showed he only needed the knee cleaned out. Either way, his season was over.
If you're looking for a silver lining in Sabathia's season, it's that both his strikeout (9.39 K/9 and 23.0 K%) and walk (1.96 BB/9 and 4.8 BB%) rates were stellar. He also got a lot of ground balls (48.0%). That's all well and good, it's better than having crappy peripherals, but Sabathia's struggles are rooted in the type of contact he allowed, which was routinely hard. Unfortunately there is no publicly available data measuring this stuff. Line drive rates are fickle — his 22.1% liner rate was in line with the last four or five years anyway — because of scorer bias. All we have is anecdotal evidence and that sucks.
What we do know is that Sabathia's velocity continued to trend downward — he averaged 90.76 mph in 2014, down from 92.36 in 2013 and 93.31 in 2013 according to Brooks Baseball — and that's completely expected since he's a 34-year-old with nearly 3,000 regular season innings on his arm. Velocity loss is inevitable and not reversible. That's life. It happens to everyone. Sabathia's location was ever so slightly worse than it had been, particularly when it came to grooving pitches over the plate (via Brooks):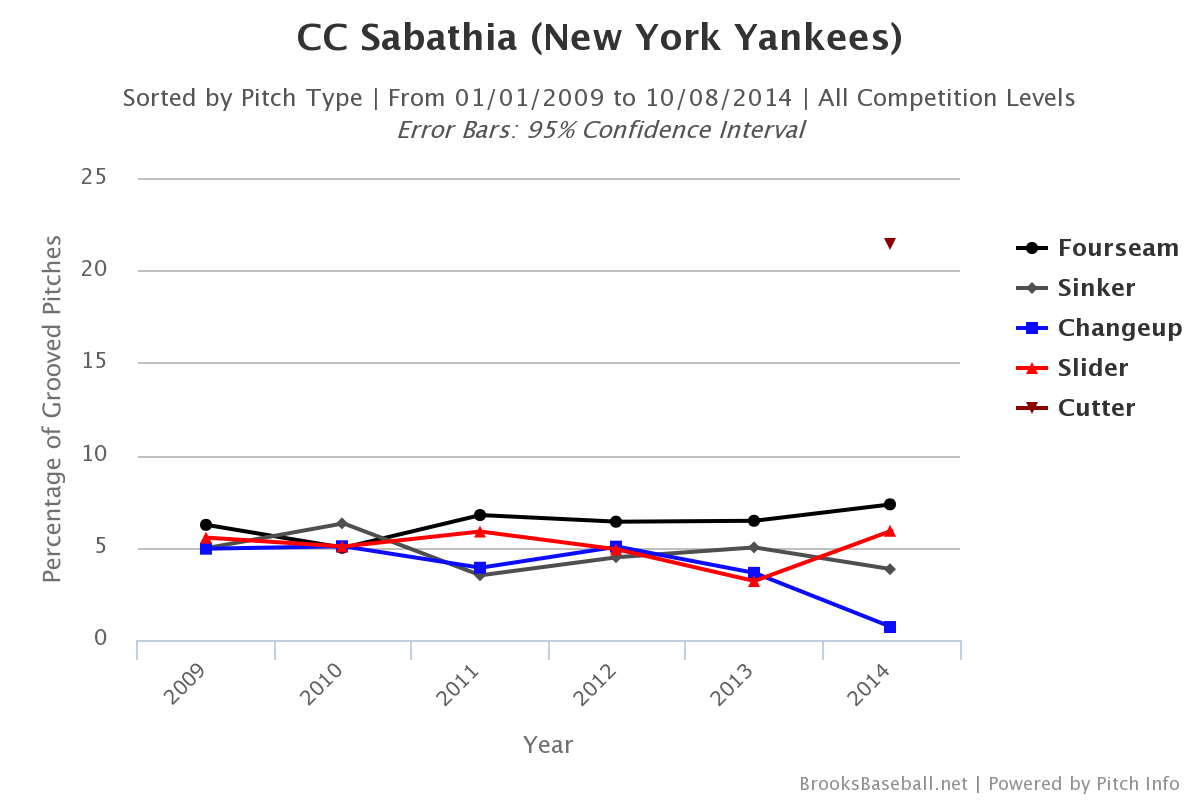 You can get away with grooving ~6.5% of your fastballs like Sabathia did from 2011-13 when you're throwing 93+. In his limited time this year he grooved 7.3% of his fastballs while averaging just north of 90 mph and that's a big difference. Since 2010, opponent's slugging percentage against Sabathia's fastball has steadily reason from .373 to .447 to .479 to .486 to .722 (!) this year. Obviously there's some sample size noise in there, but the point stands. Hitters are getting mighty comfortable in the box against CC.
The location issues — it seemed like whenever Sabathia missed, he missed up in the zone and/or right out over the plate — could stem from lots of stuff. There's a million variables here. He could be overthrowing to compensate for lost velocity, his landings could have been sloppy because his knee was unstable, his mechanics could have been out of what for whatever reason. I'm sure all of that and more have contributed to his problems. Sabathia's release point has been steadily dropping over the years (via Brooks) …
… which, again, is fairly common among pitchers his age, especially with that workload. At some point your shoulder just isn't strong enough to maintain your arm slot. Sabathia's dropped his arm over time and that at least partially explains the extra cut we see on his pitches from time to time. Extra cut that usually took the pitch over the plate and into the happy zone for hitters. We saw plenty of that last year and we saw plenty of it again this year. He had the same issues as last season only worse.
Sabathia had his knee cleaned out in August and soon thereafter had a second stem cell treatment (as planned). We recently learned he has started throwing and will soon get back up on a mound before shutting it down for the winter and going through his usual offseason routine. I love CC, he's one of the my favorite Yankees of all-time, but I learned my lesson last year and I'm not expecting a bounce back next year. I'm not expecting anything. If he comes back and dominates with a healthy knee, that would be awesome. If he comes back and is a league average inning eater, great. If he comes back and stinks again, well that'll stink, but that's sorta what I'm expecting at this point.
The Yankees are stuck with Sabathia for another two years and possibly a third — his 2017 vesting option is based on the health of his shoulder, not his knee — so they have to hope this knee surgery helps him get back to being a useful pitcher. Sabathia is a tough dude who has pitched through knee problems and a bone spur in his elbow these last few years and I have not doubt that if he fails and is again one of the worst pitchers in baseball, it won't be for a lack of effort on his part. The Yankees have a lot of uncertainty in their rotation heading into next season and, after both this year and last, Sabathia is a huge part of that uncertainty.
By

1:34pm: According to Roch Kubatko, Hardy and the Orioles have agreed to a three-year extension worth $40M or so. Scratch him of the list.

12:00pm: Via Dan Martin: Orioles shortstop and impending free agent J.J. Hardy said he will listen to the Yankees if they come calling this offseason. "It's not something I can look into the future and see what's going to happen. I've just got to focus on helping our team right now and obviously the playoff this year. But if it comes to it, I'll have to think about it more," he said. "This is my fourth year here and I feel like this organization, we're going in the right direction. It's a good group of guys here. It's something if they came to me, I would listen, also."

Hardy, 32, hit .268/.309/.372 (90 wRC+) with nine homers in 141 games this year while missing time with lower back problems. He hit 20+ homers every year from 2011-13 as well as in 2007-08, plus he's a very good defender despite an unconventional over-the-top throwing motion that makes you wonder if the ball will make it to first base on the fly. There will be a bunch of quality shortstops on the market this winter and Hardy is probably the best two-way player, though the back trouble dates back to last year and that's kinda scary. Jhonny Peralta signed a four-year, $52M contract last winter and I suspect Hardy will get something similar even though he'll cost a draft pick to sign. · (333) ·
Earlier this week we looked back at the five longest homeruns of the 2014 Yankees' season, and now it's time to flip the script. We're now going to look at the shortest homers of the season. This post is made possible first by Hit Tracker and all its wonderful and freely available data, and also by the new Yankee Stadium and it's cozy right field post. I honestly look more forward to writing this post than the longest homers post each year because these cheap homers make me laugh.
The shortest homer in baseball this year was, of course, an inside the parker. Brandon Barnes hit it and it only traveled 304 feet. Yes, there was a missed dive involved. Here's the video. Usually there are a few 200-something-foot inside the parkers that bloop in and take a weird bounce by an outfielder, but not this year apparently. The shortest homerun to actually leave the yard this season was this David Ortiz blast that wrapped out the Pesky Pole, which traveled only 318 feet. Only two other dingers traveled less than 330 feet this year. Here are the 2012 and 2013 shortest homeruns posts. Now for the 2014 edition.
5. July 2nd: Brian McCann vs. Jake Odorizzi
As you might suspect, Yankee Stadium will be featured prominently in this post. The fifth shortest homer of the Yankees' season was a cheapie to right field, the kind of homer that McCann was never able to hit in Turner Field all those years with the Braves. Odorizzi left a 90 mph heater up in the zone, McCann flicked his wrists, and hit a high fly ball that landed just beyond the wall in the field field corner. This one had a nice big arch to it. Hit Tracker says it traveled 342 feet, which is hard to believe. Doesn't look like it went much farther than the 314 on the wall, but whatever. The dinger left McCann's bat at 94.5 mph.
4. August 23rd: Carlos Beltran vs. Scott Carroll
This homerun a) came on Joe Torre Day at Yankee Stadium, and b) was so short that White Sox manager Robin Ventura had it reviewed to make sure a fan didn't reach over the wall to grab it. The replay confirmed the initial call though, that it left the yard for a sixth inning solo homerun. Beltran had just received a cortisone shot in his troublesome elbow, and even though it barely snuck over the wall, it was a sign he was feeling good enough to swing the bat. The ball traveled only 339 feet with an exit velocity of 94.4 mph.
3. September 24th: Mark Teixeira vs. Brad Brach
Technically, this homer didn't go over the fence. It was stopped short by the foul pole. This Teixeira blast was the team's third shortest homer of the year, clanking off the bottom of the pole in right field. I'd say no more than 10-15 feet up the pole from the top of the wall. In a park with a normal sized right field, it would have continued to slice foul and that would be that. The at-bat would have continued. Instead, the Yankees walked away with a pair of runs. Yankee Stadium giveth and Yankees Stadium taketh, I guess. Teixeira's dinger traveled only 335 feet and left his bat at 98.5 mph.
2. September 14th: Brian McCann vs. Darren O'Day
Believe it or not, this short dinger was not hit at Yankee Stadium. It was hit at Camden Yards and it was kind of a big deal for a few minutes. The Yankees were barely hanging on in the wildcard race at the time and they were tied 1-1 with the Orioles in the ninth inning on Sunday Night Baseball. O'Day's sinker stayed out over the plate and didn't sink, a pitch that is more or less a batting practice fastball coming from an opposite hand sidearmer. McCann hammered it to right and just over the big wall with the scoreboard. The Yankees eventually lost the game in walk-off fashion but, for at least a little while, McCann gave the team some hope. This homer went 333 feet with a 97.7 mph exit velocity.
1. June 17th: Brett Gardner vs. Marcus Stroman
I'm disappointed Gardner hit the shortest homer of the season because it's almost cliche. The scrappy little speed guy willing the ball just over the fence, that sorta thing. Lame. Anyway, this was nothing more than a hanging slider that Gardner tomahawked down the right field line and off the Yankee Stadium foul ball. Teixeira's ball clanked 10-15 up the pole, right? This one hit about six feet up the pole, that's all. It was barely high enough and it would have sailed foul had right feet been 315 feet away from home plate instead of 314 feet away. At 331 feet and 98.9 mph off the bat, this was the shortest homer hit by a Yankee and fourth shortest outside the park homerun in baseball overall this past season. Though I guess it really didn't leave the park. You know what I mean.
Got some bad news to pass along: Bill Madden and Filip Bondy report the Yogi Berra Museum and Learning Center on the campus of Montclair State was broken into last night and several pieces of memorabilia from Yogi's career were stolen. The thieves were described as a "team of professionals" who targeted very specific pieces. The investigation is ongoing. Hopefully they catch these guys and Yogi's stuff is returned. People are the worst.
Here is your open thread for the night. There's no baseball tonight — the ALCS and NLCS begin Friday and Saturday, respectively — but hockey seasons starts, so that's cool. NBC Sports Network is showing a few games though none of the Rangers, Islanders, or Devils are playing. The Knicks are also playing a preseason game. Talk about any of that stuff and more right here.
By

Forbes published their #brand value rankings yesterday, and, unsurprisingly, both the Yankees and the YES Network rate very highly. Despite a second straight postseason-less year, the Yankees saw their brand value increase from $443M to $531M in 2014, the highest among all pro sports teams. Real Madrid is second at $484M. YES was the seventh highest business brand, going from $625M to $680M. It's behind companies like Nike and Adidas, among others.

According to the write-up, the team's brand value "captures the name recognition and incremental earnings power that comes with winning 27 World Series. But it omits the portion of the team's media, ticket and concession revenue that any team playing in the Bronx would get, and also excludes the $26 million that each of the 30 MLB teams took in from broadcasters Fox , TBS and ESPN in 2013." Earlier this year Forbes valued the Yankees at an estimated $2.5 billion, making them the fourth most valuable sports franchise in the world. · (114) ·
Jacob Lindgren | LHP
Background
Lindgren, who will turn 22 in March, is from Bay St. Louis in Mississippi, which is about 50 miles outside New Orleans. He played both football and baseball at St. Stanislaus High School and won state championships in both sports. Lindgren had a 1.26 ERA with 197 strikeouts in 107.1 innings as a junior and senior while earning All-State honors. The Cubs selected him in the 12th round of the 2011 draft, but he did not sign and instead followed through on his commitment to Mississippi State.
As a freshman with the Bulldogs, Lindgren was a middle reliever who eventually worked his way into the rotation and made two starts late in the year. He finished the season with a 3.18 ERA and a 24/7 K/BB in 28.1 innings across 14 appearances, including the two starts. Lindgren was named to the Conference Freshman Academic Honor Roll and played summer ball with the East Texas Pump Jacks of the Texas Collegiate League.
The late season audition didn't just earn Lindgren a rotation spot as a sophomore, he started on Opening Day and was the team's Friday night starter for much of the year. Lindgren had a 4.18 ERA in 56 innings spread across 14 starts, striking out 65 and walking 18. He was again named to the Conference Academic Honor Roll. After the season, Lindgren pitched for the Bourne Braves of the Cape Code, posting a 4.15 ERA with six strikeouts and one walk in 4.2 relief innings.
Lindgren moved back into the bullpen full-time his junior year once it was decided the whole starting thing wasn't going to work out. He quickly emerged as one of the top relievers in the country, pitching to a 0.81 ERA with 100 strikeouts and 25 walks in 55.1 innings. He was used as a multi-inning high-leverage reliever rather, not as the closer. Lindgren was a candidate for both the Stopper of the Year Award (top reliever) and Gregg Olson Award (breakout player) in addition to being named to the Conference Academic Honor Roll a third time.
Prior to the 2014 draft, Baseball America and Keith Law (subs. req'd) ranked Lindgren as the 50th and 67th best prospect in the draft class, respectively. Baseball America had him as the second best prospect in the state of Mississippi. The Yankees selected Lindgren in the second round (55th overall) of this June's draft, which was their top pick. He signed within about a week of the draft for the full slot $1,018,700 bonus.
Pro Debut
Lindgren made his pro debut two weeks after signing and it was nothing more than a tune-up appearance with the rookie Gulf Coast League Yankees. He struck out two in a scoreless inning. The Yankees bumped Lindgren up to Low-A Charleston (5 IP, 1 H, 1 R, 1 ER, 0 BB, 11 K), then to High-A Tampa (7.1 IP, 3 H, 1 R, 0 ER, 4 BB, 17 K), then to Double-A Trenton (11.2 IP, 6 H, 6 R, 5 ER, 9 BB, 18 K). All told, Lindgren struck out 48 batters and walked 13 in 25 pro innings after signing (2.16 ERA).
Scouting Report
Listed at 5-foot-11 and anywhere from 180-205 lbs., Lindgren is a short little lefty who regularly sits in the 92-95 mph range his fastball, which runs back inside on lefties. His moneymaker is a vicious low-to-mid-80s slider with hard and late break that chews up righties and lefties alike. Lindgren turns his back to hitters during his delivery and the deception helps his fastball-slider combo play up. Here's some video:
Lindgren does not have a changeup nor will he need one going forward because he's a full-time reliever — both Brian Cashman and amateur scouting director Damon Oppenheimer confirmed he will remain in the bullpen going forward. His fastball sits in the upper-80s as a starter and his command is just okay overall, so there isn't enough upside to make it worth trying him in the rotation. Lindgren played against top competition in the SEC throughout his college career and his makeup is said to be well-suited for a late-inning role.
2015 Outlook
The Yankees will invite Lindgren to big league Spring Training next year and the expectation is that he will be given every opportunity to win a bullpen job. If he doesn't, he'll go to Triple-A Scranton and bide his time. The Yankees didn't draft Lindgren with their top pick — even if it was in the second round — to coddle him in the minors for several years. They aggressively moved him up the ladder this summer and he'll make his MLB debut at some point next season, likely sooner rather than later. If he doesn't, then something went very wrong.
My Take
I don't love the idea of taking a reliever with your top pick, though the Yankees did not have a first rounder and these days the talent comes off the board fairly linearly. The best players go first. Their options with the 55th overall selection were some raw high schoolers — the kind of players they haven't had much success developing lately — or a near-MLB-ready reliever. They opted for a reliever and Lindgren will help him in some capacity this season. I like that Lindgren has an elite put-away pitch in his slider and that he isn't just a specialist; he's an Andrew Miller-esque southpaw who will be able to pitch full innings against both lefties and righties. It'll be nice to see a top draft pick pay some immediate dividends after these last few years.
By

Via George King: The Yankees do not appear to have serious interest in free agent Cuban outfielder Yasmany Tomas, who is expected to receive a nine-figure contract. "He is a good player, but for $100M? I don't know. He is better than [Rusney Castillo], but that doesn't mean he is worth $100M," said one evaluator to King.

Tomas, who turns 24 next month, worked out for scouts two weeks ago and King says the Yankees attended the showcase. He's been traveling around for private workouts these last two weeks though it's unclear if the Yankees invited him to Tampa for one. I've been saying this the whole time: if Tomas truly looks to be a middle of the order right-handed hitter with power, the Yankees should be all over him. Guys with that skillset at age (almost) 24 don't come around all that often. · (324) ·
The 2014 season is over and it's time to look back at the year that was. Our old What Went Right/Wrong format has gotten stale, so it's time for a new review format. We'll review individual players, performances, tendencies, all sorts of stuff in the coming days and weeks.
It happens every year like clockwork. Some seldom-known player shows up to Spring Training, has a strong camp, and fans clamor for him to make the team. He doesn't, he goes to Triple-A, he performs exactly like he has every other year in his career, and fans forget about him by June. Happens to every team every year. This isn't something unique to the Yankees. But, every once in a while, that player does stick.
* * *
The Legend of Yangervis Solarte started in early January, when the Yankees signed the then-26-year-old minor league journeyman to a minor league contract with an invitation to Spring Training. The Tigers were after him as well, but Solarte was put off by their Ian Kinsler pickup because it blocked a potential spot for him. The Yankees flexed their financial muscle and signed him to a nice deal worth $22,000 per month in the minors. That's big bucks for a minor league deal.
Solarte came to Spring Training and was lumped into the infield competition with guys like Dean Anna, Eduardo Nunez, Zelous Wheeler, and Scott Sizemore. He was a total afterthought. No one knew who he was and his minor league track record wasn't particularly impressive — .282/.331/.404 (~91 wRC+) in over 1,100 plate appearances at Triple-A with the Rangers from 2012-13 — so there wasn't much of a reason to get excited. Solarte switch-hit and he could play all over the field, which is great, but a ton of guys in the minors do that.
Then, in camp, Solarte was that guy. That guy who just hit and hit and hit. He played a different position just about everyday — Solarte played five games at second, eleven at short, four at third, and five in left during Grapefruit League play — and just kept hitting. Solarte ended Spring Training with a .410/.452/.615 batting line in 47 plate appearances while facing mostly MLB caliber pitching according to Baseball-Reference's quality of competition metric. He was the guy. The guy everyone wanted to make the team but was destined for Triple-A.
But then something weird happened: Solarte actually made the team. The Yankees decided enough was enough and it was time to move on from Nunez, who was designated for assignment before Opening Day and traded to the Twins for a Single-A arm. Solarte took Nunez's roster spot and his uniform number, No. 26. With Brendan Ryan starting the season on the disabled list a back problem, the first five or six weeks of the regular season were essentially a continuation of the Spring Training competition between Solarte and Anna, who also made the club.
Solarte's first career big league plate appearance was not exactly a garbage time situation — he pinch-hit for Kelly Johnson against the left-handed Kevin Chapman with two men on the base and the Yankees down 2-0 in the seventh inning of the second game of the season. Solarte banged into a 4-6-3 double play to kill the rally and later popped up to end the game in his second plate appearance. It wasn't the most exciting MLB debut after such a stellar camp, but what can you do. It was two plate appearances and I'm sure he was nervous.
The Solarte Partay began in earnest the next day, when Joe Girardi gave Solarte is first career start (at third base) with the lefty Brett Oberholtzer on the mound. Solarte recorded his first big league hit on a ground ball single back up the middle in his first at-bat then scored his first career run on Carlos Beltran's single later in the inning. He doubled to left field in his next at-bat and singled again in his third at-bat, which was nothing more than an infield pop-up the Astros didn't catch because they're the Astros:
That was also his first career run batted in. I'm sure he'll tell his grandkids it was a screaming line drive into the gap but they won't believe him. This is the internet age and they'll pull up the video on their phones or whatever the hell the kids carry in the future.
Anyway, the 3-for-3 showing earned Solarte another start the next day. Two doubles in that game earned him another start the next day. Two singles in that game kept him in the lineup the next day. And on and on it went. Solarte went 11-for-22 in his first six starts and 19-for-49 (.388) in his first 14 starts. He also started an around-the-horn triple play in the middle of April, in his 16th career game:
Even if he hadn't come out of the gate so strong, Solarte would have stayed in the starting lineup anyway because Mark Teixeira's hamstring injury forced Johnson to play first base. Solarte took advantage of the opportunity and just kept hitting. Through April he had a .303/.404/.461 (147 wRC+) batting line and through May he had a .288/.361/.441 (126 wRC+) batting line. He hit his first career homerun off Grant Balfour in the same game as the triple play.
Of course, there were slumps along the way. Slumps that made you think the Solarte Partay was over and he was going back to being a minor league journeyman. There was the 2-for-19 (.105) in late-April, the 1-for-14 (.071) in mid-May, and the 2-for-24 (.083) in late-May. Solarte rebounded well those times, but his June slump effectively ended his time in pinstripes. He went 10-for-61 (.164) in June, including an ugly 0-for-28 skid that spanned nine team games.
Solarte's season batting line sat at a still respectable .263/.345/.404 (112 wRC+) after the 0-for-28, though the blush was off the rose and he was trending in the wrong direction. The Yankees shipped him to Triple-A Scranton on July 3rd — the move cleared a 25-man roster spot for Wheeler — hoping he would find his strike in the minors. Solarte went 12-for-20 (.600) with three doubles in five games with the RailRiders before being recalled on July 10th, when Beltran was placed on the 7-day concussion disabled list.
After appearing in just four more games with the Yankees — he went 1-for-10 in those four games — Solarte was traded to the Padres with Single-A pitching prospect Rafael DePaula for Chase Headley on July 22nd. The Yankees got what they could out of him then cashed in their chip for a third base upgrade. Solarte finished his time in pinstripes with a .254/.337/.381 (104 wRC+) line with six homers, 30 walks, and 34 strikeouts in 289 plate appearances. He played adequate defense at mostly third base but also saw time time at second and at short.
Following the trade to San Diego, Solarte hit .267/.336/.355 (101 wRC+) with four homers, 23 walks, and 24 strikeouts in 246 plate appearances while splitting his time between second, short, third, and left field. An oblique injury hampering him late-August. Ultimately, his numbers with the Yankees and his numbers with the Padres look very similar. Headley was a big boost at third base both at the plate and in the field. I'm guessing both sides were happy with the trade.
* * *
Solarte was found money for the Yankees. They can talk all they want about how they thought he could be a useful player when they signed him, but I'm guessing that if you gave the team's decision-makers and pro scouts a truth serum, they'd tell you they didn't expect him to be a better than league-average hitter for nearly 300 plate appearances. They milked Solarte for all they could then used him to acquire a legitimate upgrade before his stock took a nose dive.
It's very rare that the guy in Spring Training turns out to be The Guy like Solarte. He has some skills, most notably versatility and a good approach to go along with bat-to-ball ability from  both sides of the plate, and he capitalized on every opportunity the Yankees gave him early in the season. Solarte was a huge lift when the team had question marks all around the infield and a nice trade chip when something better came along. He was right guy at the right time on more than one occasion in 2014.