An afternoon that started with another fun Old Timers' Day celebration — Nick Swisher hit a homer! — ended with a going through the motions 3-1 loss to the Rays. Have the Yankees lost a lot on Old Timers' Day in recent years, or is it just me? Either way, there would be no four-game sweep this weekend. Three out of four will have to do.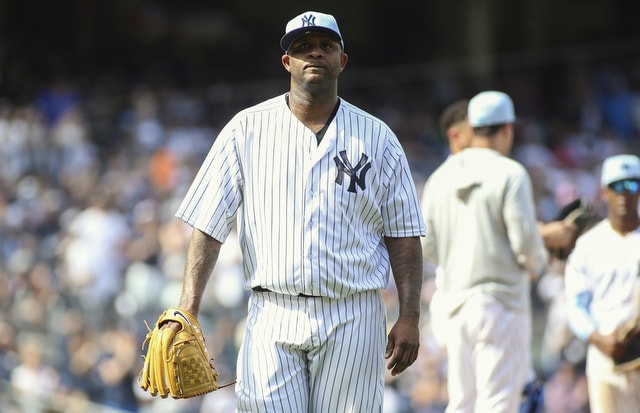 Sabathia Deserved Better
The first two innings of Sunday's game did not go well for CC Sabathia. Lots of hits — granted, many of them were dinks and dunks — made it look like Sabathia would be out of the game early. Rather than get knocked out early, Sabathia settled down and pitched in the eighth inning (!), which is not insignificant given the one-and-half-header Monday.
The Rays scored all three of their runs in the second inning and only one of their four hits in the inning was well-struck. So annoying. Willy Adames dunked a leadoff single to center (88.3 mph exit velocity), Adeiny Hechavarria followed with a single to left (77.0 mph exit velocity), then Carlos Gomez doubled into the left field corner to score Adames and put runners on second and third with no outs. Gomez's double left his bat at 101.1 mph. There's the one hard-hit ball.
Sabathia very nearly escaped that jam with just the one run allowed. Rob Refsnyder popped up to first base and Johnny Field struck out. Sabathia was one out away! And he got ahead in the count 0-2 on Matt Duffy! Duffy then went out and poked an elevated slider off the plate …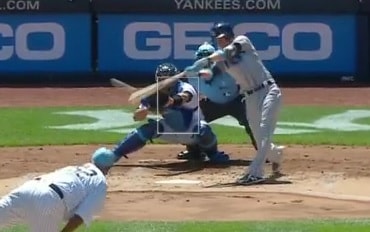 … into right field for a two-run single. Slider up, sure, but it wasn't even in the zone. Normally a right-handed hitter takes that pitch. Duffy served it into right field and Aaron Judge's throw home was slightly off line, allowing the second run to score. At least Gary Sanchez came out to cut off the throw and nab Duffy at second. Two-out, two-strike base hits to score runs are always annoying.
Sabathia really settled down after that second inning. He retired 17 of the final 22 batters he faced and one of the five baserunners was an infield single. Sabathia's line: 7.2 IP, 10 H, 3 R, 3 ER, 1 BB, 10 K on 102 pitches. His average exit velocity allowed was 77.3 mph, and only three of the 21 balls he allowed in play had a 95+ mph exit velocity. It seems every rally against Sabathia involves soft contact and weak hits. So it goes.
As for the strikeouts, the ten strikeouts are a season high and Sabathia's most since a 12-strikeout game against the Blue Jays in August 2016. His 15 swings and misses were also a season high and Sabathia's most since that August 2016 game against Toronto. That three-run second inning stunk. I'd take a game like this from Sabathia any day of the week though. He pitched deep into the game and gave the Yankees more than a good chance to win.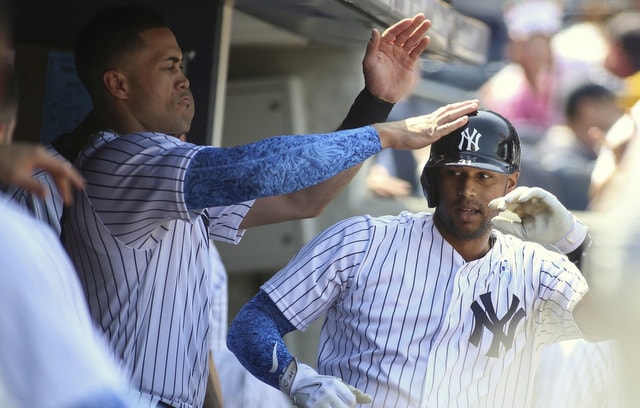 Blown Chances
As if often the case when a team loses, the Yankees stranded a bunch of runners Sunday. They had opportunities to score. Only once did they go down 1-2-3 (third inning). A two-out triple (Didi Gregorius) and a walk (Giancarlo Stanton) were wasted when Greg Bird flew out in the first. Back-to-back two-out walks (Aaron Judge and Gregorius) were wasted when Stanton struck out in the fifth. Bird started sixth with a leadoff single and, five pitches later, the inning was over on a fly out (Gary Sanchez) and a double play (Miguel Andujar). Groan.
The Yankees scored their only run on Aaron Hicks' fifth inning solo homer — it was bomb out to right field — which ended Wilmer Font's afternoon. Font went into the game with a 8.48 ERA (7.46 FIP) in 28.2 total innings and he managed to hold the Yankees to that one run on four hits and a walk in 4.2 innings Sunday. Annoying! The Yankees always made bad pitchers look like Cy Young. That is definitely true and it only applies to the Yankees, and is in no way confirmation bias.
Anyway, the Yankees went 0-for-7 with runners in scoring position and, to me, this game took on the "it just isn't their day" vibe when Andujar grounded into a first pitch inning-ending double play in the sixth. Three of the first four batters Tampa's bullpen faced reached base, and none scored. The bottom five hitters in the lineup went a combined 2-for-19 (.105) with a walk. That'll short circuit an offense.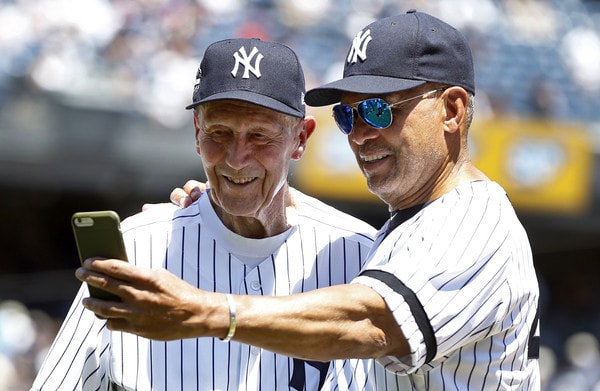 Leftovers
Two hits for Hicks (single, homer), two hits for Gregorius (single, triple), and one hit apiece for Stanton, Bird, and Sanchez. Judge, Gregorius, Stanton, and Neil Walker drew the walks. Didi went 8-for-17 (.471) with three homers, three walks, and two strikeouts during the five-game homestand. Slump's over.
Adam Warren was the only reliever used — he retired four of the five men he faced — and that's good because, as far as the bullpen goes, the Yankees have two games tomorrow. The regular late-inning guys pitched an awful lot this week. They'll be pretty fresh for the game and a half Monday.
And finally, Old Timers' Day was a blast, like it always is. Here's video of the ceremony. Pretty awesome to see Swisher, Jason Giambi, and (grandfather!) Andy Pettitte in pinstripes again. Sucks the Yankees suffered one of their infrequent losses. It was a pretty great day overall though.
Box Score, WPA Graph & Standings
ESPN has the box score and updated standings and MLB has the video highlights. Here's our Bullpen Workload page and here's the win probability graph:

Source: FanGraphs
Up Next
The Yankees are heading to Washington for a game-and-a-half against the Nationals. Monday they'll complete their May 15th suspended game and make up their May 16th rainout. The suspended game is tied 3-3 going into the bottom of the sixth and that'll resume at 5pm ET. Here's the box score in case you forgot what happened. Sonny Gray and Erick Fedde are lined up to start the makeup game, which will begin 30 minutes after the suspended game is completed.