By

Via Jon Heyman: The Astros have hired Trey Hillman to be their new bench coach. Hillman returned to the Yankees last offseason and spent this year as a special assistant in the player development system. He was a coach in the minor league system from 1990-2001 and was considered a candidate to replace the retiring VP of Baseball Ops Mark Newman, but Heyman says Hillman wanted to get back in uniform and on the field. Between Newman's retirement and both Hillman and Gordon Blakeley leaving, there's been a lot of change in the front office these last few weeks. · (50) ·
By

Rays GM Andrew Friedman has left the team to take over as the Dodgers president of baseball operations, both teams announced. After years of building annoyingly good teams on a tiny budget, Friedman will now have the largest payroll in the game at his disposal. Of course, now he has actual expectations too. Team president Matt Silverman will replace Friedman and I have no doubt the Rays will continue to be a thorn in the Yankees' side going forward. They weren't a one-man show all these years. · (128) ·
When the offense doesn't perform, who do you blame?
The hitters? Sure, they're overpaid bums. But they have guaranteed contracts worth millions. Getting rid of them is rarely feasible.
Not content with this reality, we turn our ire to the hitting coach. If the hitters didn't hit, surely we can blame the guy who coaches them.
The Yankees did just that, dismissing Kevin Long last week despite the year remaining on his contract.
Did Long deserve the axe? Survey fans and you'll find little dispute. For the second straight year the offense dumpster dived for runs. Isn't the hitting coach the obvious problem?
In some cases, perhaps. But Long worked exceedingly well with the team since taking over as hitting coach in 2007. Only three times during Long's first six years did the Yankees not lead the league in runs.
2008: When injuries just devastated the offense.
2011: When they scored eight fewer runs than the leading Red Sox
2012: When they scored four fewer runs than the leading Rangers (and 37 more than the next-highest team)
Wait a minute, you might say. How can you credit Long with the offense's performance? The Yankees employed really good hitters.
You don't say.
Let's look at 2012, the last year the Yankees featured a dominant offense. Did Long help produce a career year from Robinson Cano? Did his work lead to yet another solid year from Nick Swisher? How much did he work with Eric Chavez and Raul Ibanez, and did the results on the field reflect that work?
From the stands and our couches we just can't know this. What we do know is that the Yankees lost two of their best hitters (by OPS+) to free agency following the 2012 season. Their fourth-, fifth-, and sixth-best missed most of 2013 with injuries. After the 2013 season they lost their best hitter. They also lost Curtis Granderson, one of the top four or five hitters on a team that was either first or second in runs scored during his tenure.
How is any of this the hitting coach's fault?
Take a look at the 2014 Yankees hitters and ask yourself: which of these guys severely underperformed expectations?
Brian McCann immediately comes to mind. Even with world-class defense behind the plate, his 94 OPS+ isn't even close what the Yankees signed up for. While his .232 average looks pathetic, McCann's lack of patience ruined him. With even his career-average walk rate his OBP would have been more than 30 points higher. Don't get me started on BABIP (and as Mike says, don't blame that on the shift, since teams have been shifting on McCann for years).
So maybe we can blame Long for McCann's putrid performance throughout 2014, second half power numbers excepted.
Mark Teixeira? Hard to blame the hitting coach for a guy coming off serious wrist surgery. Derek Jeter? Hardly. Beltran? Again, the guy was hurt — and was doing just fine until he got hurt. Ichiro? Brian Roberts? Alfonso Soriano? Please. You need only look at the age columns on their Baseball Reference pages to understand their numbers.
Given this it might seem as though blaming Long is more an act of scapegoating than actual fault-finding. But then I read this and wonder what the hell he's thinking.
He talked about this two years ago where you said you weren't going to become the Bronx Bunters, but the way the offense is trending now, do you have to start thinking about doing more things differently?

Kevin Long: "No we're not constructed like that. (GM Brian Cashman) doesn't get a whole lot of speed guys. He goes out and gets guys that can hit the ball out of the park. I don't think hitting the ball out of the park was as much of an issue as the other things. We had about 150 home runs [147 to be exact]. At one point it didn't even look like we'd get close to that. We did hit some home runs and we did some things (in the second half), but it's more about the little things. Executing and not missing a pitch when you need to. And I'm going to go to baserunning again — we have to better there, we have to better with men in scoring position.
Did Long even look at the players Cashman handed him in 2014? Did he expect McCann and Beltran to return the offense to its homer-mashing glory of 2012? I found this comment completely out of touch with the reality of the 2014 Yankees. And yeah, the Yankees had 147 homers, which was pretty much average.
If you hit 245 home runs, 31 more than any other team, as the 2012 Yankees did, you might not have to play much small ball. You can do things the way you always have. When you're right in the middle of the pack, though, changing your approach might make some sense. Don't you think?
Yes, this is just an interview and might not be reflective of Long's actual work with the hitters. But that doesn't make it any less off-putting. (And blaming the baserunning is an unnecessary, finger-pointing aside.)
Another factor, one we are again unable to fully discern: did the 2014 Yankees buy into Long's style? In the past Long had big fans in Swisher, Granderson, and Alex Rodriguez. None were on the 2014 Yankees. Did the new guys buy in, in the same way the old guys did?
Take one hitting coach and put him into two different situations. You'll see different results. It's not as though he's teaching these guys how to hit. They've been doing that all their lives. What he does is help them work through issues as they crop up. If the players don't buy into the coach's system, then he's doomed from the start.
For Kevin Long, the 2007 through 2012 Yankees were a completely different situation than the 2013 and 2014 Yankees. Perhaps the new personnel didn't work for him in the way the previous personnel did.
Whatever the case, it's difficult to fault the Yankees for firing Long. They stand to lose little by finding a new hitting coach. It's not like replacing the GM, where you put an entire new system and vision in place for the organization. There are plenty of qualified coaches out there, and players are used to working with many different hitting coaches throughout their careers.
Baseball America continued their breakdown of the top 20 prospects in each minor league with the Double-A Eastern League today. As usual, the list is free but the scouting reports are subscriber only. Nationals OF Michael Taylor, Red Sox IF/OF Mookie Betts, and Indians SS Francisco Lindor claim the top three spots. C Gary Sanchez (No. 11) and 2B Rob Refsnyder (No. 13) represent the Yankees. RHP Luis Severino didn't throw enough innings with Double-A Trenton to qualify for the list.
"On the field, Sanchez still draws raves for his bat, which shows the potential for both a high average and lots of power. He can get his hands in and turn on the inside pitch with power, but evaluators did note that he struggled with both breaking pitches and changeups this season," said the scouting report, which also noted Sanchez has a top notch arm but still has a lot of work to do defensively. They also say his maturity continues to be an issue. Sanchez, 21, hit .270/.338/.406 (108 wRC+) with 13 homers in 110 games for Double-A Trenton this summer.
The 23-year-old Refsnyder hit .342/.385/.548 (159 wRC+) with 19 doubles and six homers in 60 games with the Thunder this year before being promoted to Triple-A Scranton. "Refsnyder drew raves from evaluators for his ability to hit line drives to all sectors and also for possessing premium bat speed. He's got pop, but it's more of the gap-to-gap, doubles variety than true home run power," said the scouting report. It also says Refsnyder is "still crude technically" in the field but he has improved at second base.
The Eastern League list is probably the most impressive list I've seen so far. There was a ton of top talent in the league this summer. Severino didn't qualify for the list and others like OF Tyler Austin, RHP Bryan Mitchell, and LHP Manny Banuelos simply didn't make the cut. The last list relevant to the Yankees is the Triple-A International League, which is due out tomorrow or the next day. The RailRiders were devoid of prospects for most of the summer. Refsnyder should make the list but others like RHP Shane Greene and C John Ryan Murphy will probably fall short.
Other League Top 20s: High-A Florida State League, Low-A South Atlantic League, Short Season NY-Penn League, Rookie Gulf Coast League.
The Yankees re-signed GM Brian Cashman but fired both hitting coach Kevin Long and first base coach Mick Kelleher late last week. The rest of the coaching will remain though there's a possibility they will be shifted around into new roles. We'll just have to wait and see. The dust is still settling following those moves, and here are some random thoughts for the time being.
1. I'm going to start with Kelleher because this will be short and, frankly, I have no idea what's going here so I'm not even going to pretend to try to understand this move. What does the first base coach do anyway? He keeps track of the pitcher's time to the plate and the catcher's pop time, and … holds onto Brett Gardner's oven mitt thing in case he reaches base? Outside of Davey Lopes, who turned the Phillies (2007-10) and now the Dodgers (2011-present) into elite base-running teams, I couldn't even name any first base coaches around the league. I'm much more interested in Cashman's "global perspective" comment — he gave that quote after being asked about replacing Kelleher — than the actual decision to let Kelleher go. What could that comment mean? I can understand targeting players with marquee value and stuff like that, but coaches? Do they want a Japanese-speaking coach? Another Spanish-speaking coach? Does Cashman simply mean they want a more well-rounded coach? This whole first base coach thing fascinates me. I'm oddly looking forward to seeing how this plays out.
2. I don't think there is any way we can accurately evaluate coaches as fans. The only tangible decision a coach makes that we actually see is the third base coach sending runners. That's all. Yeah, we see the pitching coach walk to the mound, but who knows what he's saying? Just about every task a coach performs happens behind the scenes and we don't have access to that stuff. Even if we did, I'm pretty confident in saying we still wouldn't be able evaluate it properly. Was Long the reason the offense underperformed so much this year? Maybe. It's very possible. I happen to think giving nearly 1,800 plate appearances to Brian Roberts, Derek Jeter, Ichiro Suzuki, Alfonso Soriano, and Stephen Drew was a much bigger problem than Mark Teixeira being unable to beat the shift a few dozen times. Those five guys accounted for almost 30% of the team's plate appearances in 2014. Did you know that? That's a lot. And let's not ignore the obvious here. It's not like Long was handed the script to Breaking Bad and came back with The Chevy Chase Show. They had a great offense under his watch from 2007-12 and a not so great offense once the personnel changed in 2013-14. He didn't have much to work with the last two years. Anyway, Long has been scapegoated — he was a goner as soon as Cashman re-signed, someone had to take the fall — and at this point many so many people have decided he was the problem that there's no way to discuss this move objectively.
3. Despite George Steinbrenner's very famous hirings and firings (and occasional re-hirings and re-firings), scapegoating coaches is not something the Yankees have done all that much in recent years because they simply haven't had to. People get fired when things go bad and and awful lot has done right for the Yankees over the last 20 years or so. Whenever they have changed coaches, it was usually because someone left for a job elsewhere, like Willie Randolph (third base coach to bench coach to Mets manager), Lee Mazzilli (first base coach to Orioles manager), and Don Mattingly (hitting coach to bench coach to Dodgers bench coach). Aside from canning pitching Dave Eiland a few years ago — that seemed to have more to do with off-the-field problems than anything — and replacing the awful Bobby Meacham as third base coach in 2008, getting rid of Long is the first time the Yankees have let a coach go for team performance reasons since before Joe Torre was hired. The Yankees will hire someone to replace Long and a bunch of people will inevitably praise the hiring when, really, no one will know nothing about anything. Remember how great the Orioles looked when they hired Leo Mazzone away from the Braves? Same idea. Other teams do this stuff all the time but a whole generation of Yankees fans will experience it for the first time.
4. Thanks to these two moves as well and the imminent retirement of VP of Baseball Ops Mark Newman and defection of senior advisor Gordon Blakeley, the Yankees are undergoing quite a bit of administrative change this winter. There's also talk there will both other changes in the player development system aside from Newman, with a few other long-time executives on the hot seat. The player development issues have been going on for a while — the Yankees do produce a few useful arms and trade chips each year, but at this point they need more than role players, they need some impact players — and it's time for a change there even though we don't really know who is really responsible for what. As fans, all we know is the system isn't producing enough. We don't know why. Are they drafting the wrong players? Do their hitting instructors stink? Do they not spend enough time teaching changeups? Who in the world knows. But there is a lot of change going on in the front office and on the coaching staff this winter, and while we can't really know how much these guys are to blame, I'm glad to see some changes are being made. The status quo wasn't working.
5. One thing that won't change is Cashman. I'm not at all surprised he's coming back but I also thought the chances of a GM change were higher this year than they have been at any other point in his tenure. It wouldn't have been surprised me at all if the Yankees didn't retain him or if he left on his own. I'm fine with Cashman staying because a) I do believe he knows the team needs to get younger before they can get back to being a perennial contender, b) he consistently comes out ahead in trades, and c) his loyalty to the Yankees is unwavering. I never worry he'll make a rash, knee-jerk decision in an effort to save his job. There are a lot of GMs out there looking out more for themselves than their teams. I think Cashman knows what needs to happen. He just hasn't been able to put it into motion for whatever reason. I think this will be his last GM contract with the team — it's a coincidence Cashman's and Joe Girardi's current contracts expire at the same time (Cashman's been signing three-year deals for 15 years now), but it will make for a mighty interesting 2017-18 offseason — regardless of whether things go good or bad. Then again, I'm pretty sure I said the same thing three years ago.
By

10:23pm: Andy Martino reports that if the Yankees do hire Minaya, it would be in a scouting or advisory role. He would not replace Newman as the head of the farm system.

9:44pm: Via Erik Boland: The Yankees are strongly considering former Mets GM and current Padres executive Omar Minaya for a high-ranking front office position. The two sides have had "serious dialogue" recently, though it's unclear what role he would fill. Boland speculates Minaya could replace the retiring VP of Baseball Ops Mark Newman or senior advisor Gordon Blakeley, who recently took a position with the Braves.

Minaya, 55, is a really old school guy who is very highly regarded around baseball for his scouting ability. He didn't exactly shine as GM of the Mets or Expos, but he helped build powerhouse farm systems while working with the Rangers, Mets, Expos, and Padres during his career. The Yankees will reportedly make some player development staff changes this offseason in addition to replaceing Newman, and Minaya can be a major asset in the right role (i.e. not GM). · (114) ·
Now that Brian Cashman has been re-signed, the Yankees started their annual organization meetings at Yankee Stadium today, according to George King. They'll last all week and the staff will evaluate their roster, upcoming free agents, the whole nine. Needless to say, they have a lot of work to do this winter. I'm curious to see where it's all headed. Recent comments by Joe Girardi (link) and Hal Steinbrenner (link) make me think the team will make a sincere effort to incorporate some more youth in the roster going forward. I hope so, anyway.
Here is your open thread for the night. Game Three of the ALCS was already rained out, which is a damn shame. They'll make it up on Thursday, if necessary. The 49ers and Rams are the Monday Night Football Game and the Knicks are playing a preseason game. Talk about those games or anything else right here.
By

MLB is sending a team of players to Japan to play a five-game series against the Japanese national team in November, an event they're calling the All-Star Series 2014. Derek Jeter declined to participate in the event but Chris Capuano will be part of the team, according to a Japan-Baseball report passed along by Kazuto Yamazaki. Capuano will technically not be a Yankee when the series takes place (Nov. 11-20), but I'm guessing they'll slap the pinstripes on him for marketing purposes.

The Japan-Baseball page has all 17 players currently confirmed for the event, but you either have to read Japanese or recognize their faces. Former Yankees Robinson Cano and Randy Choate are on the roster, ditto other notables like Yasiel Puig, Albert Pujols, Adam Jones, Bryce Harper, Evan Longoria, Ben Zobrist, and Jose Altuve. There are already 13 position players on the roster, so I'm guessing most of the remaining spots will go to pitchers. (They'll probably take 30 or so players, right?) I'm sure MLB would love to squeeze another Yankee onto the roster for marketability and stuff, but I'm not sure who it could be at this point. David Huff? · (27) ·
The 2014 season is over and now we'll look back at the year that was. Our old What Went Right/Wrong format has gotten stale, so it's time for a new review format. We'll review individual players, performances, tendencies, all sorts of stuff in the coming days and weeks.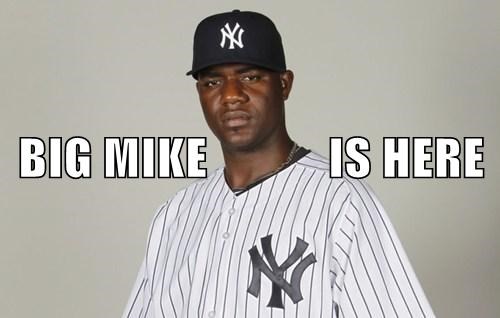 You'll have to forgive me for being skeptical about Michael Pineda coming into the 2014 season, but I know I wasn't alone. He spent his first two years with the Yankees either injured or in the minors — he was both injured and in the minors at one point late last year — and with each passing day the trade looked more and more like a total disaster for both teams. Both the Yankees and Mariners moved top chips for what looked like zero return. Then the 2014 season happened.
Part One: Spring Training
Pineda, who turned 25 in January, came to Spring Training this year fully healthy for maybe the first time as a Yankee. Who knows what was up with his shoulder back in 2012? He came to camp in shape (unlike 2012) and with a chance to win a rotation spot. The Yankees weren't going to hand Pineda anything after he missed the entire 2012-13 seasons and I didn't blame them one bit. Back in February, he was a total unknown who had to earn his roster spot.
In camp, Pineda had to compete against the likes of David Phelps, Adam Warren, and Vidal Nuno for the final spot in the rotation, and he flat out smoked 'em. He allowed three runs (two earned) in 15 innings while striking out 16 and walking one, but, most importantly, he looked healthy and strong. The ball was coming out of his hand well, his slider was filthy, and even his changeup looked promising. There was no competition by the end of Spring Training. Pineda won the job with ease and everyone was looking forward to seeing what he'd do in the regular season.
Part Two: Finally
Eight-hundred-and-two-days after the trade that brought him to New York, Michael Pineda threw his first meaningful pitch for the Yankees. He made his first start in pinstripes on April 5th, in the team's fifth game of the season. Here's how it went:
Pineda held the Blue Jays to one run on five hits and no walks in six innings in his first start for the Yankees, and PitchFX says his fastball averaged 94.17 mph and topped out at 95.94 mph on the night. Considering the nature of his injury and the long layoff, I don't think we could have asked to see anything more out of Pineda that game. He was great. Also, keep the "no walks" thing in mind. It's going to become a theme.
Five days later, in his first career start at Yankee Stadium, Pineda held the defending World Series champion Red Sox to one run in six innings, striking out seven and walking two. Six days after that, he threw six shutout innings against the Cubs as part of a doubleheader sweep. Pineda had a 1.00 ERA and 2.69 FIP though his first three starts and looked very much like the future frontline starter the Yankees were hoping he'd become at the time of the trade.
Part Three: You Guys, You Can't Spell Pineda Without P-I-N-E
During his nationally televised start against the Red Sox, the various networks caught Pineda with what looked like pine tar on the palm of his right hand. It was there in the early innings but not later in the game, after the internet caught wind of it and screen grabs were all over the place. Here's what he had on his hand: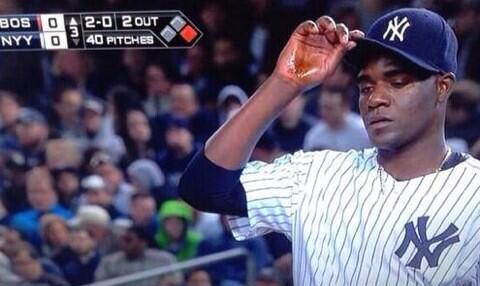 The Red Sox didn't say anything because, frankly, many pitchers use some kind of foreign substance to improve their grip, so calling out an opposing player puts your pitchers at risk of being called out at some point in the future. It's sort of an unspoken code. I won't say anything if you won't.
Two weeks later, in his fourth start of the season, Pineda gave Red Sox manager John Farrell no choice. He had a giant glob of pine tar on his neck in the second inning after getting hit around a bit in the first, prompting Farrell to come out of the dugout and bring it to the attention of the umpires. He had no choice. It would have been irresponsible for Farrell to not say something at that point.
The umpires looked at Pineda, found the pine tar, and immediately ejected him from the game. He admitted afterwards that he did use pine tar — "I know I made a mistake today," he said following the game — and was later suspended ten games, the standard punishment for this sort of thing. Fair or not (fair!), suddenly Pineda's dominance in his first three starts was brought into question.
Part Four: Hurt
Pineda spent his ten-game suspension at the team's complex in Tampa. While throwing a simulated game to stay sharp, he felt a little something in his back and had to go for an MRI. Tests showed a lower lat strain, though when the Yankees announced he had been placed on the 15-day disabled list, they officially called it a shoulder injury. Regardless of what anyone called it, it was close enough to his surgically repaired shoulder to worry.
The injury was originally expected to keep Pineda out for 3-4 weeks, but that turned into 6-8 weeks after a setback in late-May. Then, in mid-June, Pineda suffered yet another setback to put the rest of his season in question. It was starting to look like those first three starts in April were just a tease. Every time Pineda ramped up his throwing program, he back/shoulder injury flared up and he had to be shut down.
Part Five: The Return
Eventually, Pineda was able to stay healthy long enough to increase his throwing program and begin pitching in simulated games. He made his first official minor league rehab start with Triple-A Scranton on August 3rd, throwing 58 pitches in 3.1 innings. Five days later he threw 72 pitches in 4.1 innings. Reports indicated that Pineda's arm strength was fine and his back/shoulder was healthy, so it was just a matter of getting his pitch count up before he could return to MLB.
The Yankees didn't wait that long. Phelps went down with an elbow injury and the team didn't want to give Esmil Rogers another spot start, so Pineda was activated off the disabled list after his second rehab start with the RailRiders. In his first game back, on August 13th at Camden Yards, Pineda held the Orioles to one run on two hits in five innings. He threw only 67 pitches and clearly started to labor in the fifth inning. The Yankees were careful with Pineda earlier in the season — he threw 83, 94, and 89 pitches in his first three starts in April — and they were going to do the same following the injury.
There were no more setbacks once Pineda returned. No more pine tar (that we know of!) and eventually no more pitch limits. No more nothing. Just pitching. Pineda took the ball every fifth day once he was activated and he was dominant nearly every time out. He allowed six runs (five earned) in his next four starts and 25.1 innings, striking out 15 and walking just one. After the Rays tagged him for four runs in 7.1 innings on September 11th — easily his worst non-pine tar start of the season — Pineda allowed just three runs (two earned) in his final three starts and 19 innings.
In his final start of the season in Game 162, Pineda struck out ten Red Sox and allowed just one run in 6.1 innings. He closed the year with a 1.89 ERA and 2.71 FIP in 13 starts and 76.1 innings. Eight of those 13 starts were walk-less. Eight! Pineda walked just seven batters (!) in those 76.1 innings, a 2.4% walk rate that was the second lowest among the 206 pitchers who threw at least 70 innings in 2014. (Phil Hughes was the lowest at 1.9%).
Pineda's strikeout total (59, or 20.3% of batters faced) was surprisingly low given the quality of his stuff, though it didn't hurt his performance at all. He's a weak contact guy who gets a lot of easy pop-ups, so while his .233 BABIP was low this year, he's exactly the type of pitcher you'd expect to post a lower than usual BABIP. All those pop-ups and fly balls off the end of the bat are high-percentage outs, especially when Brett Gardner and Jacoby Ellsbury are covering two-thirds (more, really) of the outfield.
Pineda did hold his fastball velocity through to the end of the season, averaging 93.21 mph in and topping out at 96.27 mph in Game 162. His overall season velocity was 93.39 mph, on average. It is worth noting, however, that Pineda did tend to tire later in games once his pitch got up to 70-75 pitches or so. Here's his velocity chart by inning, courtesy of Brooks Baseball: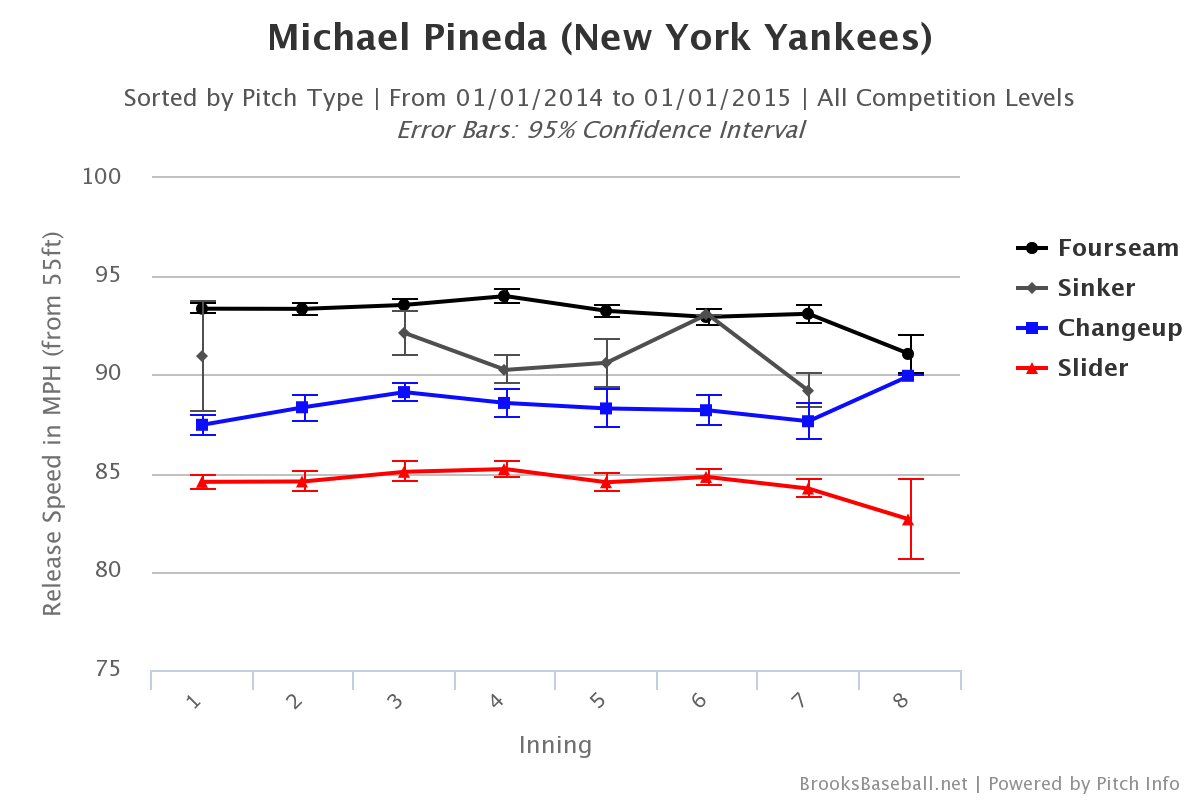 There's a definitely downward trend there, after about the fourth inning. Most pitchers lose velocity as their pitch count climbs within a game, this isn't unusual, but because Pineda's season was interrupted by the injury, we don't know if this is permanent or something he'll grow out of once he truly has a chance to get into midseason and is further away from shoulder surgery. We're just going to have to wait and see next year. Nothing we can do.
Pineda did add a cut fastball to his arsenal this year and it was very effective. It wasn't a show-me cutter. Pineda would cut the ball outside to righties and to both sides of the plate against lefties, but stick with his true four-seam whenever he elevated for a swinging strike or wanted to bust a righty inside. His changeup also showed a lot of progress as well. The pitch averaged 88.49 mph this season, so it was a hard changeup, and at its best, it moved like this:
The pitch didn't move that like all the time of course, but it did it often enough to make you think it's only a matter of repetition and time before he gets a good feel for it and can throw it like that consistently. Besides, his fastball-slider and now cutter combination is good enough to get by as it is. Adding the changeup would be an extra cherry on top.
When the season started, Pineda was an injury risk and we had no idea what to expect when he was actually on the mound. He is still an injury risk, he didn't exactly assuage any concerns about his durability this year, but at least now we know Pineda has the ability to dominate. That's a pretty big question he answered in his 13 starts. Pineda still has frontline stuff and frontline command following shoulder surgery, the two things that made him so special as a prospect and great as a rookie in 2011. It's easy to forget how good this guy was expected to be before the shoulder injury.
The trade has not gone as planned for either the Yankees or Mariners at this point, but the Yankees finally received some return this season. Everyone hoped Pineda would be a top of the rotation starter by time his third year in pinstripes rolled around, but instead his career in the Bronx is just getting started. That's life. The injury this year was a major bummer, but, when he was on the mound, everything Pineda showed was tremendously encouraging. He aced the performance test with fly colors. Hopefully next year he can ace the health and durability test.
The Yankees fired hitting coach Kevin Long and first base coach Mick Kelleher late last week. Brian Cashman confirmed the rest of the staff will be retained — "If we choose to make any other changes we'll let you know, otherwise everything is status quo until then," he said — though there has been speculation bullpen coach Gary Tuck, third base coach Robbie Thomson, and bench coach Tony Pena could be moved into different roles. We'll see. Here are a bunch of coaching and front office staff updates courtesy of Bob Klapisch, Erik Boland, Sweeny Murti, Chad Jennings, Susan Slusser, Bob Nightengale, Donnie Collins, Andrew Marchand, and George King.
Interesting comment from Cashman after the firings were announced (emphasis mine): "There are some individuals, I think, as we move forward (who) will bring more for the global perspective of the coaching staff  … There are some more things that I want to add to the staff with Joe Girardi. And in my dialogue with Joe, we look forward to interviewing some personnel that can bring those things to the table." Hmmm.
Dodgers manager Don Mattingly told reporters he is "assuming" he will return to the team next year after they were eliminated from the postseason last week, though nothing has been decided yet. If Mattingly does get canned, I have to think the Yankees will consider bringing him back as hitting coach, the role he held from 2004-06 before taking over as Joe Torre's bench coach.
Tino Martinez is not a hitting coach candidate and Paul O'Neill gave a simple "no" when asked if he was interested in the job. Tino was the Marlins hitting coach in 2013 but resigned that July after word got out that he verbally abused players in the clubhouse and literally choked one player. So yeah, forget that.
Former Yankees DH and current Athletics hitting coach Chili Davis is "getting mentioned" as a hitting coach candidate. Davis has been Oakland's hitting coach since the 2012 season and before that was a minor league coach with the Red Sox and Dodgers. There's also speculation Dante Bichette could be a candidate for the job. He was the Rockies hitting coach in 2013 and is close with Girardi.
There's also speculation current Diamondbacks pitching coach Mike Harkey could return as bullpen coach — Harkey was the Yankees bullpen coach from 2008-13 — with Tuck taking over as bench coach and Pena taking over as first base coach. (Tuck was Girardi's bench coach with the Marlins in 2006.) The D'Backs just hired new GM Dave Stewart and fired manager Kirk Gibson, so other coaching staff changes are expected.
Triple-A Scranton hitting coach Butch Wynegar was let go after the season and third base coach Luis Sojo won't return to the team next year. That doesn't mean Sojo's leaving the organization, it just means won't be with the RailRiders in 2015. Double-A Trenton hitting coach Marcus Thames is well-regarded within the organization but is not a candidate for the MLB hitting coach job right now.
The Dodgers are reportedly mulling over the future of GM Ned Colletti, and Yankees assistant GM Billy Eppler is already getting consideration as a possible replacement. Eppler interviewed for the Padres GM job earlier this year.
Special assistant Trey Hillman may leave the Yankees to become new Astros manager A.J. Hinch's bench coach. Hillman is considered a candidate to replace retiring VP of Baseball Ops Mark Newman as head of the farm system. He's also a candidate to join the MLB coaching staff in some capacity.
And finally, I can't help but wonder if the Yankees will adopt the two-hitting coach system many teams use nowadays. (Seventeen teams employ two hitting coaches right now.) They were reportedly considering hiring an assistant hitting coach two years ago but never did, and that "globe perspective" talk from Cashman makes me think Hideki Matsui will be considered for the staff. He's always working with the team's minor leaguers at the various parks. Anyway, that's just me thinking out loud. If the Yankees were going to add an assistant hitting coach, now is the perfect time.