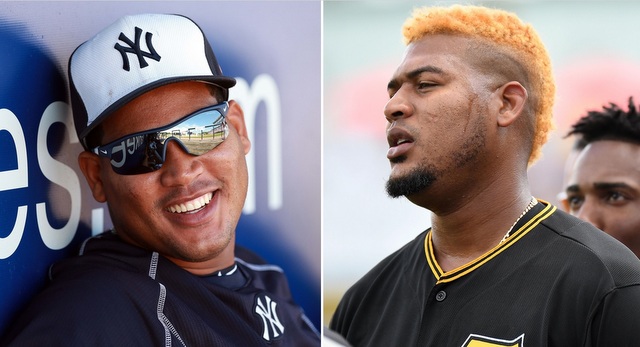 This afternoon's series finale against the Pirates features a matchup of last year's fifth starter and this year's fifth starter. Well, technically Ivan Nova opened last season in the bullpen, but it didn't take long for him to return to the rotation. Jordan Montgomery started this season in the minors, and like Nova last year, it didn't take long for him to wind up in the big league rotation. Nice little bit of pitching matchup symmetry.
Anyway, thanks to yesterday's come-from-behind win, the Yankees are again in position to win a series this afternoon. That's the name of the game. Win series. When the eight-game winning streak ended Tuesday, the Yankees rebounded with a blowout win Wednesday. After dropping the series opener to the Pirates on Friday, the Yankees hung eleven on them Saturday. This is fun, is it not? Here is the Pirates' lineup and here is the Yankees' lineup:
RF Aaron Judge
1B Greg Bird
LHP Jordan Montgomery
Much better weather in Pittsburgh today than the last two days. It's a little cloudy and on the warm side, and there's a cool breeze. This afternoon's series finale will begin at 1:35pm ET. YES will have the game locally and MLB Network will have it nationally. Enjoy.