The World Series finally starts tonight after four baseball-less days. That felt like an eternity. My official prediction is Royals in six for no apparent reason. It's a total guess. More than anything, I want a long and exciting series that goes the full seven games. Both the LDS and LCS rounds were a blast. Hopefully the World Series is just as fun. Here are some miscellaneous thoughts.
1. I think this is the first time since 2005 that I don't really care who wins the World Series. Last year I wanted the Red Sox to lose because duh. The year before that I wanted the Tigers to lose because they swept the Yankees in the ALCS. I wanted the Rangers to lose in both 2010 and 2011 because they beat the Yankees in the 2010 ALCS. I rooted against the division rival Red Sox and Rays in 2007 and 2008, and in 2006 I wanted the Tigers to lose because they beat the Yankees in the ALDS. Common theme here? I wanted teams to lose. I didn't necessarily want the other team to win, I just wanted the team I didn't like to lose. How messed up is that? Almost all neutral fans I come across these days are rooting against a team — Dodgers fans rooting against the Giants, etc. — more than anything, myself included. That's so screwed up. Everyone is rooting for someone else to not be happy.
2. Every postseason for the last I dunno, 15-20 years or so we've seen how important it is to have a deep and excellent bullpen. It's not a luxury, it's a necessity. Bullpens seem to be getting more attention this postseason because of that three-headed Kelvin Herrera-Wade Davis-Greg Holland monster in the Royals bullpen, but they've always been important. That's why I think the Yankees absolutely have to re-sign David Robertson. Re-sign him and add more quality relievers as well, with Andrew Miller being the most obvious candidate. I like Adam Warren as much as the next guy and Shawn Kelley has his moments, but those two are best used as sixth and seventh inning types. Not eighth inning relievers. I have no concerns about Dellin Betances closing if that's what it comes to, but how could you watch this past season and not see how valuable he was in a multi-inning setup role? With so many close games being played these days, stack that bullpen with as many power arms as possible. There will still be plenty of opportunities for guys like Jacob Lindgren and Nick Rumbelow next year.
3. I'm a power guy and chances are you knew that already. Homers are the single best outcome for any at-bat and doubles aren't far behind. Pile up a bunch of extra-base hits and you'll to score a ton of runs. Here, look: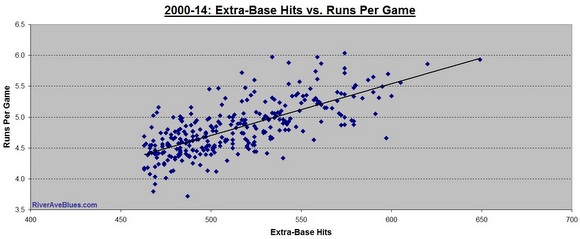 Score more runs and you're more likely to win. That's the kind of hard-hitting analysis you've come to expect from RAB. Now, that said, man are the Royals fun to watch. Their brand of "put the ball in play and run like hell" controlled chaos is exciting and it has me on the edge of my seat with every pitch because you never know when they might take off. It really is fun and I'm sure it drives the other team nuts. I don't buy it as a model for perennial contention — in case you haven't noticed, the Royals have benefited from some enormously clutch homers this postseason, it hasn't been all speed — but it's worked for Kansas City these last eight games. It's refreshing to see such a different style of play.
4. If the Giants win the World Series again, don't we have to consider them a dynasty? Three titles in five years is pretty damn impressive. I'm pretty sure we'd all consider it a dynasty if the Yankees did it, wouldn't we? I think the coolest thing about San Francisco's recent success is all the roster turnover, specifically their regulars. Their 2010 and 2014 World Series rosters only have three position players (Buster Posey, Pablo Sandoval, former Yankee Travis Ishikawa (!)) and one starter (Madison Bumgarner) in common. In fact, if they win another championship this year, they'll have had a different ace/closer combination in all three title years: Tim Lincecum/Brian Wilson in 2010, Matt Cain/Sergio Romo in 2012, and Bumgarner/Santiago Casilla in 2014. (Bumgarner is their Andy Pettitte, if you haven't noticed.) Anyway, I don't really know where I'm going with this. I just find the Giants recent success impressive. They've managed to win a bunch of championships without having people try to discredit them because of their massive payroll (sixth in MLB at $155M!).
5. With Athletics hitting coach Chili Davis heading to the Red Sox and Rangers hitting coach Dave Magadan out of the running, it sounds like the Yankees next hitting coach is going to be an off-the-radar hire. That doesn't mean it will be an outside the box hiring — Jason Giambi, anyone? — just someone we haven't heard connected to the team at all. That happened four years ago when the Yankees named Larry Rothschild pitching coach. They were no reports he was in the running or had even been interviewed, then bam, he was hired. Either way, I hope the Yankees go with the two hitting coach system because it just seems like something that could be very beneficial. Another set of eyes and another person to help communicate stuff can only help. (I don't think two hitting coaches falls into "too many cooks in the kitchen" territory, but what do I know.) Nearly two-thirds of the league has a hitting coach and an assistant hitting coach these days. This is the perfect time to implement that system and I really hope the Yankees decide to do it. They're always a year or two behind the rest of the league with this stuff. It's time to catch up. (Example: The Rays and Blue Jays were using infield shifts all the time years ago, but the Yankees just got around to it in 2014.)