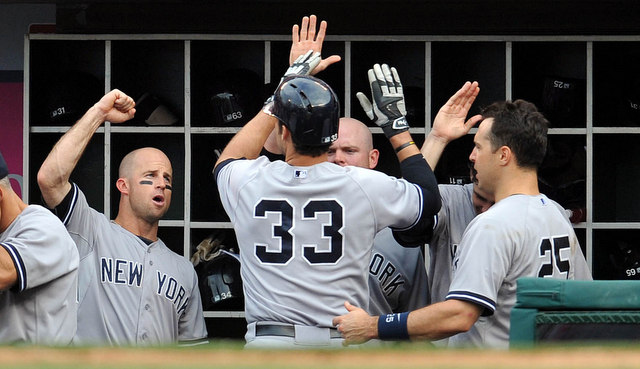 The Yankees finally wrapped up their 20 games in 20 days stretch last night, going 8-12 in the 20 games. That's … not very good. Could be worse, I guess. The Yankees have an off-day today before opening a pretty big three-game series with the Rays tomorrow night. Here are some scattered thoughts for the time being.
1. So how pissed is Adam Warren right now? Probably very. He said all the right things when he was demoted to the bullpen earlier this week — "I was a little frustrated at first because I want to be a starter, but I understood. They sat down and talked to me about it, explained it. I understood where they were coming from. I told them I'm not going to be unhappy in the bullpen," said Warren to Chad Jennings — but I have to think he is very disappointed and frustrated on the inside, if not outright angry. Warren was a starter his entire life before cutting his teeth in the big leagues as a reliever like many others, then he got a chance to start, pitched very well as a starter, and still lost his rotation spot. How he could not be upset? Warren's earning potential as a reliever is a fraction of what it would be as a starter, and not just in free agency, I mean when he goes through arbitration for the first next year. Michael Pineda missed two and a half years due to injuries and still got $2.1M in his first trip through arbitration this past offseason. David Robertson dominated as a reliever and got $1.6M his first time. Man. Warren's a pro and he went back to the bullpen without making a stink. I have to imagine he's really disappointed on the inside though. What more does he have to do?
2. The All-Star Game rosters will be announced this weekend and my guess is the Yankees will have two All-Stars this year: Dellin Betances and Brian McCann. Betances is a shoo-in and I think McCann will beat out Russell Martin for the third catcher spot behind Salvador Perez (leading the fan voting) and Stephen Vogt. Brett Gardner absolutely deserves to be in the All-Star Game, but I think he has less than a 50/50 chance of actually getting selected. He's just not popular enough, and it is a popularity contest. Maybe he'll sneak in as an injury replacement or something. Jacoby Ellsbury and Andrew Miller won't make it because of their injuries, Alex Rodriguez won't make it because other players loathe him and won't vote him in (probably), and Mark Teixeira is stuck behind Miguel Cabrera, Eric Hosmer, Prince Fielder, and Jose Abreu at first base. Betances, McCann, maaaybe Gardner. That is my official All-Star guess. Bookmark this post for potential future mocking purposes.
3. The 2015-16 international signing period opens today — no exciting buildup this year! — and the Yankees are not connected any of the top available prospects, according to Ben Badler (subs. req'd). (Here is Badler's free list of the top prospects, if you're interested.) That's not surprising. The team can not hand out bonuses worth more $300,000 during this signing period (or next signing period) thanks to the penalties stemming from last summer's spending spree, when they bought about four years worth of talent. The Yankees have a full $2.62M bonus pool this year — $2.62M plus the six $50,000 exemptions and unlimited $7,500 exemptions each team gets — they just can't give any one player more than $300,000. That takes them out of the running for the top talent, but New York has shown they are great at finding cheap prospects. Five dudes on my Preseason Top 30 Prospects list signed for $300,000 or less, including Luis Severino ($225,000) and Jorge Mateo ($250,000). So no big names this year, but that doesn't mean no quality prospects. I'm looking forward to seeing what kind of players the Yankees pull this year. Odds are one or two will develop into better players than one or two of the seven-figure guys they signed last year. That's just the market. (For what it's worth, Balder (subs. req'd) says the Yankees are "expected to be active" in Venezuela this year, with RHP Maximo Castillo, IF Oswaldo Cabrera, and C Andres Chaparro the likely targets.)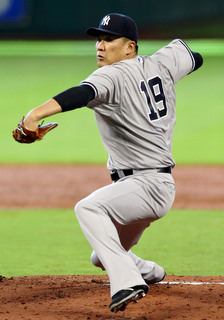 4. Masahiro Tanaka has allowed three home runs in each of his last two games, and five of the six came on hanging offspeed pitches. The other came on a fastball up in the zone and on the other half (Carlos Correa is just that damn good). Here are the videos if you don't believe me: one, two, three, four, five, six. Tanaka's stuff has been fine — his velocity is good and his two highest swing-and-miss totals of the season have come in the last two games — but his mistakes are getting absolutely hammered. The old adage says a drop in velocity means a shoulder injury while bad location means an elbow injury, and obvious Tanaka's elbow is already compromised, so the recent bad location isn't encouraging. That doesn't mean he's hurt! It could just be two bad starts. Those do happen. But at this point everything Tanaka does is looked at through the lens of his elbow. Bad starts get magnified and good starts are just a five-day reprieve. Sucks. Needless to say, I'm hoping to see some better location tomorrow. Miss down, not up.
5. Speaking of Tanaka's elbow, what are the chances the Yankees have another pitcher on the staff right now pitching with a partially torn elbow ligament? I think the chances are pretty high and we just don't know about it. And by we I mean everyone — fans, the Yankees, and the player himself. Pitchers have all sorts of scary stuff going on in their arms and there are probably dozens of 'em around the league with a tiny UCL tear that is not affecting them at all. No pain, no loss of stuff, nothing. Pitchers are weird like that. They all have something going on in their arms and a lot of the time you don't know about it until you take a real good look. Ty Hensley had his signing bonus reduced when he was drafted because the Yankees found an "abnormality" in his shoulder even though he had no problems and was completely asymptomatic, for example. Pretty good chance someone on the staff has a small UCL tear right now and it is no problem whatsoever. Kinda scary to think about.