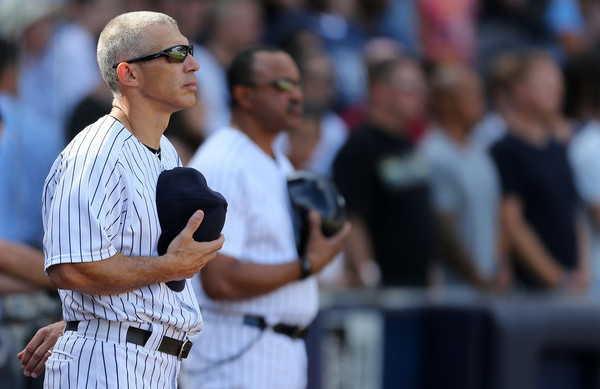 Thirteen games in 13 days. That's all the Yankees have left this year barring a miraculous run to the postseason. That seemed slightly less insane about a week ago. Now? Forget it. They're as close to done as it gets without actually being done. Took a lot longer to get to this point than I expected, so that's cool. Anyway, I have some thoughts on things and stuff.
1. In terms of on-field decisions, this has been a really bad season for Joe Girardi. The worst in his nine years as manager. That series in Fenway Park was maybe his worst in pinstripes. Between Austin Romine rather than Brian McCann facing Craig Kimbrel and James Pazos facing David Ortiz in a one-run game and CC Sabathia being hung out to dry, Girardi made a lot of really bad moves over the weekend. I'm not talking about moves that just didn't work out. Every manager makes a ton of those throughout the season. I mean moves that didn't make sense at the time. The "this doesn't put the Yankees in the best position to succeed" moves that will occasionally get good outcomes. Overall, I think Girardi has done very well with the Yankees. They seem to overachieve each year and it's not his fault they're likely to miss the postseason this season. I just feel like there's been no adjustments on his part. He manages the same way now that he did in 2008. Platoon matchups reign supreme and his bullpen management doesn't extend much beyond assigning innings. I firmly believe managers have a shelf life. After a while their style and message get stale and it's time for a new voice. I was on the fence about Girardi last year and, after this season, I'm at the point now where I think bringing in a new clubhouse leader would be best, especially as the Yankees embark on this "transition."
2. Trading for a starting pitcher feels imperative this offseason, doesn't it? A good starter, I mean. Not a fourth or fifth guy to chew up innings. They need someone to fill the role they hoped Michael Pineda (and Nathan Eovaldi and Luis Severino) would fill. Right now the rotation is one bonafide ace and four back-end starters. (At best.) The Yankees need more bulk innings and more quality innings from the rotation next season to have any chance at contention. None of their top pitching prospects, specifically Justus Sheffield and James Kaprielian, are all that close to the big leagues at the moment. This is a roster hole the Yankees will have to address from outside the organization. They have the prospects to do something big too. Clint Frazier and/or Jorge Mateo could be trade bait. Pitchers break, yes, but you need them too.
3. Second base in the wake of the Starlin Castro injury should be … interesting. Girardi said he plans to use Ronald Torreyes and Donovan Solano there, though the Yankees are probably best off using Rob Refsnyder at second. Torreyes is what he is and that's a nice utility player. Solano's a goner after the season. The Yankees are still trying to figure out what they have in Refsnyder, especially defensively. He's fine in right. Not great, not a disaster. The infield is still a question. Once Aaron Hicks returns, which could be as soon as tonight, the Yankees will be free to move Refsnyder from right field to second base. Will it happen? Nothing suggests it will. The Yankees have been hesitant to play him at second everyday even when presented with the opportunity. It just seems like Refsnyder is a better use of those at-bats than Torreyes and Solano. That's just me.
4. Is it bad that as soon as Jacoby Ellsbury got hurt, I worried about his trade value? I have no reason to believe the Yankees will move Ellsbury — he has a full no-trade clause anyway — but even the tiniest little chance they will trade him could take a hit with that injury. Ellsbury has played well the last few weeks and losing him hurts the team's chances to make the postseason, however microscopic they may be, but that doesn't change the fact his contract is a massive albatross. One of the worst in the game. If the Yankees can move him this winter, they should. Hopefully the knee injury doesn't scary anyone away. There are enough reasons to steer clear of Ellsbury as it is.
5. There's no reason for Billy Butler to play over Tyler Austin. The Yankees signed Butler to help against lefties and he's done that, but with the Yankees falling out of the race, Austin should be the priority. He didn't play any of the final three games of the Red Sox series, which included two games against lefties. Butler, meanwhile, played first base twice. Nope. Nope nope nope. Give me Austin over Butler at first eight days a week and twice on Sunday. If that means Butler has to sit the days Gary Sanchez serves as the DH, so be it. Butler's a mercenary. He won't be around much longer — the Yankees can do better at DH next season, re-signing Butler wouldn't make too much sense — but Austin might be. The kids should be the priority. Playing Butler over Austin is an "old" Yankees move.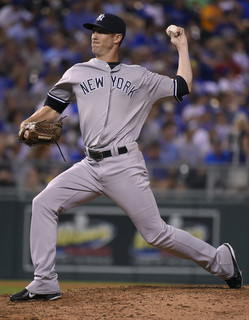 6. What do you think, is there any chance Tommy Layne and Blake Parker last the offseason and stick with the Yankees into next year? The upcoming 40-man roster crunch is so severe that my guess is no. The Yankees will need the roster spots for younger players. The fact keeping those two is even a conversation worth having is pretty unexpected though. Maybe they'll survive the first round of roster cuts the day after the end of the World Series but be on the block later in the winter once space gets tight. We'll see. The Yankees need to do something about their bullpen. Really the entire pitching staff behind Masahiro Tanaka and Dellin Betances. The other ten pitching roster spots can all be improved.
7. Speaking of the 40-man roster, Johnny Barbato's spot can't be too safe right now, huh? He didn't get a September call-up this year despite being on the Opening Day roster. Maybe they'll call him up after Scranton plays in the Triple-A Championship Game tonight, though given the way the Yankees called up everyone as soon as possible without regard for the RailRiders' postseason roster, I'm guessing no. They haven't even given Barbato a courtesy call-up to evaluate him across a handful of innings or anything like that. I like Barbato though. He's got a lively fastball and two breaking balls. That'll work in middle relief as long as you throw strikes, which is a question with pretty much every young pitcher. Barbato wouldn't be among the first guys I'd drop from the 40-man roster this offseason, but it seems the Yankees disagree. No September call-up doesn't bode well for his future with the organization.
8. I will admit to looking over the list of upcoming free agents in an effort to find the inevitable ex-Red Sox player the Yankees will sign this offseason. They seem to do it every year. Even after signing zero free agents last winter, the Yankees made up for it by plucked Layne off the scrap heap after he was released by Boston. Ellsbury, Andrew Miller, Matt Thornton, Kevin Youkilis, Johnny Damon … this goes back a long way. The BoSox don't have a ton of players scheduled to become free agents after the season, so the Yankees won't have much to choose from. There's Junichi Tazawa, Koji Uehara, Brad Ziegler, Aaron Hill, and Clay Buchholz if his option is declined, which I don't think it will be. Meh. Tazawa's the best of the bunch — in terms of expected future performance that is, not current performance — almost by default. I could totally see the Yankee signing him to help shore up their middle innings too. Sigh. This feels inevitable.
9. As of yesterday, the Yankees are on track to pick 16th overall in the 2017 draft. The absolute lowest they can fall — this means losing every single game the rest of the way — is seventh overall. Realistically, they'd have to go something like 2-11 the rest of the season to get a protected top ten pick, and I have a very hard time believing that'll happen. Call me an optimist. I'm not sure there will be any free agents worth forfeiting a draft pick to sign anyway. Yoenis Cespedes, Edwin Encarnacion, and Kenley Jansen. That's about it. I don't see the Yankees spending for Cespedes or Encarnacion, and I think they'd go for Aroldis Chapman before Jansen. They know Chapman and he won't cost a draft pick after being traded midseason. In all likelihood New York's first round pick will be in the 13th to 18th overall range, which is where it's been the last two years.