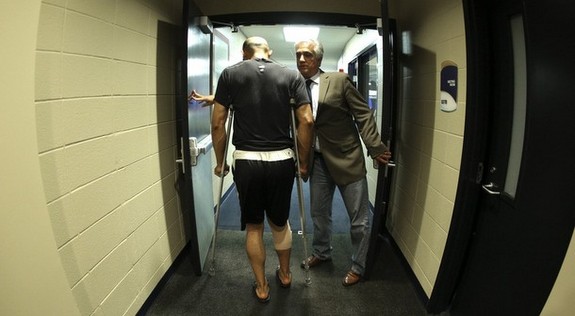 We say the same thing every year, that the bullpen at the start of the season will not be the same as the bullpen at the end of the season. Players pitch their way on/off the club, trades happen, injuries occur, all sorts of stuff changes the bullpen dynamic during the course of 162 games. The one constant over the years has been Mariano Rivera, but unfortunately his torn right ACL means his name will be one of those we see in April but not October.
Thankfully, the Yankees are in capable hands with David Robertson and Rafael Soriano in the late innings. Whoever takes Rivera's roster spot won't take his role as closer, they'll instead work middle relief while Cory Wade, Soriano, and Robertson each move up a notch on the totem pole, so to speak. Side-arming righty Cody Eppley currently occupies Mo's spot on the roster, but he's far from the team's only option. As we've seen over the last few seasons, the Yankees will cycle through internal options before finding the right mix or going out and making a trade.
Eppley and D.J. Mitchell have already come up from the minors to aid the relief corps this year, but now let's run down the list of players we could also see in the coming weeks….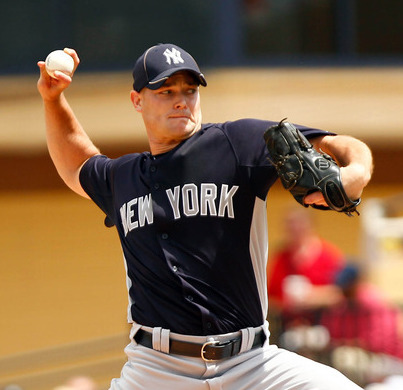 RHP Kevin Whelan
The last remaining piece of the Gary Sheffield trade, Whelan made his big league debut last season and walked five in 1.2 IP. The 28-year-old was substantially better in Triple-A (3.24 FIP in 52.1 IP) and has continued that success this year. Whelan can miss bats with a low-90s fastball and a mid-80s splitter, but he's really struggled with his control aside from last season. Middle relief is a good place to stash a guy who can run into trouble with walks.
RHP Chase Whitley
The Yankees bumped Whitley up to Triple-A after a brief return to Double-A to start the season, and he's pitched extremely well to start the season: 2.43 FIP in 15.2 IP. Using three pitches in relief — 89-91 mph fastball, low-80s slider, changeup — Whitley isn't a huge strikeout guy and will rely on his defense more than most Yankees relievers. I ranked him as the club's 30th best prospect before the season because of his likelihood of contributing to the big league team, not necessarily his upside.
LHP Juan Cedeno
The darkhorse, Cedeno signed out of an independent league this offseason and impressed both in Spring Training and while with Triple-A (1.62 FIP in 12.2 IP). The 28-year-old southpaw profiles as more of a specialist than a full-inning reliever, throwing a low-90s fastball with a low-80s slider. Once ranked as the ninth best prospect in the Red Sox's system (2003), Cedeno has spent time in Korea and missed all of 2010 with some kind of injury. The Yankees already have two left-handed relievers and a third doesn't make much sense, but Cedeno should be on the big league radar.
RHP Jason Bulger & RHP Adam Miller
Two of the more veteran options on the Triple-A staff, neither Bulger nor Miller figure to get serious consideration for a bullpen job anytime soon. Bulger hasn't pitched well (5.25 FIP in 13.2 IP) either this year or at all since 2009, and Miller has only appeared in three games after starting the season on the DL. Miller is a former top prospect and could pitch his way onto the radar last this summer, but I can't imagine either of these guys will get a look anytime soon.

RHP Adam Warren & RHP D.J. Mitchell
Unlike the other five guys in this post, Warren and Mitchell are legitimate long relief candidates. We've already seen Mitchell in that role and he's likely to come back up if another multi-inning guy is needed, especially since Warren hasn't pitched all that well this year (5.46 FIP in 25.2 IP). I do think both guys — and we should lump David Phelps into this group as well — could be effective in short, one-inning bursts, which could be more plausible since Freddy Garcia is currently the long reliever and Andy Pettitte is due back at some point soon. With three guys like that, odds are one of them will prove useful in a middle relief role right away.
* * *
Mitchell is the only player in this post currently on the 40-man roster, though the Yankees still have a number of 60-day DL candidates: Cesar Cabral, Brad Meyers, Austin Romine, and of course, Mo. The 40-man thing isn't really a problem. Whelan, Whitley, Warren, and Mitchell give the team a couple of decent short-term relief options, plus there's always the waiver wire and trade market. The important thing is that the Yankees already have these guys in-house and don't have to scramble to fill out their pitching staff like they did in the mid-aughts.