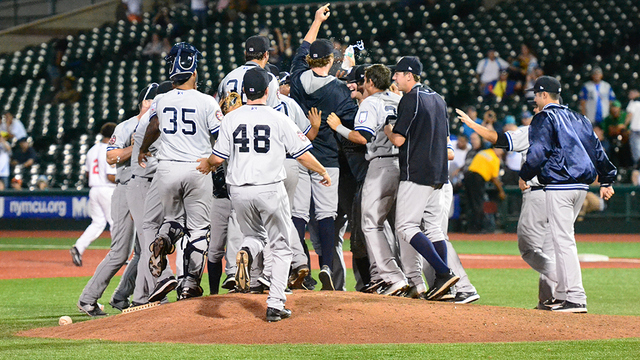 Moreso than at any other point in the last, I dunno, 10-15 years or so, the Yankees dipped into their farm system for help this summer. Whether it was the bullpen shuttle, injury replacements, or late-season call-ups, the Yankees showed faith in the young players and have largely been rewarded at the Major League level. That alone qualifies 2015 as a good season for the farm system.
The Yankees welcomed yet another affiliate to the organization this year in the rookie level Pulaski Yankees. The team's eight (!) domestic full season affiliates went a combined 422-403 (.512) this summer, giving them back-to-back winning seasons in the minors. (The system had an overall losing record in 2013 for the first time in at least 30 years.) None of the affiliates won a championship but Pulaski, Short Season Staten Island, and Triple-A Scranton all qualified for the postseason. Staten Island advanced to the Championship Series.
Now that the postseason is over, it's time to hand out some awards for the minor league season. As always, these awards are totally subjective and completely meaningless. I have no authority whatsoever. This is just my look back at the season with recognition for those who played well. This isn't any sort of top prospects list. It's a best performers list regardless of prospect status. That make sense? Good.
Here are my 2007, 2008, 2009, 2010, 2011, 2012, 2013, and 2014 awards posts. Hard to believe I've been doing this nine years already. Time flies, man.
Minor League Player of the Year: OF Ben Gamel
After spending the last two seasons as a light-hitting, somewhat interesting outfield prospect at High-A Tampa and Double-A Trenton, the 23-year-old Gamel broke out in 2015 and was the best player in the farm system from start to finish. He hit .300/.358/.472 (138 wRC+) in 129 games with Triple-A Scranton and led the system in both hits (150) and extra-base hits (52). Gamel ranked third in doubles (28), first in triples (14), eighth in homers (ten), and second in plate appearances (592). His defense reportedly improved as well, so much so he took regular turns in center field down the stretch for the RailRiders. If there was voting for this award, I think it would be unanimous. Gamel was that much better than everyone else in the system in 2015.
Minor League Pitcher of the Year: RHP Luis Severino
Severino is in the big league rotation right now, but he spent the majority of the season in the minors and finished the year with the 19th most innings in the system (99.1) despite getting called up in early-August. The 21-year-old had a 2.45 ERA (2.45 FIP!) with Double-A Trenton and Triple-A Scranton this summer, striking out 24.8% of batters faced while walking only 6.8%. Among the 25 pitchers who threw at least 80 innings in the system this summer, Severino ranked fourth in strikeout rate and third in K/BB ratio (3.63). The guys ahead of him are all older, pitched at a lower level, or both. Even in an abbreviated minor league season (abbreviated for a good reason, of course), Severino was the best pitcher in the organization this year. Honorable Mention: RHP Brady Lail and LHP Jordan Montgomery
Minor League Hitter of the Year: C Gary Sanchez
By self-imposed rule, the winner of my Minor League Player of the Year award is not eligible for the Hitter or Pitcher of the Year award, because that would be boring. Gamel would win this too. Sanchez, 22, gets the hitter honors instead after hitting .271/.329/.476 (131 wRC+) with 23 doubles and 18 home runs in 96 games split between Double-A Trenton and Triple-A Scranton. Even though it feels like he has been around forever, Sanchez was still two and a half years younger than the average Eastern League player this year. He was eighth in doubles and second in homers in the system — his 18 homers were fourth most among catchers in the minors, the leader had 20, and the three guys ahead of Sanchez all played at least 12 more games — despite, you know, being a catcher. Catching is hard. Honorable Mention: OF Aaron Judge and 1B Greg Bird
Breakout Player of the Year: RHP Rookie Davis
A 3.86 ERA in 130.2 innings doesn't jump out at you, but the 22-year-old Davis broke out this summer thanks to his greatly improved command and control. He went from middling strikeout (19.1%) and walk (7.6%) numbers with Low-A Charleston in 2014 to a very good strikeout rate (23.5%) and an excellent walk rate (4.7%) with High-A Tampa and Double-A Trenton in 2015. That 3.86 ERA comes with a 2.47 FIP, 11th lowest among the 569 pitchers to throw at least 100 innings in the minors this year. Simply put, Davis improved his prospect stock more than any other player in the system this summer, and that's why he gets the award. Honorable Mention: RHP Domingo Acevedo and RHP Cale Coshow
Best Pro Debut: OF Trey Amburgey
This was not an easy call. Several 2015 draftees and international free agent signees has big debuts in their first taste of pro ball, but Amburgey, New York's 13th round pick this summer, was better than all of them. The 20-year-old from Florida's east coast hit .335/.388/.502 (161 wRC+) with 12 doubles, six triples, five homers, and 21 steals in 25 attempts (84%) in 62 games for the Rookie GCL Yankees and Short Season Staten Island. Amburgey also had a solid 15.5% strikeout rate in his first summer as a professional. What a beast. Honorable Mention: OF Carlos Vidal and SS Wilkerman Garcia
Comeback Player of the Year: LHP Dietrich Enns
Enns, 24, blew out his elbow last May, had Tommy John surgery, and returned to the mound this June. In 58.2 carefully monitored innings across 12 starts and one relief appearance, Enns posted a 0.61 ERA (2.39 FIP) with a very good strikeout rate (23.7%) and an acceptable walk rate (8.6%) considering location is usually the last thing to come back following elbow reconstruction. Almost 1,900 pitchers threw at least 50 innings in the minors this year (1,393 to be exact). None had a lower ERA than Enns. Honorable Mention: OF Slade Heathcott and OF Mason Williams
Bounceback Player of the Year (started slow, finished strong): 2B Gosuke Katoh
Last season was very rough for Katoh, who followed up his brilliant pro debut with the Rookie GCL Yankees in 2013 with a .222/.345/.326 (96 wRC+) batting line with Low-A Charleston in 2014. Katoh, 20, returned to the River Dogs this year, and hit a weak .161/.264/.202 (42 wRC+) in 39 games before the Yankees pulled the plug. They sent him back to Extended Spring Training for a few weeks before assigning him to the new Rookie Pulaski affiliate. With Pulaski, Katoh hit .287/.426/.416 (143 wRC+) with nine doubles, five homers, 49 walks (!), and 61 strikeouts in 59 games. The end result is a .240/.365/.331 (104 wRC+) batting line on the season. Considering how he started with Charleston, that's pretty incredible. Honorable Mention: 3B Miguel Andujar and LHP Caleb Smith
Most Disappointing Player of the Year: OF Tyler Austin
This was supposed to be The Year. The year Austin was finally healthy, finally able to prove himself at Triple-A, and maybe even get called up to the show. Instead, he was dropped from the 40-man roster earlier this month to make room for a September call-up, and sailed through waivers unclaimed. Ouch. Austin, 24, hit .235/.309/.311 (82 wRC+) in 73 games with the RailRiders before being demoted to Double-A Trenton, where he hit .260/.337/.455 (128 wRC+) in 21 games. That all works out to a .240/.315/.343 (92 wRC+) batting line with only 21 extra-base hits in 94 games. Yeesh.
All-Minor League Teams
| | First Team | Second Team | Third Team |
| --- | --- | --- | --- |
| Catcher | Gary Sanchez | Austin Romine | Kyle Higashioka |
| First Base | Greg Bird | Chris Gittens | Kane Sweeney |
| Second Base | Jose Pirela | Rob Refsnyder | Thairo Estrada |
| Shortstop | Jorge Mateo | Tyler Wade | Wilkerman Garcia |
| Third Base | Eric Jagielo | Cole Figueroa | Donny Sands |
| Outfield | Ben Gamel | Trey Amburgey | Austin Aune |
| Outfield | Aaron Judge | Jake Cave | Dustin Fowler |
| Outfield | Carlos Vidal | Nathan Mikolas | Jhalan Jackson |
| Starting Pitcher | Luis Severino | Rookie Davis | Jonathan Holder |
| Starting Pitcher | Brady Lail | Chaz Hebert | Cale Coshow |
| Starting Pitcher | Jordan Montgomery | Joey Maher | Eric Ruth |
| Relief Pitcher | Nick Goody | Caleb Cotham | Conor Mullee |
| Relief Pitcher | Evan Rutckyj | Alex Smith | Johnny Barbato |
Lifetime Achievement Award: C Austin Romine
Believe it or not, the 26-year-old Romine is the fifth longest tenured homegrown player in the Yankees organization. Only Ivan Nova (signed in 2004), Brett Gardner (drafted in 2005), Dellin Betances (drafted in 2006), and Jose Pirela (signed in 2006) have been with the Yankees longer than Romine, who was New York's second round pick in the 2007 amateur draft out of a California high school.
Romine was a significant prospect at one time — he made Baseball America's annual top 100 prospects list in both 2010 (No. 86) and 2011 (No. 98) — who has instead become a solid depth catcher who spent parts of four seasons in the big leagues. That includes the 2013 season, when he got an extended look as Chris Stewart's backup (!). The Yankees removed Romine from the 40-man roster at the end of Spring Training this year and he then hit a solid .260/.311/.379 (99 wRC+) with seven homers in 92 games for Triple-A Scranton.
In parts of nine minor league seasons with the Yankees, Romine hit .270/.326/.396 (102 wRC+) with 58 home runs in 689 games and 2,832 plate appearances. His best full season was his first, when he put up an impressive .300/.344/.437 (120 wRC+) batting line with 10 homers in 104 games as the everyday catcher for Low-A Charleston. Romine did that as a 19-year-old catcher in his first full pro season. He was big time back then.
Things never did work out for Romine and the Yankees, though he became a solid organizational catcher who saw time in the big leagues and deserves credit for working with the young pitchers in the farm system. Guys like this are too often overlooked for their roles in the minors.