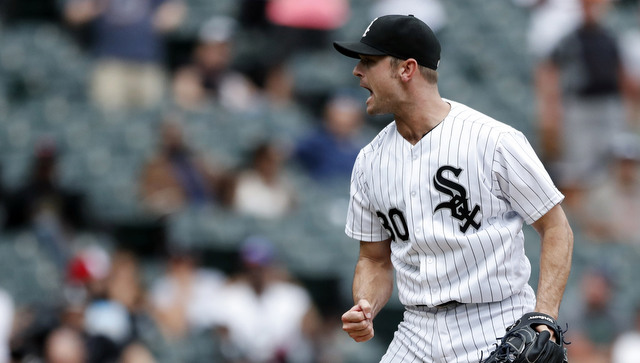 According to Bob Nightengale, the Yankees have expanded their Jose Quintana trade talks with the White Sox to include David Robertson. They want Chicago to eat some of the $25M left on Robertson's contract, however. Joel Sherman, meanwhile, says the Yanks aren't working on a Quintana/Robertson trade. /shrugs
I've said pretty much all I have to say about Quintana at this point. He's very good and signed cheap for another four years, so he fits right in with the rebuild transition. There aren't many players I want the Yankees to trade top prospects to acquire. Quintana is one of them. The Robertson angle, assuming there is some truth to Nightengale's report (a dubious assumption), adds a fun little wrinkle. Let's dive in.
1. This passes the sniff test. The first question with any trade rumor: does it make sense? There are so many reports these days that it's difficult to tell what's legitimate and what's nonsense planted by a team for leverage purposes. It gets overwhelming at times. Reporters write it all up because it's their job and it makes for great #content, and fans eat it up. I get it.
Sometimes it's important to take a step back and think about whether a rumor actually makes sense. Does adding Robertson to a potential Quintana trade pass the sniff test? Yes, I think it does. First and foremost, we know the Yankees love the idea of a super-bullpen. Also, they know Robertson from his time in New York and did claim him on trade waivers two years ago, so they're willing to bring him back. (You don't claim a high-priced player on trade waivers unless you're willing to take on the money.)
That's enough for me to believe there's some legitimacy to this rumor. Does that mean the Yankees desperately want Robertson and are willing to pay big to get him back? Of course not. It just means they're open to the idea. He fits their roster — as a good reliever, Robertson fits any roster — and their current team-building strategy, which is essentially "have the best bullpen possible to protect whatever leads the rest of the team manages to create."
2. This past season was Robertson's worst since 2010. The 2016 season was Robertson's worst since before his breakout 2011 campaign in pinstripes. He had a 3.47 ERA (3.58 FIP) in 62.1 innings in 2016, and beyond that his strikeout rate (28.1%) was his lowest since 2010 and his walk rate (12.0%) was his highest since 2011. Robertson walked a lot of batters early in his career (12.2% from 2008-11) before cutting his walk rate to 7.2% from 2012-15. Was 2016 a one-year blip, or the return of the old Robertson?
PitchFX indicates Robertson's raw stuff is relatively unchanged. His cutter has sat in the 92.3 mph to 92.8 mph average velocity range every year since 2012, and he's getting more swings and misses with his curveball than ever before. From Brooks Baseball: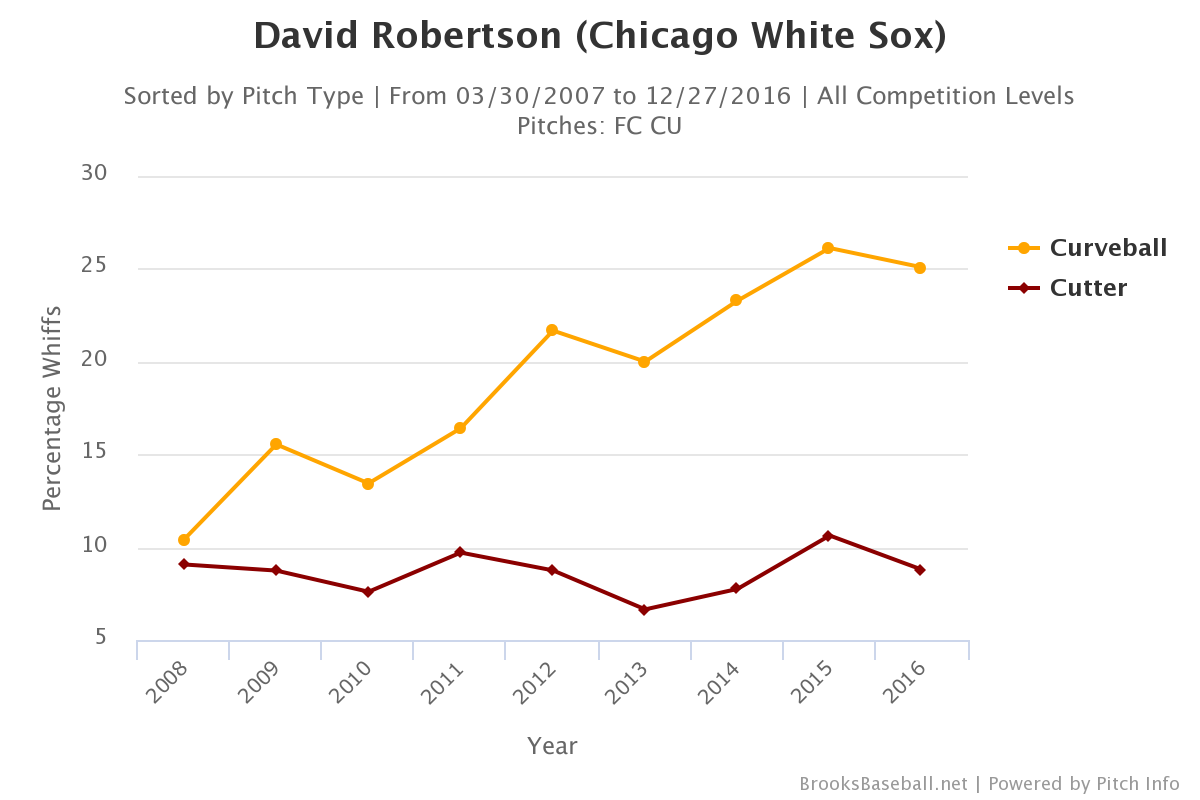 The good news is the cutter/curveball combination Robertson worked with his past season was basically the same as three years ago. It would be a red flag had he lost velocity or hitters stopped swinging and missing at the curve. His issues in 2016, namely the decline in strikeouts and increase in walks, could be related to a mechanical issue. Or maybe crappy pitch-framing.
Either way, this year was Robertson's worst season in quite some time and we can't ignore that. He'll turn 32 shortly after Opening Day, and while he's never had any serious injury problems — Robertson has made at least 60 appearances and thrown at least 60 innings in each of the last seven seasons — he's about to enter what are typically a player's decline years. There's risk here.
3. Robertson won't lower the asking price for Quintana. Robertson is not a negative asset. The White Sox could trade him for actual prospects right now. They might not be top prospects like Gleyber Torres or Clint Frazier, and Chicago might have to eat a couple bucks to facilitate a trade, but Robertson has value. Plenty of contending teams need bullpen help, and heck, with relievers now getting $16M+ a year, Robertson's contract isn't awful.
I know the first inclination is to think taking on Robertson would lower the cost for Quintana, but I can't imagine that would actually be the case, especially if the Yankees insist the White Sox eat some money. (Presumably to lessen the 2018 luxury tax hit.) Chicago could trade Quintana and Robertson separately and land a bunch of prospects. Packaging them together shouldn't equal fewer prospects. The Yankees might not be willing to trade, say, Torres and Frazier for Quintana alone. But if the deal is expanded to include Robertson, it could be easier to swallow.
(I'm not advocating trading Torres and Frazier for Quintana. I'm just throwing it out there for discussion purposes. Don't bite my head off.)
4. Could adding Robertson lead to another reliever trade? We know the Yankees love the idea of a super-bullpen with multiple closer-caliber relievers. Robertson is not Andrew Miller, but he is better than most, and he'd slot into the eighth inning nicely between Aroldis Chapman and Dellin Betances to create that powerhouse seventh-eighth-ninth inning trio. (Robertson's been a closer, which is why he gets the eighth over Betances. This is Joe Girardi we're talking about here.)
That said, I can't help but wonder if acquiring Robertson could lead to another reliever being dealt for prospects, like Betances or Tyler Clippard. There are a ton of contending teams in need of bullpen help. Off the top of my head, the Dodgers, Nationals, Mets, Cardinals, Giants, and Mariners could all use another setup reliever. Perhaps the Yankees would take a wait and see approach. Go into the season with the bullpen intact, see where they are come July, and if they're out of the race, look to cash these guys in as trade chips like they did this year. They don't have to rush into a trade.