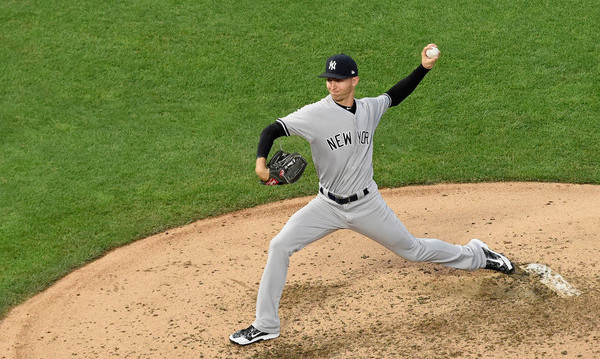 Since the start of this past offseason, the Yankees have reportedly been looking for a reliable left-on-left reliever. They looked for one all winter and again before the trade deadline, but came up empty. Tommy Layne (remember him?) started the season in that role before pitching his way off the roster. The Yankees haven't had a true lefty specialist since.
Chasen Shreve has spent the bulk of the summer on the big league roster and he's not really a lefty specialist, and Joe Girardi doesn't use him like one. Shreve has been throwing one or two innings in lopsided games for a few weeks now. He's essentially a short relief mop-up man, not a matchup guy. This is why:
Righties against Shreve (career): .208/.301/.412 (.307 wOBA)
Lefties against Shreve (career): .248/.336/.428 (.329 wOBA)
Shreve is a fastball-splitter pitcher. He lacks that quality breaking ball he can sweep across the plate to get left-handed hitters to chase, hence his career-long reverse split. Shreve doesn't have the tools to be a left-on-left matchup guy. Asking him to do that would be to ignore his skill set and focus only on handedness.
The Yankees have two other left-handed relievers on the roster right now: Aroldis Chapman and Caleb Smith. Smith is a long man who has the same problem as Shreve as a fastball-changeup pitcher. He doesn't have that put-away breaking ball. Chapman has lost his closer's job and would be the most overqualified lefty specialist in history based on his career accomplishments. The Yankees are trying to get him back on track so he can pitch full innings in close games, not match up in the middle innings.
I suppose the Yankees could always make a rare September trade for a lefty reliever — they did make a September trade for Brendan Ryan in 2013, after Derek Jeter got hurt — but I doubt that'll happen. Besides, that player wouldn't be eligible for the postseason roster anyway. He could help in September but not October. The Yankees do not have a reliable left-on-left reliever right now — even Chapman has had some issues with lefties lately — and, truth be told, they really don't need one, because:
| (vs. LHB) | AVG/OBP/SLG | wOBA | K% | BB% | GB% | HR/9 |
| --- | --- | --- | --- | --- | --- | --- |
| Dellin Betances | .116/.269/.151 | .216 | 46.2% | 11.5% | 55.3% | 0.00 |
| Chad Green | .143/.200/.286 | .211 | 50.7% | 6.7% | 18.8% | 0.87 |
| David Robertson | .171/.240/.284 | .228 | 37.5% | 8.3% | 52.9% | 1.09 |
| Adam Warren | .211/.268/.293 | .237 | 24.4% | 7.3% | 45.5% | 0.47 |
Aside from Tommy Kahnle, who hasn't had much success against lefties this year (.318 wOBA), the Yankees top right-handed relievers are all very effective against lefties. Betances and Robertson have been better against lefties than righties this year, at least in terms of wOBA, and both Green and Warren have been great against opposite hand batters too. I know Green's shockingly low 18.8% ground ball rate against lefties is a little scary, but I'll live with it when it comes with a 50.7% strikeout rate. He doesn't get squared up often anyway.
The Yankees aren't desperate for a left-on-left matchup reliever right now because they have four righties who can get out lefties. And here's the important part: Girardi seems to understand that. Girardi leaves all those guys in to throw full innings, often more in the cases of Green and Warren. He doesn't get cute trying to match up with a lefty. He didn't do it when they had Layne and he's not doing it now. That's good. Stick with your best arms rather than try to force something for the sake of handedness.
Looking ahead to the postseason — the Yankees have to get there first, of course — potential opponents do have some quality left-handed hitters. The Indians have Jason Kipnis and Michael Brantley, at least when they're healthy. The Astros have Brian McCann. The Red Sox have Andrew Benintendi, Jackie Bradley Jr., and Mitch Moreland. The Twins have Joe Mauer, Max Kepler, and Eddie Rosario. The Orioles have Chris Davis and Seth Smith. The Angels have Kole Calhoun. So on and so forth.
Potential postseason opponents have strong lefties in their lineup, so it would've been nice to add a quality left-handed specialist at some point. It's a little too late though, and besides, in the late innings of a close game, who do you want facing Brantley or Benintendi or Davis, some lefty specialist or Robertson or Betances or Green? Exactly. Give me the high-end righties over the matchup lefties. That's what we're going to see down the stretch and that's why I don't think the lack of a reliable lefty specialist is that big a deal.
Now, here's the x-factor: Jaime Garcia. Even though he had his last start skipped, he's going to end up starting against at some point during the regular season. It's hard to see how he fits into a potential postseason rotation barring injury though. He has that killer breaking ball to neutralize lefties and could be a potential left-on-left matchup option. The numbers:
Righties against Garcia (2017): .263/.347/.441 (.335 wOBA) with 16.0 K% and 11.3 BB%
Lefties against Garcia (2017): .242/.277/.379 (.282 wOBA) with 26.3 K% and 3.9 BB%
Jordan Montgomery's numbers against lefties aren't so great (.319 wOBA), plus he's never pitched out of the bullpen before, which is why I don't think he's much of a lefty reliever candidate. Garcia has some bullpen experience — he relieved a bunch as a rookie and made two bullpen appearances last season — and besides, unlike Montgomery, the Yankees presumably aren't worried about his long-term development. Garcia very well might be the team's best option for a left-on-left matchup reliever in the postseason, should they decide they absolutely need one.
At this point in time, the Yankees do not have an obvious lefty specialist in their bullpen, and it's really no big deal considering how effective their top righties are against lefties. A lefty specialist is one of those things teams would like to have but don't absolutely need. Neither the Cubs nor the Indians had a lefty specialist last year. They just had really good relievers. That's where the Yankees are. Who needs a lefty specialist when Robertson, Betances, Green, or Warren (or Chapman) could be getting those outs instead?