By

To raise or not to raise? That is the question, and it's one on which Ken Davidoff can't quite get a handle. As MLBTR notes, yesterday, Davidoff's sources said the Yanks would not raise their offer to CC Sabathia. Today, Davidoff reports that the Yankees would go higher if the Angels ever get around to making a bid. Meanwhile, unless something drastic happens, it seems as though CC will remain unsigned through the weekend. Alas. · (43) ·
We Yankees' fans are a lucky bunch. The team has experienced so much success over the last decade and a half that we have so much to be thankful for. There's this. And this. And this guy. And those guys. I could go on and on (Joe already did). There's no doubt we've been spoiled by our beloved Bombers, but today is the one day a year we should take a step back and say "thanks" for all the joy they've brought us.
It's easy to forget that it's just a game, but Thanksgiving is one of the rare days that the intensity of the hot stove will simmer down. Don't expect much, if any baseball news today; players, agents and execs will be sitting around with friends and family and great food just like everyone else.
The only hot stove on your mind today should be the one in the kitchen, but if you have some time to kill before the bird's ready, use this as your open thread. You know the routine by now – anything goes here, just keep it civil.
Happy Thanksgiving. May Mo watch over your travels.
By

As part of our guest stint at On the Yankees beat filling in for Kat O'Brien while she's on vacation, Joe took at a look at the things for which Yankee fans have to be thankful. Among the Yanks we're thankful for are our owners, our GM and the underappreciated A-Rod. On a personal note, we're also thankful for the nearly five million fans who have stopped by River Ave. Blues in our 21-month history. It wouldn't be the same without all of you. · (23) ·
The Angels sure are being a bit of a thorn in everyone's side. They may or may not be moving on Mark Teixeira. They may or may not be moving on CC Sabathia. While everyone else wants for a domino, any domino, to fall in this excruciatingly slow free agent season, the Angels are gumming up the works.
Now along comes word that perhaps the Angels aren't too serious about CC Sabathia after all. Mark Feinsand serves as the outlet for a few unnamed Yankee sources and their intriguing speculation:
The Angels reportedly are readying themselves to jump into the CC Sabathia sweepstakes, but the Yankees met the news with relative indifference, still believing their offer ultimately will be the biggest and best…

One Yankees official didn't seem too concerned with the news of the Angels' supposed interest in Sabathia, which the Bombers believe is designed primarily to speed things up with Teixeira and his agent, Scott Boras.

"It sounds like they're trying to get a message to Teixeira," the official said. "That's the guy they really want."
The Angels have publicly said that Teixeira is their top priority, and the team probably needs him in the long-term more than they need CC Sabathia. So they bluff. They take the money they would have spent on Teixeira and toss it at Sabathia. At the same time, the Angels can drive up Sabathia's price for the Yanks. My, how the wheel turns.
Could this bluff work? Sure. And if it doesn't, then perhaps the Angels insert themselves into the Sabathia talks or go after Manny Ramirez. They need offense after all. In New York, we just sit and wait.
It's Thanksgiving eve, and things are slow around baseball. To that end, this is your open thread for the next few hours. If something happens, we'll have the news, but otherwise, enjoy the time with your family. Remember: Baseball news has a funny way of unfolding over Thanksgiving weekend.
By

Pitching for Mayaguez in the Puerto Rican Winter League, Ian Kennedy posted his strongest outing since early July last night. He struck out four in 7 innings, allowing just three hits and zero walks against the team with the second highest OPS in the league. Jon Albaladejo picked up the save by getting four outs without incident.

Winter ball stats don't mean much, but it's good to see Kennedy put together a strong outing and continue to build upon a solid minor league effort in 2008. I don't think I've ever seen fans be as down on a prospect as they are on IPK, but forty bad innings does not a career make. · (118) ·
In the comments to my post yesterday afternoon about the new stadium, Bill R. noted that the new stadium comes with some trash. It seems that folks have already been sitting in the seats and eating. In the grand tradition of baseball stadiums, they left their lunch trash under the seats. Hopefully, someone will clean that up before the Cubs come to town for a few exhibition games in April.
Take a look: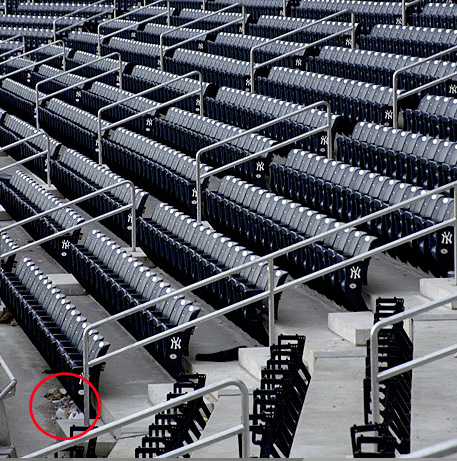 By

Over the years, Scott Boras has done a stellar job getting more money for his clients by alleging that some other, unnamed team has already offered a lofty deal to the said client. In 2000, by most accounts, this tactic earned A-Rod an additional $25-$50 million from the Rangers. Well, he's at it again with Mark Teixeira. As Bill Shaikin reported in the L.A. Times, Scott Boras is going around saying that "we've received a number of offers" for Teixeira. He doesn't name the teams, and while teams have expressed interest, no rumored offers have emerged. Maybe Boras has these offers, but it's more likely just a negotiating tactic. He has to get the Sabathia-less (for now) Yankees to the table somehow. · (43) ·
Looking at the current projection of the Yanks 2009 starting lineup, things are looking a bit iffy. In order for the team to succeed, they're going to need bounceback performances from a number of guys whose production dropped off in 2008. This means Jorge Posada, Hideki Matsui, Robinson Cano, and Nick Swisher. Because I'm sick of talking about free agents, we'll do this poll-style, with the normal after-party to come in the comments. Who do you think has the best chance of bouncing back?
Who has the best chance of bouncing back in 2009?
By

The Yankees unveiled their Spring Training schedule today, and the party gets started early this year. The Yanks' first Grapefruit League game is Feb. 25, 2009, and the Bombers are set to take on the Blue Jays in Dunedin, Florida. They play their first game in Tampa the next day. Individual game tickets will go on sale in January. For more, check out the official press release. · (2) ·
Via MLBTR, free agent southpaw Andy Pettitte has had numerous conversations with ex-manager Joe Torre recently, reportedly about the possibility of joining the Dodgers' rotation. Pettitte's already said that he wants to return to the Yanks in 2009, but speculation is that he may be feeling slighted by the way the Yanks are slowly approaching a potential return.
I remember the feeling back in 2004, that "dude, Andy's not going anywhere, chill out" attitude. It was a bit surprising to see Pettitte head home to Houston, and it wasn't until he was gone that you realized just how important he was. Sure, he put up a 6.23 ERA in the second half and turned opposing hitters into Raul Ibanez thanks to a .835 OPS against, but he's still valuable as a rotation stalwart because of his supreme durability and fearlessness.
Regardless of who the Yanks sign this offseason, Pettitte's return is important for more reasons than we may understand. He brings a veteran presence to the back of the rotation, he's a lock for 200+ league average or better innings, and there's no adjustment period. Work it out, I'm sure he'd be cool taking a little pay cut from the $16M he's earned the past two years, say $12M or so. Don't let him leave again; as we learned back in '04 the only guy that can replace Andy is … Andy.
Here's your open thread for the evening. Talk Pettitte, LeBron at the Garden, whatever. Just play nice.
Update (7:15pm): Before anyone asks, Pettitte is a Type-A free agent, so if he did head to SoCal the Yanks would get the Dodgers first round pick (#17 overall, the second best pick they could possibly get) and a sandwich rounder.