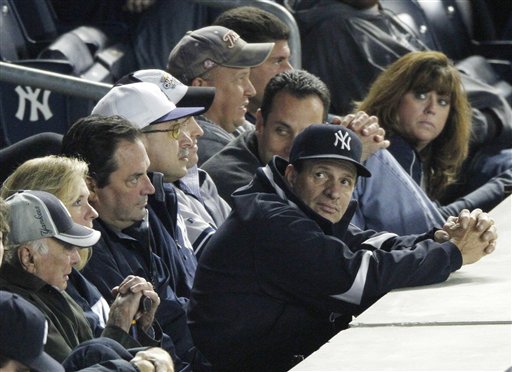 It all started out so promising. A.J. Burnett was throwing the snot out of the ball in the first few innings, the offense was hitting so rockets off Tommy Hunter, and the Yankees had a lead into the sixth inning with Mariano Rivera reasonably available for two innings. Things looked good, but of course they didn't end that way. A.J. was left in perhaps for a few batters too many, and the end result is a commanding three games to one lead for the Rangers in the best-of-seven series.
Everything changed for good in the fifth inning. The Yanks were up 3-2 at the time on the strength of a Robbie Cano homer, a Curtis Granderson single, and a Brett Gardner fielder's choice, and they were mounting another threat with men at first and second and no outs. Mark Teixeira, still 0-for-ALCS, came up with a chance to redeem himself, but all he did was bounce into a potential double play. Michael Young fielded the grounder at third, stepped on the base and fired to first, but he pulled first baseman Mitch Moreland off the bag. Tex slid into first awkwardly, prompting some chuckles, but everyone stopped laughing when he stayed down. The Yanks' first baseman strained his hammy running down the line and didn't slide as much as crumble in pain. He wasn't just removed from the game, he's done for the season entirely.
The sad thing is that Burnett actually pitched pretty well for the first five innings. He had allowed two runs to that point, both in the third inning, and that entire rally came without the benefit of a ball leaving the infield. He gave the Yanks pretty much everything they could have hoped for and then some up to that point. More than two weeks since his last start, Burnett was ordered to intentionally walk Babe Ruth Barry Bonds Ted Williams David Murphy with his pitch count at 94. One pitch later, and it wasn't even a bad pitch that far inside, Bengie Molina whacked a three run homer that gave Texas a 5-3 lead they'd never give up.
As usual, the Yankees had their chances to score runs. They stranded a man on second (two outs) in the third, men at second and third (two outs) in the fourth (Frankie Cervelli got to make the final out!), got nothing out of that fifth inning rally, and then left the bases loaded in the eighth after Nick Swisher and righty hitting Lance Berkman (Tex's injury screwed things up) had chances to do damage. Hell, they couldn't even get the runner in from second with no outs in the ninth inning in the lowest of low pressure situations. All told, they went 2-for-13 with runners in scoring position in Game Four, and are three for their last 27 with RISP dating back to Game Two. Good recipe to lose right there.
The final score was 10-3 after Boone Logan allowed yet another homer to Josh Hamilton (who went deep twice), Joba Chamberlain continued to pitch himself right out of town, and Sergio Mitre reminded everyone why he's been non-tendered twice already. All told, the Rangers have outscored the Yanks 22-5 since the eighth inning of Game One, and it's not a fluke. They've outplayed them in pretty much every way imaginable, and they deserve to win. The series isn't over, but the Magic 8 Ball says "outlook not so good." CC Sabathia gets the ball tomorrow afternoon with the season on the line.