Game 2 went from barn burner to bullpen duel faster than you could say "he had cancer," but this afternoon's pitching matchup suggests we might be in for a one sided affair. Jon Lester was a sterling 11-1, 2.49 at home this year, and posted a sub-1.00 ERA in three starts against the Don't Call Me Devil Rays. His counterpart, Matt Garza, went 4-6, 4.53 on the road, and took it on the chin against the Red Averages, posting a 4.50 ERA in 4 starts.
First pitch is at 4:37 (what is with these obscure start times?), you can catch the game on TBS. Frank Caliendo will call the game as John Madden and George W. Bush. Enjoy.
Tampa Bay
1. Akinori Iwamura, 2B
2. BJ Upton, CF
3. Carlos Pena, 1B
4. Evan Longoria, 3B
5. Carl Crawford, LF
6. Willy Aybar, DH
7. Dioner Navarro, C
8. Rocco Baldelli, RF
9. Jason Barlett, SS
- Matt Garza, P (11-9, 3.70)
Boston
1. Jacoby Ellsbury, CF
2. Dustin Pedroia, 2B
3. David Ortiz, DH
4. Kevin Youkilis, 3B
5. JD Drew, RF
6. Jason Bay, LF
7. Mark Kotsay, 1B
8. All-Star Catcher Jason Varitek, C
9. Alex Cora wins games, SS
- Jon Lester, P (16-6, 3.21)
By

As part of his ongoing offseason preview series, Tim Dierkes as MLB Trade Rumors profiled the Yankees earlier today. His bottom line — "It looks like most of the money will be spent on starting pitching, but Teixeira would sure look nice in pinstripes" — is right in line with what we've been saying for the last few weeks, and Dierkes' omission of Manny Ramirez in the Yanks' offseason plans is, despite the allure of the bat, probably more reflective of reality. · (32) ·
Over the summer, Eddie Bajek at Detroit Tigers Thoughts managed to reverse engineer the Elias Sports Bureau formula for ranking free agents. He's been providing us with tidbits ever since. Now that the season is over, though, we can be more sure about where each player will land. Today, Eddie takes a look at the AL pitchers and where they rank.
Pettitte was actually the ninth-highest rated overall starter in the AL. Ahead of him are, from one through eight, Roy Halladay, John Lackey, A.J. Burnett, Josh Beckett, Daisuke Matsuzaka, Scott Kazmir, James Shields, and King Felix. Pettitte is well within the Type A bounds. After him come Javier Vazquez and Fausto Carmona, followed by Mike Mussina. The Type As end five spots after Mussina with Erik Bedard. Strangely enough, Chien-Ming Wang checks in as a Type B. I guess missing half the season hurt his ranking. Jon Garland and Paul Byrd are the only other AL free agent starters to garner even Type B status.
Over on the NL side, obviously CC Sabathia tops the rankings. He's joined in his Type A status by four other hurlers: Ben Sheets (14), Oliver Perez (16), Derek Lowe (17), and Jamie Moyer (18). So it looks like when Jon Heyman says the Yankees will pick two of the available starters, they're selecting from among the Type As. Thankfully, this is in a year where the Yankees have at least one protected first-round pick (not that losing a pick should stop you from signing a guy like CC). Brad Penney, John Smoltz, Randy Wolf, Greg Maddux, and, surprisingly, Braden Looper garner Type B status.
It's interesting to see how these players are ranked. Some of it seems rather strange. A.J. Burnett as the third highest rated pitcher in the AL? Pettitte as the ninth highest? I know the stats are based on multiple years, but still, it seems odd in some places. In any case, I'll be sure to post the future rankings as they come in.
Just for shits 'n' giggles: The last ranked pitchers in each league were Mark Prior in the NL, and Andrew Brackman in the AL.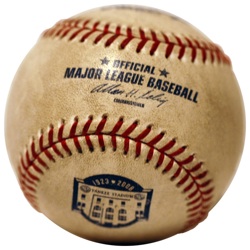 This Saturday, Guernseys will be selling off a whole bunch of Yankee Stadium memorabilia. The Manhattan-based auction house had announced the auction in September, but this weekend, they landed a gem of a baseball.
The man behind the final home run ball controversy has opted to sell the ball, and he'll do so this weekend at Madison Square Garden. Steve Harsman expects to fund his children's education through the proceeds from the ball, but in today's economy, he probably won't get the hundreds of thousands of dollars that collectors have recently shelled out for high-profile baseballs.
The ball's auction page includes quite the heart-warming tale about Harshman. Check out the Yankee Stadium catalog here, and make your way to MSG this weekend if you find yourself with money to spend on Yankee Stadium memorabilia.
By

As Mark Healey says, in an awesome diatribe about the asinine Mets-Yanks trade rumor from last week, it's not easy finding tidbits on the Yanks and Mets right now. We have two things working against us here: The playoffs, during which MLB tries to keep non-participating teams quiet; and the fact that neither team has had organizational meetings. So allow us to move to a topic near and dear to our hearts: Scott Proctor.

You might have noticed Scotty's absence from the playoffs this year. That's because the former Yank is set to have surgery on his right elbow. He should be back for Spring Training. He's having a flexor tendon repaired and a bone spur shaved down. For commentary, I'll just say that I'm pleased with Joe Girardi spreading out the bullpen workload this year.

h/t BBTF. · (6) ·
I know I touched upon Hank Steinbrenner's recent comments yesterday morning, but there were a few good comments. As I was in the land of our enemies this weekend, I didn't get a chance to respond to one I found particularly interesting.
Mustang, one of the RAB regulars, had this to say in response to my writing "George Steinbrenner, he is not" about Hank:
Take it from me. Hank is George the sequel. Most of you did not have the "joy" of living with the early years of George Michael Steinbrenner III. George managed the same kind of reaction that Hank does and the media loved to hate him for it. For what it's worth if Hank can lead the Yankees to 10 pennants and six World Series titles I don't care what he does.
Mustang brings up two valid points, but I think the analysis is slightly off target. In a way, Hank is very much like his father. He says stupid stuff that the media laps up and regurgitates in a way designed to sell papers. In the parlance of the industry, Hank makes for great copy.
But there is a very substantial difference between Hank Steinbrenner and George Steinbrenner: When George would talk, things happened. George's words, especially during his 1970s and 1980s heydays, weren't bluster. When he threatened to fire his manager, he would fire his manager. When he threatened to make the biggest splash possible, he went out and made the biggest splash possible.
Hank, on the other hand, isn't nearly as imposing as his dad. When Hank rants about Johan Santana or his "piss-ant employees," absolutely nothing happens. When Hank rails on staying the course one day and trading the farm to do whatever it takes to win the next, nothing in the Yankee front office changes. Hal Steinbrenner comes work; Brian Cashman comes to work; and no one cowers in fear. Whereas George came off an egomaniac bent on doing whatever he thought necessary to run the team, Hank just sounds like a child throwing a tantrum. He can make all the noise he wants, but in the end, as the Rolling Stones once said, he can't always get what he wants.
I'll stand by what I said yesterday: Until Hank's words translate into the same kind of rash, irrational actions that became a hallmark George Steinbrenner, his father Hanks is not.
Now, if as Mustang says, the Yanks win 10 pennants and six World Series while Hank is the team's co-chairperson in charge of stupid comments, none of us are going to complain. We'll just keep on ignoring him and enjoy the winning.
AzFL Peoria was off today, as was the rest of the league. Phil Hughes is scheduled to pitch for the Javelinas tomorrow; first pitch is at 12:35pm local (3:35 on the east coast). A Gameday link will appear closer to game time.
HWB Waikiki (1-1 tie with West Oahu in 10 innings)
Damon Sublett & Austin Romine: both 0 for 4, 1 K – yawn
Some winter ball assignments:
I'll keep you updated as I find out where more guys are playing.
Back home in Chavez Ravine, Joe Torre and his boys are staring down what amounts to a must win, a pivotal Game 3 against the Phightin' Phils. A win by dem bums makes the series far more interesting, but a loss renders the series even less interesting than any of the Division Series.
Torre's been here before though. He managed the 1996 Yanks to a World Series title after being behind the Braves 2-0 in the Fall Classic, and again led his team to the World Championship after falling behind the A's 2-0 in the 2000 ALDS. He knows this series is far from over, but does his team?
The home team has won every game between these two teams this year, which bodes well for the boys in blue.
Philadelphia
1. Jimmy Rollins, SS
2. Shane Victorino, CF
3. Chase Utley, 2B
4. Ryan Howard, 1B
5. Pat Burrell, LF
6. Jayson Werth, RF
7. Pedro Feliz, 3B
8. Carlos Ruiz, C
9. Jamie Moyer, P (16-7, 3.71) – take a look at the first Dodgers' lineup he ever faced
Los Angeles
1. Rafael Furcal, SS
2. Andre Ethier, RF
3. Manny Ramirez, LF
4. Russ Martin, C
5. Nomar Garciaparra, 1B – ZOMG TEH LEFTIE!!11!
6. Casey Blake, 3B
7. Matt Kemp, CF
8. Blake DeWitt, 2B
9. Hiroki Kuroda, P (9-10, 3.73)
FOX has the game tonight, so no The Simpsons, King of the Hill, Family Guy, or American Dad. This game better be good. First pitch isn't until 8:22, so feel free to use this thread to talk about today's gridiron action. How about the  end of that Cowboys-Cards game?
By

Triple-A Scranton is going to have more pitching options than rotation spots next year, and Chad Jennings took a stab at sorting this mess out. I agree with just about everything Chad says, except that I can see the Yanks bringing Alan Horne back slowly from shoulder surgery, meaning he won't be in the rotation at the start of the season. Ian Kennedy, Al Aceves and Phil Coke are locks for a rotation spot if they don't break camp with the Bombers, and George Kontos is certainly deserving of a spot as well. I'd love to see Humberto Sanchez take one more crack at starting, and I'm sure he'll at least be considered for a spot.

One thing's for sure: it's nice not having a bunch of journeyman retreads filling up the Triple-A rotation. Thank goodness those days are over. · (54) ·
By

Tom Fornelli of AOL's Fanhouse wrote about the Hank Steinbrenner outburst yesterday. The short of is that Hank, in an interview with The Post, claimed that he was the one in charge of the Yankees and everyone else was just a lowly employee of him. It was clearly Hank's sad effort at imitation. George Steinbrenner, he is not.

So here's my question about Hank: Why do so many Yankee writers and bloggers get into a tizzy when he opens his mouth? Sure, there's an economic argument to it; Hank's stupid comments sell newspapers and generate site traffic. But does anyone really think this guy is still serious? After all we've seen over the last few months, does anyone actually believe he's in charge of the Yankees? I know I don't. · (33) ·