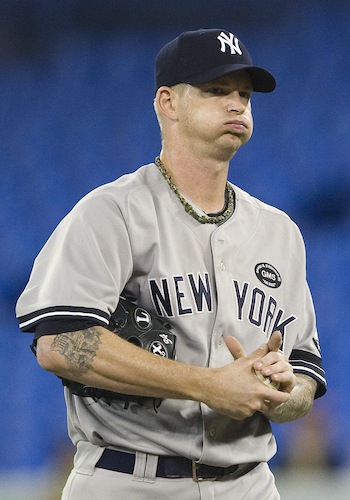 A long day's journey into night continues as the Yankees and the Red Sox get to play the second of two. The Yanks defeated the Red Sox 6-5 in 10 innings in the first game, and the Yankees will look to keep their AL East hopes alive. They hold a one-game lead over Tampa Bay with a magic number of two and have to finish in sole possession of first place to secure the division.
After a 4:18 game, the Yanks and Red Sox are sending too slow pitchers who often seem allergic to strikes out there. A.J. Burnett will take his disappointing 10-15 record and his terrible 5.33 ERA into Fenway while Daisuke Matsuzaka, 9-6 with a 4.72 ERA, will face the Yanks for the second time in two starts. Matsuzaka threw a gem against the Bombers in Boston's loss last Sunday.
The Yanks ran through their A bullpen arms during the first game of the double header, and Joe Girardi has said he isn't inclined to use pitchers twice in one day. That being said, it seems that the game two pen will consist of Jonathan Albaladejo, Romulo Sanchez, Royce Ring, Andrew Brackman, Dustin Moseley, Ivan Nova Sergio Mitre and, of course, Chad Gaudin. One of those guys will have to start tomorrow.
First pitch is set for 9:15 p.m. The game will air on My9 in the New York area and the MLB Network nationally. Make sure to check Mike's recap of the first game. The Red Sox are sending out a lineup of bench players, but the Yanks are clearly going for the division here.
Brett Gardner LF
Curtis Granderson CF
Mark Teixeira DH
Alex Rodriguez 3B
Robinson Cano 2B
Lance Berkman 1B
Austin Kearns RF
Francisco Cervelli C
Eduardo Nunez SS
A.J. Burnett P