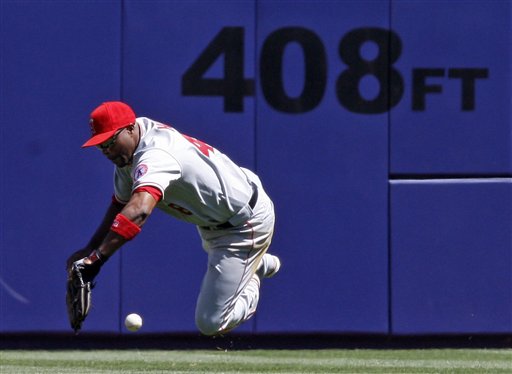 Am I the only one with an irrational dislike of Torii Hunter? He's does a ton of stuff for charity and from what I can gather he's a great guy, but damn, I just don't like him as a player. His UZR in center over the last three years is -12.8, which is decidedly below average and the third worst in the game. His wOBA is strong at .361 over the same time, and is identical to Johnny Damon's. It's good, but it's not that good.
I mean, he's a nice player, but is he as good as he's made out to be? No. Is he worth the $18M annually the Angels are paying him? Good Lord no. I hate to hate on a player like that, but sheesh, I just don't get it with Torii.
Anyway, here's the night's open thread. The NHL playoffs start tonight with the Flyers at the Devils, and the Nets' season comes to a merciful end as well. As for baseball, you've got the Mets at the Rockies, and the Astros at the Cardinals on ESPN2. Houston is 0-7, and as a team they have drawn six walks. Nick Johnson has nine. That about sums up their situation.
* Someone yelled that from the bleachers at a game I was at last year. It still makes me laugh.