By

The good folks at No Bias Baseball released the second episode of their Matt Around the Order podcast. In it, they sit down with Jim Callis and talk offseason. At around the 16-minute mark, Callis opines on the Santana negotiations: "Depending on who you talk to…[the Twins] were never really offered those offers," he says, referring to the reported Yanks' offers that centered around Phil Hughes and Melky Cabrera. We'll probably never know the truth about the month-long Santana Sweepstakes, but the more we hear, the more likely it seems that the Yanks were never too keen on sending the farm to Minnesota regardless of Hank Steinbrenner's public comments. · (11) ·
The Yanks square off against the Blue Jays today in what will be a test of the Yanks' young guns. While the next few games will be televised, today's game is the last chance to see Major League for a few days. Wang and Pettitte will not throw against division rivals.
Meanwhile, the Yanks will throw their young tandem of Ian Kennedy and Joba Chamberlain at Toronto today. Kyle Farnsworth will get some tosses in as well. After last night's Phil Hughes game, Yankee fans would be comforted by a dominant Kennedy/Chamberlain outing. But worry not about Mr. Hughes. It's only Spring Training.
Today's game is on ESPN, and friend-of-RAB Keith Law will be joining the telecast in the 5th to talk about the Yanks and Red Sox minor leaguers. Be sure to check that out. The game will also be carried on MLB.tv and should be available here on Gameday at 1:05 or so.
Damon LF
Cabrera CF
Cano 2B
Matsui DH
Duncan RF
Betemit 1B
Ransom SS
Molina C
Green 3B
By

While Spring Training stats are, by and large, meaningless, if I'm in charge of giving out the rest of the $105 million owed to Barry Zito, I am alarmed by his spring numbers. In 12.2 spring innings, Zito has surrendered 21 H and 24 ER. He's walked 10 hitters while striking out 0. That's not a typo, and I sure am glad the Yanks didn't sign him when they had the chance. · (15) ·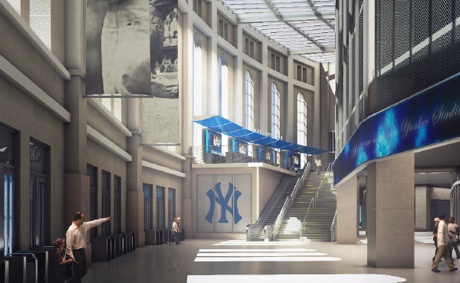 That is one spacious entryway.
When last I visited with new Yankee Stadium 24 hours ago, I was bemoaning the prices of the Premium Seating experience. Today, we can leave baseball economics and the free-market effect on ticket prices behind us for a few minutes. Let's delve deeper into what the stadium will look like upon completion.
Hidden in the not-so-deep recesses of the Premium Seating web experience is a comprehensive set of images that offer up architectural renderings of parts of the inside of the new stadium. For $1.4 billion, the Yankees sure are getting a gem of a stadium even if it turns baseball games into sports experiences, as the marketing folks would have you believe.
Atop this post we see the Great Hall. Yes, it sounds like something out of Harry Potter, but in reality, it is the new entryway to the stadium. That gold-etched sign will front this majestic new hallway. With ample space for large crowds and a high ceiling, this new entryway will certainly lessen the feelings of claustrophobia that come crashing over fans as their enter through the current stadium turnstiles. Staircases lead up the concourses, and banners honoring Yankee Greats hang from the rafters.
Moving to the outfield, we come across Monument Park. From this photo, it's hard to get a sense of the Yankee shrine. It does appear that the Yanks' architects anticipate young girls in pink Yankee hats and women in high heels and pant suits at the stadium. Neither of those things belong at a baseball game. It looks like the plaques in the park will no longer be in an open-air part of the stadium; a part of the outfield seating structure appears to hang over the plaque wall.
New Yankee Stadium will have a Yankees Museum. The museum is set for somewhere down the right field line.
Looking out at the field from behind home plate, we see a sea of blue seats ringing the field. Gone is the monolithic feel of the current outfield way (and, apparently, the Bronx as well, according to that photo); restored is the trademark façade from the pre-renovation days. The upper levels do appear somewhat recessed, and the field dimension's will be identical to those in the current stadium. The view from the Terrace Level behind the plate still looks amazing, and the outfield scoreboard looks fairly huge.
Returning to the bowels of the stadium, we come back to the Experience part of the trip. A sports bar, a martini bar and a steakhouse that will be open year round are just some of the new additions to the Stadium.
Those are just some of the new changes coming to Yankee Stadium when the team moves across the street. For now, these are just renderings of planned additions, but the renderings sure do look luxurious. As the new Stadium nears completion, I'm sure we'll see more glimpses inside what will become an ostentatious baseball temple in the Bronx. For $1.4 billion, it better be this nice.
See also: Yankees open up new stadium to beat writers.
By

No not that Gardner, I'm talking about RHP Mike Gardner, who the Padres plucked from the Yanks in the Rule V Draft. Gardner had an unimpressive spring for the Friars, which made it easy for them to use the 25-man roster spot elsewhere. I expect Gardner to return to Double-A Trenton to start the year, with a halfway decent chance of contributing to the big league team at some point this year. · (3) ·
At a Tampa ceremony honoring George Steinbrenner yesterday, Yankee great Reggie Jackson expressed his belief that Steinbrenner belongs in the Hall of Fame.
"Personally, when it comes to the game and its history, I think I certainly have a case for The Boss, George Steinbrenner," Jackson said. "With his ten pennants and six world championships, I would give him my nod to one day be elected to the Hall of Fame."
As anyone who knows Yankee history is sure to understand, it's only a little ironic to hear Reggie Jackson of all people proclaiming George's Hall of Fame destiny. But then again, Reggie and George seemed to have each other's backs in the 1970s.
Meanwhile, as much as we don't want to admit it, Jackson is right: George Steinbrenner belongs in the Hall of Fame. He's been suspended from baseball twice; he's one of the most abrasive owners in the game; but his contributions to the game and his legacy will live on long after he passes away. Forget the pennants; forget the World Championships. Just look at baseball's current financial structure, and you will understand why George belongs in the Hall.
By

The Yankees did what we figured they'd do in deciding to start Joba Chamberlain in the bullpen this year. Girardi says his future is as a starter, though he didn't say whether it would be this season.

Update by Ben: Tyler Kepner tells us that the Joba Rules will not be in effect this year. Joba can pitch whenever and as often as Joe Girardi and Dave Eiland see fit out of the pen. · (20) ·
By

Via Chad Jennings, JB Cox returned to game action Tuesday for the first time since undergoing Tommy John surgery, throwing fastballs and sliders (no changeups) in a minor league game. Cox will give it another go on Friday, and said he expects to start the year with High-A Tampa before heading up to Triple-A Scranton when the weather warms up. Oh boy, the kids are gettin' healthy. · (14) ·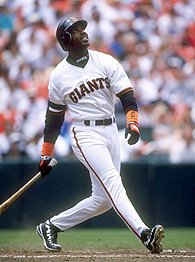 As you might have heard by now, MLBPA plans to investigate the lack of offers over the winter for 43-year-old Barry Bonds. While this might seem like big news, it's really little more than routine. Don Fehr, head of the player's association, tells us that his organization looks into free-agent issues every day. Only if they "come to the conclusion with respect to any player that there's a matter worth pursuing, [they'll] pursue it."
So, under normal circumstances, this wouldn't be news. However, we're talking about a guy who hit .276/.480/.565 in 477 plate appearance last year. A guy who hasn't had an OPS+ below 150 since 1989. A guy who, by all anecdotal evidence, has kept in shape this winter and could conceivably give your team another 450 or so plate appearances at a well above average clip.
Still, it's easy to ascertain why he hasn't landed a gig anywhere. An entire book is dedicated to proving that he abused PEDs willingly. The Mitchell Report, while not harping on Bonds like it did Roger Clemens, didn't help the former's case much. Why bring in a publicly-assumed PED user when there are younger, more flexible players on the market to fill your roster?
Before I go any further, I'd like to mention the definition of collusion: "secret agreement or cooperation especially for an illegal or deceitful purpose." I'll revisit this later. But for now, let's move on.
For some teams, this was an easy decision. Bonds can DH and play some kind of role in left field, but that's about it. So right then he's limited in a way that has nothing to do with steroids. The Yankees, for example, already have two players slotted for DH duty, Jason Giambi and Hideki Matsui. And beyond that, they already have a lefty-heavy lineup. So you can strike him off at least one team's list, two if you count the Giants, who publicly told him he wasn't welcome back, three if you count the Red Sox, who have Ortiz hogging the DH spot, four if you count the Indians, who have Travis Hafner doing the same. And let us not forget Frank Thomas in Toronto, Gary Sheffield in Detroit, and Jim Thome in Chicago.
What's holding the other teams back? Well, you first have to consider that Bonds only fits on contenders. So beyond the seven teams we just named, we can strike out the Marlins, Nationals, Astros, Pirates, and Orioles. So that's 12 teams out of 30 who right off the bat should have no interest in Bonds. And that's before we get a bit deeper into the matter.
I just got a call from RAB's reporter from the street. My mother — stopping by the Yankee Clubhouse Store — called to let me know that the ticket area has a schedule with X's through the games that are already sold out. She read me off the calendar, and already, ten days before Opening Day, 46 Yankee games are sold out. Every single weekend game is sold out, and no tickets remain for the All Star Game or the final regular season at Yankee Stadium.
The full list of sold out games is after the jump.