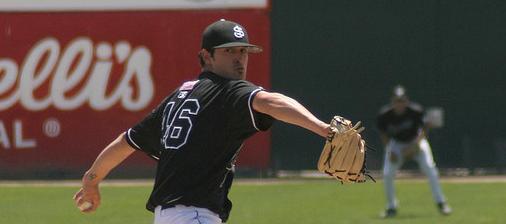 I'm a sucker for projects, and I think most people are as well. It's a lot of fun to buy low on a talented player and dream about him figuring things out and reaching his ceiling in your favorite team's uniform. Every so often one of these projects will work out (Phil Humber), but most of the time they don't (Andrew Miller). I bring this up because the Giants designated Alex Hinshaw for assignment yesterday, sacrificing him to the roster spot gods so they could activate Mark DeRosa off the disabled list.
Hinshaw, a 28-year-old lefty reliever, is a classic project pitcher. His fastball sits 91-93 from the left side and his money-maker is a nasty low-70's curveball, a pitch that has helped him miss bats everywhere he's been. He's struck out 49 in 45.2 big league innings, plus another 169 in 134 Triple-A innings. The problem is the walks, Hinshaw's always been prone to ball four. His big league walk-rate is 7.1 BB/9, but it is a small sample and there are some intentional walks to right-handed batters inflating that number (6.3 uIBB/9). A 5.6 uIBB/9 in Triple-A is a little less unsightly.
Before being cut yesterday, Hinshaw was pulling the same act for San Francisco's Double and Triple-A affiliates. He's thrown 37.2 IP this year, striking out 45 but walking 24 unintentionally. He had a huge reverse split (lefties hitting .310, righties just .116), but that's a function of sample size and is not consistent with the other five years of his career. Big league lefties hit .239/.343/.330 off him, righties .253/.427/.513. It's worth noting that he hasn't been in the show since 2009, and 2008 was the only year he spent considerable time in the bigs.
There was talk once upon a time about Hinshaw developing into the Giants' closer of the future, but that obviously never happened. They used his final minor league option this season (by my unofficial count), so any team that grabs him would only have another month to evaluate him in the minors plus a possible September call-up. Hinshaw's salary is in the mid-six figures, so a straight waiver claim would be perfectly fine. Not like you'd have to wait for him to clear waivers and elect free agency to avoid some kinda huge salary obligation.
The Yankees have some dead weight on their 40-man roster, and it's likely that none of their six 60-day DL guys will be back this year. Hinshaw's hard-throwing left-handedness is probably worth an eight week audition (four in the minors, four with the big league team in Sept.) and a roster spot over Jeff Marquez, for example. Chances are it won't click and it'll be a failed experiment, but there's some talent there and the Yankees could luck into 15 great innings next month. Every little bit helps, and the move would be of no long-terms consequence to the organization.