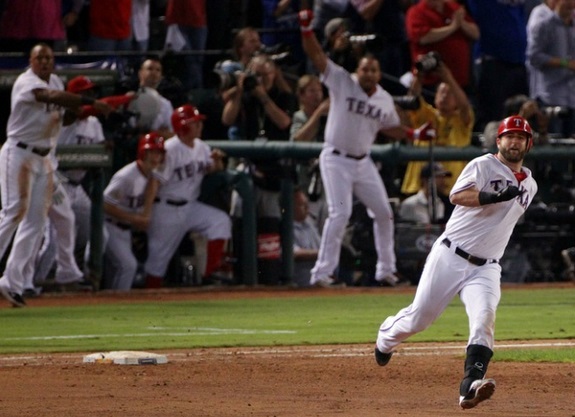 A couple hours from now, the Texas Rangers will make the first attempt in franchise history to win the World Series. They're one win away from title, one year after beating the Yankees in the ALCS to send the team to their first ever Fall Classic. With young players all over the roster and a smart, progressive front office, the Rangers are quickly emerging as one of baseball's powerhouses. The Yankees have been one of those powerhouses for more than a decade now, but that doesn't mean they can't take a look at the Texas squad and learn a few things. Here are four ways the Yankees can mimic the Rangers, each with the possibility of having a big impact.
Don't Take The Catching Depth For Granted

Yesterday we heard that the Pirates are prioritizing a catcher this offseason, leading to speculation about the Yankees being a possible trade match. With Russell Martin entrenched behind the plate for at least another year and Frankie Cervelli, Jesus Montero, and Austin Romine all that Triple-A or above, the Yankees have the luxury of depth at a position where most teams have none.
Three seasons ago, the Rangers were the team with that catching depth. They had Gerald Laird at the big league level, plus Jarrod Saltalamacchia, Taylor Teagarden, and Max Ramirez all on the cusp of the show. Laird was traded that offseason for no one in particular (Guillermo Moscoso and a Single-A pitcher that still hasn't made it out of Single-A) as Texas dealt from what they felt was a position of strength, but less than two years later, that depth was gone. Ramirez couldn't catch, Salty couldn't stay healthy, and Teagarden couldn't hit. They ended up trading for Bengie Molina at least year's deadline before signing Yorvit Torrealba to a two-year deal this past winter.
Catchers, probably more than any other position, can experience growing pains early in their career. It's not just hitting and standing in the right spot or throwing to the right base, it's learning a pitching staff and dealing with nagging injuries. Matt Wieters has all the talent in the world and he's struggled with it. Catching depth has a way of disappearing quickly, so the Yankees shouldn't take what they have in Martin, Montero, Cervelli, and Romine for granted. That's not to say they can't or shouldn't trade any of them, but they can't just trade one of them for the sake of making a trade. A deal would have to bring real improvement to the MLB roster, not prospects.