I think we all needed this. It's been a brutal few days in Yankeeland, and a simple win wasn't going to suffice. An 11-7 depantsing of the Indians that wasn't nearly as close as the score indicates certainly helped ease the pain.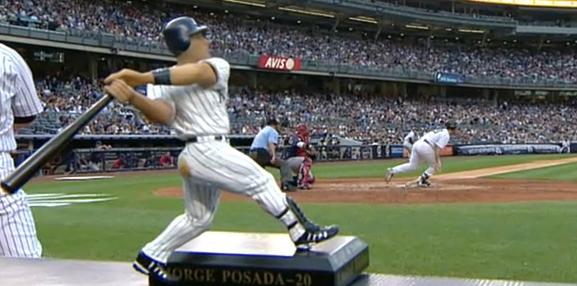 Fausto Carmo-nope-a
The Yankees needed to come out of the gate strong following the ass-whoopin' they took from the Red Sox, and Fausto Carmona was happy to oblige. The first four batters he faced failed to make contact … and three reached base. Derek Jeter walked on four pitches ahead of a Curtis Granderson strikeout, then Mark Teixeira and Alex Rodriguez drew walks to load the bases. Fifteen of Carmona's first 20 pitches were balls. Fifteen!
Thankfully, Robinson Cano did not swing at the first pitch*, instead fouling off four pitches before singling in a run. Nick Swisher drove in the second run with a sac fly, and Jorge Posada plated another with a single. By the time Brett Gardner grounded out to end the inning, the Yankees were up by three and Carmona had thrown 40 pitches. They were patient, letting the Indians' starter work himself into trouble before jumping all over hittable pitches that essentially had to be over the plate. Those are the kind of innings we're expecting from this team, and they never looked back.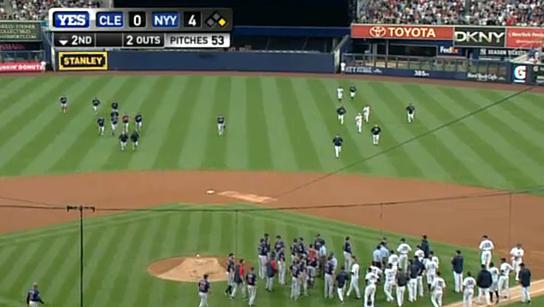 Fight!
Things got a little testy in the second inning. Granderson whacked a solo homer with two outs (his 19th) to make it four-zip Yankees, then Carmona hit Teixeira with the very next pitch. It was high-ish, hit Tex in the back/shoulder and only because he ducked away. I think it would have been a high rib or shoulder shot if he didn't move. Anyway, Tex got up, starting yelling at Fausto to "throw the ball over the plate," and then the bench cleared. And so did the bullpens. And then the managers got in each other's faces. It was pretty awesome. No punches were thrown, but it was still pretty cool. The plunking was clearly intentional, no doubt about it.
Tex's Revenge
The Yankees scored runs in the first, second, third, fourth, and sixth innings, then had the bases loaded with one out in the seventh. Carmona was long gone at this point, but Teixeira still got some revenge by clearing the bases with a three run double into the right-center field gap. That gave the Yankees a 10-2 lead, and believe it or not, that was Tex's first double in 33 days.
Oh, And How About Ivan Nova?
This was a pretty big start for Nova, whose rotation spot is very much in doubt these days. The offense staked him to a big early lead and he did exactly what he needed to do, throw strikes and not dick around, which is why he retired a dozen of the first 14 men on faced. The Tribe pushed across a run in the fifth on some walks, a single, and a ground out, and Nova ultimately allowed a pair of runs in seven innings of work. He struck out six, a season high. The Indians aren't exactly a powerhouse offense, but lesser offenses were smacking Ivan around in his previous starts. Good job by him.
Death By Bullpen
Joe Girardi used four relievers to get the final six outs really because he had too, not because he wanted to. Kevin Whelan walked four of the six men he faced in his big league debut (more on that later), Amaury Sanit allowed four singles to the six men he faced, Lance Pendleton walked the one man he faced, and then Mariano Rivera cleaned up the mess by recording two outs in the ninth. Nine of the 13 men that the law firm of Whelan, Sanit & Pendleton faced reached base, which is pretty awful when they've got a nine run lead. Rivera shouldn't have to pitch in a game like this, but he hadn't pitched since Sunday in Anaheim. It's not the end of the world, but it would have been nice to have given him another day off. Oh well.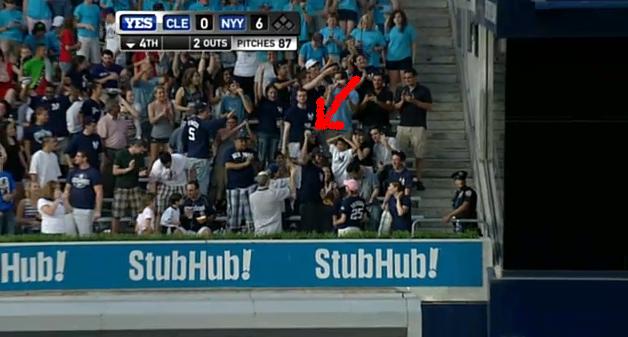 Leftovers
It's pretty obvious that Whelan was overthrowing, just about everything was up and out of the zone. It was a less than ideal debut, but sometimes these things happen. Mike Dunn walked a million guys in his debut and now he's one of the best relievers in the NL. Give the kid more time, it's not like the alternatives are all that great anyway. He did show a very nice split though, it's just a matter of throwing strikes with the fastball for Whelan.
Speaking of the alternative, I'm not sure Sanit is even a Triple-A caliber pitcher. It was surprising when they called him up in the first place, and he hasn't done anything to justify the team's faith in him. There's no reason to carry eight relievers when he's going to be number eight. Get another position player up here, stat.
A-Rod hit one of the longest homeruns in Yankee Stadium history in the fourth inning, a solo shot into the left field bleachers just to the side of the restaurant. It would have hit the windows if it was another foot or two towards dead center. T'was an absolute bomb.
Jeter singled doubled, his 2,991st career hit. He's got six games left in the homestand to get nine hits. Granderson had two hits and a walk, Tex a hit and two walks, A-Rod two hits and a walk, Cano three hits and a walk, Posada three hits, Gardner two hits, and Frankie Cervelli one hit. The only guy without a hit was Swisher, who had two walks. It as a total team effort on offense, and they even stole five bases (two by Gardner, one each for Jeter, Grandy, and Tex).
Jorge's three hits raised his season average to .215, which is still terrible but at least he's off the interstate. Since that ugly little incident when he pulled himself out of the lineup, he's hitting .326/.421/.429 in 57 plate appearances. That's … not bad at all. Posada also has ten hits in his last 17 at-bats over the last four games.
WPA Graph & Box Score
What's the WPA of the brawl? I demand answers! MLB.com has the box score and video highlights, FanGraphs has the rest.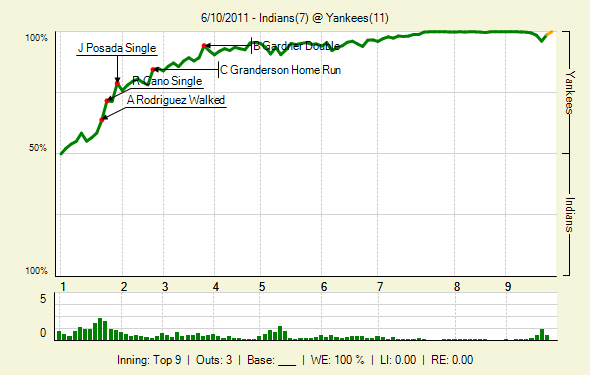 Up Next
Quick turn around, as these two clubs will play game two of this four game set at 1pm ET on Saturday. Bartolo Colon takes on Mitch Talbot and the rest of his former team.
* Seriously, I would have gone up to the Bronx and … let Robbie know I was very very disappointed.