We've spent a lot of time and energy talking about the bullpen this spring. And with three spots realistically up for grabs, it's been quite an interesting conversation. We know that Mo, Farnsworth, and LaTroy will be making the team, as they have guaranteed deals. It's also assumed that Joba will break camp in the pen — or at least that's what he believes right now. That's four out of the seven, leaving three spots warm for the likes of Darrell Rasner, Jeff Karstens, Ross Ohlendorf, Brian Bruney, Chris Britton, Jon Albaladejo, Edwar Ramirez, Heath Phillips, Billy Traber, Scott Patterson, and (sigh) Sean Henn.
Complicating the issue a bit is Joe Girardi's desire to see a long man in that bullpen mix. That would indicate Karstens or Rasner, though Ross Ohlendorf was a starter for his entire career until the middle of last year. But if we're still considering Ohlendorf a one- or two-inning guy, that means we're now looking at about nine guys for two spots. So things get tougher.
As if that wasn't enough, it's pretty much assumed that the team will head into the season with a lefty in the pen. Back in December, we debated the merits of having a lefty in the pen for the sake of having a lefty. We didn't reach a consensus, but I still believe it wasteful to carry a lefty just because of the arm with which he throws. It's becoming clear that the Yankees do not share this sentiment.
So that means one spot will be decided among three guys, four if you count Igawa. And that's a topic I want to revisit. If we're going to carry a lefty for the sake of carrying a lefty, we might as well discuss it.
Late last week, Billy Traber was added to the 40-man roster, which signaled to many that the spot is all but his. This, though, I have to disagree with. While he very well may get the job out of Spring Training, I'm not sold that he's the right man for the job.
The thing is, Traber has proved little on the major league level. Yes, he was good against lefties last year in his brief major league stint, but is that enough to justify giving him a spot? And yeah, he's a former No. 1 pick, but he really hasn't been the same since he had Tommy John surgery in 2003.
My hope is that he was added to the 40-man so that he can be optioned down to AAA to start the season. This way, we can spend those last two bullpen spots on Patterson and Ohlendorf to see how they can do. Surely, a need in the bullpen will arise as the season progresses.
Then again, I seem to be talking out both sides of my mouth here, as Patterson has no major league experience, and Ohlendorf has just the few innings he tossed last September. Still, I'd rather see Traber, who has had a shot in the majors in each of the last two seasons, start in AAA so we can see what the other guys can do. And if Traber is getting the job done at AAA, then yeah, I'd fully advocate his call-up.
So at this point, let's just say that I'm not sold at all on Traber as a viable bullpen option out of the gate.
By

Don't tell the Virginia Tech baseball team that Spring Training doesn't count. For a few hours today, the VT campus, still healing after last year's tragic shooting, will play host to the Yankees and both the VT players, as Sam Borden writes, and the Yankees, as Anthony McCarron notes, understand and appreciate the emotional impact of this seven-inning exhibition game. The Yanks' presence at VT today is one of the more generous acts I've seen from the team in all my years as a fan. · (3) ·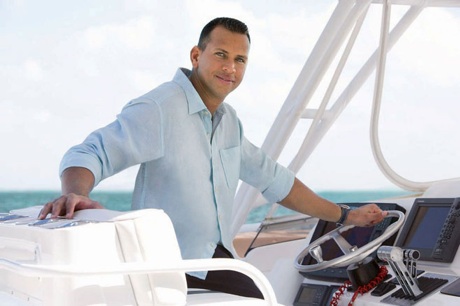 Nice boat. (Photo by Patrick Demarchelier/Men's Vogue)
Stop the presses! It's another tell-all A-Rod magazine piece. This time, it's written by self-professeed Red Sox fan and blogger Seth Mnoookin, and it appears in next month's issue of Men's Vogue.
Setting aside issues of objectivity — it's only a little fishy that a Red Sox blogger gets tabbed to write a cover story on Yankee poster boy Alex Rodriguez — Mnookin's piece is mind-numbingly the same for anyone who's followed the A-Rod Saga at all over the last few years. It starts out in October and rehashes the whole opt-out/falling-out triangle between A-Rod, Scott Boras and the Yanks. It backtracks to the early 1990s and follows A-Rod to Seattle, to Texas, to the Yanks, to the post-season where he struggled in 2007 and still managed to out-hit the rest of his teammates.
As the pieces drags on, it's obviously heading to the same place: A-Rod is a great baseball player, but he doesn't allow the public to see the Real Alex Rodriguez. Heaven forbid the man wants a little bit of privacy. A-Rod poses for photos; he answers questions by e-mail. But no one else wants to comment. While Mnookin tries to hint that this is some shortcoming of A-Rod's, I'd like to think it's a bunch of people attempting to respect the guy. The need to tear him down is overwhelmingly ridiculous.
Where Men's Vogue gets it right is in a sidebar piece about A-Rod's workout. I'm sore just pondering his routine.
But in the end, it's all the same. Maybe one day, we'll hear something new about A-Rod. We know Boras was a father figure; we know they don't talk; we know A-Rod and Derek Jeter had to bury the hatchet on some seven-year-old comments. Until someone finds something new on A-Rod, do we really need to keep reading this?
"He's a great hitter," said Pettitte. "No doubt I backed him off. You just can't lay it in over the plate for him. Got to move the ball in and out. Got to hopefully make a hitter feel uncomfortable. He's a great hitter and you have to hopefully pitch him inside."
See what I did there? I took an innocent little quote from Pettitte about keeping a hitter honest, and turned it into a blatantly untrue and ridiculous headline in an effort to draw attention. Murray Chass and Sir George Alfredson King III, Esquire, eat your hearts out. I'm not sure where I'm going with this, but it's nice to see at least one pitcher on the staff not afraid to challenge Ortiz. I'm sick of the guy just leaning his big ugly mug out over the plate and feasting on 2-0 and 3-1 pitches because everyone is afraid to make him move his feet.
By

Chad Jennings is the man. Need proof? He's got a makeshift box score for today's Triple-A Scranton vs. Syracuse (Toronto) game. Well done, sir.

Glad to see Eric Duncan is starting the season off on the right foot, ditto Wady Rufino and Jason Jones. The season's gettin' close… · (1) ·
By

This afternoon, we were all impressed by the velocity on the YES gun. Bartolo Colon was hitting 94 regularly with a few pitches at 96, and Brian Bruney cracked 100 twice. Not so fast, says Peter Abraham. The Yanks' own guns had Bruney topping out at 96. So if Colon as throwing 90 with no control, he doesn't look nearly as good as he does if he's throwing 94 with no control. Remember: The gun on TV lies. It just looks better that way. · (8) ·
A little over a month ago, we learned a little about Scott Patterson. Over the past few weeks, we've gotten to see him in action, and it's been rather pretty. The results, that is, not his "herky-jerky motion," which we'll hopefully all come to know and love soon enough. Today, king beat writer Tyler Kepner shares something else about Patterson with us: If it wasn't for a stubbed finger, he might never have gotten his shot to play in the bigs.
"I stubbed my finger in a door at my host family's house in Lancaster," Patterson said. "They brought me back slowly and said, 'Could you work out of the pen?' It was my first time ever doing that, and I just let it go for an inning. I was up to 90, 91, 92 miles an hour, and I was like, This could be good; let me stay here for a little bit.
Prior to his finger-jamming incident, Patterson's only taste of big league ball was a short stint in camp with the Seattle Mariners. They didn't feel he was worth a spot on their A-ball roster, though, and let him go back to the independent leagues.
After the injury, though, Patterson started focusing on his fastball and slow curve. Eventually, he caught the attention of Yanks' scout Cesar Presbott, who brought him into the organization. After fixing a "slight hesitation in his delivery," Patterson was set. He steamrolled through AA Trenton last year, tossing 74.1 innings to the tune of a 1.09 ERA, with opponents hitting just .170 off him. And I'm not sure what is more impressive: That he struck out 91 in those 74.1 innings, or that he allowed only one homer in that time.
Giardi sums him up perfectly:
"All he's done is get everybody out," Manager Joe Girardi said. "It's been pretty unbelievable. He's gotten us out of jam after jam. He has a chance."
Three of the seven spots in the Yanks pen are seemingly up for grabs. It's looking more and more like Patterson will nab one of them.
By

In a rare non pro-Red Sox blog post, Peter Gammons notes that the Yanks have told RHP Andrew Brackman "not to even think about pitching this season, just get healthy." Man, I really can't wait until this kid gets back into games. Gammons also notes that Brackman "may be a monster talent." Wave those pom-poms proud, Peter. · (9) ·
It's getting to the time of year when my roommates and I start our annual whiffle ball league. It's nothing big, just the three of us and whoever else wants to play. The rules are kind of strange, which is fitting, since there are obstacles galore between us and the home run fence. As much fun as I have, I'm totally envious of these guys:
Is that not the perfect whiffle ball set up? Fence along the edge of the lawn, faux catcher (we use one of those pitching nets), scoreboard, lights…and even a freakin' practice pitching mound.
I'll still have to make due with the makeshift field we use, trees and all (we've named them Grady and Hanley). But man, what I wouldn't give for a setup like that.
At 1:15 p.m., the baseball season has meaning.
No, wait. That's wrong. No, it doesn't, but don't tell that to the folks at Yankees.com urging you to "tune in when the rivalry resumes." The rivalry for the Grapefruit League sure is a good one. Whoever wins today is clearly the much better team.
In real news, Joba Chamberlain believes he is destined for the bullpen to start the season. I'm fine with this move on one condition: that Joba be moved to the starting rotation sooner rather than later. It's fine to keep his innings under wraps as a reliever at the beginning of the season. It's fine to have him thrown the 8th innings the Yanks hopefully get off to a hot start.
But his stuff is too and he's just too dominant to stay in that role. Unless he can maintain a 0.50 ERA out of the bullpen for an entire season, he is much more valuable to the Yanks as a starter than he is a reliever.
On with the details: Today's game is on YES and MLB.tv. Gameday will be available here soon. The lineups and potential pitchers come to us via PeteAbe:
YANKEES
Damon LF
Jeter SS
Abreu RF
Giambi 1B
Posada C
Matsui DH
Cano 2B
Betemit 3B
Cabrera CF
Pitching
Pettitte
Albaladejo
Traber
Philips
RED SOX
Lugo SS
Pedroia 2B
Ortiz DH
Youkilis 1B
Lowell 3B
Varitek C
Ellsbury CF
Carter LF
Moss RF
Pitching
Colon
Tavarez
Lopez
Hansen
And please keep the game thread halfway civilized if possible.