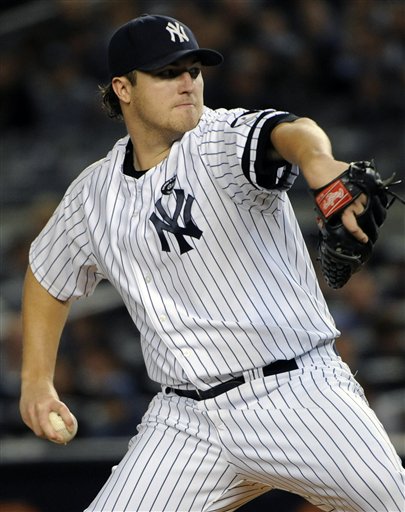 Phil Hughes and the Yanks look to continue their recent success against the Twins tonight as the righthander takes the mound for his 10th start of the season. Hughes, 3-4 with a 6.55 ERA, is looking to build on some strong outings. Over his last three starts, the 25-year-old has allowed 16 hits and just four earned runs in 18 innings while striking out 13 and walking three. This is Hughes' second career regular season start against the Twinkies.
Minnesota will counter with Kevin Slowey. The 27-year-old is making his first start since September 27 and only his seventh appearance of the season. He missed some time earlier this year with abdominal strain and landed in AAA after coming off of the DL. He is 0-0 this year with a 4.91 ERA in 14.2 innings. He has allowed 19 hits but just one walk to go with seven punch outs. He is 1-1 with a 4.56 ERA in 23.2 innings spanning five games against the Yankees. He recently held the Scranton-Wilkes Barre Yankees to one unearned run over 8 innings during a AAA outing.
Here's your Yanks' starting nine:
Gardner LF
Jeter SS
Granderson CF
Teixeira 1B
Cano 2B
Swisher RF
Chavez 3B
Posada DH
Martin C
Alex Rodriguez Update: A-Rod went through some more hitting and baserunning drills today, and he will do so again tomorrow. Joe Girardi indicated that they are leaning against activating him in time for tomorrow's game but could add him to the roster for Sunday or Tuesday after Monday's off day.
Other News: Freddy Garcia has been placed on the disabled list because of the cut on his finger, and he'll make a "rehab" start with Triple-A Scranton next week and be activated in time to start one of the game's in the doubleheader against the Orioles next Saturday … The Yankees have claimed left-handed reliever Aaron Laffey off waivers from the Mariners and designated Gus Molina for assignment. Laffey will join the team tomorrow, taking Garcia's roster spot.
Social Media with RAB: Just a reminder that you can find us elsewhere around the Internet. We're on Twitter and Facebook. Now, we're now on Foursquare too. Follow us right here for Yankee-related tips.