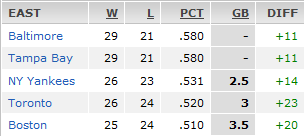 The Yankees have underachieved so far this season. A number of players have underachieved on an individual level — has anyone other than Boone Logan and Cory Wade exceeded expectations? — and being three games over .500 with a dinky little +14 run differential through 49 games isn't what we expected. Or at least what I expected. I should stop saying we.
The good news is that no one is running away with the AL East. The Orioles made a cute little run at it for a few weeks but they've lost seven of their last nine games and have predictably crashed back to Earth. All five teams are separated by no more than three games in the loss column, so literally any of those teams could be in first place by the end of the week. It's completely wide open right now.
It's trendy to say otherwise, but the AL East is the toughest division in baseball. Anyone that claims otherwise is kidding themselves. All five clubs are over .500, have at least a +10 run differential, and have scored more than 200 runs. None of the other five divisions can make even one of those claims*. The O's and Rays have the best intra-division records, the Blue Jays and Red Sox the worst, and the Yankees are right in the middle at .500. That's why the division standings are the way they are right now.
At some point the division is going to start to sort itself out. The Orioles and Jays will continue to slide to the back of the pack and that familiar three-team race will again develop at the top. The Yankees haven't played anything close to their best baseball yet, but they've managed to stay right in the AL East hunt. Treading water isn't going to work forever though, at some point soon they're going to have to go on a run and create some separation between themselves and everyone else.
* Update: My bad, didn't realize every NL East team is over .500 as well. Points stands, AL East is still the toughest division.