By

Build a team that can play a 9-inning baseball game in under 4 hours. Baseball games are just not meant to last that long. · (7) ·
By

The headline on Jack Curry's latest says, "Rodriguez's Agent Votes to Opt Out." But that's a bid misleading. The article simply features Scott Boras noting that it would be beneficial to A-Rod to opt out, but if he knows what's best for him, he'll stay a Yankee. Remember: If A-Rod opts out, Cashman will not re-sign him because the Yanks would lose the money from Texas. Let the fun begin. · (4) ·
Javelinas (Yanks AFL) 3-2 Win over Rafters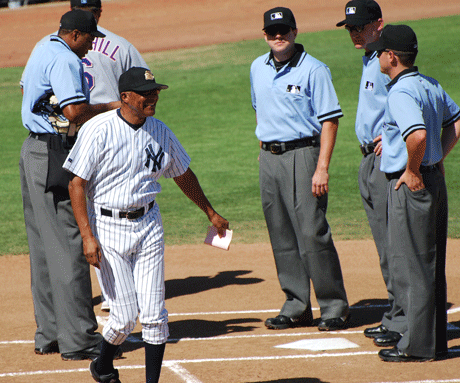 Brett Gardner: 2-4, 1 RBI, 1 SB
Juan Miranda: 0-3, 1 BB, 1 K
Reegie-don't call me beer man-Corona: 1-3, 1 RBI, 1 BB, 1 K, 1 SB
None of the Yankee pitchers entered the game.
Reegie Corona walked with the bases loaded in the bottom of the 9th to win the game. He played solid defense at shortstop and made nice play on a groundball up the middle. Brett Gardner was a force on bases again. The guy never stays in one spot on the bases. Miranda was better than expected at first base but didn't have much range on a hard hit to his right. Photos after the jump.
Read More→
By



That was printed in last Friday's NY Post. Bastards.

(If you have no idea what I'm talking about, go here) · (2) ·
By

At least now we don't have to listen to Dane Cook tell us "There's only one October!" Someone shut him up. Please. · (11) ·
Ben's commentary on the end of an era in New York got me thinking a lot more about the manager issue. I understand a lot of people want to see Torre gone. They decry his bullpen usage — and we've been guilty of that on plenty of occasions — and think he has some nonchalant attitude towards managing the game. "Binary baseball fans" (we'll get more into this term later in the off-season) think he doesn't play the numbers well enough. I have one question, though: Who do you think should take his place?
Tony LaRussa? People will point to his personal pitching coach, Dave Duncan, and think it might be a good idea. However, as a commenter pointed out earlier today, how many pitchers came up through the St. Louis system during the LaRussa/Duncan tenure? Matt Morris. Oh, and Dan Haren, but all of his success came after he was traded. Duncan can fix veterans to a degree, but with the young arms in the system, I'm not sure I want Duncan around. As for LaRussa, I don't really have an opinion on him, which puts me in the minority. Most people are against the idea. I'll let you have it out in the comments.
Don Mattingly? Please, let me know what he has done that indicates he'd be a competent manager. What sticks out to me about Mattingly is his reaction to Steinbrenner's ultimatum for Torre:


"It's obviously an uncomfortable situation for me. I don't want to be caught in the middle of this. On the back end of that, Joe knows how I feel about him. He knows I would never do anything behind the scenes or anything else to backstab anybody. It's not my character; it's not part of me. I'm comfortable with that part of myself. Joe knows me, too, that I wouldn't be doing that. My loyalty to him is as long as it has to be, really forever. He's treated me great, he's taught me tons."

1) No one ever accused Mattingly of working behind the scenes. These sound like the words of a guilty man — guilty of something, not necessarily of explicitly lobbying for Torre's job — to me.

2) If you hate Torre, do you take solace in Donnie saying "he's taught me tons"?

But overall, he hasn't done a thing to prove he can manage in the bigs.

Joe Girardi? First off, he'd be managing a few guys he played with. I'm not sure how this has worked out in the past, but I'm not sure it'd be good for the Yanks. Second, I'll name you two guys: Josh Johnson and Anibal Sanchez. Both pitched for Girardi, both haven't been healthy since. The Johnson situation was the most egregious of the two, as we all know the rain delay story. If Girardi told Joba to go out there after sitting down for an hour, I might just storm the dugout.
Bobby V? I still don't think he'd ever manage for George. But if he'd be up for it, it's a consideration.
Tony Pena? I have nothing bad to say about the man. It's tough to gauge what was his fault and what wasn't with the Royals. He took a team that in 2002 hit .256/.323/.398 with a team ERA of 5.21, and turned them into a .274/.336/.427 team with a 5.06 ERA the next year. And then he lost Carlos Beltran to the Astros and Mike Sweeney to injuries, and the team collapsed again (their pitching remained horrible). Clearly, he was not in an ideal situation.
Who else? We'll take any and all suggestions, and hopefully develop them into a good discussion. For the record, I'm all for giving Torre another contract. I don't think anyone on this list could do a better job of managing this team.
Everyone likes to point their fingers. (Photo from Newsday/Paul J. Bereswill)
When the dust finally settles in a few days, an era of Yankee baseball will end. How this drama plays out, though, will determine which era ends, and the end result could be something of a surprise.
In one corner, we have George Steinbrenner threatening the end of the Joe Torre Era. If you take the interview with Ian O'Connor at face value, Torre's gone. The Yanks didn't make it past the first round of the playoffs for the third year in a row, let alone win a World Series, and King George is not happy.
For now, the going school of belief seems to be that Steinbrenner's threats were not idle and that Torre is gone. The Yankee skipper spoke of the team not as a "we" but as a "them" during the post-game press conference last night. Peter Abraham noted a few other indications concerning the imminent departure of Joe Torre, and Bill Madden at The Daily News speculates that the Tony La Russa-Dave Duncan team may be Bronx bound.
But what if? What if George Steinbrenner's interview featured the words of an aging and nearly deposed dictator? What if Brian Cashman enlists the help of the heir-apparent Hal Steinbrenner to push for Torre's return? What if the rumors of Tony La Russa's arrival in the Bronx raises too many alarm bells among the Yankee decision-makers?
If the Torre faction within the Yankees can outlast those doubting him, another era will end in the Bronx. The Era of the Boss would officially be over. We know, thanks to Portfolio magazine, that george is not well these days. If Joe Torre keeps his job, Steinbrenner's public words and Yankee clout are all but gone.
Right now, no one really knows what should happen. Joe Torre made a few bad managing mistakes this week that cost the Yankees at least game two and maybe game four. He has a history of mismanaging the bullpen, but he knows how to handle the Yankees. Furthermore, the players – such as free agents Mariano Rivera and Jorge Posada – love him. If he goes, they may go too.
So it becomes a showdown yet again between the Boss and the only man more powerful than the Boss in the eyes of the New York sports media. In a few days or hours or minutes, someone will win and an era will end. Whatever the outcome, it will affect the Yankees for years to come.
By

A City Council member from Queens has asked the Department of Consumer Affairs to investigate the parking lots around Yankee Stadium that were charging $50 for playoff parking. My response: It's a supply-and-demand issue. If people are going to drive and are willing to pay that much to park, then the garages will charge that much. If you don't like it, take the subway. · (6) ·
HWB Honolulu (3-2 loss to North Shore in 10 innings, walk-off style)
Ajax: 1 for 5, 1 RBI, 3 K, 1 SB - 1 K every 2.42 AB in Hawaii after 1 every 4.55 AB during the regular season
Brad Suttle: 0 for 2, 2 K
Anthony Claggett: 1.2 IP, 2 H, 1 R, 1 ER, 2 BB, 1 K – gave up a walk-off single
The AzFL kicks off tonight, so hopefully the players there put up some better numbers.
This photo, an Associated Press shot from Sunday night, could be one of the photos from the last October victory at Yankee Stadium. While I have to believe the Yanks will be back in the playoffs next year, tonight's loss could be the last ever playoff game in a baseball cathedral that has seen many, many classic moments. The Yanks really have to win next year and send the House That Ruth Built off in style.