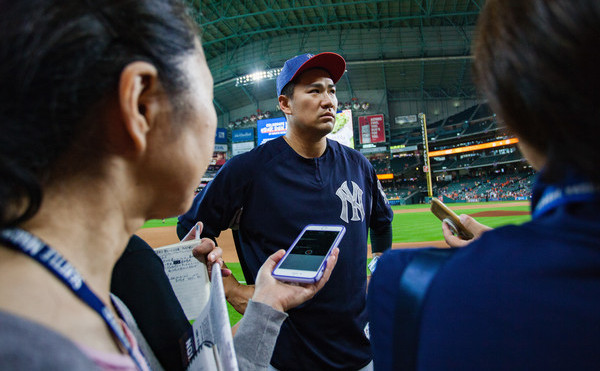 Today marks the midway point of the 2017 season for the Yankees. Or, technically, the end of tonight's game will. The first half has been a mixed bag. The Yankees started great and have crashed hard the last few weeks. They come into tonight at 43-37 with a +104 run differential. That's the fourth best record and the second best run differential in the league. Pretty good! But it feels worse than it is given the last three weeks or so.
The All-Star break is a week away and the Yankees start a six-game homestand tonight. It sure would be swell to close out the first half on a high note, wouldn't it? Grab some wins at home and spend the four-day All-Star break feeling pretty good about where things stand. That'd be nice. The last few weeks have been pretty frustrating. Here is the Blue Jays' lineup and here is the Yankees' lineup:
It rained briefly this afternoon, though the wet stuff cleared out and they should have no trouble getting the game in tonight. Tonight's series opener with Toronto will begin a little after 7pm ET. You can watch on YES. Enjoy the game.
Injury Update: Greg Bird (ankle) still isn't feeling right. He's going to see more doctors after the holiday, and Brian Cashman even mentioned Bird may need exploratory surgery to figure out what the hell is wrong. Sounds promising.
Awards!: Judge is your AL Player of the Month and Rookie of the Month. He's the first player to win three straight Rookies of the Month since Mike Trout in 2012. He's also the first player to win both awards in the same month since … Sanchez last August.
All-Star Update: In case you missed it earlier, both Judge and Sanchez will participate in the Home Run Derby next week. Awesome.