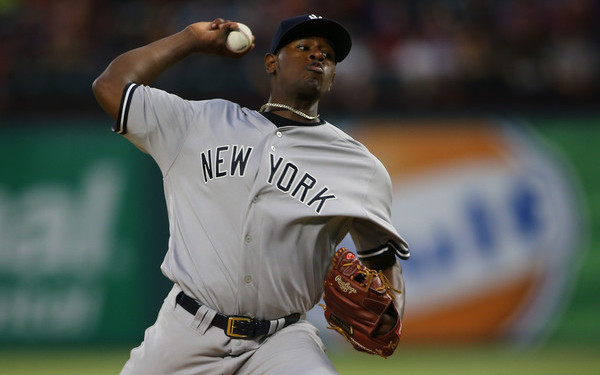 With a Game Score of 20, Luis Severino had the worst start of his relatively brief big league career last night. The Rangers tagged him for six runs on seven hits and two walks (one intentional) in only three innings of work. He struck out one and got only four swings and misses out of 74 pitches. It was not good. Texas really did a number on him.
Following that disaster Severino is sitting on a 6.86 ERA (3.66 FIP) with 32 hits allowed in 19.2 innings on the season. The good news is he's only walked three batters, and one of those was intentional, but he's also struck out only 12. A 13.5% strikeout rate is really bad. Only seven pitchers have a lower strikeout rate, and they're guys like Mike Pelfrey (9.1%) and broken Doug Fister (11.2%).
The story last night was the same as Severino's first three starts: his location was terrible. David Cone had a really great breakdown of Severino's mistakes on the YES broadcast, showing how he missed the target on some of the hits he allowed. He didn't miss by a few inches. Severino was missing by the width of the plate and up in the zone. It doesn't matter how hard you throw with location that poor.
"I thought he was up with his fastball. It seemed like the fastballs that they hit were between the thigh and the waist, and he had a hard time throwing his offspeed for strikes," said Joe Girardi after the game (video link). "It kind of put him in a tough situation, and they definitely took advantage of it."
Severino barely resembles the pitcher he was late last season even though the PitchFX data says his fastball is still sitting 97 mph with sliders and changeups around 90 mph. The hitters are telling you all you need to know. They're squaring him up consistently and the strikeouts are much harder to come by. That's concerning. This is a 22-year-old kid who increased his workload by 48.2 innings last year, remember. There could be a hangover effect.
It would be very easy and, frankly, justifiable for the Yankees to send Severino to Triple-A for some tune-up work after these four starts. They have a ready made rotation replacement in Ivan Nova and Severino has some very clear flaws to correct. He seems incapable of getting his slider down in the zone, and his fastball location has generally been crap. A trip to Triple-A lets him work on that stuff in a place where results don't matter.
I think it's a little too early to take that step though. For starters, Severino hasn't gotten rocked every time out. One start ago he tossed six innings of two run ball, remember. Secondly, I'm a big believer in failure as a learning tool. Severino never struggled in the minors. The guy zoomed up the ladder because he dominated minor league hitters. Severino can lean on his fastball and have a lot of success with ol' No. 1 and nothing else down there.
The minors were not much of a challenge for Severino. He is being challenged at the MLB level now and the hitters are telling him he has to adjust. That's the name of the game. Make the adjustments and correct your flaws or you won't be around long. By all accounts Severino is a hard worker and a kid with tremendous poise, so that's not an issue. He just needs to fine-tune his game like so many other 22-year-olds.
"I'm sure it's tough right now cause he's probably never struggled until (he got to) this level," added Girardi. "But that's part of it, too. You have to fight in this game. This game is not easy. If it was easy, everyone would do it. Everyone gets knocked down in this game, and you have to get back up and you have to go to work."
Yes, there is absolutely a point when Severino's struggles will become too much and a trip to the minors is necessary. That's true for every young player. I don't think Severino is at that point yet. His stuff is firm and not he's walking anyone, so this isn't a kid who has been scared out of the strike zone and is getting himself into trouble by nibbling. Once that starts happening, you have to begin to worry about his confidence.
Severino's start to the new season has been very disappointing. I can't imagine anyone feels otherwise. Four starts is only four starts though. Severino didn't go from MLB ready to Triple-A caliber in three weeks. His location must improve. It's imperative. For now, the Yankees should let him work through his issues at the big league level. If the same problems persist in a few weeks, the team can reassess and see if a change needs to be made then.