The regular season ends six days from now, which means the voting for the various league awards will soon end as well. The voting ends after the regular season but before the postseason — what happens in October has no bearing on anything. These are regular season awards, as it should be.
The Yankees are an extreme long shot to make the postseason and teams that don't make the playoffs tend not to have major awards winners. That's not always the case — Alex Rodriguez was the 2003 AL MVP on the last place Rangers, for example — just most of the time. Don't get mad at me. That's the way the voters vote. The Yankees do still have some candidates for each of the major awards this season, however. Let's run them down.
Most Valuable Player
There is an excellent chance the Yankees will not have a player finish in the top ten of the AL MVP voting this year for the first time since 1996, when Mariano Rivera finished in 12th place. The lack of a truly elite player, a Robinson Cano or prime-age A-Rod or Derek Jeter, combined with their second straight postseason-less year all but eliminates anyone on the team from serious MVP consideration. The BBWAA has shown time and time again they prefer to vote for players on contending teams.
Now, that said, the MVP ballot is ten players deep and those last two or three slots are like the Twilight Zone. A lot of weird stuff happens there. Raul Ibanez received a tenth place MVP vote in 2012, remember. Jacoby Ellsbury and Brett Gardner have been the team's two best players all year and I'm guessing they'll combine for at least one down-ballot vote this year. Same with Dellin Betances and maybe David Robertson. The Yankees don't have any serious MVP candidates this season but I feel comfortable saying someone on the roster will appear on a ballot.
Cy Young
Had he not gotten hurt, Masahiro Tanaka would have been an excellent Cy Young candidate alongside Felix Hernandez and Corey Kluber (and Chris Sale). The injury takes him right out of the running for the award, unfortunately. The Cy Young ballot is one five players deep and it would surprise me if Tanaka even managed to sneak on and grab one fifth place vote at this point. He simply missed too much time and there are too many good pitchers in the AL. Maybe Betances will grab a fifth place vote like Robertson did in 2011. Maybe. He is the club's only real shot at being included in the Cy Young conversation this season.
Rookie of the Year
Believe it or not, the Yankees have never had two players receive Rookie of the Year votes in the same season. That is all but certain to change this year thanks to Tanaka and Betances. There are a lot of good rookies in the AL this year but Jose Abreu has lapped the field — I think he should win unanimously, this is a no-brainer in my opinion — so neither Tanaka nor Betances will win. I do think both are safe bets to garner multiple second and third place votes though. (The ballot is only three players deep.)
Shane Greene has had a nice year but I would be very surprised if he received any votes. There are too many other good rookies in the league (Collin McHugh, Matt Shoemaker, George Springer, Marcus Stroman, Yordano Ventura, etc.) for him to get serious consideration. That doesn't take away from what he's done this year. This just isn't a good year to be a good but not great rookie in the so-called Junior Circuit.
Manager of the Year
The Manager of the Year award has morphed into the "manager whose team most exceeded expectations" award, so Joe Girardi won't win. I'm guessing the award will go to either Ned Yost of the Royals or Lloyd McClendon of the Mariners, depending on which non-Athletics team wins a wildcard spot.
The Manager of the Year ballot is only three names deep and it'll be tough for Girardi to get even a third place vote this year given his competition. I'm guessing at least one BBWAA member will give him a vote based on the team's ability to linger in the wildcard race until the final week of the season though. After all, nine of 15 AL managers received at least one Manager of the Year vote last season.
Comeback Player of the Year
This one will be interesting. If Jeter put together nothing more than a decent season, say hitting .280 with a .340 OBP and no power, I think he would have won the Comeback Player of the Year award easily. Mariano Rivera won last year and deservingly so, but, even if he had been merely good instead of excellent, I think he would have won anyway for sentimental reasons.
Jeter's brutal August and pre-current homestand September really dragged down his season numbers (.256/.304/.313) and it will be hard for voters to look the other way. Melky Cabrera and Albert Pujols stand out as two deserving Comeback Player of the Year candidates, so there is no lack of competition. Maybe Jeter will win on the strength of sentimental votes, but I don't think it's a slam dunk at all.
Gold Gloves
A sabermetric component was added to the Gold Glove voting a few years ago, but it only counts as 25% of the vote. The other 75% is still based on the league's managers and coaches. Whether they admit it or not, offense still has some impact on the voting, though it has gotten better in recent years.
Right off the bat, we can completely eliminate the entire infield. I mean, maybe Jeter will get a sentimental vote, but I can't see it at this point. Gardner is a good left field Gold Glove candidate — they used to hand out three general outfield Gold Gloves, but they are position specific now — but Alex Gordon has this one in the bag. He's outstanding in left and his offense won't hurt his case either. Yoenis Cespedes might also get more votes than Gardner because of his throwing arm.
Ellsbury has been stellar in center field all season though the numbers hate him for whatever reason: -6 DRS, +1.1 UZR, and +0 Total Zone. I don't get it. That doesn't match up with the eye test at all. The various defensive stats always seem to hate Yankees center fielders. Maybe because Gardner takes plays away from them. Anyway, Ellsbury has some stiff Gold Glove competition in Mike Trout, Jackie Bradley Jr., Adam Jones, Leonys Martin, and Desmond Jennings. I think the chances of Ellsbury winning the Gold Glove are better than the chances of any Yankee winning any other award, but I would bet on the field with this many qualified candidates.
Silver Sluggers
Yeah, no. You actually have to hit to win a Silver Slugger and not many Yankees did that this year. Gardner and Ellsbury have been the team's two best hitters and they aren't beating out Gordon or Trout, respectively. Nevermind the other candidates around the league. As far as the Yankees are concerned this year, the most exciting part of the awards voting will be seeing where Tanaka and Betances finish behind Abreu for the Rookie of the Year award. Jeter's possible Comeback Player of the Year and Ellsbury's possible Gold Glove are the only other items of note.
The Yankees might not be going to the postseason this year, but they've yet to be officially eliminated and they're not going down without a fight. They won for the fifth time in six games on Monday night, shutting out the Orioles 5-0.
Big Mike Does Big Things
I thought this was the best Michael Pineda has looked all season. Easily. He was dominant, throwing only ten of his 106 pitches from the stretch. The only base-runners he allowed were J.J. Hardy's one-out ground ball single by a diving Chase Headley in the fifth and a one-out walk by Christian Walker in the eighth. Only five of the 24 batters Pineda faced hit the ball out of the infield and none of them were particularly hard-hit. The hardest hit ball was Hardy's line drive at Stephen Drew leading off the eighth inning. Drew took a step or two to his right to catch the liner.
Overall, Pineda held the Orioles scoreless for 7.1 innings and allowed just the one hit and one walk. He struck out a season-high eight and generated a season-high 18 swings and misses. Pineda had his F U fastball working and his slider was vicious, consistently diving down and out of the zone after hitters started their swings. He even threw some changeups, a few of which had some serious action down and away to lefties. I know the Orioles have already clinched the AL East and half their regulars were on the bench, but Pineda was in total control on Monday night. Completely dominant. This is the type of game that reminds you just how special he really is when healthy.
Young & Old
The Yankees scored two runs in the third inning and two runs in the fifth inning, and both times the young guy and the old guy were involved. The third inning rally started with an error by Orioles third baseman Ryan Flaherty, who made a poor throw and pulled Walker off the first base bag to start the inning. Walker didn't even catch the ball. Ichiro Suzuki would have been safe even if he had kept his foot on the bag.
Anyway, that brought Jose Pirela to the plate for his first career at-bat, and he lifted Wei-Yin Chen's 1-1 pitch into Death Valley in left-center field. Ichiro scored from first with ease and Pirela slid into third base safely with a triple. Again, it was his first career at-bat, so he was running around the bases faster than he's ever run around the bases before. Derek Jeter brought Pirela home with a ground ball later in the inning. Pirela took off on contact and got a great jump.
The fifth inning rally started with two outs, at least after Ichiro grounded into a double play following Drew's leadoff single. Pirela started that rally with a soft little line drive single over the second baseman's head into shallow right field. Brett Gardner drew a walk, then Jeter doubled into the left field corner to score both runs. That was a great at-bat. Chen got ahead him 0-2, Jeter worked it back to 3-2, fouled off a pitch, then doubled. Vintage Cap'n. Two runs in the third, two runs in the fifth thanks to Pirela and Jeter.
Leftovers
After Pineda was removed from the game, Shawn Kelley cleaned up the eighth inning with a strikeout and a routine ground out. He struck out the first batter in the ninth before Rich Hill walked and struck out the next two batters, respectively. David Robertson Phelps got Adam Jones to fly out on the first pitch for the 27th out. Three pitchers in the ninth inning of a five-run game was a tad bit excessive.
Headley tacked on an insurance run with an eighth inning solo homer into Monument Park. Jeter drove in three of the team's other four runs and went 1-for-3 with a walk on the night. He is 9-for-20 (.450) on the homestand. Going out in style. The top four hitters in the lineup went a combined 1-for-13 (.080) with three walks while the bottom five hitters went 7-for-18 (.389). Brian McCann was the only starter who failed to reach base.
Pirela became the 57th different player to play for the Yankees this season. That breaks the franchise record set just last year. He went 2-for-3 in his MLB debut with that run-scoring triple and rally-starting single. Nice night for the kid.
The Orioles did not have a runner reach second base all night, nevermind third base. This was the Yankees' first one-hitter since July 2011 against the Mariners. Here's the box score of that game.
Box Score, WPA Graph & Standings
For the box score and video highlights, head on over to MLB.com. There are some other stats at FanGraphs and the updated standings are at ESPN. The Royals beat the Indians, so the Yankees remain four games back of the second wildcard spot with only six games to play. Their elimination number is three and FanGraphs has their postseason odds at 0.2%.

Source: FanGraphs
Up Next
The Yankees and Orioles will play the second game of this four-game series on Tuesday night. Brandon McCarthy will be on the mound against … someone. The O's still have not announced their starters for the rest of the series because they're busy setting up their postseason rotation. There are only three home games left in the season and Jeter's career, so head over to RAB Tickets if you want to catch any of them live.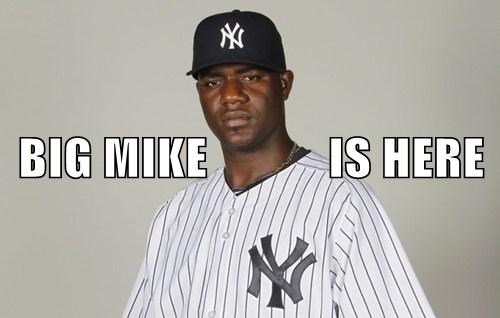 The final home series of the season is upon us. As much as this season sucked, I will dearly miss watching baseball in Yankee Stadium this winter just as I do every winter. The Yankees have to win all seven of their remaining games to make the postseason at this point, and even then they'll need some help, so just sit back and enjoy the final week of the season. No point in stressing over anything. Just enjoy the baseball before it goes away. Here is the Orioles lineup and here is the Yankees lineup:
It's a wonderful day for baseball in New York. I little chilly but not too much. First pitch is scheduled for 7:05pm ET and you can watch on YES. Enjoy the game.
By

You may have seen this already, but if not, NY Mag ran a great article that delved into Derek Jeter's personal life, at least somewhat. The Cap'n is a very private person but he opened up a bit to author Chris Smith and photographer Chris Anderson. He spoke about his post-retirement plans, among other things. It's an excellent piece and a must read for Yankees fans. Make sure you check it out. · (13) ·
By

4:15pm: The Yankees announced that Josh Outman has been designated for assignment to clear a 40-man roster spot for Perez. No idea if he is with the team and available tonight though.

2:26pm: The Yankees have claimed outfielder Eury Perez off waivers from the Nationals, the team announced. No word on the corresponding 40-man roster move yet. They could be dumping a similar (and much older) player in Antoan Richardson or a spare arm like Josh Outman or Rich Hill. We'll see.

Perez, 24, hit .311/.372/.406 (119 wRC+) with 20 steals in 57 Triple-A games this summer around injury. He has 13 big league plate appearances to his credit, all with the Nats from 2012-13. Baseball America ranked Perez as Washington's 20th best prospect before the season and said he'll likely be a speedy defense-first extra outfielder at the MLB level. With Jacoby Ellsbury (hamstring), Carlos Beltran (elbow), and Martin Prado (appendectomy) all hurt, the Yankees simply need a healthy body for the outfield right now. · (29) ·
The final homestand of the season and Derek Jeter's career is upon us. The season flew by, as it tends to do more and more with each passing year. The Orioles are in town for four games this week. They're 11-4 against the Yankees this season, including 4-2 at Yankee Stadium.
What Have They Done Lately?
Baltimore lost two of three to the Red Sox at home this weekend, but they've already clinched the AL East title and are in full blown "rest everyone" mode. They're 93-62 with a +116 run differential overall and are pretty much locked into having the second best record in the league. In all likelihood they will face the winner of the AL Central in the ALDS.
Offense
At 4.39 runs per game with a team 105 wRC+, the Orioles have an above-average offense that leads baseball with 202 homeruns. No other team has more than 179. OF Nick Markakis (101 wRC+) and 1B/OF Steve Pearce (162 wRC+) are both day-to-day with shoulder and wrist injuries, respectively. Neither has played for a few days now and they'll get as much time as needed. C Matt Wieters (Tommy John) and 3B Manny Machado (knee) are both done for the year following surgeries and 1B Chris Davis is out following an amphetamines-related suspension.
Despite all those injuries, manager Buck Showalter still has OF Adam Jones (118 wRC+) and OF Nelson Cruz (137 wRC+) in the middle of his lineup. Cruz has been sitting on 39 homers for two weeks now. It would be cool if he didn't hit No. 40 in the Bronx. SS J.J. Hardy (93 wRC+) and waiver trade pickup OF Alejandro De Aza (96 wRC+) are among the other lineup regulars you'll recognize. OF Delmon Young (121 wRC+) is getting more at-bats due to the injuries and ex-Yankee IF Kelly Johnson (80 wRC+) is splitting time at third with ex-Yankees farmhand UTIL Jimmy Paredes (143 wRC+ in limited time).
C Caleb Joseph (78 wRC+) and C Nick Hundley (73 wRC+) are the primary catchers with Wieters out. IF Ryan Flaherty (78 wRC+) and IF Jonathan Schoop (65 wRC+) see plenty of time all around the infield. OF David Lough (89 wRC+) has been the defense-first extra outfielder all season. C Steve Clevenger, 1B Christian Walker, and OF Quintin Berry are the extra September call-ups. The Orioles have 17 position players on the active roster right now, including Markakis and Pearce. I don't know why, but that seemed like a lot at first glance. Normal by September standards though.
Pitching Matchups
Monday: RHP Michael Pineda (vs. BAL) vs. LHP Wei-Yin Chen (vs. NYY)
Chen, 29, has gotten better in each of his three full seasons in MLB. He has a 3.58 ERA (3.97 FIP) in 29 starts and 173.2 innings this year. His walk rate (1.66 BB/9 and 4.4 BB%) is excellent but his strikeout (6.69 K/9 and 17.9 K%), homer (1.19 HR/9 and 11.1 HR/FB%), and ground ball (40.1%) numbers don't jump out at you. Righties (.327 wOBA) have been a better against Chen then lefties (.307 wOBA), and he's been better on the road (.306 wOBA) than at home (.335 wOBA). Low-90s two and four-seamers set up low-80s changeups and sliders. He'll also throw a few mid-70s curveballs per start. The Yankees have seen Chen just once this year, scoring four runs in five innings way back in April.
Tuesday: RHP Brandon McCarthy (vs. BAL) vs. TBA
Wednesday: RHP Shane Greene (vs. BAL) vs. TBA
Thursday: RHP Hiroki Kuroda (vs. BAL) vs. TBA
The Orioles are currently in the process of setting up their ALDS rotation, so they have not yet announced their starters for this series beyond Chen. RHP Bud Norris (3.62 ERA and 4.19 FIP), RHP Kevin Gausman (3.57 ERA and 3.49 FIP), and RHP Chris Tillman (3.26 ERA and 4.09 FIP) are lined up to start Tuesday, Wednesday, and Thursday, respectively. Tillman was the team's Opening Day starter and he's likely to get the ball in Game One of the ALDS on October 2nd, meaning he'd have to start either Friday or Saturday this week to stay on turn. The Yankees might not see him at all this series. RHP Ubaldo Jimenez (4.90 ERA and 4.74 FIP) has been banished to the bullpen but recently made a spot start and will probably make another sometime this week so the good pitchers can get lined up for the postseason. Showalter is expected to announce his rotation for the rest of the week sometime today, either before or after tonight's game.
Bullpen Status
Showalter's setup man/closer combination features two lefties who can get righties out: LHP Andrew Miller (1.30 FIP) in the eighth and LHP Zach Britton (3.17 FIP) in the ninth. They've both been used lightly over the last week or so as the team preps for October. RHP Darren O'Day (3.35 FIP) and RHP Tommy Hunter (3.18 FIP) will also see important innings.
The rest of the bullpen regulars include RHP Brad Brach (3.64 FIP), RHP Ryan Webb (2.71 FIP), LHP T.J. McFarland (3.30 FIP), and LHP Brian Matusz (4.03 FIP). RHP Evan Meek and LHP Joe Saunders are the extra September arms. I suppose Saunders could make a spot start this week, if needed. Webb (11 pitches), Meek (18), and McFarland (12) all pitched yesterday. Check out the status of Joe Girardi's bullpen at our bullpen Workload page. Camden Chat is the place to go for everything you need to know about the Orioles.
Even though they're a long shot to make the postseason, yesterday afternoon's win over the Blue Jays was one of the most important games of the season for the Yankees. Masahiro Tanaka returned to the rotation after missing more than three months with a partially torn elbow ligament, an injury that usual requires Tommy John surgery. But, because his tear was small (supposedly less than 10%), doctors recommended rehab.
Tanaka threw a handful of bullpen sessions and pitched in three simulated games while rehabbing, but nothing can simulate real game action. It's one thing to feel good while throwing without much adrenaline against a bunch of teenage minor leaguers in Tampa. It's another to feel good while facing actual big leaguers looking to do damage in front of a packed stadium with 50,000 fans in attendance.
"I was able to go pretty strong today, so I'm relieved. I feel that I was able to do all of the things that I wanted to do," said Tanaka to Vince Mercogliano following yesterday's start. "Obviously (the elbow felt) way better today (compared to the last start before going on the DL). I don't remember exactly when, but gradually as the game went on, I guess I forgot about it."
To my untrained eye, Tanaka looked like, well, he looked like Masahiro Tanaka. His fastball velocity was down a bit but I expected that after the long layoff. He didn't have a whole lot of time to build arm strength. Tanaka not only did not shy away from his breaking pitches — the pitches that supposedly put the most stress on the elbow — he actually shook off Brian McCann to get to his slider and splitter on several occasions. He threw them in situations he would normally throw them. Here's a quick breakdown of his pitch selection, courtesy of Brooks Baseball:
| | Four-Seamer | Sinker | Splitter | Slider | Curve |
| --- | --- | --- | --- | --- | --- |
| Pre-Injury % | 22.0% | 19.3% | 25.8% | 21.5% | 5.4% |
| Per-Injury Velo. | 92.8 | 91.6 | 87.4 | 84.1 | 74.6 |
| Sunday % | 25.7% | 27.1% | 21.4% | 10.0% | 15.7% |
| Sunday Velo. | 90.2 | 90.2 | 85.5 | 81 | 73.2 |
I wouldn't obsess over Tanaka's pitch selection from yesterday's start since it was just one start. A short 70-pitch start at that. What he lacked in sliders he made up for in curveballs — "My curveballs were pretty sharp today, so that's why I was throwing that a lot … I wanted to go out there and check all of my pitches," Tanaka said to Mercogliano — and his four-seamer and splitter usage was in line with the rest of the season. It would have been a red flag if Tanaka had thrown, say, 80% fastballs and just few splitters or sliders, something that may have indicated he was nursing the elbow. That isn't the case though. If he was trying to protect the elbow in some way, it doesn't show in his pitch selection.
Tanaka's biggest issue on the afternoon was his location. This guy was damn near pinpoint with his command earlier in the season, but yesterday his ability to locate was nowhere to be found, especially in the early inning. It did get a little better as the game wore on, though it never got back to what he showed earlier in the season. Tanaka was missing with fastballs by the full width of the plate at times:
He missed by a significant amount with several other pitches as well, both side-to-side and up-and-down. It wasn't every pitch — he hit the glove and dotted the corners a bunch of times as well — but much more often than we saw in any of his pre-injury starts. Elbow problems usually result in poor location — a drop in velocity tends to indicate a shoulder problem — but I think this was simply rust. Tanaka mentioned he didn't feel all the way back to normal following his last simulated game. The location is something to watch in his next start, sure, but I'm not concerned yet.
Most importantly, Tanaka looked like a healthy pitcher yesterday. He did not appear to be tentative — "He just went after it, the way you're used to seeing him do," said pitching coach Larry Rothschild to Brendan Kuty — and he didn't labor in any way. Tanaka wasn't taking a lot of time between pitches or anything like that, which pitchers will commonly do if they're uncomfortable or not 100% physically. He looked like Masahiro Tanaka with bad control, and I think that represents the best case scenario for yesterday given the circumstances. The closer he looks to normal, the better.
Tanaka's situation is a new experience for everyone. Well, at least to fans. The Yankees claim to have had pitchers in the organization successfully rehab a partial tear like this. We've never seen anything like this though. We're used to seeing a tear — even a partial one — result in Tommy John surgery almost immediately. Everything about Tanaka is unique, from his background to the way he joined the team to his extreme competitiveness, and this injury is no different. Too many pitchers have gone down with Tommy John surgery in 2014, but based on everything we saw yesterday, it looks like Tanaka just might be the pitcher who beats it.
Record Last Week: 4-3 (20 RS, 22 RA)
Season Record: 80-75 (597 RS, 628 RA, 74-81 pyth. record) 13.0 GB in ALE, 4.5 GB of WC
Opponents This Week: vs. Orioles (four games, Mon. to Thurs.), @ Red Sox (three games, Weds. to Sun.)
Top stories from last week:
Please take a second to answer the poll below and give us an idea of how confident you are in the team. You can view the interactive Fan Confidence Graph anytime via the nav bar above, or by clicking here. Thanks in advance for voting.
Given the team's current roster construction, farm system, management, etc., how confident are you in the Yankees' overall future?
Six years ago today, the final game at the old Yankee Stadium was played. The Yankees won that game 7-3 over the Orioles. Here's the box score. Jason Giambi had the last hit and Jose Molina had the last homer at the old ballpark. Andy Pettitte started and Mariano Rivera recorded the final three outs. Derek Jeter gave a memorable speech (video above) and the team made a trip around the warning track after the game. I remember watching it and feeling like they had just won the World Series. It was that kind of ceremony. Never gonna forget that night.
Here is your open thread for the last few hours of the weekend. The ESPN Sunday Night Game kinda stinks, it's the Reds at the Cardinals (Simon vs. Lynn). The late NFL game is the Steelers and Panthers. Talk about those games, the final game at Yankee Stadium, this afternoon's win, or anything else right here.

Source: FanGraphs
All things considered, Sunday afternoon's 5-2 win over the Blue Jays might have been the most important game of the Yankees' season as Masahiro Tanaka returned to the rotation after more than three months on the shelf. He and his right elbow are mighty important to the team going forward. Let's recap series-winning win:
The Return: Tanaka's return went as well as we could have reasonably expected. He was rusty, particularly with his location, but he didn't shy away from his splitter or slider (or curveball) and it didn't look like he was holding anything back, so to speak. Didn't seem tentative at all. Tanaka ended the day right at 70 pitches (48 strikes, six swings and misses) and his pitching line was fine (5.1 IP, 5 H, 1 R, 0 BB, 4 K), though the performance is secondary to his health. With the caveat that they have to see how he feels in the coming days, Sunday's return was overwhelmingly positive for the Yankees and Tanaka.
Three Taters: The Blue Jays scored a quick first inning run on two singles and a double play, but the Yankees answered right back with a Brian McCann solo homer in the bottom half of the inning. The score remained 1-1 until the fifth inning, when Brett Gardner unloaded on a Drew Hutchison pitch for a solo homer. It was his 17th (!) of the season. Back-to-back doubles in the seventh by Gardner and Derek Jeter created New York's third run, then the fourth and fifth came off the bat of McCann, who hit his second homer of the game as the next batter. I declare it the most aesthetically pleasing homer of the 2014 season. Here, watch. All three homers were bombs. No doubters.
Bullpen: Weirdly, the Yankees' least effective reliever on the afternoon was Dellin Betances. He allowed a run on a single (Jose Reyes), two stolen bases, and another single (Edwin Encarnacion). Encarnacion's was off the wall, one of those "he hit it so hard it was a single" jobs. Adam Warren replaced Tanaka in the sixth and stranded a runner with two strikeouts, then threw a perfect seventh as well. His last two outings have been very good. David Robertson pitched around a two-out walk to close out his 38th save. Really hope he gets to 40 for no reason in particular.
Leftovers: Gardner made #toomanyhomers history. His solo shot was the 15,000th homerun in Yankees history, easily the most among the 30 clubs (Giants are second with 13,984) … the Yankees hit three homers as a team for the first time in nearly a month, since the makeup game in Kansas City. It's only their eighth 3+ homer game of the season … Gardner, Jeter, McCann, and Ichiro Suzuki all had two hits apiece. The rest of the lineup went 0-for-16. McCann, Chris Young, Chase Headley, and Frankie Cervelli (two) had the walks.
The box score and video highlights are at MLB.com. FanGraphs has some other stats and ESPN has the updated standings. At this very moment, the Yankees are four games back of the second wildcard spot with seven games to play. Their elimination number is five and FanGraphs has their postseason odds at 0.2%. Big Mike Pineda and Wei-Yin Chen will be on the bump for Monday night's series opener against the Orioles. There are only four home games left in the season/Jeter's career, so head over to RAB Tickets if you want to catch any of them live.