By

Via Steven Marcus: The preliminary stages of Alex Rodriguez's appeal will begin this week. MLB officials, A-Rod's legal team, and arbitrator Frederic Horowitz will meet Wednesday to discuss the evidence and possibly even set a date for the hearing. The case isn't expected to be heard until sometime in November or December.

Rodriguez, 38, was suspended a record 211 games for his ties to Biogenesis earlier this month. He was the only one of the 14 suspended players to appeal the ban. A-Rod is allowed to play during the appeal (obviously) and he came into Sunday's game hitting .280/.359/.451 (125 wRC+) with four homers and three steals in 92 plate appearances. He is expected to appear in front of the arbitrator at some point during the actual hearing. Horowitz can overturn, uphold, or reduce the suspension. · (17) ·
The Yankees have won the first two games of this all-important series against the Orioles, but, like I said yesterday, that means nothing now. It's a new day and a new challenge. Those benefit of those two wins — New York jumped both the Indians and Orioles in the standings and now only have to pass the Athletics or Rays to secure a wildcard spot — can be erased in a heartbeat if they don't continue to play well. Every game is a playoff game. Here's the lineup that will face southpaw Wei-Yin Chen:
And on the mound is left-hander Andy Pettitte, whose last three starts have gotten progressively better. Can he top the seven shutout innings (on 86 pitches) he threw last time out? Probably not, but he doesn't have to do. Just give 'em a chance to win.
It poured in New York this morning and right now it's that post-rain hot and humid type of weather. There are more showers in the forecast later tonight, but nothing that should impact the game unless it goes deep into extra innings. I suppose they might start in a delay if they need more time to prep the field, but it stopped raining a good two hours ago now. First pitch is scheduled for a little after 1pm ET and can be seen on YES locally and TBS nationally. Enjoy.
12:05pm: Mesa was giving his unconditional release, not designated for assignment. So even if he were to clear waivers, he is done with the organization. Mesa had tools, just sucks he never figured out how to make even halfway consistent contact.
11:16am: Nix was transferred to the 60-day DL and Mesa was designated for assignment to clear the two 40-man spots. Melky2.0 will be out of options next year and would have been a DFA candidate this winter. At least now he might sneak through waivers due to the injury.
10:22am: The Yankees have called up five players from Triple-A Scranton: IF David Adams, RHP Dellin Betances, LHP Cesar Cabral, RHP Brett Marshall, and C J.R. Murphy. RHP Preston Claiborne is expected to rejoin the club tomorrow, but OF Melky Mesa has a significant hamstring injury and will not be called up this month. Teams can carry up to 40 players on their active rosters as of today. It's unclear if the Yankees are planning any more call-ups after Claiborne unless there's an injury or something.
Adams, Betances, and Marshall were all up with New York earlier this season, so it's no surprise they were brought back. The Adams and Betances call-ups are pretty straight forward — they'll provide infield and bullpen depth. I wouldn't expect Betances to see any kind of high or even medium leverage innings right out of the gate. Marshall is stretched out as a starter and since he's now available as a long man, David Huff could move into a more traditional lefty specialist role alongside Boone Logan. That would be helpful down the stretch.
Cabral, 24, nearly made the team as a Rule 5 Draft pick out of Spring Training last year before fracturing his elbow. The job went to Clay Rapada instead. He has a 5.40 ERA (3.61 FIP) overall in 36.2 innings across various minor league levels since returning from the injury, but he has been better against same-side hitters (2.36 FIP and 34.7% strikeout rate) in a small sample. Cabral figures to see time as the third lefty specialist behind Logan and Huff. With Logan due to become a free agent this winter, Cabral could also be auditioning for a spot in next year's bullpen a la 2008 Phil Coke.
The 22-year-old Murphy has hit .269/.346/.426 (~118 wRC+) with 12 homers in 468 plate appearances split between Double-A Trenton and Triple-A Scranton this year. He's also thrown out 50 of 136 attempted base-stealers (37%). Yesterday we heard it was "very likely" he would be called up. Murphy, the team's second round pick in the 2009 draft, will serve as the third catcher and doesn't figure to play much as long as the Yankees remain in the wildcard race. He'll catch bullpens on the side and soak up the whole MLB experience instead.
No word yet on how the team opened 40-man roster spots for Murphy and Cabral, but the Yankees have 60-day DL candidates in Jayson Nix (hand), Zoilo Almonte (ankle), and Travis Hafner (shoulder). Both Murphy and Cabral would have been Rule 5 Draft eligible this winter, so the Yankees simply sped up the process and added them to the 40-man a few weeks early. All five call-ups are with the team and will be available for this afternoon's game.
Both C J.R. Murphy and RHP Brett Marshall were late scratches for Triple-A Scranton tonight, according to Donnie Collins. That almost certainly means both guys will be coming up when rosters expand tomorrow. Earlier today we heard Murphy was "very likely" to get the call. Chris Cotillo says LHP Cesar Cabral will be called up as well, which is fun. He almost made the team out of Spring Training last year before fracturing his elbow. Cabral and Murphy will require 40-man roster moves.
Triple-A Scranton (3-2 win over Lehigh Valley)
LF-3B Ronnie Mustelier: 1-4, 1 R, 1 HR, 1 RBI, 1 K, 1 E (fielding) — second homer in his last three games
1B Randy Ruiz:1-3, 1 R, 1 HR, 1 RBI — second homer in as many days … he was ejected by the first base umpire for arguing something
RHP David Herndon: 2 IP, 1 H, 0 R, 0 ER, 0 BB, 1 K, 4/0 GB/FB — 15 of 21 pitches were strikes (71%)
RHP Jairo Heredia: 4 IP, 5 H, 2 R, 2 ER, 1 BB, 3 K, 8/2 GB/FB — 45 of 68 pitches were strikes (66%) … just called up from Tampa to help the depleted staff … I guess the plane was late otherwise he would have started the game

Source: FanGraphs
Playing a division rival in a tight race for a playoff spot? No problem, hand the ball to your ace. With CC Sabathia struggling and Hiroki Kuroda hitting a wall, Ivan Nova grabbed hold of the staff ace moniker with a brilliant performance in Saturday's huge win over the Orioles. Let's recap the 2-0 victory:
SuperDuperNova: By Game Score (85), Nova's three-hit shutout of the O's was the best start by a Yankee since Sabathia last September (this game). All three hits were singles, and he also walked one and hit two batters with pitches. Nova got ten (!) swings and misses out of 38 curveballs while striking out five and getting eleven ground ball outs. Other than Chris Davis' fly out in the ninth — Ichiro Suzuki admitted to trolling fans by acting like it was a homer — none of the eleven fly balls were scary. Nova was dominant against a very good offense. He was marvelous. What a turn around for him.
Don'tcha Know: Nova needed to be great because the offense didn't give him much room to work with. First inning doubles into the right field corner by Brett Gardner and Robinson Cano gave the Yankees an early 1-0 lead, and the score stayed that way until Cano plated an insurance run with a monster solo homer leading off the eighth. Two runs, that was it. Once again, Robbie was the man who made it happen.
Leftovers: Really rough day for Derek Jeter, who went 0-for-4 and grounded into rally-killing double plays in the fifth and seventh innings … Cano, Gardner, and Lyle Overbay had two hits apiece while the other six hitters in the lineup went a combined 1-for-19. The one was a Curtis Granderson bloop double … Mark Reynolds drew the only walk.
MLB.com has the box score and video highlights, FanGraphs some other stats, and ESPN the updated standings. Regardless of who wins tonight's Rays-Athletics game, the Yankees will be four games back of the second wildcard spot in the loss column. They jumped over the Orioles and into third place (by percentage points) in the AL East with the win and there are now no teams between New York and that second wildcard spot. That's huge. Cool Standings gives them a 13.6% chance to make the postseason at the moment. Andy Pettitte will look to complete the sweep on Sunday afternoon against fellow southpaw Wei-Yin Chen. RAB Tickets can help get you in the door if you want to watch live.
A reader named Josh sent me a link to that video yesterday and even though it's not Yankees related, it's worth sharing. During the filming of a documentary about Twins prospect Miguel Sano, the producers strapped a camera to the home plate umpire's mask for a great behind-the-plate view of a Sano at-bat. It's a perspective we never get to see as fans. Pretty awesome.
Here is your open thread for the night. The Mets are playing the Nationals (Wheeler vs. Haren) and MLB Network will air a game (teams depend on where you live). I'm sure there's college football on someplace as well. Talk about any of those games or anything else here. Go nuts.
By

Via Chad Jennings: Brian Cashman confirmed Melky Mesa will not called up when rosters expand tomorrow because his hamstring injury is far too significant. The outfielder left a Triple-A Scranton game after running out a ground ball last week.

Mesa, 26, hit .261/.295/.452 (105 wRC+) with 13 homers and 13 steals in 332 plate appearances for the RailRiders this year while going 5-for-14 (.385) during a brief stint with the big league team a few weeks ago. Although the Yankees have five outfielders on their current roster, Mesa would have been a great pinch-runner/defensive replacement option in September. Real tough break for him too. · (14) ·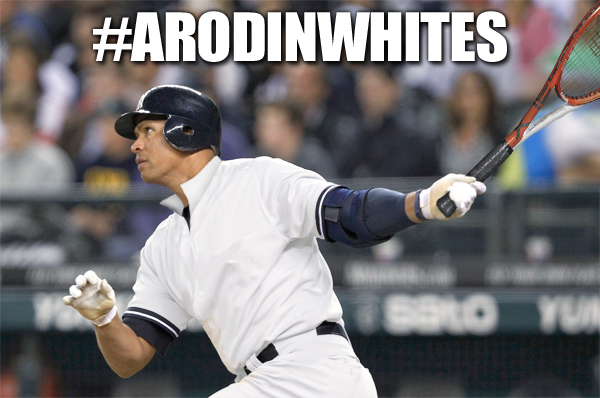 If you love tennis and like A-Rod parodies, you'll probably enjoy the latest from our ticketing partners at TiqIQ. One person that likes their US Open page and posts a reason why they love tennis, A-Rod, and/or wants to go to the Open gets a free pair of US Open tickets for Tuesday or Wednesday. They're calling it the #ARodInWhites contest and it's just for Yankees fans.
Click here to enter to contest.
Last night's series-opening win against the Orioles was great and it means nothing now. This is a new day and there's a new game to win. That's how the Yankees have approach the rest of the season because they simply can't afford to sit around an enjoy a win for much time. They might not make it to the postseason, but you know what? These are playoff games right now. It's October in August. Here's the lineup Joe Girardi is running out there against right-hander Scott Feldman:
And on the mound is right-hander Ivan Nova. His last three starts have been a little shaky but not complete disasters. The Yankees did manage to win all three games, thankfully. Nova walked a career-high tying six batters last time out and if he does that against the Orioles, it'll be a big problem. They rank dead last in the AL in walk rate (6.7%) and first in MLB in homers (178).
It's another warm and humid day in New York, and there are some showers in the forecast for later this afternoon. It doesn't look like they will impact the game unless it goes to extra innings or something, but who really knows with the weather. The game is scheduled to begin a little after 1pm ET and can be seen on YES locally and MLB Network nationally. Enjoy.
Injury Update: Eduardo Nunez (knee) is available off the bench today. No offense to Eduardo, but hopefully the starters stay healthy and they don't need him.
By

Via Joel Sherman: The Yankees are "very likely" to call up J.R. Murphy to be the third catcher once rosters expand in September. He has to be protected from the Rule 5 Draft this coming offseason anyway, so they'll get it out of the way early and let him spend a month in the big leagues. Austin Romine and Chris Stewart are the only catchers on the 40-man roster at the moment with Frankie Cervelli injured/suspended. I assume Jayson Nix (broken hand) will be transferred to the 60-day DL to clear a roster spot.

Murphy, 22, is hitting .269/.346/.426 (~118 wRC+) with 12 homers in 468 plate appearances split between Double-A Trenton and Triple-A Scranton this year while throwing out 50 of 136 attempted base-stealers (37%). The RailRiders currently have three catchers on the roster and their season ends on Tuesday (they aren't going to the playoffs), so I wouldn't be surprised if the Yankees called up Murphy tomorrow instead of waiting for Wednesday. I wouldn't expect him to play much down the stretch — he'll catch bullpen sessions to learn the staff, that kind of stuff — but just being in the big leagues is valuable experience and a nice reward for a strong year. · (65) ·