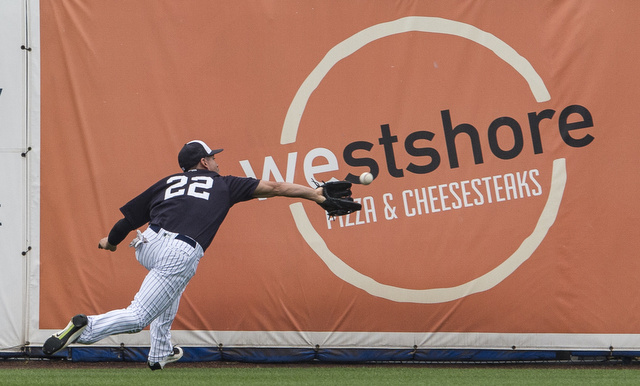 Eight days after taking a Julio Teheran fastball to his right wrist, Jacoby Ellsbury returns to the lineup this afternoon. Tests showed no fracture, but the team had to wait for the soreness and inflammation to clear out. Ellsbury took batting practice the last few days and says he's good to go. That's good news. The Yankees really need him at his best this summer.
The Twins made the trip up from Fort Myers for this afternoon's game, and old friend Phil Hughes will be on the mound for them. He's started three regular season games against the Yankees the last two years. Gosh, it feels like we were following him in the minors just the other day, doesn't it? Time flies, man. Anyway, here is the Twins' lineup and here is the Yankees' starting lineup, which looks pretty close to what we figure to see on Opening Day:
CF Jacoby Ellsbury
SS Didi Gregorius
RHP Nathan Eovaldi
Available Pitchers & Position Players: None of the reporters in Tampa tweeted out the lineup card this morning, so I'm not sure who the reserves are today. Chad Jennings says IF Abi Avelino, 3B Miguel Andujar, and 1B/OF Tyler Austin are among the players up from minor league camp and on the bench though.
It's an okay afternoon for baseball in Tampa. Cloudy with temperatures in the mid-80s and a pretty gross level of humidity. This afternoon's game will begin just after 1pm ET and you can watch live on YES, MLB Network, and MLB.tv. MLB Network will be blacked out in New York but not in the Twins' home market. Enjoy the game.