The non-waiver trade deadline is now one week and one day away, and we've got a pretty good idea of which teams will be sellers and which will be buyers. The Yankees, like or not, will be buying. Yesterday's Chase Headley trade confirmed that. They're 1.5 games out of a playoff spot in Derek Jeter's final season and selling just isn't something they've done during the Steinbrenner era. Rotation help is a clear need, ditto an upgrade in right field. Possibly second base too, though they might be able to solve that internally.
At 47-53, the Twins have the ninth worst record in baseball, and GM Terry Ryan recently told Rhett Bollinger he is planning to listen to trade offers for his veteran players over the next eight days. "We're in a tough spot right now and we've been in a tough spot for four years, so you have to listen. And that's what we do," said Ryan. Outside of Brian Dozier, hometown guys Joe Mauer and Glen Perkins, and probably the resurgent Phil Hughes, I'm not sure Minnesota has any untouchables.
I've been splitting these Scouting The Market posts up into position players and pitchers by team, but the Twins have an amazingly thin roster, so I'm going to lump all of their trade chips together into one post. Prying Dozier and his right-handed pop/above-average defense at second base loose would be an amazing get for the Yankees, but I just don't see it. Here's a look at the Twins players who are actually available and possible fits for the Yankees.
OF Josh Willingham
The 35-year-old Willingham has consistently been an above-average hitter since breaking into the league full-time in 2006 — his 117 wRC+ in 2007 was his lowest from 2006-12 — and his best season came in 2012, his first in Minnesota. He hit .260/.366/.524 (142 wRC+) with 35 homers that year, which was the first covered by his three-year contract worth $21M. In hindsight, the 2012-13 offseason was the perfect time to trade him. His value was never getting any higher.
Willingham dropped down to .208/.348/.368 (102 wRC+) with 14 homers in 471 plate appearances last season while missing a month and a half with cartilage damage in his left knee. This year he is sitting on a .212/.358/.412 (116 wRC+) batting line with nine homers in 215 plate appearances around a hairline fracture in his left wrist that sidelined him for almost two months. (He suffered the injury on a hit-by-pitch.) As the batted ball data at Baseball Heat Maps shows, the average distance of the balls Willingham has hit in the air is holding steady, which is encouraging: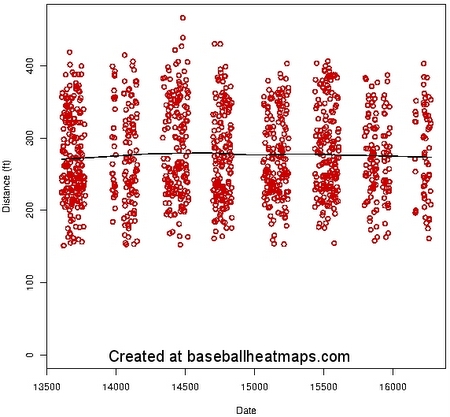 The Yankees have only gotten 16 homers out of their right-handed hitters this season and right-handed power is Willingham's best tool. He might not ever hit 35 homers like he did two years ago again, but his .200 ISO is in line with his career average (.214). He's actually hitting more balls in the air than ever before (29.1% grounders), which helps explain his career worst .250 BABIP. Fly balls are often easy outs. Willingham has always drawn a ton of walks (16.7% this year and 12.0% career) and, frankly, that's something the Yankees need in addition to his righty pop. He isn't going to hit for much average, but if healthy he'll hit the ball out of the park and still get on base at a respectable clip.
Willingham has played left field exclusively the last five years, which is a problem. He has only 264.1 career innings in right and they all came way back in 2009. The Yankees would be asking him to play an unfamiliar position by sticking him in right. Willingham's contract is a non-issue since he's in the final season of his deal and similar rental outfielders like Ryan Ludwick and Shane Victorino have not cost much in recent years, so the left field/right field thing is the only problem. He'd be a fantastic addition to the lineup. It's just a question of where he'd play.
3B Trevor Plouffe
Plouffe, 28, made a name for himself by hitting 24 homers two years ago even though it came with a less than impressive .235/.301/.455 (105 wRC+) batting line. Leg and wrist problems limited him to 14 homers and a .254/.309/.392 (93 wRC+) line last year, though this season he's rebounded to hit .243/.315/.413 (102 wRC+) with seven homers and an already career-high 29 doubles in 355 plate appearances. Plouffe did miss time with a ribcage/oblique problem last month.
Like Willingham, Plouffe's calling card is his right-handed power. He owns a .170 ISO this year and a career .171 ISO, which is solidly above-average, though he has actually hit for more power at home in spacious Target Field (.187 ISO) than on the road (.153 ISO) over the years. The spray charts show Plouffe does the most damage when he pulls the ball to left, which fits well with Target Field but not Yankee Stadium. Teaching a guy to go the other way to hit for power is not something that is easy or can happen overnight.
The various defensive stats say Plouffe is a below-average defender but not a disaster at third base, though that position is no longer a problem with Headley on board. He also has experience at first base, second base, and in the two corner outfield spots, so there would be ways to get him into the lineup, plus he'd give the team third base protection next year. Plouffe is what he is, a low batting average third baseman with some power and just enough walks (7.5% career) to get on base three out of ten times. He's making $2.35M this year, his first of four years of arbitration-eligibility as a Super Two, so there's a good chance he'll be a non-tender candidate soon. Mark Reynolds was traded for two Triple-A relievers at a similar point in his career, and he hit 44 homers the year before the trade, so yeah. The price shouldn't be high.
RHP Kevin Correia and RHP Samuel Deduno
The Yankees need some innings, right? Well, these two can given them. I'm not saying they'll be quality innings, but they'll be innings. The 33-year-old Correia has a 4.76 ERA (4.35 FIP) in 20 starts and 113.1 innings this year, and over the last few seasons he's been consistent 4.40-ish FIP guy who misses zero bats (4.29 K/9 and 10.8 K%) but limits walks (2.30 BB/9 and 5.8 BB%). His ground ball rate (41.2%) isn't anything special either. Correia would be a pure rental (owed another $2M or so), but, in addition to not being very good, he doesn't really fit what the Yankees look for in a pitcher, namely grounders and/or strikeouts.
Deduno, 31, has been a swingman for Minnesota this year, pitching to a 4.32 ERA (4.05 FIP) in 73 innings across eight starts and 13 relief appearances. Last season he managed a 3.83 ERA (4.04 FIP) in 108 innings as a full-time member of the rotation (for half the year). Unlike Correia, Deduno has some bat-missing ability (7.15 K/9 and 18.1 K%) and really excels at getting grounders (55.2%) thanks to his heavy upper-80s sinker. The pitch runs all over the place (4.07 BB/9 and 10.3 BB%) and he backs it up with a hard low-80s curveball. The Yankees just brought in Brandon McCarthy for his ground ball heavy ways and adding Deduno would be along the same lines, though he doesn't offer the same name value. Both Deduno and (especially) Correia figure to come cheap. Deduno is still in his pre-arbitration years, by the way.
Miscellaneous Relievers
The Twins seem to have a knack for rostering relievers I've never heard of. Their primary setup men ahead of Perkins are righty Casey Fien (2.34 ERA and 3.23 FIP) and lefty Caleb Thielbar (2.81 ERA and 3.26 FIP), who bounced around waivers and signed out of an independent league, respectively. Lefty Brian Duensing (2.35 ERA and 3.90 FIP) has been around a while and been used in every role imaginable, but this year he's settled in as a one-inning reliever. Not necessarily a matchup guy either. Veteran retread Matt Guerrier (3.86 ERA And 3.92 FIP) and long man Anthony Swarzak (4.34 ERA and 3.37 FIP) don't excite anyone. Meh. I don't think you could convince me any of these guys would be a real help going forward, but more pitching never hurt anyone.
* * *
Willingham is the best fit for the Yankees among players on the Twins roster who figure to actually be available, though acquiring him would mean someone would have to play out of position in right field. It would either be him or Brett Gardner. That's not ideal. His right-handed power would be a huge help for the offense though. Plouffe is an expensive utility man who can hit the ball out of the part and, as always, the Twins really don't have many interesting pitchers. They continue to shoot themselves in the foot with that "okay stuff, no strikeouts, pitch-to-contact" profile. I'd be all for a Willingham trade if I only knew how they'd get him into the lineup defensively.
By

The Yankees have placed Kelly Johnson on the 15-day disabled list with a left groin strain, the team announced. Right-hander Chris Leroux was called up from Triple-A Scranton to replace him on the roster. Bruce Billings was designated for assignment to clear a 40-man spot for Leroux.

Johnson left last night's game with what was initially called a cramp, but he went for an MRI that showed the strain. Leroux was scheduled to start for the RailRiders today, so he'll be able to give the Yankees a bunch of innings out of the bullpen if needed following last night's 14-inning marathon. Hopefully the three-man bench, eight-man bullpen setup will only last a few days. · (78) ·
By

Carlos Beltran started a new throwing program yesterday, Joe Girardi told Chad Jennings. Once he is able to throw without discomfort due to the bone spur in his elbow, the Yankees can resume playing him in right field rather than at DH everyday.

Beltran, 37, started a throwing program a few weeks ago but had to be shut down after a few days because of soreness. He admitted to still feeling some lingering discomfort three weeks ago. Beltran is not good defensively by any stretch of the imagination, but being relegated to DH really limits Girardi's flexibility with the lineup. Being able to stick him out in right even two or three times a week opens up some more lineup possibilities. · (58) ·
Yesterday we looked at the pitchers the Phillies could offer at the trade deadline, and they have two gems in Cole Hamels and Cliff Lee. Now let's look at the position players. Philadelphia doesn't have any impact position players to trade — Chase Utley has already said he would use his no-trade clause to remain with the team — but they do have a few usable pieces. Here are the potential fits for the Yankees.
OF Marlon Byrd
The Yankees have zero right-handed power right now. Their righty hitters have managed 16 homeruns in 99 games this year, six of which were hit by the departed Alfonso Soriano. Unless switch-hitters Mark Teixeira, Carlos Beltran, and Chase Headley are facing a southpaw, the team's best power threat from the right side is Zelous Wheeler. That's not good and adding some right-handed firepower to the lineup is a clear need leading up to the trade deadline.
Byrd, 36, is currently hitting .266/.319/.480 (120 wRC+) with 19 homers this season, one year after resurfacing with the Mets (and Pirates) and going deep 24 times. He was very nearly out of baseball in 2012 — Byrd had a 27 wRC+ in 153 plate appearances that year before being suspended for a failed performance-enhancing drug trade — but he reinvented himself as an all-or-nothing slugger following that season. Byrd basically swings from his heels all the time now, and the result is a lot of power (.214 ISO this year, .220 last year, .151 career) and a lot of strikeouts (28.7% this year, 24.9% last year, 18.9% career).
There is a tangible reason for Byrd's transformation as a hitter (both Jason Collette and Jeff Sullivan have written about it more in depth) and his performance this year is right in line with last year. He is hitting a few more fly balls in general but his 16.7 HR/FB% is the same as last year (16.6% in 2013, to be exact). His plate discipline stats are roughly the same and his .337 BABIP is actually lower than last season's .353 mark. After nearly 1,000 plate appearances, I think it's safe to say Byrd's swing hard all the time style is conducive to a high BABIP. If you're willing to live with the strikeouts — the Yankees as a team have the fifth lowest strikeout rate in baseball at 18.4% — he'll give you plenty of right-handed thump.
The Phillies signed Byrd to a very reasonable two-year contract worth $16M over the winter (there's also a vesting option for 2016 based on plate appearances) and he is in demand at the trade deadline. The MLBTR archives show the Royals, Mariners, and Reds are among those interested in acquiring him. The Yankees are not included in Byrd's four-team no-trade list according to Jim Salisbury, and he would fit nicely as the team's everyday right fielder/number six or seven hitter. The Mets traded a half-season of Byrd for a Triple-A reliever (Vic Black) and a good but not great Single-A prospect (Dilson Herrera) last year, though I suspect the price will be a big higher this summer because he's shown his resurgence isn't a fluke.
1B/OF John Mayberry Jr.
Don't want to pay the price for Byrd? Fine, the 30-year-old Mayberry is a cheaper alternative. He is currently hitting .213/.304/.418 (104 wRC+) with six homers in 138 plate appearances overall, including .255/.339/.582 (155 wRC+) against lefties. Over the last three seasons he's managed a .259/.314/.498 (120 wRC+) line against southpaws and only a .220/.286/.341 (73 wRC+) line against righties, so Mayberry is strictly a platoon option. Considering what the Yankees have gotten out of right field this year, playing him everyday might still be an upgrade.
A few weeks ago we heard the Bombers were scouting Mayberry and that makes sense. He's cheap ($1.59M salary this year) and under team control as an arbitration-eligible player through 2016, plus he can play both corner outfield spots and first base in a pinch. A real live backup first baseman. Imagine that. We aren't talking about a difference maker, just a nice role player. Mayberry would instantly become the team's best right-handed power hitter and he should come relatively cheap — similar players like Scott Hairston and Justin Ruggiano cost nothing more than fringe prospects over the last calendar year. The Phillies placed Mayberry on the 15-day DL with wrist inflammation just yesterday, so a trade would either have to come in August or while he's injured.
OF Domonic Brown
Remember all those Brown for Dellin Betances rumors? Those were fun. Last year the Yankees looked dumb for not making the trade (not that is was ever on the table, as far as we know) and this year they would be morons to doing it. Brown has been one of the very worst position players in baseball this year, hitting a weak .227/.279/.327 (66 wRC+) with six homers while playing awful defense in left field. That 66 wRC+ ranks 157th out of 161 qualified hitters. The raw production is slightly better than what Soriano (60 wRC+) gave the Yankees this year.
Of course, the 26-year-old Brown hit .272/.324/.494 (124 wRC+) with 24 homers and was an All-Star last season, when it looked like he was finally starting to turn his talent into results. Eighteen of those 24 homers came in the months of May and June though (12 in May alone), so over the last calendar year he has hit a soft .236/.292/.337 (74 wRC+) with only nine homers in 136 games. Brown is not a high-strikeout hitter (18.1% this year and 18.4% career) but he does struggle against lefties and is beating the ball into the ground this year. He's a project. No doubt about it.
Buying super low on Brown as a reclamation project seems like a great idea, except he's out of options and can't go to the minors to work on things. At least not without clearing waivers, which would never happen no matter how poorly he hits. Someone would take a chance on him. Can the Yankees afford to stick him in right field everyday and hope hitting coach Kevin Long can fix whatever needs to be fixed? I'm not sure. The Phillies have been shopping Brown since the offseason and I don't think acquiring him would be all that tough. I'm just not sure what the Yankees would do with him other than stick him in right and cross their fingers.
* * *
As I mentioned earlier, Utley has all but said he wants to remain with Philadelphia and would block any trade. Jimmy Rollins has indicated the opposite — he would be open to accepting a trade to a contender. I don't think Rollins, who has played one-third of an inning at a non-shortstop position in his entire professional career, is a fit for the Yankees right now, but I fully expect a winter of Rollins-to-New York rumors after Derek Jeter retires. Get ready for it. It's coming.
Catcher Carlos Ruiz makes no sense for the Yankees and don't even bring up Ryan Howard. Did you realize he's hitting .222/.302/.378 (88 wRC+) this year? Forget him. Just a name at this point. Left-handed hitting third baseman Cody Asche is hitting .256/.308/.401 (96 wRC+) with poor defense but is only 24, so that makes him kinda interesting. He wouldn't help the 2014 Yankees all that much — they wouldn't need him to with Headley now on board — but he might be useful in the future. Byrd and to a lesser extent Mayberry are good fits for a Yankees team in need of right-handed power. Both are available and both would make a lot of sense.
By

12:37am: Johnson felt something in his groin and is heading for an MRI. That's never good. Sounds like he'll be out a few days at the very least.

10:20pm: Kelly Johnson exited tonight's game with some sort of injury. He took the field in the top of the 11th before Joe Girardi and the trainer came out to check on him. He tried to run before leaving the game. Replays showed Johnson pulling up lame running out a ground ball in the previous half-inning. Hopefully it's just a cramp. We'll find out soon enough. · (27) ·
Just when I thought these Yankees couldn't get any worse, they go and do something like this … AND TOTALLY REDEEM THEMSELVES! Seriously, that was the worst best game of the year. I loved it and hated it at the same time. The Yankees won but really, we all still lost in a way. The final score was 2-1 in 14 innings.
The New Guy
Just as we all expected when we woke up Tuesday morning, Chase Headley delivered a walk-off single to give the Yankees the win over the Rangers in the second game of their four-game series. New York acquired their new third baseman from the Padres in the afternoon, he joined the team after flying in from Chicago, arrived at Yankee Stadium in the second inning, pinch-hit in the eighth, and still managed to get four at-bats. Pretty hectic day, I imagine.
Before Headley could earn his True Yankee status, his new teammates had to rally to tie the game in the bottom of the 13th. Catcher turned first baseman J.P. Arencibia took David Huff deep for a solo homer in the top half of the inning, and it really did feel like the end of the game. The Yankees looked so inept for 17 innings dating back to Monday that scoring a run felt like impossible. Naturally, after struggling against no names all night, they pushed across the tying run against Joakim Soria, the best available pitcher on the Rangers' staff.
Brett Gardner led off the 13th inning with a pure hustle double to right, using his speed to barely beat out Shin-Soo Choo's throw. The play was really close. Derek Jeter bunted Gardner up to third and, for whatever reason, Texas elected to pitch to Jacoby Ellsbury with first base open. He singled to right to knot the game up. Ellsbury's come up with a ton of huge hits this season so far. At least it feels that way. He advanced to third on Carlos Beltran's single but was stranded when Brian McCann banged into an odd 3-6-3 double play. It appeared Arencibia let the ball drop in rather than catch it for one out.
Anyway, the 14th inning rally started with another double, this one a one-out ground-rule job by Brian Roberts. I'm not sure if he would have gotten to second base on the play without the ball going over the wall. Thankfully it did. Frankie Cervelli followed with a ground ball single to right, though it was hit hard enough that Roberts had to hold at third. Headley followed up with the walk-off single, a nice little piece of hitting the other way on a sinker on the outer half. This game felt like it was never going to end. Pretty awesome that the new guy got to show off some #hitvelo and contribute directly to the win.
Nick, Not Pedro
One day after getting shut down by someone named Miles Mikolas, the Yankees managed three singles and one walk in 5.1 innings against rookie Nick Martinez. He retired 14 of the final 16 batters he faced and took the ball into the sixth inning despite being on a 65-ish pitch count in his first start off the disabled list. I imagine Headley was probably sitting in the dugout hoping he could go back to the Padres to play with a team that could score runs. (I kid, I kid.)
The Yankees didn't get their first base-runner to second base (!) until Derek Jeter doubled to left with one out in the ninth. He was stranded after Ellsbury was intentional walked and Beltran hit into a 6-4-3 double play. Two two-out walks (Gardner and Jeter) were wasted in the 11th when Ellsbury grounded out. Two singles (Beltran and McCann) and an intentional walk (Roberts) loaded the bases with one out in the 12th, but the Rangers escaped the jam when Cervelli lined out to Adrian Beltre at third and Headley grounded out. It was remarkable. They were finding new and interesting ways to not score each inning.
Before Soria blew the save, the Yankees managed only six hits and five walks in 12 innings against a parade of mostly replacement level arms. Between Martinez and some relievers, 23 of 25 Yankees made outs from the first through ninth innings. That's unbelievable. There was some hard contact against Martinez in the first two innings but nothing after that. The Yankees rolled over on a lot of weak grounders or popped up hittable pitches until Jeter doubled in the ninth. This offense, man. It makes you want to pull your hair out sometimes.
The Return of Ace Whitley
The pitching line is fantastic — 6 IP, 7 H, 0 R, 0 ER, 0 BB, 6 K 8/2 GB/FB — and Chase Whitley was far better than he had been in his previous four starts, but the Rangers definitely bailed him out with some shoddy base-running. Whitley put the leadoff man on base in the first, second, third, fourth, and seventh innings, though Texas had a man thrown out at third trying to advance on a ball in the dirt in the third, then had another runner thrown out at home in the fifth. It was a soft ground ball back up the middle that Roberts fielded but was unable to throw to first for the out, yet for whatever reason Robinson Chirinos chugged on home after rounding third. He was out at home by a mile.
Whitley was a little shaky but ultimately he kept runs off the board and that's all that matters. Given all the injuries, there are no style points for the team's rotation. Get outs however you can. Six relievers held the Rangers hitless for six innings (only one walk) after Whitley until Arencibia homered leading off the 13th. Adam Warren (two outs), Dellin Betances (three outs), David Robertson (six outs), and Shawn Kelley (three outs) were all pretty awesome. Jeff Francis, who I had totally forgotten was on the roster, pitched a scoreless 14th for the win. I have to think the Yankees will bring up a fresh arm tomorrow. I'm just not sure who.
Leftovers
Jeter's double was the 535th of his career, passing Lou Gehrig for the most two-baggers in Yankees history. He went 1-for-4 with a walk on the night. Gardner (two hits, two walks), Ellsbury (two hits, one walk), Beltran (two hits), and Roberts (two hits, one walk) all reached base multiple times. Kelly Johnson went 0-for-4 before leaving the game with a groin injury.
McCann had a weird night at the plate. He went 1-for-6 but there's a story behind it. McCann hit a ball to the wall in his first at-bat that Leonys Martin caught and re-caught on the way down after it plopped out of his glove mid-jump. Next time up he smashed a line drive that Arencibia robbed with a leaping catch. Later in the game, he lifted a jam shot bloop into the triangle in left field that fell in because three Rangers defenders had communication issues. McCann hit two balls on the screws and got nothing. Then he got jammed and got a hit on a weak bloop. Baseball, man.
And finally, I was disappointed to see Questlove leave the game after the 13th inning, though I can't say I blame him. It looked like he was going to hang around all night. The B-list celebrity who turned the season around?
Box Score, WPA Graph & Standings
MLB.com is the place to go for the box score and video highlights. FanGraphs has some other stats and the updated standings are at ESPN. The Orioles won and the Mariners lost, so the Yankees remain four games back of the top spot in the AL East and climbed to within 1.5 games of the second wildcard spot.

Source: FanGraphs
Up Next
The Yankees and Rangers will continue this four-game series on Wednesday night, when David Phelps squares off against Yu Darvish. That should be fun. (I'm not sure if that's the right word.) Head over to RAB Tickets if you watch to catch that game or any of the other four games left on the homestand.
Two quick notes:
IF Scott Sizemore has been transferred from the temporary inactive list to the Triple-A Scranton disabled list, reports Donnie Collins. I'm not sure what's going on there, but the temporary inactive list usually means the player had to attend to some personal stuff.
The Yankees have signed West Virginia 2B Billy Fleming as an undrafted free agent, according to Grant Dovey. He hit .357/.459/.420 with seven doubles, 20 walks, and 16 strikeouts in 30 games for the Bourne Braves of the Cape Cod League this summer. Yankees obviously saw something they liked and scooper him up.
Triple-A Scranton (7-0 win over Gwinnett)
SS Jose Pirela: 0-4, 1 BB, 1 CS — second game at short this year (zero from 2012-13)
2B Rob Refsnyder: 3-5, 1 2B, 1 K — had three hits in his last 19 at-bats combined (.158)
LF Zoilo Almonte: 1-5, 3 K
RF Adonis Garcia: 1-5, 1 R, 1 2B, 3 K
DH Kyle Roller: 0-2, 2 R, 3 BB, 1 K
C John Ryan Murphy: 1-2, 2 R, 3 BB — 9-for-27 (.333) in his last eight games
1B Austin Romine: 1-5, 1 R, 2 RBI — 11-for-34 (.324) in his last ten games
3B Rob Segedin: 2-4, 1 R, 1 HR, 5 RBI, 1 BB — grand slam in his second game at Triple-A
RHP Bryan Mitchell: 5 IP, 6 H, 0 R, 0 ER, 1 BB, 3 K, 5/3 GB/FB — 49 of 81 pitches were strikes (60%)
LHP Tyler Webb: 2 IP, 1 H, 0 R, 0 ER, 1 BB, 2 K, 0/2 GB/FB — 21 of 33 pitches were strikes (64%)
RHP Danny Burawa: 1 IP, 2 H, 0 R, 0 ER, 0 BB, 0 K, 1/1 GB/FB — eight of 14 pitches were strikes (57%)
The Yankees threw the ball all over the field and looked generally helpless at the plate last night, so they responded today by swinging a trade for third baseman Chase Headley. He might not hit, there's a chance he just stinks now, but at the very least he will be a huge upgrade at the hot corner defensively. I'm sure the pitching staff will appreciate that part of his game, if nothing else.
Headley is listed on the lineup card and is on the active roster for tonight's game, but he is not in the starting lineup. The trade went down in the early afternoon and even though the Padres are in Chicago and not San Diego, getting to the Bronx in time for the game just didn't happen. Joe Girardi told reporters Headley is expected to arrive at Yankee Stadium around 7:30pm ET and be available off the bench in the late innings. He also said he'll be the team's everyday third baseman going forward, because duh. Here's the Rangers lineup and here's the Yankees lineup:
It's a lovely day in New York. No clouds, warm but not hot, breezy but not windy. No rain in the forecast either. Tonight's game is scheduled to start a little after 7pm ET and can be seen on My9. Enjoy.
By

Michael Pineda has started facing hitters in live batting practice, Joe Girardi told Jorge Castillo over the weekend. The right-hander has already thrown one batting practice session and is expected to throw one more before advancing to simulated games and eventually minor league rehab games.

Pineda, 25, has been out since late-April with a muscle problem in his back/shoulder. He suffered a setback during a throwing session in May and has slowly been working his way back since. The Yankees can't count on Pineda to bolster the rotation at this point, not with his recent injury history, but man it would be some kind of boost if he returned sometime next month. · (41) ·
Finally, some help for the infield. The Yankees have acquired third baseman Chase Headley and cash from the Padres for utility man Yangervis Solarte and minor league pitching prospect Rafael DePaula, both teams announced. Jack Curry and Jon Heyman first reported the news and Chad Jennings says the Yankees hope he will be in town in time for tonight's game. (The Padres are in Chicago.)
Headley, 30, is owed approximately $4.2M through the end of the season, and Heyman says the Yankees will receive about $1M from San Diego. Headley is due to become a free agent after the winter and because he was acquired at midseason, the team will not be able to make him a qualifying offer to recoup a draft pick in the offseason. This is a pure rental, obviously, though things could always go so well that they re-sign him.
Through 77 games and 307 plate appearances this year, the switch-hitting Headley is hitting .229/.296/.355 (88 wRC+) with seven homers and 12 doubles. He was dealing with some back issues a few weeks ago and has hit .298/.330/.405 (110 wRC+) in 21 games since receiving an epidural. As with all Padres' position players, the hope is Headley will perform better away from spacious Petco Park. Here's what I wrote in our recent Scouting The Market Post:
Petco Park is a notorious pitcher's park, even after the walls were brought in last season. Headley is a career .286/.360/.444 (118 wRC+) hitter on the road (.243/.331/.371 (107 wRC+) at home), including a 154 wRC+ away from Petco Park in 2012 (97 wRC+ on the road from 2013-14). If the Yankees were to acquire Headley, he would be moving from one of the worst hitting parks in the game to one of the best. It would be damn near impossible for his numbers not to improve.
Headley's offensive numbers might not improve, he might just stink as a hitter now, but there is no doubt he will improve New York's dreadful infield defense. He has consistently graded out as above-average defender at third base and will be the team's best hot corner gloveman since peak Alex Rodriguez. It would be awesome if Headley hits like he did in 2012 (145 wRC+), but being nothing more than a league-average bat with his defense would be a gigantic upgrade for the Yankees.
In exchange for Headley, the Yankees gave up a spare part in Solarte and a secondary pitching prospect. The team signed Solarte as a minor league free agent over the winter and he was awesome for the first two months of the season, but his production slipped in recent weeks and he was eventually shipped to the minors. The 27-year-old has hit .254/.337/.381 (100 wRC+) in 289 plate appearances this year. Hopefully he gets a chance to play everyday in San Diego. The Solarte Partay was a blast while it lasted.
DePaula, 23, has a 4.15 ERA (3.34 FIP) in 89 innings for High-A Tampa this season. I ranked him as the team's 20th best prospect before the draft, mostly because of his high-end fastball velocity and promising slider. There are still questions about whether he is anything more than a reliever long-term. The Yankee signed DePaula for $500k out of Dominican Republic in 2010 but he did not make his pro debut until 2012 due to visa issues. He was suspended one year before signing for falsifying his identity.
It's worth noting the Blue Jays were said to be pursuing Headley as well, so the Yankees essentially took him away from a division rival and direct competitor for a postseason spot. The Bombers have now added two rentals in Headley and Brandon McCarthy, and all they've given up is a good but not great pitching prospect and two players signed off the scrap heap. I mean, they turned Solarte and Vidal Nuno into half-seasons of Headley and McCarthy. That's pretty awesome. DePaula, like most Single-A pitching prospects, was as tradeable as it gets. These moves might be not enough to put the Yankees over the top — they still need rotation help and a right fielder — but they were upgrades at minimal cost.