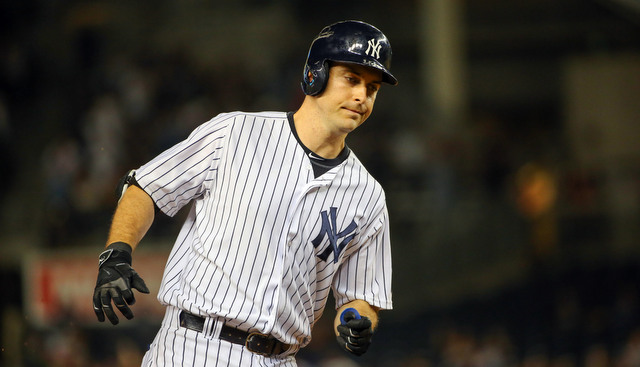 Thanks to a great June and July, the Yankees surged to the top of the AL East standings this summer. At one point their lead was as big as seven games. Several strong bounceback performances from key veteran players fueled that hot start.
And yet, the Yankees had some clear needs at the trade deadline. I thought they would aggressively look for upgrades considering they were in first place and hadn't been to the postseason since 2012, but instead they made just one minor move, acquiring Dustin Ackley from the Mariners. Ackley had more impact than I ever expected.
They Finally Got Their Man
The Yankees had been after Ackley for a long time. We first heard they were after him back during the 2013 Winter Meetings, and they tried again to get him at the trade deadline last year. The Mariners wanted Bryan Mitchell in return and the Yankees said no thanks. They finally got their man at the trade deadline this year, after a few weeks of rumors.
The three-player trade sent outfielder Ramon Flores and right-hander Jose Ramirez to Seattle for Ackley. The Yankees dealt from positions of depth — Flores was one of many upper level left-handed hitting outfielders (Slade Heathcott, Mason Williams, Ben Gamel, etc.) in the organization and the Yankees have more right-handed relievers for the Scranton shuttle than you can count.
It's worth noting both Flores and Ramirez will be out of minor league options next season, meaning they will have to stick on the big league roster or be exposed to waivers. The Yankees don't have an obvious role for either next season and surely that factored into the decision to trade them. They acquired Ackley and managed to clear the 40-man roster logjam a bit. It was a fine baseball trade. It was also the only trade the Yankees made at the Major League level this season.
Not The Best First Impression
Ackley replaced Garrett Jones in the "bench guy who rarely plays" role. Ackley is six years younger, a bit more versatile, and the Yankees controlled him beyond 2015, so it's easy to understand why they made the move. Plus there's always a chance Ackley figures things out. He is still only 27, after all.
Ackley joined the Yankees after the trade deadline, and appeared in two of the first three games with the team. He came off the bench to spell Carlos Beltran late in a blowout win on July 31st, then did the same for Alex Rodriguez late in a blowout win on August 2nd. Remember blowout wins? Those were fun. Ackley went 0-for-3 in those two games.
Two days later, Ackley landed on the 15-day with a right lumbar strain. An MRI showed a herniated disc in his back, so they gave him an epidural, though there was a chance he would ultimately need season-ending surgery. Ackley was going to miss a month at the very least. Yuck. The Yankees ended up bringing Jones back while Ackley was out.
SMACKLEY
The epidural worked. Ackley did not need surgery, was able to play in some minor league rehab games at the end of August, then was activated off the DL when rosters expanded on September 1st. I gotta say, I was not expecting that. Back problems usually don't go away that easily. Ackley had no issues whatsoever after coming off the DL, however, so hooray for that.
After returning, Ackley again slid into that "bench guy who rarely plays" role. He didn't appear in his first game after coming off the DL until September 9th, when he went 1-for-3 with a double and a strikeout in a spot start in left field. Ackley came off the bench in a blowout loss on September 11th, then again in the first game of the September 12th doubleheader.
Joe Girardi started Ackley at first base in the second game of the doubleheader to give Greg Bird a rest, then he started him at first base the next day because Ackley had great career numbers against R.A. Dickey. He was 4-for-11 (.364) with a home run against the knuckleballer. Sure enough, Ackley had a big game, going 2-for-2 with a home run and a sac fly in the win.
The big game against Dickey did not earn Ackley more time in the starting lineup. He instead came off the bench the next day and picked up a pinch-hit single in the ninth against the Rays, which sparked a four-run rally for the win. (That was the Slade Heathcott home run game.) Ackley came off the bench with a pinch-hit single the next day as well, giving him hits in four straight at-bats.
Girardi decided to play Ackley at second base on September 16th, in the series finale against the Rays. It was only his second game at second base of the season — he didn't appear at second at all in 2014 either — and while Ackley went 0-for-2 and was lifted late for defense, he showed he could handle the position. It wasn't an entirely new experience for him — Ackley played 281 games at second from 2011-13 — but he did have to get reacquainted to the position.
The Yankees traveled to Citi Field for a series with the Mets next. Ackley had a pinch-hit double in the first game, a pinch-hit triple in the second game, then started the third game at second base and went 1-for-3 with a three-run home run.
Ackley started six of the next eight games — five at second base and one at first base — and hit two more home runs. He had unofficially taken over as the everyday second baseman, though at the time we didn't know
Stephen Drew
had been dealing with concussion symptoms. It appeared the Yankees had simply benched Drew in favor of Ackley.
The Bombers faced a string of lefties at the end of the season and Rob Refsnyder cut into Ackley's playing time, but he had made his presence felt. In 23 games and 57 plate appearances with the Yankees, Ackley hit .288/.333/.654 (161 wRC+) with four home runs. He hit .215/.270/.366 (75 wRC+) with six homers in 85 games and 205 plate appearances for the Mariners before the trade. Small sample size, absolutely, but Ackley did produce in that sample. The hits and homers counted.
More Contact, More Hard Contact
Remember, Ackley is not just some guy. It wasn't too long ago that he was the No. 2 overall pick in the draft (2009) and a top 10-15 prospect in all of baseball (2010-11 according to Baseball America). The Yankees rolled the dice on a very talented player who failed to develop as expected for whatever reason. It was a change of scenery move.
The short porch seemed to agree with Ackley — three of his four home runs in pinstripes came at home — but let's look a little deeper to see if anything else changed under the hood after the trade.
| | K% | GB% | FB% | LD% | Pull% | Middle% | Oppo% | Soft% | Hard% |
| --- | --- | --- | --- | --- | --- | --- | --- | --- | --- |
| SEA | 18.4% | 45.3% | 41.3% | 13.3% | 44.2% | 32.5% | 23.4% | 16.9% | 30.5% |
| NYY | 12.3% | 39.1% | 37.0% | 23.9% | 41.3% | 37.0% | 21.7% | 13.0% | 43.5% |
I wouldn't read too much into this stuff because the sample is so small — Ackley put only 46 balls in play during his brief time with the Yankees. This is not meant to be definitive proof of a new approach or swing changes or anything like that. I was just curious to see the numbers.
Ackley didn't strike out as often with the Yankees and he did produce more hard contact — especially line drives — so that's promising. Whether it's the result of dumb luck or some sort of tangible change in his approach or swing, we don't know. I'm sure the Yankees acquired Ackley with the idea of tinkering a bit and trying to change some things. We'll have to wait until next season to see whether Ackley is truly producing more hard contact in pinstripes.
Looking Ahead to 2016
The Yankees didn't acquire Ackley in July only to non-tender him in November. He is projected to earn $3.1M through arbitration next year, which is nothing. There's no reason to think the Yankees will non-tender him. At worst, he will return in that "bench guys who rarely plays" role. But, after his late season surge, Ackley could see more playing time next year. We've already seen reports indicating the Yankees are "leaning towards" using Ackley and Refsnyder at second base next season, for example. Barring a surprise trade, Ackley will be on the roster next year. I suppose his exact role depends on how well he plays.