By

Via Peter Gammons: Brian Cashman said yesterday that the Yankees will not sign Stephen Drew. The free agent infielder is said to be "awaiting some further Yankee clarity" before signing a new contract, likely meaning he wants to see if they'll make an offer should Alex Rodriguez be suspended. If nothing else, it would give him some negotiating leverage against the Red Sox.

Drew, 30, hit .253/.333/.443 (109 wRC+) with 13 homers this past summer, includes a .284/.377/.498 (137 wRC+) line against righties. Everything you need to know about him is in the Scouting The Market post. Thanks to injuries and looming suspensions, the Yankees have questions at all four infield spots. Adding another infielder is a must if A-Rod is suspended, and, really, they should look to add one even if his ban is overturned. Drew is by far the best available free agent infielder. · (77) ·
Mason asks: Why is Ichiro Suzuki an auto-cut? Wouldn't that be Vernon Wells or is it both? I would rather cut Wells and use Ichiro as the 4th OF. Maybe I'm being a bit too sentimental but I wouldn't want to do that to Ichiro even if he is below league average in multiple ways.
I don't think Ichiro is an auto-cut at this point, but I wouldn't call his roster spot safe either. The Yankees are reportedly shopping him and it's not a bad idea to see if they can unload part of his contract. It's not like he's irreplaceable. Someone like Zoilo Almonte could do the same job for a fraction of the cost.
I definitely agree Wells is first in line to get the axe should the Yankees need a 40-man roster spot, which they inevitably will the next few weeks. Brian Roberts and Matt Thornton still need to be added to the roster, so that's two spots right there. Wells brings pretty much nothing to the table (it's remarkable, really) and he absolutely should go first.
As for Ichiro, his role right now is something of a glorified fifth outfielder. He is fifth on the outfield depth chart but because Carlos Beltran and Alfonso Soriano will split right field and DH duties, Ichiro will be the first outfielder off the bench in most games. His primary job will be pinch-running and late-inning defense in right (regardless of whether Beltran or Soriano starts in the field).
The various projection systems crush Ichiro and expect him to be replacement level-ish next year, which is not unfair. He hasn't hit at all these last three seasons and his defense slipped last year, particularly in the second half. Ichiro started only ten of the team's final 17 games in 2013 and Joe Girardi was right to marginalize him. His name value far, far exceeds his on-field value at this point.
The Yankees won so much in the late-1990s thanks in part to their veteran-laden bench, which was filled with former stars like Tim Raines and Darryl Strawberry. Those guys accepted reduced roles and thrived in limited time. I don't know if Ichiro can be that kind of player next year — he doesn't have Stawberry's power or either guy's on-base ability — but that's the best case scenario. For now, he's a bench player the team should look to unload if possible.
Hopefully all of you had a great weekend and are still basking in the holiday downtime. I've always found this last week of the calendar year to be pretty relaxing, especially after all the stressful weeks leading up to the holidays. This is pretty much my favorite week of the offseason.
Anyway, here is your open thread for the night. There is no football game and none of the hockey or basketball locals are in action. You're on your own for entertainment. Talk about whatever. Go nuts.
By

This is too great. Steve Fishman of NY Mag published some email exchanges between Randy Levine and Alex Rodriguez late last week as part of their big A-Rod feature. Apparently Levine, who is unwilling to fully type out "you" and "are," frequently emailed Alex after games to offer words of encouragement, stuff like that. Oh, and he also once said Robinson Cano "needs some steroids fast!" He really said that. (Mike Puma says Levine claims it was a "bad joke.")

The whole MLB/Yankees vs. A-Rod spectacle is pretty much everything I hoped it would be. It's completely chaotic and both sides look like total buffoons. I can't believe a team president said his best player "needs some steroids fast!" in an email to another player. That's hilarious. · (96) ·
Jag asks: Is Dean Anna any good? I know he's been a career minor leaguer, but his stats seem to be solid. Why didn't the Padres hold onto him?
The Yankees acquired Anna from the Padres for Single-A reliever RHP Ben Paullus last month. San Diego had no room for Anna on their 40-man roster, so rather than potentially lose him for nothing in the Rule 5 Draft, they flipped him for a low level minor leaguer. The Yankees needed the infield depth, so here we are. The obligatory stats:
Year
Age
Tm
Lev
PA
R
H
2B
3B
HR
RBI
SB
CS
BB
SO
BA
OBP
SLG
OPS
HBP
2008
21
2 Teams
A–Rk
181
30
35
3
0
5
24
11
1
21
31
.232
.341
.351
.692
5
2009
22
2 Teams
A–A
239
31
56
15
1
5
31
7
6
30
41
.280
.380
.440
.820
4
2010
23
Fort Wayne
A
272
42
61
14
2
6
32
5
1
39
40
.271
.381
.431
.813
3
2011
24
2 Teams
AA-A+
423
70
96
28
3
5
41
5
0
60
41
.277
.391
.419
.810
8
2012
25
San Antonio
AA
510
75
115
16
3
10
47
6
4
66
76
.271
.377
.393
.770
11
2013
26
Tucson
AAA
583
90
165
38
5
9
73
3
7
61
65
.331
.410
.482
.892
11
6 Seasons
2208
338
528
114
14
40
248
37
19
277
294
.286
.386
.428
.815
42
AA (2 seasons)
AA
756
120
165
34
4
12
70
9
4
107
95
.265
.380
.390
.770
14
AAA (1 season)
AAA
583
90
165
38
5
9
73
3
7
61
65
.331
.410
.482
.892
11
Anna, who turned 27 a few days after the trade, was the Padres' 28th round pick in the 2008 draft out of Ball State, which isn't exactly a baseball powerhouse. He hit .319/.464/.628 with 17 doubles, 11 homers, 46 walks, and 17 strikeouts in 52 games as a junior but was only ranked as the 14th best prospect in Indiana prior to the draft by Baseball America (subs. req'd). Anna was never a highly regarded prospect and he's had to earn his way up to Triple-A and onto the 40-man roster. Here's a recent (as in right after the trade) scouting report from Baseball America (no subs. req'd):
Anna, drafted out of Ball State, is coming off his best pro season, winning the Pacific Coast League batting title while playing for Triple-A Tucson. He hit .331/.410/.482 and walked (61) almost as much as he struck out (65), a career-long trend. Anna lacks physicality and pop at 5-foot-11, 180 pounds and fits the utility profile as a lefthanded hitter. He's played second base, shortstop and third base as well as the outfield corners, with a fringe-average arm and solid infield actions. He's a reliable defender who made just 23 errors the last two seasons. He's a below-average runner, the biggest hole in his utility profile. Anna has earned high marks in his career as a grinder and good teammate. He spent two weeks playing for Estrellas in the Dominican League but returned home after going 8-for-34 (.235) with four walks in nine games.
So what the Yankees have is an undersized 27-year-old middle infielder who has little power, doesn't steal a ton of bases, isn't a standout defender, and, until this past season in the hitter-friendly Pacific Coast League, hasn't hit for a high average in pro ball. That's … not much of a prospect at all. That's a spare part. An up-and-down bench player. The 25th man on the roster. Sure, the K/BB ratio(s) is sexy but there is more to life than walks and strikeouts.
Now, that said, Anna is certaintly a useful piece to have lying around, especially for a team with a thin big league infield like the Yankees. He's something like the 38th or 39th man on the 40-man roster and will open the year with Triple-A Scranton awaiting the call when someone inevitably gets hurt or plays themselves off the team. The various projection systems are quite bullish about Anna — Oliver (2.0 WAR), ZiPS (1.6 WAR), Steamer (0.4 WAR) — but that is always the case with high-walk, low-strikeout players. You could make a case that playing him at second over the old and so very injury prone Brian Roberts make sense.
The Yankees were going to fill their 40-man roster prior to the Rule 5 Draft deadline one way or the other — either with one of their minor league relievers or someone like Anna. They opted for Anna, who was easily available and filled a very obvious need (they had not yet signed Kelly Johnson at the time of the trade). Since only one (Tommy Kahnle) of their many relievers was taken in the Rule 5 Draft, it's tough to argue with the decision. Anna is an interesting enough player but the odds of him contributing in a meaningful way at the MLB level are small. In fact, if he's starting for the team at some point next year, it likely means something went very wrong.
By

Via Nick Cafardo: Austin Romine is "very much available" now that the Yankees have added Brian McCann. The team also has some upper level catching depth in Frankie Cervelli and J.R. Murphy. Cervelli figures to serve as McCann's backup while Murphy is slated for Triple-A Scranton.

Romine, 25, hit .207/.255/.296 (48 wRC+) with one homer in 148 plate appearances as Chris Stewart's backup this past season. He never really showed much promise outside of a few weeks in late-July and early-August either. I'm in favor of keeping as much catching depth as possible — Cervelli isn't exactly Mr. Durable and Murphy can use the regular playing time in Triple-A — but if some team wants to blow the Yankees out of the water with an offer for Romine, great. Pull the trigger. If not, hang onto him as long as possible. · (35) ·
2013 Season: 85-77 (637 RS, 671 RA, 77-85 pythag. record), didn't qualify for playoffs
Top stories from last week:
Please take a second to answer the poll below and give us an idea of how confident you are in the team. You can view the interactive Fan Confidence Graph anytime via the nav bar above, or by clicking here. Thanks in advance for voting.
Given the team's current roster construction, farm system, management, etc., how confident are you in the Yankees' overall future?
Hope everyone had a great Christmas, and for those of you don't celebrate, I hope the last few days have been pretty awesome as well. Now that Masahiro Tanaka has been posted, there isn't much baseball news out there right now. The hot stove always slows to a crawl around the holidays. I don't think that's a bad thing either. The break is nice.
Just a heads up, I'm planning to re-use this as the nightly open thread through the end of the weekend just because I suspect many of you have already started your weekends. Talk about whatever right here. Enjoy.
First, two quick notes:
The Yankees have released a total of 33 minor leaguers over the last few weeks, according to Matt Eddy. The most notable are RHP Sean Black, LHP Jose Diaz, LHP Tim Flight, IF Fu-Lin Kuo, and OF Shane Brown.
Enrique Rojas reports IF Yamaico Navarro has agreed to a contract with the Samsung Lions in Korea. He gets $300k guaranteed plus incentives. The Yankees signed Navarro to a minor league deal a few weeks ago and agreed to let him out of the contract so he could head to the KBO.
Now, for the stats. This will be the final update of the year and I don't just mean that because New Years' is right around the corner. The various winter league seasons are either over or end tomorrow, so these stats are as good as final. I'll be sure to post any minor league notes and what not, but as far as actual stat updates go, this is the last one until the regular season resumes in April.
Arizona Fall League (season is over, so these stats are final)
OF Tyler Austin: 4 G, 4-12, 2 R, 1 3B, 3 RBI, 2 BB, 1 K, 1 HBP (.333/.438/.500) — left the league with a wrist injury
UTIL Addison Maruszak: 10 G, 9-32, 8 R, 2 2B, 2 RBI, 10 BB, 5 K, 1 SB, 1 CS (.281/.452/.344)
3B/C Peter O'Brien: 16 G, 12-63, 5 R, 2 2B, 4 HR, 13 RBI, 2 BB, 26 K (.190/.212/.413)
OF Mason Williams: 22 G, 23-86, 11 R, 6 2B, 4 RBI, 8 BB, 18 K, 4 SB, 2 CS (.267/.330/.337)
RHP Brett Gerritse: 9 G, 11.2 IP, 12 H, 12 R, 12 ER, 11 BB, 12 K, 2 HR,1 WP, 1 HB (9.26 ERA, 1.96 WHIP)
LHP Fred Lewis: 11 G, 11 IP, 8 H, 0 R, 0 ER, 5 BB, 10 K, 1 WP (0.00 ERA, 1.18 WHIP)
LHP Vidal Nuno: 5 G, 4 GS, 19.2 IP, 20 H, 10 R, 7 ER, 3 BB, 18 K, 1 HR (3.20 ERA, 1.17 WHIP)

LHP James Pazos: 10 G, 10.1 IP, 13 H, 5 R, 2 ER, 7 BB, 9 K, 2 WP (1.74 ERA, 1.94 WHIP)
With a hat tip to Reddit, here's a photo of a young Masahiro Tanaka meeting Hideki Matsui at the old Yankee Stadium (click for larger). It's from 2006, when the Japanese high school All-Star team was touring the United States. There are some other (non-Yankees-related) photos in this stream.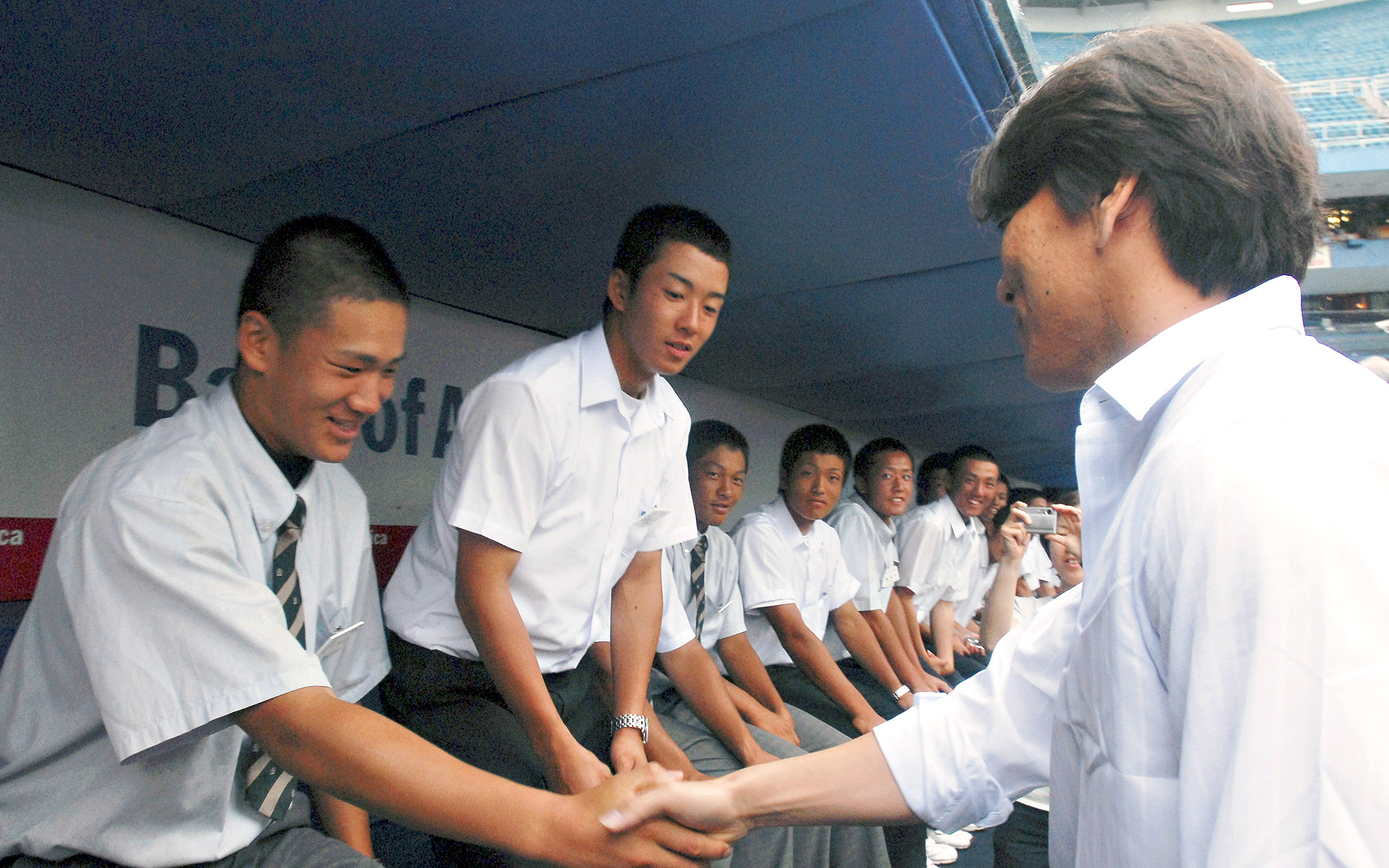 Now the Yankees just have to figure out how to get Tanaka to take their many millions of dollars to pitch in the new Yankee Stadium.