By

Via Andy McCullough: Brian Cashman confirmed the Yankees will indeed tender Frankie Cervelli a contract prior to the December 2nd deadline, but the team will continue seek catching help in the coming weeks. "We have catching but we will explore if we can improve offensively at that position, and see where that will take us. There's some [players] that interest us. Most don't," said the GM.

Cervelli, 27, hit .269/.377/.500 (143 wRC+) with three homers 61 plate appearances this past season before a broken hand, a stress reaction in his elbow, and a 50-game performance-enhancing drug suspension ended his season. He's projected to earn $1M next season, his first year of arbitration-eligibility, and I thought there was a chance the team would cut ties following the Biogenesis mess. The Yankees have been connected to free agent Brian McCann but that's really it so far. Other available catchers include Jarrod Saltalamacchia, Carlos Ruiz, and A.J. Pierzynski. · (22) ·
By

In something of an upset, Indians skipper Terry Francona was named the AL Manager of the Year tonight. I figured Red Sox manager John Farrell was a lock as soon as his club clinched the whole worst-to-first thing. Joe Girardi finished fourth in the voting, receiving two second place votes and five third place votes. When you manage the Yankees and don't make the postseason, you aren't winning any awards. It's a minor miracle he got that many votes. The full voting results are right here. Pirates manager Clint Hurdle took home NL honors. Well-deserved. · (12) ·
Just like the first day, the second day of the GM Meetings came and went without much fanfare. There were some random reports today indicating the Yankees had interest in various free agents they've already been connected too (Carlos Beltran, Brian McCann, etc.), but that's really it. As I said yesterday, these meetings are more about laying groundwork and getting discussion started rather than finalizing deals. Well, unless you're the Phillies. They inked Marlon Byrd to a nice little two-year, $16M pact this afternoon. He would have made sense for New York at that price.
Anyway, here is the nightly open thread. You've got all three hockey locals in action plus college basketball for entertainment. Talk about those games, the GM Meetings, or anything else right here. Do your worst.
The 2013 season is over and now it's time to review all aspects of the year that was, continuing today with the captain who wasn't around to go down with the ship.
This was the season Derek Jeter was never supposed to have. He's Derek Jeter. Things are always supposed to go his way, and if they don't, he proves people wrong and makes them go his way. Last season was a perfect example. The Cap'n was supposed to be finished, a washed up former star who was losing a fight with Father Time. Instead, he led the big leagues in hits (216), at-bats (683), and plate appearances (740). Thirty-eight-year-old shortstops aren't supposed to do that.
Jeter finished that remarkable season on a down note, playing through a bone bruise in his left ankle during the month of September before it finally gave out and fractured in Game One of the ALCS. He had surgery in late-October and although the rehab timetable meant things would be tight, it appeared he would be ready in time for the start of Spring Training. Unfortunately, Father Time started started to win the war after losing the battle in 2012.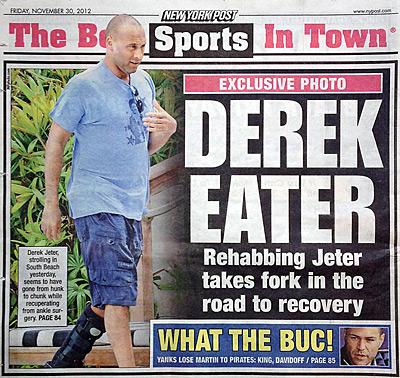 The offseason was full of gossip stories about Fat Derek Jeter and reports that his rehab was right on schedule. The Cap'n emphatically said he was working hard and would be ready in time for camp. Ultimately, that was not the case. Jeter's rehab had slowed down at some point and he was far behind the other position players in Spring Training. He didn't play in his first Grapefruit League game until mid-March and only appeared in five total, as many as Cito Culver. It was clear he would not start the season on time.
Jeter opened the 2013 campaign on the DL as he continued his rehab from the ankle surgery. In early-May, right when everyone was expecting him to return to the lineup, the Yankees announced their captain had suffered a major setback — there was a new fracture in the ankle, a smaller hairline crack that would nevertheless keep him out until the All-Star break. New York was getting nothing offensively from Eduardo Nunez and Jayson Nix at the shortstop position, so the setback was a big blow.
It wasn't until July 11th, four days prior to the All-Star break, that Jeter joined the team. He played in only four rehab games and was rushed back to serve as the DH when Travis Hafner's shoulder started barking (again). Jeter was in the lineup for the series finale against the Royals and his return lasted all of eight innings. He legged out an infield single in his first at-bat of the year but felt tightness in his right quad when he tried to do the same a few innings later. The Yankees kept Jeter active over the weekend and through the All-Star break to see if he'd feel better, but that didn't happen and back to the DL he went.
The second DL stint was shorter, only 17 days total. Jeter rejoined the team one day prior to a West Coast trip through two NL cities that would force him to play the field. That (second) first game back from injury resulted in one of the most memorable moments of the season, a first pitch solo homer off Rays left-hander Matt Moore:
Jeter played a total of four games at shortstop (the game against the Rays and three on the West Coast) before his right calf started acting up. Tests revealed a Grade I strain and just like that, the Cap'n was right back on the DL. This stint lasted 24 days. When he returned on August 26th, the team's 131st game of the season, the Yankees were seven games back in the division and six games back of the second wildcard spot.
Following the third DL trip, Jeter stayed healthy for approximately two weeks. He wasn't all that effective, going 9-for-48 (.188) with one extra-base hit (a double) and ten strikeouts while playing ten of 13 games at shortstop. After missing so much time due to injury and only playing in seven rehab games — that's seven rehab games total: four coming back from the first injury, zero coming back from the second, three coming back from the third — it was no surprise he showed considerable rust at the plate. The problem was the Bombers were slipping in the standings and couldn't afford the lack of production.
Jeter's season came to an end on September 7th, when he exited a game against the Red Sox in the sixth inning with soreness in his surgically repaired left ankle. Tests came back clean but he was going to sit a few games before returning to the lineup. The team didn't want to risk yet another setback. Four days later, with the Yankees sitting ten games back in the division and three games back of the second wildcard spot, Brian Cashman announced Jeter was being placed on the DL to prevent him from pushing too hard to come back after the doctor said he needed to strengthen the area around his ankle before returning. Jeter's fourth DL stint of 2013 ended his season.
All told, the Cap'n hit just .190/.288/.254 (48 wRC+) in only 17 games around the various leg injuries this past season. He made four separate trips to the DL this summer after making four total from 1999-2012. The Yankees never really came out and said so, but the team and their doctors gave indications the leg injuries were all related — Jeter was compensating for one injury but putting extra stress elsewhere on his body. Certainly sounds reasonable, especially with leg injuries, but at the end of the day it doesn't really matter. Jeter missed all that time and it hurt the team dearly in 2013.
Rather than wait for him to exercise (or decline) his $9.5M player option for next season, the Yankees re-signed Jeter to a one-year contract worth $12M about two weeks ago. They reportedly agreed to the increased salary (and luxury tax hit) in exchange for avoiding a repeat of their contentious negotiations from three years ago, which only makes sense if Jeter's camp indicated he was prepared to decline the player option and ask for more money. The Cap'n had no leverage following his self-proclaimed "nightmare" season but the Yankees gave into his demands anyway. Jeter is a total unknown heading into next season but the team paid him as if he'll be a big time contributor because hey, he's Derek Jeter and things are always supposed to go his way.
On paper, the Yankees currently have four outfielders for three spots. In reality, they have two outfielders for three spots. Both Ichiro Suzuki and Vernon Wells took advantage of the opportunity to show they are no longer everyday Major League players this past season and New York will spend a chunk of the winter looking for an upgrade, especially now that Curtis Granderson has declined the qualifying offer.
The Yankees have already been connected to Jacoby Ellsbury and Shin-Soo Choo, the offseason's two best free agent outfielders, and they also have interest in the veteran Carlos Beltran. That interest in expected to be mutual, unsurprisingly. Beltran has shown an eagerness to play for Bombers in the past, most notably offering to sign with them at a discount prior to 2005. He also came to the team at the last minute and gave them an opportunity to match the deal he eventually took from the Cardinals prior to 2012. I thought Beltran was a perfect fit before 2005 but not so much before 2012. What about now? Let's break his game down.
The Pros
Despite his age, Beltran remains an effective hitter from both sides of the plate. He hit .296/.339/.491 (132 wRC+) overall this past season, broken down into a 144 wRC+ against righties and a 102 wRC+ against lefties. Over the last three seasons, it's .288/.356/.503 (137 wRC+) overall and a 140 wRC+ against righties compared to a 128 wRC+ against southpaws. His overall strikeout (16.6% since 2011) and walk (9.6%) rates are both better than average as well.
Beltran has answered some serious questions about his durability in recent years, playing in 140+ games in each of the last three seasons and 438 of 486 games overall since 2011. That includes the last two in the DH-less NL. He's recovered well after only playing 145 of 324 possible games from 2009-2010.
As you surely know, Beltran is arguably the best postseason hitter of his generation. He's a career .333/.445/.683 (196 wRC+) hitter with 16 homers in 219 plate appearances across 51 playoff games. In October, Beltran is basically Babe Ruth (career 197 wRC+). That'll be helpful if New York gets back to the postseason.
The Cons
Beltran's walk rate (6.3%) this year was his lowest since his rookie season by a decent margin. He swung at 31.0% of pitches out of the zone, a career-high since the data started being recorded in 2007. Beltran's out-of-zone swing rate has actually increased every year since 2009. He's trending the wrong way and, not coincidentally, is at an age when hitters start their swing earlier to compensate for lost bat speed.
Once a historically great base-runner, Beltran is no longer a threat to steal bases and he's only league average when it comes to taking the extra base (first-to-third on a single, etc.). Once upon a time he was a lock for 30+ steals a year, but that part of his game is long gone.
Beltran's defense has slipped as well. His reads off the bat are still good but his range and arm have really declined. His defensive numbers since moving to right field full-time in 2011 are pretty bad: -2 DRS, -20.1 UZR, -7.1 FRAA, and -22 Total Zone.
He has stayed healthy these last three years, but Beltran had major knee right knee surgery in 2010 — he actually had an arthroscopic procedure instead of microfracture surgery against the Mets' wishes — and still deals with regular soreness. Beltran has been on the DL once in the last three years but day-to-day ailments are fairly common.
Beltran declined the qualifying offer prior to Monday's deadline, so teams will have to forfeit a high draft pick to sign him. For the Yankees, that means surrendering the 18th overall selection.
According to Tim Brown, Beltran is seeking a three or four-year contract this winter and that's just not happening. It shouldn't, anyway, especially from the Yankees. He'll turn 37 soon after Opening Day and he's got a bad knee. It's not a matter of if he'll become a full-time DH, but when. It could easily be this season. I was thinking more along the lines of two years and $30M, a $2M per year raise over the contract he signed with the Cardinals to essentially account for market inflation. Teams have lots of money to spend and he has no reason to settle for one year.
The drop in walk rate — it's worth noting Beltran's strikeout rate did not increase at all this year — is a concern to me only because it might mean his bat speed is really starting to slip. The now poor defense and general age-related concerns are another red flag, plus giving up a high draft pick would stink. Beltran is, however, a big upgrade over the team's current right field options and his switch-hitting power bat would fit perfectly into the middle of the Yankees lineup. The question is whether he wants to come to the Bronx at this point. I'm guessing one of Beltran's top priorities this winter is joining a team that gives him a strong chance to win a World Series and he simply might not believe New York can give him that opportunity. He'd be a solid pickup on a two-year contract but Beltran's demands might throw a wrench into things.
The offseason has yet to really get underway, but there has already been talk of the Yankees going on a big spending spree to address their many needs this winter. I'm not sure where that money is coming from after putting together my most recent payroll breakdown, but that's besides the point. New York has been connected to a ton of free agents so far, both big names like Brian McCann and Shin-Soo Choo and secondary players like Eric Chavez and Omar Infante. Needless to say, they're getting around.
Free agency is the easiest way to address needs but it's not the only way. The Yankees could also explore the trade market, a trade market that will reportedly feature high-end starters like Max Scherzer and David Price, young middle infielders like Jurickson Profar and Elvis Andrus, and pretty much everything in between. The trade market is like free agency — there's a solution for every roster problem available if you're willing to meet the asking price.
Therein lies the rub: the Yankees can't meet too many asking prices these days. Not won't meet asking prices, can't. They don't have many tradeable commodities either on the big league roster or in the farm system, and last winter's Justin Upton trade talks showed how that can handicap them. The Diamondbacks reportedly did not like the prospects New York had to offer, so the young, power-hitting outfielder signing to a reasonable contract went to the Braves instead.
"I just don't see it," said one rival executive to Andy McCullough when asked whether the Yankees had the prospect inventory to swing a major trade this offseason. "I'm not excited about any of them making an impact next year," added another evaluator while discussing the team's top prospects while describing them as "solid guys, but not stars."
The Yankees do have limited trade commodities right now but they aren't completely devoid of marketable players. Some are just more marketable than others, or, as Brian Cashman likes to say, no one is unavailable but some are more available that others. Here's a highly subjective rundown of New York's best trade chips. Remember, at the end of the day, a player's trade value is only as great as the other team's evaluation of him.
Best Chip: Ivan Nova
In my opinion, Nova is the team's best trade chip at this point in time. He turns 27 in January and has shown flashes of brilliance over the last three years. Ivan has not yet put together a full, productive season from start to finish, but he's had stretches that make you think he could be very good if things ever completely click. It's also worth noting Nova has thrown at least 150 innings every year since 2010 and at least 130 innings every year since 2008. Teams do value the ability to take the ball every fifth day.
Nova's trade value is not as great as it was a year or two ago because he's entering his arbitration years and is no longer dirt cheap, like league minimum dirt cheap. His projected $2.8M salary in 2014 is still a relative bargain, but trading for a guy owed $15M or so over the next three years isn't as desirable as trading for the same guy when he is owed $16M or so over five years. This isn't Nova's fault obviously and getting three cheap years of a durable right-hander is still pretty awesome, but his years of team control are ticking away and he's yet to really establish himself as … anything. He's still a question mark.
Rentals: Brett Gardner and David Robertson
Both Gardner and Robertson are due to become free agents next winter, meaning they're just rental players. Both will earn reasonable salaries next year — Gardner is projected for $4M, Robertson for $5.5M — and they both have their limitations on the field. Gardner is a defense-first outfielder who doesn't hit for power and doesn't steal as many bases as people think he can. Robertson is a late-inning reliever, meaning you're only get 65 or so innings out of him. He's a very good late-inning reliever of course, but one year of a reliever usually doesn't fetch a huge package in return. The Yankees could flip these two for solid prospects or a similar rental player, but they're not going to get that elite prospect or young big leaguer with several years of control remaining.
Warm Bodies: David Phelps and Adam Warren (maybe Vidal Nuno)
There will always be a market for cheap and young pitching. Phelps and Warren have four and five years of team control remaining, respectively, and they've had varying levels of success in the show. They're far from established but have shown they belong in some capacity, either as back-end starters or relievers. Nuno has six full years of control left but is basically a complete unknown at the big league level. He is as close to ready as a pitcher can get, however. Every team needs cheap young arms to fill out a staff, but these guys are okay second and good third pieces in a significant trade, not centerpieces. Far from it.
Prospects: Gary Sanchez, Slade Heathcott, J.R. Murphy and Rafael DePaula
Baseball has become a young player's game these last five or six years or so, but I think we've reached the point where prospects and (especially) draft picks are being overvalued. Don't get me wrong, they're important and you need them to succeed, but they're being valued higher than established big leaguers and that isn't always the case. Not even close.
Anyway, Sanchez and Murphy are probably the Yankees' two best prospect trade chips because a) Sanchez is their very best prospect, and b) Murphy is a big league ready-ish catcher. Quality young catchers are very hard to find and teams have consistently shown they will overpay — either in trades or by reaching in the draft — to get their hands on one. DePaula is the team's best pitching prospect but he's still in Single-A ball. Heathcott had an up-and-down season in Double-A but has a lengthy injury history. High ceiling but also high risk. Sanchez and Murphy could headline a package for a non-star player, but Heathcott and DePaula are closer to throw-ins in the grand scheme of things.
Suspects: Tyler Austin, Mason Williams, and Jose Ramirez
Injury of ineffectiveness — Austin, Williams, and Ramirez all had down 2013 seasons for one of those two reasons. Sometimes both. They're basically buy low candidates, prospects with considerable ceilings who either need to get healthy or fix their mechanics or have their attitude adjusted. If I was another club and talking trade with the Yankees, these are the guys I would be asking for as the final piece in a trade package. Take a shot on one without the deal hinging on their success. There are too many question marks for any of them to be the top guy in a deal for an established big leaguer at this point. I just don't see how another club would go for that.
The 2013 season is over and now it's time to review all aspects of the year that was, continuing today with the utility infielder who was forced into regular duty.
Before the season even started, the Yankees had two injured regular infielders. Alex Rodriguez was going to be out until the All-Star break following hip surgery and while Derek Jeter was initially expected to be ready for Opening Day, his slow progress in Spring Training was sign of things to come. Injury-prone Kevin Youkilis was brought in to replace A-Rod and the unreliable Eduardo Nunez was the backup plan for Jeter, so incumbent utility man Jayson Nix was an important cog in the Yankees machine.
It's easy to forgot that when camp opened, Nix wasn't even on the 40-man roster. The team re-signed him to a one-year, $900k contract over the winter and immediately designated him for assignment — Nix agreed ahead of time to accept the minor league assignment to Triple-A Scranton if he cleared waivers. He was re-added to the 40-man roster at the end of Spring Training (along with Ben Francisco!) to round out the bench. Nix was likely to make the team the whole time, but the team took advantage of his situation — unlikely to find a guaranteed $900k elsewhere — to create a 40-man roster spot over the winter.
At the start of the year, New York's plan was to play Youkilis at first base and Nix at third against left-handed batters. Nix appeared in three of the team's first five games (two starts) and went 0-for-7 with five strikeouts, but he broke out in the sixth game by going 3-for-4 with a two-run homer against Justin Verlander. He continued to play sparingly for another two weeks until Youkilis' back gave out, at which point Nix became the everyday third baseman. When Nunez hurt his ribcage in early-May, Nix took over at shortstop with David Adams stepping in at third.
From April 20th through July 1st, a span of 66 team games, Nix hit .244/.312/.305 with one homer and 61 strikeouts (!) in 241 plate appearances. That's a 25.3% strikeout rate for a player who was hitting with no power. Nix started 58 of those 66 games and appeared in four others off the bench. He was a regular, playing every single day at either shortstop of third base. It's worth noting he had a real nice 20-game stretch from late-May through mid-June, going 23-for-72 (.319) with ten runs driven in (.730 OPS).
Nix's time as a regular came to an end in early-July when he was placed on the 15-day DL with a Grade II hamstring strain. He hurt himself running the bases at some point. On the DL he remained for four weeks, until being activated on July 28th. By then Nunez had returned from his ribcage injury (and was kinda sorta hitting) and both Jeter and A-Rod were days away from returning. The team always wanted to give Adams another shot and soon acquired Mark Reynolds for third base support. The playing time well had dried up.
After coming off the DL, Nix appeared in 14 of the Yankees' next 21 games but had only started nine of them. He went 7-for-30 (.233) with ten strikeouts during those 21 games and was mostly pinch-running and replacing A-Rod late in games for defense. In the second game of a doubleheader on August 20th, Nix hit a game-tying solo homer off Mark Buehrle in the seventh inning before lacing the walk-off single against Darren Oliver in the ninth. It was his best game of the season.
In his first at-bat the very next day, Nix's season came to an end when an errant R.A. Dickey knuckleball broke his left hand. It hit him flush. Talk about a serious roller coaster of emotion. He went from the highlight of his year to a season-ending injury in the span of 24 hours. Brutal.
All told, Nix hit .236/.308/.311 (70 wRC+) with 80 strikeouts (26.4%) and 13 extra-base hits (three doubles) in 303 plate appearances this season. He did go 13-for-14 in stolen base chances and hit a tolerable .266/.357/.330 (93 wRC+) in 114 plate appearances against left-handers. Nix led the team in starts at third base (33) and was second in starts at shortstop (41). I thought he was rock solid defensively at both positions. Steady and reliable. Regardless of your WAR preference, Nix was a smidge above replacement level (0.7 fWAR and 0.8 bWAR).
The problem this season wasn't so much Nix himself, but the fact that he had to play so damn much. That's all due to the injuries. It certainly wasn't by design. I think Nix is a solid utility infielder who is best used once or twice a week like a normal utility infielder, not as a platoon third baseman or whatever. Certainly not as a starter. He chipped in some big hits this summer and played admirably even though he was exposed with all that playing time. It's not Nix's fault he played so much this year, but all that playing time is the reason he was a baseball player net negative in 2013.
By

9:00pm: Joel Sherman reports the D'Backs also have interest in Triple-A Scranton pitching coach Scott Aldred for their pitching coach job. He's been the pitching coach at various levels of New York's farm system since 2007. Sherman says Arizona will ask for permission to interview both Harkey and Aldred, and the Yankees will grant it because they're seeking promotions.

5:35pm: Via Ken Rosenthal: The Diamondbacks are interested in Yankees bullpen coach Mike Harkey for their vacant pitching coach position. It's unclear if he's interviewed yet. Arizona GM Kevin Towers is surely familiar with him after spending the 2010 season with New York. Harkey, who is one of Joe Girardi's closest friends and confidants, signed a new contract with the team last week along with the rest of the coaching staff. I assume the club wouldn't block him from making an upward move if the opportunity comes along, however. · (12) ·
By

Rays outfielder Wil Myers was named the AL Rookie of the Year this evening, which is no surprise. He was the best candidate in a weak freshman class. Not a single Yankees player received a Rookie of the Year vote, first place or otherwise, which was expected. Their only rookies of note this past season were Adam Warren and Preston Claiborne, so … yeah. The full voting results are right here. Marlins righty Jose Fernandez deservingly took home the NL award. · (7) ·
First and foremost, Happy Veterans Day to all you veterans out there and thank you for your service. Schmucks like me can bitch and moan about baseball all day because of brave people like you.
Now, onto the baseball stuff. The GM Meetings started in Orlando today, and Brian Cashman said "the music hasn't even started yet" while speaking in general about the offseason. Now that the qualifying offers have all been declined, I think signings and trade will pick up since teams now know exactly how much money they have to spend. The GM Meetings are more about laying groundwork anyway, a lot of transactions start here but end elsewhere.
Anyway, here is your open thread for the evening. Dolphins-Buccaneers is the Monday Night Football Game (really?) and that's it, none of the hockey or basketball locals are in action. I guess there might be some college basketball on somewhere. Talk about whatever here. Have at it.