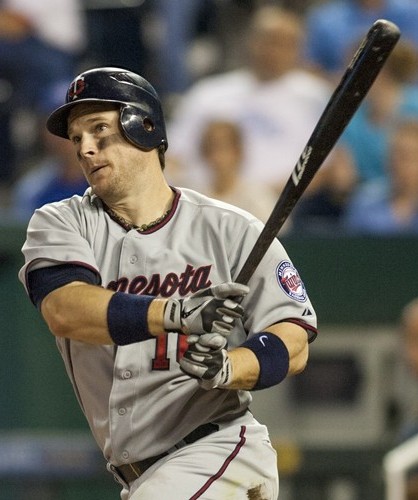 The Twins and Yankees had a very one-sided rivalry in the mid-to-late-aughts, a rivalry that included four ALDS matchups from 2003-2010 and two wins by Minnesota. Not series wins, individual game wins. New York took all four of those ALDS meetings by a total of 12 wins to two.
The Twins have run off a pair of 95+ loss seasons since last getting bounced from the postseason by the Yankees, so they're in something resembling a rebuilding phase. I say "something resembling a rebuilding phase" only because they're still signing free agents and trying to piece together a contender given their weak division, yet they're still closer to another 95-loss campaign that a playoff berth.
If Minnesota does decide to commit to a rebuild this winter (unlikely but possible), they would have several pieces of interest to the Yankees. I'm not talking about Joe Mauer, whose contract is prohibitive and days behind the plate are numbered, or even Ryan Doumit, who just signed a contract extension. Yesterday I wrote about utility man Jamey Carroll, now here are two outfielders who might fit in New York…
Josh Willingham
When you hit .260/.366/.524 (143 wRC+) with 35 homers and a 12.4% walk rate, you're going to generate some buzz like the soon-to-be 34-year-old Willingham did this season. The Twins reeled him in with a three-year contract worth $21M last offseason, a deal that sure looks like one of the biggest bargains of the winter at this point.
The Yankees need to replace Nick Swisher and Willingham is one of the few outfielders who can provide similar offensive production. This year was a career year for him and I don't expect him to repeat it, but he still hit .257/.360/.476 (127 wRC+) with an average of 23 homers per year from 2009-2011. He's consistently offered power (.233 ISO since 2010) and patience (12.2 BB%), plus his right-handed bat would help balance out a lineup short on righty power given Alex Rodriguez's decline.
Willingham, however, is an atrocious defensive outfielder who has only gotten worse following 2010 knee surgery. His best position is probably first base or even DH at this point. You're also getting nothing on the basepaths and usually a stint on the DL at some point during the season as well. His value stems exclusively from his bat, but luckily for Willingham he can really hit.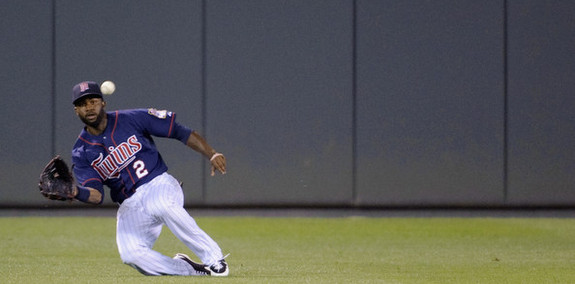 Denard Span
The 28-year-old Span is generally considered to be more attainable than Willingham because the Twins already have his center field replacement lined up — Ben Revere put together an 88 wRC+ and stole 40 bases while playing stellar defense this summer. Span is signed to a long-term contract that will pay him $4.75M next year and $6.5M the year after before a $9M club option ($500k buyout) comes into play for 2015. For luxury tax purposes, the average annual value is a friendly $3.3M.
The concern for the Yankees is that Span is basically Brett Gardner with half the stolen bases and half the called strike threes. He broke out during the 2008-2009 seasons (119 wRC+ in 1,087 plate appearances) but has hit just .271/.334/.397 (95 wRC+) in 1,584 plate appearances since. Concussion and shoulder problems have hampered him the last two years and could be to blame for the declining offense, but he was perfectly healthy in 2010 and still managed an 89 wRC+ in over 700 plate appearances.
What Span does provide is crazy good contact skills from the left side (10.9 K% and 92.0% contract lasts three years) and some patience (8.5 BB%) to go along with dynamite defensive ability. He ranks ninth in UZR (+21.9) and tenth in DRS (+24) among all outfielders over the last three seasons, but he hasn't played anywhere other than center since 2009. Although it would create a stellar defensive outfield, Span and Gardner are completely redundant. The Yankees would be lucky to get ten homers out of the duo combined.
* * *
One of the oddest trade discussions to (reportedly) take place in recent years involved Span and the Nationals at last year's deadline, when the Twins were willing to trade him for a reliever (Drew Storen) but Washington haggled over which reliever (offered Tyler Clippard instead). Given their lack of a long-term center fielder, it seemed like an easy call for the Nats. I highly doubt the Yankees would be lucky enough to pry Span away with just a reliever now that Minnesota has revamped their bullpen (3.77 ERA and 4.09 FIP in 2012), but even if they wanted to replace Swisher with a contact-and-speed, defense-first outfielder, they'd probably just re-sign Ichiro Suzuki. They know him and it would only cost money.
Willingham is a different case since the only free agent outfielders who could match his offensive production are Josh Hamilton and Swisher. Normally bringing a dead pull right-handed hitter to Yankee Stadium would give me pause, but Willingham has the kind of power to overcome Death Valley in left-center. I'm not too concerned about that with him. Considering his luxury tax friendly contract (just $7M average annual value through 2014), maybe the Yankees have to overpay a bit to get the production they need at affordable rates. The Twins appear to be very disinclined to move him however, so chances are this is all moot.