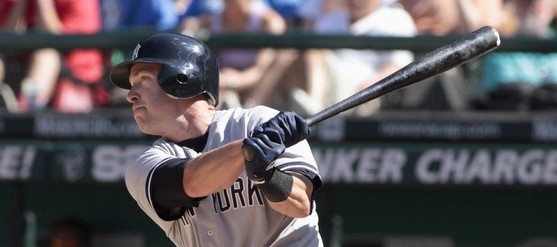 Day one without Alex Rodriguez went well, as the Yankees mounted their league-leading 31st come-from-behind win to take the series from the Mariners. Starting third baseman Eric Chavez went 0-for-2 with a strikeout and a pair of walks (one intentional) while presumed platoon partner Jayson Nix came off the bench to hit the go-ahead three-run double in the eighth inning. The seven-game West Coast trip went about as poorly as possible, but at least they picked up that nice little win before coming.
As I said, Chavez and Nix are expected to platoon at the hot corner either until the Yankees either make a trade or get A-Rod back from the DL. Obviously Chavez's penchant for getting hurt is a concern, especially with the increased workload. As the left-handed hitter in the platoon, he'll see the majority of the playing time at third. Here's a quick look at the projected opposing starting pitchers for the next two series…
Friday vs. Red Sox: RHP Aaron Cook
Saturday vs. Red Sox: LHP Jon Lester
Sunday vs. Red Sox: LHP Felix Doubront
Monday vs. Orioles: RHP Miguel Gonzalez
Tuesday vs. Orioles: RHP Chris Tillman
Wednesday vs. Orioles: LHP Zach Britton
Now obviously these things are subject to change, especially with the trade deadline looming, but the next six games project to feature three right-handed and three-left-handed opposing starters. Chavez won't have to start more than two consecutive games — next Monday and Tuesday — for at least a week. The Mariners come to town after the series with Baltimore and if they trade southpaw Jason Vargas as rumored, they'll likely have five right-handed starters in their rotation. After that the Yankees are off to Detroit for four games and they have five right-handers in their rotation since Drew Smyly is on the DL. That's when things will get tricky with the platoon and resting Chavez.
The trade deadline is 4pm ET on Tuesday, so the Yankees have plenty of time to swing a (major or minor) deal for a third baseman. I get the sense that Eduardo Nunez will eventually be back to replace Ramiro Pena, perhaps even as soon as tomorrow, and will get a chance to man the position regularly. The Yankees didn't call him up yesterday just because of the travel and the timing — by not going to Seattle he'll be able to play in two Triple-A games (yesterday and today) instead of zero big league games. Even if they leave Nunez down for a few more days, the schedule works in their favor through this weekend and early next week as far as not overtaxing Chavez.