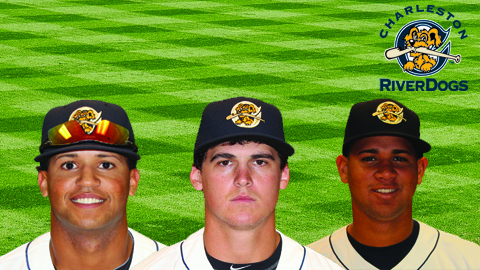 In an Insider-only piece, Keith Law published his midseason top 50 prospects list today. SS Jurickson Profar of the Rangers, who put on a show in the Futures Game by homering from the left side of the plate and singling from the right side, claimed the top spot to what should be no one's surprise. RHP Dylan Bundy and SS Manny Machado, both of the Orioles, round out the top three. Some big things are happening in Baltimore.
The Yankees placed three players on the list, led by OF Mason Williams at #21. "He was recently promoted to High Class A after posting an .848 OPS in a half-season at Charleston," wrote KLaw. "Williams earns a lot of raves from scouts between the tools and his general feel for the game, especially on defense." Mason ranked 34th on Law's preseason list, so he made a modest jump into the top 25. I'm not sure how much higher he can rank unless he taps into some hidden power at some point.
C Gary Sanchez wasn't too far behind Williams at #28, and Law says he's "improved markedly on defense to the point where you can picture him remaining behind the plate long term, and the bat should make him an MVP candidate if he does stay there." Now that sure is good to hear, the defense has always been the long-term question with Sanchez. He doesn't need to be a Gold Glover, just adequate. Law notes that Sanchez is primed for yet another jump up the rankings after making the leap from #55 in his preseason list.
The third Yankees farmhand to crack the top 50 is OF Tyler Austin at #45. "[He can] really hit, with a balanced swing and some pull power already, although when I caught him early this season, he was struggling a little to make adjustments to changing speeds, something that has improved in the last two-plus months," said Law in his write-up. Austin was unranked in the preseason list and obviously made a huge jump thanks to his big full season league debut.
For comparison's sake, Baseball America ranked Williams, Sanchez, and Austin as the 28th, 30th, and 39th best prospects in baseball in their recent midseason top 50 list, respectively. Good to see we have a bit of a consensus on where these three rank in terms of the bigger picture. LHP Manny Banuelos and several other injured pitchers were ineligible for Law's list, but I confirmed with him that Manny would have cracked the top 50 if healthy. RHP Dellin Betances is healthy but obviously wasn't close to the top 50, especially after ranking just 83rd before the season. Either way, three and potentially four top 50 guys is pretty darn good.