Over the next few weeks we're going to spend some time reviewing the entire 2012 season, which featured another division title and unfortunately another disappointing playoff exit.
As we discussed earlier today, the Yankees as a team basically hit like a pitcher in the postseason. They put together a collective .188/.254/.303 batting line in their nine postseason games and scored just two runs in the final three games of the ALCS. It was tough to watch and just flat out pathetic, there's really no other way to describe it.
The pitching staff, on the other hand, was absolutely stellar up until ALCS Game Four. The starters churned out quality start after quality start, and the bullpen did all it could to preserve leads and keep deficits close. After posting a 3.86 ERA (3.98 FIP) during the regular season, the Yankees received a 2.76 ERA (~3.45 FIP) in 88 postseason innings from the pitching staff.
CC Sabathia
Unfortunately, Sabathia's season will be remembered for ending on a sour note as the Tigers battered him for six runs on eleven hits (!) in just 3.2 innings in ALCS Game Four. It was an ugly start in a generally ugly postseason showing by the Yankees as whole, but it was also the exception rather than the rule for the pitching staff.
Sabathia, of course, helped get the Yankees to the ALCS with a pair of dominant outings against the Orioles in the ALDS. He allowed two runs in 8.2 innings in Game One against Baltimore, then followed it up by allowing just one run in the decisive Game Five win. All told, Sabathia struck out 19 batters and walked just five in 21.1 playoff innings including the ALCS disaster. He set a new ALDS record with 17.2 innings pitches, nearly two full innings more than the previous record.
Andy Pettitte
A year ago Pettitte was retired back home, but he got the itch to pitch and came back to the Yankees early in the season. He slotted in as their number two starter in the postseason due in large part to the schedule, as the club tried to optimize the amount of rest for each of their starters. Pettitte made two playoff starts, one in each round, and he tossed up a quality start in each. He held the Orioles to three runs in seven innings in ALDS Game Two and the Tigers to two runs in 6.2 innings in ALCS Game One. As per his norm, Andy did allow a lot of baserunners but continually pitched out of jams. For a guy who was out of baseball a year ago, allowing five runs in 13.2 postseason innings is a minor miracle.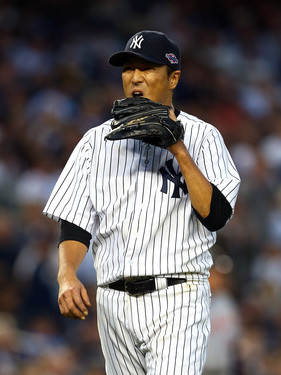 Hiroki Kuroda
Kuroda was New York's best starting pitcher from Opening Day through the end of the season, and he turned in a pair of gems in the postseason. Following Sabathia and Pettitte, the first-year Yankee held the Orioles to two runs in 8.1 innings in ALDS Game One before allowing three runs in 7.2 innings in ALCS Game Two. That second start came on three days' rest, the first time he'd ever done that in his career. Kuroda struck out a season-high eleven in that game, and it would have been eight innings of one-run ball had second base ump Jeff Nelson not blown an obvious out call on Omar Infante at second base. The bullpen allowed two inherited runners to score (charged to Kuroda) after the error. Sixteen innings (really 16.1) of five-run (really three-run) ball from the number three starter? Sign me up for that every day of the week.
Phil Hughes
Like Sabathia, Hughes ended his season on a down note as a stiff back forced him out of ALCS Game Three after just three innings of work. That shouldn't erase his ALDS effort however, as he held the Orioles to one run in 6.2 innings while striking out eight in Game Four. Hughes only allowed one run in the ALCS start before exiting with the injury as well, so all told his postseason performance featured just two runs in 9.2 inning of work. As far as number four starters go, you can't do much better.
The Bullpen
Eight of the nine postseason games were very close into the late innings, and the bullpen stepped up in support of the starters in a big way. They allowed just eight runs (seven earned) in 27.1 total innings (2.30 ERA) while walking just four (!), including one intentionally. The late-inning duo of Rafael Soriano and David Robertson allowed just one run in 9.2 combined innings, striking out seven against zero walks and five hits. The lone run was a solo homer off Robertson in ALCS Game Five, when the game was already out of reach. Boone Logan and Clay Rapada combined to retire 11 of 12 left-handed batters faced, with the one exception being a walk by Prince Fielder. David Phelps, who allowed four runs (three earned) in 3.1 total innings, was the only clear negative on a pitching staff who was absolutely dynamite overall in the postseason.