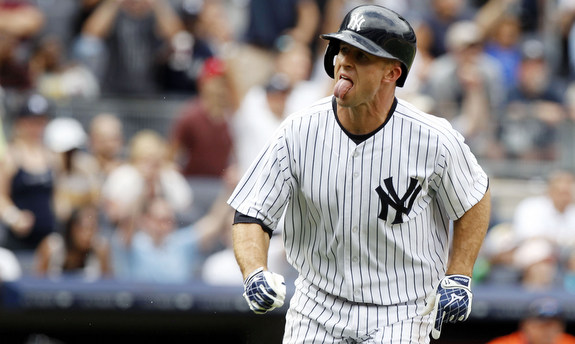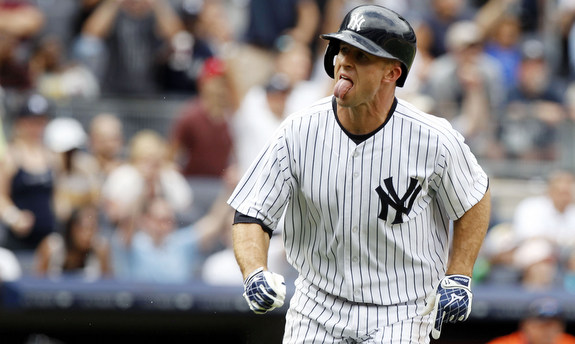 Brett Gardner is an All-Star. MLB and the Yankees announced on Thursday that Gardner has been selected to the AL All-Star Team as an injury replacement for Alex Gordon. Gordon suffered a severe groin strain Wednesday night and will miss about eight weeks.
Gardner, 31, came into Thursday's game hitting .298/.378/.478 (138 wRC+) with nine homers and 15 steals. He hit his tenth homer this afternoon and is now one of only seven players with 10+ homers and 15+ steals so far this season. And, of course, Gardner's played awesome defense in both center and left fields.
This is the first All-Star selection for Gardner, who was New York's third round pick in the 2005 draft. He was a walk-on at College of Charleston — Gardner was actually cut from the team at one point but kept showing up to practice — who is now a big league All-Star and will bank $60M+ in a career. Heck of a story.
Gardner had been one of five players on the AL Final Vote ballot along with Mike Moustakas, Yoenis Cespedes, Brian Dozier, and Xander Bogaerts. Royals fans stuffed the ballots for the All-Star Game starting lineups and it would have been damn near impossible for Gardner to beat Moustakas. Don't have to worry about that now!
Gordon suffered a Grade II groin strain running down a ball in left field Wednesday. He was voted in as a starter in the fan vote, though Gardner won't start the All-Star Game. Adam Jones will step into Gordon's spot in the starting lineup since he was next up on the players' ballot.
Believe it or not, Gardner is only the fifth position player drafted by the Yankees to represent the Yankees at the All-Star Game, joining Thurman Munson, Don Mattingly, Derek Jeter, and Jorge Posada. For real.
Gardner will join Mark Teixeira and Dellin Betances at the All-Star Game this year, which will be held in Cincinnati next Tuesday. Gardy!