We interrupt the dog days of spring training to bring an installment of "What's New in the World Baseball Classic?"
The World Baseball Classic is great fun when you're not watching your own team's players get injured. While no one has come close to the level of Luis Ayala circa 2006, this year's World Baseball Classic has seen its fair share of injuries. The Yanks who were once playing in the tournament are no exception.
As we know, sometime on Monday — or Tuesday or Wednesday if the Yanks keep pushing this back by a day — Damaso Marte (throwing shoulder) and Robinson Cano (throwing shoulder) will head into the MRI tube for some post-WBC scans of sore muscles. While the Yanks wouldn't really miss Marte if he were to go down, losing Cano after losing his fellow Dominican teammate Alex Rodriguez would be a huge blow. Cano, however, played on Sunday and probably isn't hurt that badly.
Meanwhile, across baseball, other players are feeling it from the Classic. The Marlins' Alfredo Amezaga, the Braves' Chipper Jones and the Red Sox's Dustin Pedroia are among the players who are out of the Classic after hurting themselves during the early rounds. For those wary of the pre-season tournament, these aches and pains are simply fuel for the anti-Classic fire.
In a way, of course, that's a patently silly side to take. After all, Dustin Pedroia could hurt his ab during a game in Fort Myers just as easily as he could strain it playing for Team USA. While the USA team shows a little less than complete enthusiasm for the tournament, though, I see players on most of these other teams giving their all for their countries. The Dominicans, victims of an upstart and now-eliminated Netherlands team, particularly left it all on the field. At this point early in spring training, the players' bodies just aren't prepared for the proverbial 110 percent effort.
But that's baseball life under Bud the Internationalist. As long as we don't worry too much about it, the Classic makes for good baseball. The other 162 games, though, are the ones that count.
* * *
Meanwhile, in other Classic news, international tournaments make strange bedfellows. Last week, the Boston Herald reported that Derek Jeter, Dustin Pedroia and Kevin Youkilis are all new best friends following their time on the same team. Jason at IIATMS noted the nausea-inducing backslaps Jeter doled out to his two arch-rivals.
It is, of course, no secret that the fans of the Red Sox and Yankees take this rivalry far more serious than anyone on both teams not named Jason Varitek. It's still jarring to hear Jeter speak about two key players on the team most likely to battle the Yanks for the top spots in the American League East this summer. Other bloggers aren't so sure about the purity of these words.
Digging a little deeper into Derek's recent statements, Jay at Fack Youk wonders if they are implied digs at Alex Rodriguez and other Yankee teammates. Jay notes a recent quote by Jeter about Team USA third baseman David Wright:
The thing with him, I respect the way he handles himself in New York. I think he shows all the right leadership skills – he leads by example and he's not phony. What you see is what you get from him. It's not an image he's trying to portray; I think that's how he is as a person.
While none of the A-Rod Outrage Clan known as the New York sports media has picked up on it, Jay sees the not-so-subtle digs in A-Rod in this quote. When A-Rod complimented Jose Reyes, it was a national emergency. When Jeter compliments A-Rod's Mets counterpart in a way far more critical of A-Rod than Alex was of Derek, Jeter is greeted with dead silence.
And that's life in New York with the World Baseball Classic.
By

Via The Boston Globe, the Yanks and Cubs have been keeping an eye on Bobby Crosby, who no longer has a spot on the A's roster after the signings of Orlando Cabrera and Nomar Garciaparra. In an effort to improve his versatility and (of course) boost his trade value, Oakland has played Crosby at short, third and first base this spring. I lobbied against Crosby before we learned about A-Rod's injury (a day before, to be exact), but that doesn't change my opinion at all. I mean, I guess if it's a pure salary dump (owed $5.25M in 2009) and all they have to give up is one of those "future considerations" thingees, then maybe. But just maybe, nothing more. (h/t Seamus) · (19) ·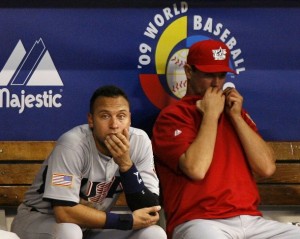 Team USA has their backs against the proverbial walls in the WBC tonight, facing elimination after being mercy ruled by Puerto Rico last night. Their opponent: those gutty, gritty, pesky, playing the game the right way Netherlandians. I'm sure you remember that this is the same Netherlands team that send the Dominican Republic home with their tail between their piernas.
Roy Oswalt gets the ball in the elimination game, and of the four starters on the team, he's the one I feel most comfortable with in a win or go home situation. Team mascot Dustin Pedroia is officially out of the tournament with an oblique strain and has been replaced by the Orioles' Brian Roberts. It looks like the Netherlands is sending Marlins' farmhand Rick VandenHurk to mound since staff ace Sidney Ponson (hah) threw yesterday. VandenHurk was the World Team's starter in the 2007 Futures Game, and has a 6.96 ERA in 95.2 big league innings.
ESPN2 is carrying the game; first pitch is scheduled for 7:30. Chat about that, or anything else on your mind here. Oh, I also want to mention that Chase Utley is making his spring debut tonight, less than four months after having the same surgery to repair a torn hip labrum that A-Rod will eventually have. I guess that's a good sign. Anyway, enjoy the game.
Update (7:49pm): If you're bored on this somewhat lame feeling Sunday night, Brian Foley at The College Baseball Blog is going to be chatting at 9pm. Head over and ask him how awesome Steven Strasburg is or how long he thinks it'll be until Gerrit Cole blows out his labrum (12 K in 5 IP last night). I keed, I keed.
Photo Credit: Hans Deryk, Reuters Pictures
Jorge Posada made his long awaited catching debut today, handing four innings behind the plate without incident. He didn't have to make any throws during the game (other than back to the pitcher, obviously), but did throw down to second between innings. According to Kat O'Brien, Posada said he felt "surprisingly good" and will be on an every other day catching schedule for now, with a day of rest between starts behind the plate. I'm guessing they'll work this like a starting pitcher, building him up to the point when he can catch a full nine innings. I also assume they'd want him to catch back-to-back days before breaking camp. All in all, today was a success for the Yanks' stalwart.
The rest of the game went according to plan as well. Andy Pettitte twirled three scoreless innings, striking out one and allowing just two hits while working on the ol' Uncle Charlie. Phil Coke followed with three strong innings, giving up the only run the team allowed  on three hits and a walk. He's looking like a lock for a bullpen at this point, Damaso Marte's injury notwithstanding.  Jose Veras, Anthony Claggett and Steven Jackson closed out the game with a three scoreless innings.
At the plate, Posada chipped in a single and a double in two at-bats, coming around to score both times. Hideki Matsui beat out a double play and he's knees didn't fall off afterwards, so that has to be considered a win. Melky and Nick Swisher each doubled as did Angel Berroa, who drove in two runs and raised his spring line to .438-.454-.625 in 32 at-bats. Huh, maybe he should fill-in for A-Rod?
The Yanks beat the Twins 5-1, but the real win was getting Posada back behind the plate.
By

Via Bryan Hoch, the Yanks have reassigned Jesus Montero, Kyle Anson, Kevin Russo and Mark Melancon to minor league camp, while Ian Kennedy and Chris Garcia were optioned out. Kennedy is heading to Triple-A Scranton, and although there's no official word on Garcia's destination, Double-A Trenton seems likely. Mark Feinsand also notes that Austin Romine and Colin Curtis were also reassigned to minor league camp, and Mike Dunn was optioned down, presumably to Double-A Trenton. Following last week's round of cuts, we also learned that Wilkins DeLaRosa and Eric Hacker were both optioned out. There just aren't enough innings at at-bat to go around these days, and that means the season's a comin'. · (12) ·
By

Over at the excellent NPB Tracker, Patrick asks a question we've been pondering since 2007: is Kei Igawa movable? We know that the answer is "probably not," but Patrick gets into a bit more detail. Specifically, he notes the Yanks' failed efforts to move him back to Japan, including Igawa's visit to his old club over the off-season. Then there was the Brewers scenario, which didn't work out. Patrick even notes a humorous tale (told by Igawa himself) of a team that was once interested in Kei: "it seemed like there was a team that saw my (AAA) numbers and tried to acquire me. Then I was told 'we found out the name, and it was you!'" So yeah, looks like nothing doing on the Igawa front. He'll head to AAA this off-season, with his only real hope of cracking the majors again relying on injuries and/or ineffectiveness in the bullpen. It's safe to say that none of us want to imagine such a scenario. · (27) ·
On Friday afternoon, I had the pleasure of flying out of Laguardia and venturing into that part of Queens for the first time in months. It's shocking to approach the airport on the Grand Central and to see that Shea Stadium is just gone. In its place is some fancy-looking ballpark with obnoxiously large letters proclaiming it to be Citi Field.
Up in the Bronx, the shock come April won't be nearly as bad for the simple fact that the building I've grown up calling Yankee Stadium is still there. For the better part of the last three years, we've seen new Yankee Stadium go up. This year, we'll all just head into the new park with the old park on view.
While I'm quite sad to see old Yankee Stadium go, the new park looks great. For proof of that, look no further than Bob Ruffolo's inside account of the new stadium, complete with photos of literally everything. The new digs look great. From the view to the seats to the amenities, it's clear that the Yankees got their billion dollar's worth out of it.
Based on the pictures, it looks like the Yanks' construction crews have their work cut out for them. The home opener is a month away, and the first exhibition games are set for the first week in April. But no matter. It still looks like a baseball playground only the Steinbrenners could build, and the sheer excitement of seeing a new park comes through in Bob's photos. Check 'em out.
By

One guy I always enjoyed in the YES booth was Jim Kaat. He has a fine grasp of the game and can relate amusing anecdotes to kill some of the down time a commentating team faces over the course of a season. He retired after the 2006 season and his replacement, John Flaherty for the most part, hasn't been up to snuff in my opinion. Good news, though: Kaat will be on the team for the first game at the new Stadium. The bad new: he'll be joined by Bob Costas (get over yourself) and Harold Reynolds (B-Jobber).

What saddens me most, though, is that according to the above-linked Bob Raissman article, Kaat wanted to return to the booth. YES said no, however, opting to go with their current rotation. True, Kaat probably doesn't have many more years in him, but he's clearly better than a few of the personalities YES puts alongside Michael Kay and Ken Singleton.

h/t BBTF · (36) ·
By

After coming back from the WBC with what appeared to be minor injuries, Robbie Cano and Damaso Marte will get MRI's tomorrow after being checked out by team doctors. Cano's injury is being described as right shoulder tendonitis, while Marte is dealing with left shoulder inflamation. Cano pinch hit in today's game game against the Astros and played catch after the game, so hopefully that's a sign that it's not too serious. Marte hasn't tested the shoulder as far as we know, and says he hurt himself working with 25 pound weights. · (1) ·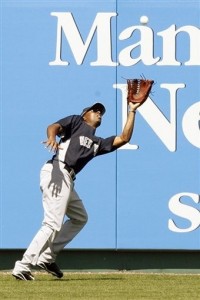 The Yankees have played three games in the last twenty hours or so, meaning we haven't had much time to recap all the action. Last night's game against the Red Sox was a forgettable one, as the only regulars in the lineup were Brett Gardner and Xavier Nady, and even those two are fighting for starting jobs. Chien-Ming Wang made his third start of the preseason and didn't fare to well, giving up seven runs (only one earned) and six hits in 1.2 innings, victimized by Juan Miranda throwing the ball into center field as he tried to turn a 3-6-3 double play. Both Mike Lowell and David Ortiz took the Wanger deep, Ortiz's being a uber-clutch two run job in the second inning with his team leading by five.
Other than that, not all that much happened in that game. Brett Tomko threw 3.1 strong innings while Kei Igawa chipped in another scoreless frame. Xavier Nady doubled while Cody Ransom tripled, and Angel Berroa picked up two hits to raise his spring batting avg to .444. Boston won 8-4.
AJ Burnett flashed his greatness in today's game, twirling four perfect innings on just 40 pitches. He was so efficient that he had throw an extra ten pitches in the bullpen. The fastball was an effortless 94-96, and the curve was dropping in for strikes at the knees. I know it's just March, but Burnett had no-hit stuff today, and even a lineup of All-Stars wouldn't have touched him. Johnny Damon hit a first inning solo homer before the Yanks tacked on two unearned runs in the fourth. Cody Ransom picked up another two hits, he's been really impressive since A-Rod went down. Edwar Ramirez made his spring debut, and although he struggled to locate his fastball he still pitched an effective frame. Jason Johnson picked up the save in his debut, nailing down the 3-1 win.
As Burnett was carving up the Astros, Phil Hughes had his first rough out of the spring an hour south against the Pirates. He gave up first inning solo homers to Nate McLouth and Adam LaRoche, and finished the day with two hits and three walks allowed in 3 IP. He said afterward that he was working on his changeup, but overall he just didn't have it today. Mark Melancon also had his first bad outing, allowing seven baserunners (six hits, one walk) and five runs in just two-thirds of an inning. It was bound to happen sometime, but as Ben noted in an email, this probably guarantees he'll be in Triple-A Scranton to start the year.
The offense was highlighted by the Yanks' two best prospects, as both Austin Jackson (pictured) and Jesus Montero knocked a ball out of the park. Montero's shot was a salami, and he now has two career Spring Training homers to his credit, both grand slams. Mark Teixeira struck out in all three of his at-bats, so he clearly can't handle the pressure of New York and is a bust. Doug Bernier drew three walks, Nick Swisher just one (today). The Yanks swept today's split-squad action with a 13-10 win.
Andy Pettitte will take to the mound for the second time this spring tomorrow, when the Twinkies come to Tampa. Otherwise here's your open thread for the night. The only local team in action tonight is the Devils, who are up in Montreal. Marty Brodeur has a chance to tie Patrick Roy's NHL record 551 wins tonight, and me thinks it has to happen just because of all the stars lining up (Roy will be in the house, he played for Montreal, etc.). Talk about whatever your heart desires, just be nice.
Photo Credit: Keith Srakocic, AP