The Detroit Tigers were arguably the American League's biggest disappointment this year. They beefed up payroll and landed Miguel Cabrera through a key trade only to find their pitching in shambles. Their 74-88 last-place finish was not expected.
Now, as the Tigers dig out from this debacle, the team has a few tough decisions to make. One of them surrounds Magglio Ordoñez. The Tigers' right fielder is due $18 million in 2009, and the team holds two options for 2010 and 2011. This contract severely limits the team's financial flexibility, and as MLB Trade Rumors pointed out earlier this week, the Tigers may try to move Ordoñez.
To that end, long-time RAB reader Justin wrote to me this week:
What would it take to trade for Magglio Ordonez? The Tigers need to shed payroll and Magglio is still a very productive right fielder, certainly more so than Bobby Abreu. What about a package of Kennedy, Nady and someone like Marquez for Magglio with the yanks taking on his full salary?
Now, Ordoñez on the surface is certainly an attractive target. He's always crushed the Yankees both at Yankee Stadium and in either Chicago or Detroit. But this may be another case of A.J. Burnett syndrome where the target looks more appealing than he actually is. Let's hit the numbers.
Ordoñez is actually six weeks older than the Yanks' current incumbent right fielder, and their numbers are fairly identical. In 2008, Abreu hit .296/.371/.471 with 20 home runs and Ordoñez hit .317/.376/.494 with 21 home runs. In terms of park effects, Ordoñez's home splits were significantly better than his road splits (.350/.397/.577 and 13 HR vs. .286/.356/.415 with 8 HR) while Abreu's numbers display a similar but not quite as dramatic split. Comerica Park did not play any more a role of a pitcher's park as Yankee Stadium did last year.
Sabermetrically, the two in 2008 were nearly the same as well. Ordoñez's VORP of 38.3 was a hair higher than Abreu's 36.1 mark. These trends project over the course of their careers as well, as the two have very similar career lines. The differences then are in the terms of their contracts. Abreu is a free agent at age when teams are looking to shed 35-year-old outfielders; Ordoñez is still under contract at a high price for at least another year and possibly two more after that.
To that end, I'd say pass on Ordoñez. He doesn't incrementally add much to the Yankee roster that the team couldn't add by re-signing Abreu. Plus, he's going to cost, at least for 2009, significantly more than Bobby, and the Tigers will ask for something beyond fiscal relief in a trade. If the Yankees are interested in Ordoñez, they may as well just stick with Abreu for less money, and they wouldn't have to give up prospects to boot.
Of course, if the Yankees pass on re-signing Abreu and need a warm body in the outfield until Austin Jackson is ready, they could do much, much worse than Ordoñez. But again, I'm loathe to trade away anything valuable by a 35-year-old outfielder set to make $18 million next year. It's just not worth it.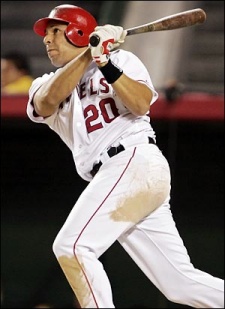 At FanGraphs yesterday, Dave Cameron mentioned Juan Rivera as a free agent bargain. The 30-year-old will hit free agency for the first time this off-season, though his stock is far from its highest. His 2007 and 2008 campaigns left much to be desired, the former being dramatically shortened after breaking his leg during winter ball, the latter due to the Angels having a logjam in the outfield and only getting him 280 trips to the plate. In those 280 appearances, though, he hit a paltry .246/.282/.438. Not much of a contract year performance there.
Presumably, the Angels will let Rivera walk. They already have Torii Hunter, Gary Matthews, and Vlad Guerrero under contract for 2009, they have Reggie Willits to fill in as a 4th outfielder, and there's a chance they could bring back Garret Anderson, whose 2009 option they declined yesterday. With those options, plus Rivera's ineffectiveness, the outfielder could find himself in a new home in 2009. Why not bring him home to the Bronx?
Don't get me wrong, though. I'm not advocating we sign Rivera to replace Bobby Abreu, per se. Given his issues, Rivera could be a cheap signing this winter. A few teams may be in for his services, but it's not like he's going to score a 3-year, $15 million deal anywhere. Likely, he'll get a year and maybe an option, and a salary, I dunno, below $2 million, maybe with some incentives. That's just a guess, though. You never know what's going to happen during the Hot Stove.
Ideally, the Yanks get Rivera as their fourth outfielder. This leaves them with Damon in left, Melky/Gardner in center, Xavier in right. Rivera is mostly a right fielder, so when he plays Xavier can move to left and Damon can shift to center or play DH. Or Xavier sits. There are plenty of ways the Yanks can work this. It means that both Melky and Gardner start in center field — one for Scranton-Wilkes Barre, though.
We do know that Rivera had skills, and could bring it at the plate. Those skills have certainly eluded him over the past few years, and there's no guarantee that they'll come back. Say they do, though. Say he takes to an off-season workout and comes into camp ready to hit like he did in 2006. You then have a good problem on your hands. You can play him in right, Xavier in left, and then have three center fielders to choose from. You can dish Damon to a team whose center fielder bites the dust early. You can put him in center and hope that your offensively superior outfield can hang defensively. The chances of this are slim, but it's still a possibility. That's why it's called a flier.
Outfield certainly isn't the top priority of the off-season, but the Yankees could pull a small move like this in order to give them some flexibility and open up their options. Rivera is a guy who has the potential to start, but you can live with as a bench guy. Even if his best years are behind him, he still has some power — he hit 12 homers in those 280 plate appearances. It's doubtful any team pursues him as a starter, so teams should be on pretty much even ground. Since the Yankees have the financial advantage, they could probably pull him in if they really wanted. I think they should. Do you?
Once upon a time, in another blog, when Mark Feinsand was the MLB.com beat writer, I would frequently answer his mailbag questions. I've let that practice slack because I find the questions sent to Bryan Hoch at MLB.com to be rather underwhelming these days. But now and then, a Hoch answer provides some insight into the Yankees.
In Monday's mailbag, Hoch has some Jorge Posada-related news to disseminate:
I know Jorge Posada says he is healthy, but is there any chance of bringing Pudge Rodriguez back as insurance in case he is not ready to catch? And if bringing Pudge back is out of the question, who will be splitting time with Posada?
– Corey E., Plymouth Meeting, Pa.

For the moment, Yankees general manager Brian Cashman said that he is keeping his fingers crossed that Posada will make good on his promise to be wearing a chest protector behind the plate on Opening Day at the new Yankee Stadium. Certainly, that would be the organization's preference, but though Posada can speak as optimistically as he likes, the Yankees won't really know how to proceed until Posada's throwing program begins on Dec. 1.

Cashman said that it is not on his agenda to pursue any free-agent catcher right now, which seems to seal Rodriguez's time in New York as a two-month rental. That could change quickly if Posada experiences something of a setback from the arthroscopic surgery on his throwing shoulder, but during the club's last road trip of the regular season, Cashman pulled Posada aside and asked how realistic catching 120 games in 2009 can really be. "He looked me in the eye and he swears that he's going to be back, as good as ever," Cashman said earlier this month. "It's up to us to buy into that or not."
Now, bringing back Pudge, who hit a Melky-like .219/.257/.323 on the Yanks and didn't handle the pitchers particularly well, isn't really an option. But it's hard to overemphasize how badly the Yankees need a healthy Jorge Posada behind the plate next year. If they don't, they're going to start the season at a huge disadvantage, and seeing Dionner Navarro on the AL East Champion Rays will hurt even more.
Of course, if Jorge's shoulder is half healthy, he could play first, but the Yanks would then be left with a huge hole behind the plate. It will be much easier for them to fill the first base hole — Mark Teixeira, anyone? — than it will for them to find a catcher. When the top two free agent catchers are Jason Varitek and Ivan Rodriguez, things do not look good for backstops.
I have my fingers crossed for Posada. More than just about any other off-season move, getting Posada back behind the dish will have a huge impact in 2009. Now, we just have to hope that the shoulder holds up.
By

Via The Taiwan News, Chien-Ming Wang was one of ten people selected as Taiwan's Most Outstanding Young Men & Women for 2008. "Wang's fighting spirit and superior career achievements have made him a role model for young people in Taiwan," said Legislative Yuan Speaker Wang Jin-pyng, one of the judges. The award presentation ceremony will be held November 21st. Congrats to the Wanger. · (12) ·
By

Yankee Stadium and its storied history provides the backdrop for a lot of New York City history. From the stadium's construction to the rise and fall of the South Bronx neighborhood to the hullabaloo over the new stadium and the land deal not to the mention the decades of baseball lore and history, a urban policy professor could make a class out of it. That's exactly what Theresa Collins, a professor at Rutgers has done. As The Times reported, Collins is teaching a first-year seminar on Yankee Stadium and the social history that goes with it. Who wouldn't want to take that class? · (14) ·
By

Here's an interesting premise from Mark Kiszla, a writer in Denver: The World Series is dead. Poor ratings, little excitement and a decisive game impacted by weather and halted after 5.5 innings has done in what Kiszla says is the mystique of the Fall Classic. Considering we haven't seen a six-game series since 2003 and seven game sets since the back-to-back thrillers in 2001-2002, Kiszla has a point. But baseball's crowning event will bounce back. It just needs a good match-up, better weather and a compelling storyline. · (39) ·
By

Via Richard Justice, tonight's completion of Game Five will be postponed until at least tomorrow due to ongoing crappy weather in the Philadelphia area. Tomorrow's weather looks better, so they should be able to finish the game up then. I blame A-Rod for this mess.

Update (1:40pm): MLB is saying that the game will tentatively be resumed at 8:37pm on Wednesday in Philly. · (22) ·
By

There's really not much new in this Jon Heyman column. Will Sabathia go for home or money? Yeah, no one has a clue. He does talk to a friend of Sabathia, though. Plenty of reporters have seemingly done that this year, asking random Sabathia friend after random Sabathia friend about the pitcher's intentions. Most of them, it seems, feel he'll go home. The friend Heyman tracked down: Jimmy Rollins. His take: "New York, American League. They've got enough money, and they need him."

Of course, this is just as meaningless as the opinions of Sabathia's nameless friends. That's the point, though. · (23) ·
When it became public that the Padres planned to shop Jake Peavy this winter, Yankees fans got a bit excited. Why not? The 27-year-old has been stellar throughout his major league career, and is a veritable ace. However, given his age and his slightly below market contract, we knew that it would take a considerable package of prospects, rife with major-league ready youngsters, to convince Kevin Towers, Sandy Alderson, Paul DePodesta, and company to send Peavy packing for the East Coast.
Then we got news that Peavy doesn't exactly want to pitch in the AL. He's more comfortable in the NL, where he has pitched his entire career. Okay, so that's a strike against Peavy in pinstripes. There was a later report claiming that Peavy hates New York and would not approve a trade here. That's hearsay, though, and can't be taken at face value. If the Padres liked what the Yanks were offering, and both teams made it attractive enough for Peavy to make the move, he might still be amenable.
From the latest news, though, it looks like we've heard the last connection between Peavy and the Bronx. Tim links to an article in the San Diego Union Tribune in which Peavy agent Barry Axelrod said that Peavy can be compared to top free agent CC Sabathia:
"It's not that far of a stretch to say this is a free-agent situation," Axelrod said, "and if there is a guy like Sabathia out there, we would have to look at what any given team is going to pay Sabathia, because he and Jake won the Cy Young award in the same year, and we're going to put Jake on the same plane as this guy."
…
"If it is someplace where Jake is being asked to make massive change and someplace he may not really want to go, it may take more enticement to get him to agree," Axelrod said.
So we're back to paying twice for the player. Not that it really matters. If Peavy does in fact require a CC-esque extension to accept a trade somewhere, chances are that team wouldn't offer the same package as they would if he came as-is. At that point, it's doubtful San Diego would take a sub-optimal package because of Peavy's demands.
All this is to say: let's stop dreaming of Peavy. It's a nice idea in theory, but in practice it doesn't look like the Yanks have the players (they're willing to part with) and the motivation to get this done.
At 10:19, nearly 30 minutes before the umpires eventually halted play, my dad sent me the following e-mail: "They are making a farce of baseball and the World Series by playing this game now." At that point, the field was soaked, puddles were forming and no one was really having any fun out there.
A half an hour later, the game was halted, and about forty minutes after that, Bud Selig officially suspended the game until later tonight or whenever this rain stops. In the ensuing press conference, Selig mentioned something that, to me, raised a few red flags. Joshua Robinson has the report on the Bats blog:
UPDATE, 11:24: Selig just explained that if the Phillies had been ahead when play was stopped, the game would have technically entered a "rain delay." That means that we would have waited here until conditions were playable again. But Selig specified that it would not have been called a Phillies victory. "I wasn't about to let that happen," he said…

UPDATE, 11:32: He also reiterated that he did not want to have to call this game a Phillies victory if they had stopped with Philadelphia in front: "I have to use my judgment. This is not a way to end a World Series."
If Selig was so dead set on suspending this call and not awarding the Phillies the World Championship based on a 4.5 inning game — a decision which I support — why couldn't the umpires halt play a little sooner? At no point in between 10:00 p.m. and 10:41 p.m. when the game was stopped should baseball have been played. Had this not been a World Series, the tarp would have been rolled out well before it finally made its October debut.
I am loathe to subscribe to conspiracy theories involving FOX, Bud Selig or the Masons, but someone was putting pressure on someone else to get this game in. If Bud had the authority to suspend and not end an official game, he should have done so well before 10:41 p.m. Personally, I'm just going to take the easy route out and as Mike did, blame A-Rod. It's always his fault anyway.