By

Via Bryan Hoch, Alex Rodriguez is expected to report to Tampa on Monday, where he will continue his rehab from hip surgery and begin baseball activities. A-Rod has been rehabbing in Colorado under the watch of Dr. Marc Philippon, where he rode a stationary bike and simulated his swing with a broom handle. He'll start swinging an actual bat in Tampa, where he'll meet the rest of the team when they come in for a series against the Rays. The Yanks are sticking to their May 15th return date, but I don't think I'm alone in saying I hope he comes back sooner. · (10) ·
What a difference an off-season makes.
Just over six months ago, Yankee fans were ready to write off Andy Pettitte. While he pitched admirably in the Yankee Stadium finale, he had a second half to forget in 2008. After the All Star break, he went just 4-7 with a 5.35 ERA, and his season ended one start early when he revealed that he had been pitching through some shoulder pain.
During the off-season, Pettitte and the Yanks fought to a stand-still. Pettitte wanted to return — he made that very clear early on — but he didn't want to take much of a pay cut. Baseball economics, however, didn't cooperate with him, and he ended up signing an incentive-laden deal with a base salary of $5.5 million.
Yesterday, in his first outing of the season, Pettitte showed why he'll be a great back-end starter for the Yanks this year. He went 7 strong innings, giving up one run on three hits and a walk. Aided by some tough shadows late in the game, he ended with six strike outs and had by far the best outing of a Yankee starter this season. It took him just 99 pitches to dispatch the Royals, and the Yanks won a crisp game 4-1.
As Pettitte's game unfolded, he looked sharper today. So I wondered: What changed between last August and this April? The answer lies in Pettitte's breaking balls. Mike will have more on Pettitte's pitch f/x data tomorrow, but I want to take a quick look at Pettitte's pitch selection right now.
If we look at Pettitte's pitches from August 31 against the Blue Jays and August 26 against the Red Sox, something jumps out. During those two games in which Andy got shelled, he threw mainly fastballs. By the time that final start in August rolled around, Pettitte was dishing fastballs nearly 60 percent of the time.
Yesterday against the Royals, Pettitte's fastball velocity was in fact the same as it was in August. He was topping out at 90 mph and averaging around 88-89, but he threw just 34 of them. Added to the repertoire — or re-added — was Pettitte's slider, and with it, he can be a very successful pitcher for the Yankees this year.
Major League hitters won't be fooled or blown away by 88 mile-per-hour fastballs, and pitchers throwing that slow can't rely on fastballs. But Pettitte's 2008 shoulder woes limited the number of breaking pitches he could throw. This year, Pettitte is healthy and dealing. He can mix speeds and angles far more effectively.
Of course, yesterday's game was just day one. How Pettitte is feeling in August will be telling, but as a first step, that seven-inning victory was just what the doctor ordered.
Moving beyond Pettitte, the Yanks were facing old friend Sidney Ponson. They scored two in the first and two in the fourth but couldn't plate anyone else. For Ponson, it was a typical effort, similar to those through which we suffered last year. He allowed nine baserunners in six innings and limited the damage to four runs. The Yanks wouldn't need more.
After Pettitte left, Brian Bruney built the Bridge to Mowhere today. He struck out two and looked dominant. Who will pitch the 8th inning? That guy. Rivera, meanwhile, also struck out two. That guy is a machine.
For the Yanks, it was a smooth, crisp victory. I'll take, oh, another 98 of those this year.
Rockin' Robbie: Robinson Cano went 2 for 3 with a run scored and a walk. This base-on-balls was the fourth for the one-time free-swinging second baseman. Cano, average a walk a game, did not draw his fourth walk last year until the Yanks' 22nd game of the season on April 21. I like this new Robbie. I hope he's here to stay.
Tonight's David Price – Matt Wieters matchup was rained out. For shame.
Triple-A Scranton (2-1 win over Lehigh Valley in 11 innings)
Kevin Russo: 3 for 5, 2 2B, 1 SB - I wouldn't be completely shocked if he was the big league utility infielder in the second half
J-Rod: 1 for 4, 1 R, 1 2B, 2 K
Todd Linden: 0 for 5
Shelley Duncan & Juan Miranda: both 1 for 5, 1 K – Shelley drove in a run … Miranda doubled & drove in a run
Austin Jackson: 2 for 5, 3 K – 3 hits in his first 2 games … holding his own so far
Eric Duncan: 0 for 2, 1 BB
Angel Berroa: 1 for 4, 1 RBI
Chris Stewart: 0 for 4, 1 K
Ian Kennedy: 6 IP, 4 H, 1 R, 1 ER, 0 BB,  11 K, 2-5 GB/FB – 68 of 86 pitches were strikes (79.1%) … 11 K ties a career high
David Robertson: 2 IP, 1 H, 0 R, 0 ER, 0 BB, 3 K, 2-5 GB/FB – 27 of 39 pitches were strikes (69.2%) … most dominant pitcher in the system over the last two years is at it again
Brett Tomko: 2 IP, 2 H, 0 R, 0 ER, 0 BB, 3 K3-0 GB/FB – 21 of 35 pitches were strikes (60%) … allowed two hits in the top of the 9th, but he escaped without allowing a run
JB Cox: 1 IP, 1 H, 0 R, 0 ER, 1 BB, 0 K, 1-2 GB/FB – picked up the save … only 7 of 14 pitches were strikes
We knew that Brian Cashman had a pretty damn good off-season, and that was before today's Kat O'Brien article. The Yankees played the situation perfectly, but that might have been more out of luck than out of design. For much of the off-season leading up to the December 23rd signing, the Yankees didn't think they'd land Teixeira. In fact, Cashman went so far as to say that "Teixeira was never really an option."
Yet the GM realized what a good fit he was for the team. While they did have Nick Swisher in tow, there's no comparing him and Teixeira as hitters. The lineup, while potentially solid, was rife with question marks in December, and adding another bat, especially one as consistent as Teixeira, would help shore up that concern and give the Yankees another offensive powerhouse to go with their revamped rotation. Says Cashman:
"It was something I kept pushing, but it was not really being accepted by above me . . . I guess persistence paid off. I knocked on that door, I guess, just enough that someone finally answered. Hal really gave me the OK to pursue it over a few-day period. And at that point, I still thought the Red Sox were getting him."
Then, to Hal:
"I know you're not interested, but they're going to get this guy. He's going to fall in their lap, and he's so perfect for us."
While it's generally a bad idea to make moves in reaction to an opponent, the Yanks did good here because the move went far beyond countering the Red Sox. It created a swing that could easily affect the outcome of the division this year and for many to come. Teixeira would have improved the Sox offense this year and given them another dependable bat. The alternative, as they're learning now, is to rely on Mike Lowell to remain healthy and productive for the next two years. Even then, he won't be as productive as Tex.
Locking Tex into the first base spot for eight years would have made top prospect Lars Anderson a bit more expendable. True, there's always the chance they could remake him as an outfielder and give him time at DH in the majors, but that's never an ideal scenario — who knows if Anderson could handle the outfield? This, along with some decent pitching talent throughout the minors, could have enabled the Sox to pull off yet another trade to improve their team now and in the future. Imagine if they were able to trot out a rotation this year of Beckett, Lester, Dice-K, and, say, Matt Cain, with Clay Buchholz and later John Smoltz ready to take the fifth spot from Tim Wakefield. That would give them a devastating lineup and a devastating rotation. I don't think that many of us would argue with them being favorites for this season.
Things worked out in the Yanks favor, thankfully, and they reeled in the first baseman they've been searching for ever since Tino Martinez departed after the 2001 season. Tex can not only pick it at first, but he provides a first-rate bat which can easily replace the production of Jason Giambi's later years, and then some.
One last interesting quote from Teixeira from O'Brien's article:
"If the Yankees were a last-place team going nowhere, I wouldn't be here," Teixeira said. "So obviously, a talented team helps, and the ability to compete every single year is one of the reasons I signed with the Yankees."
Booing Orioles fans should think long and hard about that one. They've got a core of young talent on board and some pitching in the minors, so they're not necessarily "going nowhere." But they're a last place team in by far the toughest division in baseball. Why would Teixeira sign up for at least two years of agony with only the possibility of a payoff when he could sign for more money with a far better team which has a chance every year? Every Orioles fan would make the same decision.
Farnsworth just retired Damon. Damn. We're moving the operation here so the other thread doesn't take a bajillion years to load.
After a rough start to the season, the Yanks picked up their first victory on Thursday and hope to ride that into their first series win of the season this weekend in Kansas City. They'll see the season debuts of Andy Pettitte and Joba Chamberlian, and CC Sabathia gets a chance for redemption on Saturday.
The Royals are rolling after their first series with the White Sox. If not for a poor decision to let Kyle Farnsworth face Jim Thome, the Royals could have swept the defending AL Central champs, but they'll take two out of three any day. Their starting pitching was stellar, allowing just one run over 20 innings while amassing 21 strikeouts and issuing four walks. Shaky youngster Kyle Davies impressed in his start yesterday, going 7 innings while allowing no runs on 3 hits and 2 walks, striking out 8.
The offense, while racking up just six runs during the series, hasn't been too hot. New leadoff hitter Coco Crisp has two doubles and a homer — and the homer won the game in the top of the 9th yesterday. Alex Gordon recorded the first Royals run of the year with a homer on Tuesday, but that's one of just two hits he has on the season. It's still early, of course, and some of these guys could pick up the pace. Yet it's not promising that the team has zero hits from first base so far this season, and that Jose Guillen, surprise surprise, has more strikeouts than hits.
The Yanks starting pitching struggled in the first two games, but Burnett rebounded with a solid outing yesterday. The bullpen has been a bright spot, as it's had basically one bad inning — the eighth on Opening Day — but has dominated in the past two games, allowing no runs in relief of Wang and Burnett. Pettitte could make it all right by going deep this evening and giving most of the bullpen a day off. That's one of the strengths of the rotation: a bunch of guys who, when they are on, can go deep into games. The one exception, Joba Chamberlain, is surrounded by workhorses Sabathia and Wang.
On the offensive side of the ball there wasn't much to complain about. The exception, perhaps, is the number of men they left on base, but that's going to happen when you put a lot of guys on base in general. The Yanks put 45 runners on base in the first three games and scored 21 runs, so that's not a terrible ratio by any means. Just imagine this lineup once A-Rod makes his triumphant return.
Here are the pitching match-ups for the series. All games are on YES and CBS 880 AM.
Friday, 4:10 p.m.
LHP Andy Pettitte vs. RHP Sidney Ponson
After getting bounced from the rotation late last year, Ponson went unnoticed for most of the winter until he turned in a decent WBC performance for the Netherlands. Kansas City then signed him to a minor league deal, and he won the fourth rotation spot out of camp. Hopefully the Yanks offense can repeat the last time they faced Ponson.
Saturday, 7:10
LHP CC Sabathia vs. LHP Horacio Ramirez
Nothing has been more frustrating over the past few years than the Yanks' flailing efforts against soft-tossing, mediocre lefties. Over five appearances against the Yanks in his career Ramirez has held them to a .739 OPS, among his best against any team. They fared a bit better off him last year, when he faced them twice in relief appearances. The totals: 1 IP, 3ER, 0 K. He faced the Yanks as a starter twice with Seattle in 2007, going 6.1 innings of one-run ball the first time, but getting smacked around for four runs, three earned, in 5.2 innings the second go-round.
Sunday, 2:10
RHP Joba Chamberlain vs. RHP Gil Meche
As mentioned above, Meche had an impressive start to the season, allowing one run through seven innings of work, striking out six and walking none. He was in line for the victory until Kyle Farnsworth blew it in the eighth. He'll get another chance at his first win against Joba, who gets his first start of the season. In 13 games lifetime against the Yanks, Meche has held them to a .734 OPS. In one start last year he went six innings, allowing one run and striking out eight. The Yanks are hoping for a result closer to 2007, where they mashed Meche for 13 runs over 17.1 innings, with just six strikeouts.
Keys to the series
The key to any series is scoring more runs than you allow. It's a revelation, I know, but that seems to be the way you win baseball games. Specifically, the Yanks will have to tee off on the ass-end of the Royals rotation and pick up those first two games. There's no reason that Pettitte should lose to Ponson, and even less reason (yes, less than none) that CC should lose to Horacio freaking Ramirez. Meche is a dicier proposition, but if the Yanks head into the game already up 2-0, it might make things a bit easier.
One thing I'd like to see in the series: Ramiro Pena get a start at third. The best time would have been tonight, though, since Cody Ransom's strength is against lefties. There's always Sunday.
Tonight's lineup:
1. Derek Jeter, SS
2. Johnny Damon, LF
3. Mark Teixeira, 1B
4. Hideki Matsui, DH
5. Jorge Posada, C
6. Robinson Cano, 2B
7. Nick Swisher, RF
8. Cody Ransom, 3B
9. Brett Gardner, CF
Keeping up with the Royals:
I often talk about keeping up on all 30 MLB teams with an RSS reader. For the Royals, I mostly read beat writer Sam Mellinger's blog and his newspaper, the Kansas City Star. If any Royals fans are reading and write a blog which is updated at least once daily, email me and I'll check it out: josephp at riveravebles dot com.
As I walked down the steps from the elevated 4 train platform at 161st St. late Saturday morning, I paused at the top to survey the scene. On my left was a new building carrying an old name, shiny and surrounded by people. On my right was Yankee Stadium, looming over the street, empty and silent.
I wanted to walk up that old building and give it a hug. I have so many memories, good and bad, from 25 years of games at the stadium. I didn't care if it didn't have the same charm as pre-renovation Yankee Stadium. I didn't care if the concourses were a little cramped, if the bathrooms were a little small, if the luxury suites weren't there. On a night with a packed house, there was no better place to be.
Maybe I'm predisposed to look at the new ballpark with a critical eye. Maybe I have very high expectations for one of the most expensive sports stadiums ever constructed. Whatever the reason, I came away from new Yankee Stadium underwhelmed and unimpressed. For all the political machinations, for all the money, I expected a better pure baseball experience. What I saw was a spectacle of commerce inside a ballpark while a game went on below.
What follows then is my review — an admittedly curmudgeonly one at that — of the new home. For a more glowing review of the new digs, check out Mike's take. The links below go to my photoset of scenes from the game.
For the first time this season we can take a look at some Pitch f/x data and not have to try to figure out what went wrong. Except for a minor third inning hiccup, AJ Burnett handled the Orioles well yesterday afternoon, throwing 98 pitches in five and a third innings of work. You'd like to see him be more efficient, but it's only April. Plus the ump was a little tight on the corners, which certainly didn't help AJ or Alfredo Simon.
Those 98 pitches were made up of 59 fastballs, 34 curveballs, and just 5 sliders. Pitch f/x says he didn't throw any changeups, which is kind of surprising, but whatever. Burnett was pretty overpowering at times, but when he missed his spots the O's really put a charge into it. It was great to see a Yankee pitcher be able to get out of a tight spot by striking a guy or two out; in years past we were stuck watching contact oriented pitchers rely on a shotty defense to escape a jamb.
Let's kick this off with the usual, the flight paths. Hopefully you're familiar with these by now. Remember, click on any graph in this post for a larger view.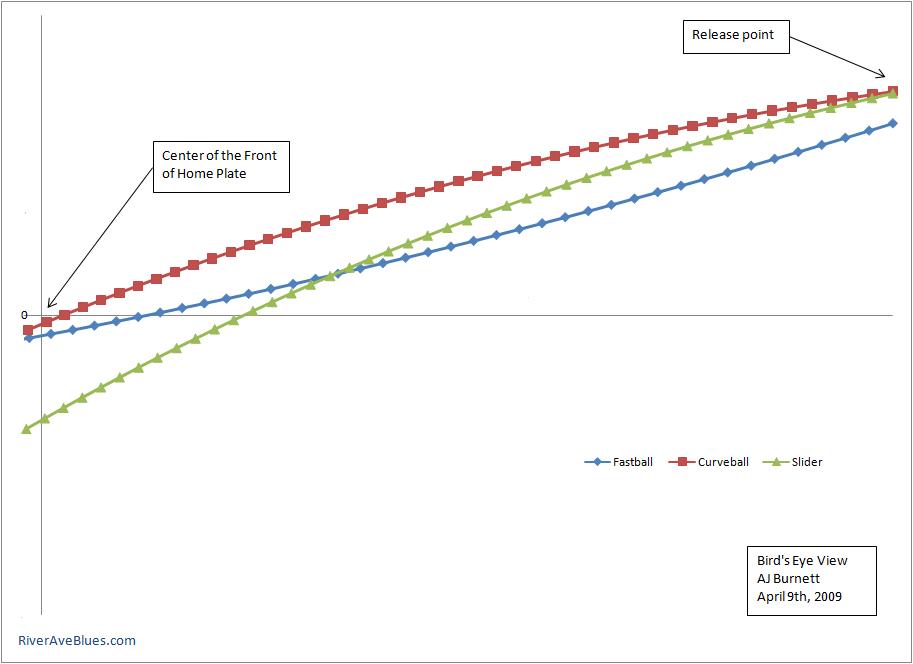 Happy Minor League Opening Day Day. One of my most favorite days of the year. Full lineups and pitching stats in honor of the start of the season, enjoy.
Oh, and check out that Ohlendorf kid. Good for him.
Triple-A Scranton (11-3 win over Lehigh Valley) it's too bad Eric Duncan has been relegated to bench duties these days
Kevin Russo: 1 for 5, 2 R, 1 RBI, 1 BB, 1 K
John Rodriguez: 0 for 3, 2 R, 2 BB, 1 K, 1 HBP, 1 E (fielding)
Todd Linden: 1 for 4, 1 R, 1 2B, 2 RBI, 2 BB, 1 K
Shelley Duncan: 2 for 5, 2 R, 1 2B, 2 RBI, 1 BB, 1 K
Juan Miranda: 3 for 5, 1 R, 1 2B, 1 HR, 5 RBI – hit a three run homer off a lefty … boost that trade value baby!
Austin Jackson: 1 for 4, 1 RBI, 1 BB, 2 K – first career at-bat in AAA resulted in an RBI single
Justin Leone: 0 for 5, 1 K
Angel Berroa: 2 for 4, 2 R, 1 2B, 1 BB – after his hot spring, he just keeps on hitting
Kevin Cash: 2 for 3, 1 R, 2 BB, 1 PB
Jason Johnson: 4.2 IP, 8 H, 3 R, 1 ER, 2 BB, 4 K, 9-1 GB/FB – 46 of 78 pitches were strikes (60.0%)
Anthony Claggett: 1.1 IP, 1 H, 0 R, 0 ER, 0 BB, 1 K, 1-2 GB/FB – 11 of 20 pitches were strikes
Mark Melancon: 2 IP, zeroes, 3 K, 1-2 GB/FB – 19 of 26 pitches were strikes … mark it down, he'll be up no later than May 15th
Steven Jackson: 1 IP, 1 H, 0 R, 0 ER, 0 BB, 0 K, 0-3 GB/FB – 7 of 10 pitches were strikes