By

I love the Associated Press. While the newswire is trying to wage war against search engines and news aggregators, its reporters are proving to be fairly clueless. To whit is a story that went out over the wires earlier today. Selena Roberts, unauthorized biographer of All Things A-Rod, has delayed the street date of her upcoming tell-all. Ostensibly, the delay is due to the fact that she "need[ed] more time for the book."

But who is Harper Collins trying to fool? Any reporter worth his or her salt would have noticed that the new release date — May 13 — ensures that A-Rod will either be off the disabled list or on the verge of being activated when this supposedly explosive book arrives. I certainly understand the business rationale behind this one, but talk about a blatant marketing ploy. How could the AP not pick up on that? · (52) ·
So my brackets sucked. I didn't have any of the Final Four teams, and had just five of the Elite Eight. My East Bracket was pretty strong, but the rest of it all went to hell. Congratulations to regular RABer Matt, who finished first in our RAB Bracket Buster standings with 161 points, picking 49 of 63 games correctly. He wins bragging rights on par with those tommiesmithjohncarlos received for winning the RAb Fantasy Football League.
Anyway, final standings are after the jump, otherwise use this as your open thread. The Islanders and Devils are playing inconsequential games, but the Rangers have a matchup with Montreal that could very well determine whether or not they make the playoffs. The Knicks are also in action, and you've got the Women's College Basketball Title Game at 8:30 on ESPN. The UConn Lady Huskies have a chance to go 39-0 on the season, which I'm guessing has some kind of historial significance. Anyway, anything goes, just be nice.
Oh, and make sure you vote in this week's Fan Confidence Poll if you haven't already. RAB Bracket Busters final standing after the jump.
Take a walk around the new Yankee Stadium, and you will be struck by the sponsors. Everything — every sign, every activity, every strike out (P.C. Richard), every stolen base (Modell's) — has an official sponsor. In an effort to get to the bottom of this sponsorship glut, Darren Rovell has put together a guide to all of the Yanks' (and Mets') official sponsors.
After the jump, we've got the full list. The asterisks signify non-exclusive deals. The Yanks could have two Official Consumer Electronics Companies this year if they could find another one. While the Yanks' marketing guys sure have been working overtime for this one, I'm particularly amused by the fact that the Mets' Official Financial Services Provider is Citi. That's aiming for the stars.
The subject of defense is a hotly debated one in baseball analytic circles. For years we were stuck with just errors and thusly judging fielders on their ability to cleanly field batted balls. As statistical analysis has progressed, so has the measurement of defensive ability. These new defensive metrics — UZR, ZR, the plus-minus system — are interesting to consider, but they don't give us the same level of insight as offensive and pitching stats. Yet they are interesting because they are not perfect. We're still trying to figure out the best way to measure defense, and imperfect stats make great conversation starters.
Last week we discussed some Yankee-related issues from The Fielding Bible Volume II, John Dewan's updated effort at pegging defensive ability. Using stats, articles, and scouting reports from the book, I was able to piece together articles on Robinson Cano's range and Derek Jeter's clean fielding skills, but those clearly aren't the only cases you can make after reading through the 400-page tome. It contains all sorts of stats and leader boards that can provide varying levels of insight on defensive ability.
The volume can keep a fan occupied for days, even weeks. It's filled to the brim with data, from raw numbers to processed stats. Dewan rates fielders on all sorts of criteria, and most of it is presented in these pages. How well they ranged to their left and right, how they turned the double play, how they fielded when playing shallow, deep…it's a truly comprehensive look at a player's fielding ability. Even if you want to know how many outs a player recorded in 2008, The Fielding Bible has that.
One of the most interesting parts of the book, which we didn't get to touch on in the Jeter and Cano discussions, is the Defensive Positioning Chart. As Dewan notes, these are not spray charts. Rather, they represent the distribution of hits which can be reasonably turned into outs. That, of course, requires a level of subjective judgment, a complaint I'll address in a minute. For now, let us revel in these colorful charts which depict a player's hitting tendencies. One of my favorite charts is of Joey Gathright. The charts make a case for an Ortiz-like shift for the speedster, but to the opposite side. He almost never hits the ball down the first base line either to the infield or outfield. (The problem, of course, is that he's so fast that the first baseman can't stray too far off the bag.) According to the chart, if a manager plays his second baseman pinching towards second, his shortstop playing slightly toward second, his third baseman slightly to the left of normal, his left and center fielders shallow, and his right fielder well off the line, he should be able to contain Gathright considerably. It's really neat stuff both from an analytical and visual perspective (The colors, children! look at the colors!).
Another amazing aspect of the book is the six-year register. As the name implies, this section contains data for nearly every Major Leaguer over the past six seasons. As Dewan explains it, this helps mete out poor single years in favor of a more comprehensive, thus more accurate, view of the player. For instance, he says, Mark Teixeira had a pretty poor season with the glove in 2007, but when you look at his six-year marks he still emerges as one of the best first basemen in the league. This is one aspect which will help advance the accuracy of defensive statistics. We've only started to seriously measure them recently. Larger samples will do wonders for analysis.
The book isn't without its faults. While Bill James's chapter on Defensive Misplays and Fielding Good Plays was interesting, he's still using some subjective judgments. That's not wrong in itself — we make subjective judgments about baseball every day and sometimes we're right — but when the goal is an objective system to judge a fielder's ability to make a clean play, any hint of subjectivism detracts from the case. Still, I like the idea of stripping defensive misplays (the act of misplaying a baseball, not James's stat) of as much subjective judgment as possible. We all have our own ideas of what "ought to have happened," meaning five people making the judgment could call it differently. As such, we either need to qualify those who do make the judgment, or else need to strip the subjectivity out as much as possible. James's effort is certainly commendable, and I hope in the future he'll not only release a more comprehensive list of his results, but also go deeper into his methodologies.
Through the efforts of curious minds like Bill James, the baseball analysis community has evolved over the past three decades. We now have not only a better idea of which basic stats tell us a better story about a player (OBP, SLG), but some great minds have developed advanced statistics which put them into an even greater context (wOBA, EqA, VORP). Similar efforts have been made to harness pitching stats. We've learned that pitchers have little control over what happens to a batted ball, hence the focus on peripherals like strikeouts, walks, ground balls, and line drives. These help us not only determine which pitchers have better and more sustainable abilities, but also to help us construct a more complete story of the player. The hope is that over the next few years we make this kind of breakthrough with defensive stats. So observe, analyze, criticize, scrutinize. It's how we come to new conclusions about previously unknown issues.
You can get The Fielding Bible–Volume II
from Amazon.com for $16.29. That's our Amazon Associate code, so if you buy the book from that link you'll kick us a few pennies.
By

PeteAbe has the official Opening Day rosters for the four full-season affiliates straight from the Yankees. We found out who was going to suit up for Low-A Charleston over the weekend, and yesterday we got word of Double-A Trenton's preliminary roster. The Thunder is still two players over the 24-man roster limit, so I'm curious to see what happens there. Otherwise, there's no real surprises with High-A Tampa's and Triple-A Scranton's roster. The only things that catch my eye are that Angel Berroa is nowhere to be found and Scranton will carry three catchers. Oh, and both Jairo Heredia and Wilkins DeLaRosa are MIA. I guess that's noteworthy

Double-A Trenton's season begins tomorrow at home vs Binghamton, while the other three clubs start on Thursday. So you know what that means … tomorrow night, DotF, be there. · (47) ·
During the letdown that was Opening Day, CC Sabathia labored through 96 pitches, throwing just 50 for strikes. Of those 96 pitches, 84 were either fastballs or sliders. This is nothing new for CC, who's worked off these two pitches for the last seven years, mixing in the occasional changeup. Let's take a look at how his two main pitchers were looking yesterday afternoon, via the magic of Pitch f/x. You can click on any graph in this post to open up a larger view.
First up, bird's eye view, and what you're seeing is the average flight path of his fastball and slider: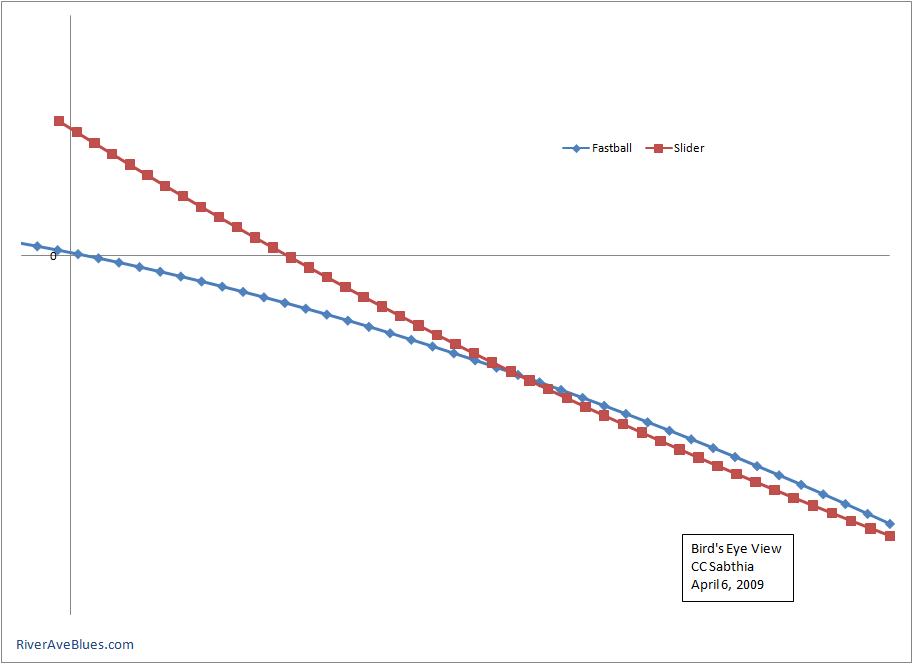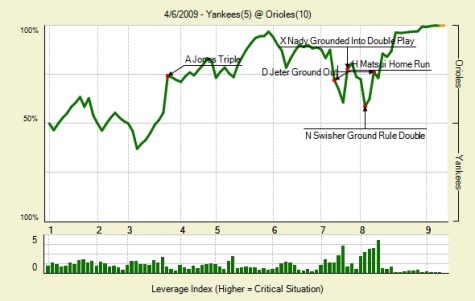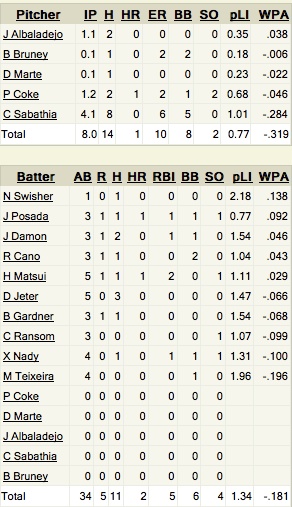 In case you're wondering what in tarnation that graph and those numbers mean, you can check out this article for a damn fine explanation. The quick, quick version: it's called Win Probability Added (WPA). It uses historical data to determine how important each game situation is to the ultimate outcome. For instance, it looks at all situations where, say, the home team has a runner on second and no outs in the bottom of the 7th while up by three runs. Using data from the game's past, it can determine how many times a team in that situation went on to win that particular game. Then, say, the next hitter singles and drives home the runner. The situation changes to runner on first, no outs, bottom of the seventh, up four runs. That win probability will be higher than the previous scenario, so the batter is credited with the positive change.
The bars under the graph represent the Leverage Index. This is, quite simply, how important that particular at bat was. It represents the swing in the most successful play and the least successful play.
Check out the play log sorted by WPA change. It was easy for everyone to determine the two plays which cost the Yanks the most: the Xavier Nady double play and the Derek Jeter groundout. The latter is a shame, of course, because Jeter had such a good game otherwise. The third, though, might not have registered as having been as important as other plays, but when Mark Teixeira reached on a fielder's choice in the eighth inning, the loss of the inning was apparently devastating. As you can see from the Leverage Index, it was an important situation, so losing the out there was big.
While the Yanks dominated the negative end of the WPA chart, they also had a number of enormously positive contributions. Specifically, the Matsui homer, the Swisher double, the Jeter single in the third, the Nady double, and Cano's seventh-inning single were of great importance to the team. What's strange, you might see, is that Jorge Posada's 7th inning walk was more important than his sixth-inning home run. This is because it came with the team down 6-1, so it didn't do much at the time. It did build the foundation, though, for the Yanks coming back to within 6-5 before blowing it.
WPA isn't going to give you a perfect measure of a player's skill and abilities, but it does provide a narrative for the game. We know that Tex's 8th inning grounder was devastating, and we know that Matsui's homer was nearly a game-changer. This is to say that WPA is interesting, even if it doesn't give us a further insight into skill and ability.
By

Good news for the Yanks courtesy of Bryan Hoch: Alex Rodriguez will be arriving at the Yanks' facility in Tampa on Monday to ramp up baseball activities. A-Rod underwent surgery on March 9 to temporarily repair a torn labrum in his right hip, and in a text message exchange with Joe Girardi yesterday, A-Rod said he was feeling good. In fact, he was spied riding a stationary bike while watching the game yesterday. The Yankees, meanwhile, are holding true to their May 15 expected return date for A-Rod, but the whispers of a late April or early May return continue to grow louder. That day can't come soon enough. · (17) ·
Cesar Izturis' eighth inning home run pretty much summed up the Yankees' Opening Day 10-5 loss. Izturis signed a two-year, $5 million contract with the Orioles this off-season for his glove. After he has a career OPS+ of 67 and blasted just two home runs over this last three seasons.
So of course, with the Yanks knocking at the Orioles' door in the 8th inning, he turns on a Phil Coke offering and deposits it just out of the reach of Johnny Damon in the left field seats. I wouldn't be surprised if Izturis' blast is the only one he hits all season.
For the Yankees, Opening Day was an entire game of "just out of reach." For CC Sabathia, the $23 Million Man, the strike out zone was just out of reach. He lasted just 4.1 innings, giving up 6 earned runs on 8 hits and an alarming 5 walks. He recorded no strike outs in a start — a feat he has accomplished four times in his career — for the first time since July 25, 2005.
One at-bat, in particular, sticks out for me. With the bases loaded in the fifth inning, Luke Scott was up. Sabathia got ahead 0-2 on two sliders Scott fouled away. Instead of attacking Scott with a fastball, Sabathia threw four more sliders. None of them got the plate, and Scott didn't bite.
After the game, Sabathia said he just didn't have it. He couldn't locate his fastball, and as any pitcher at any level knows, a pitcher who cannot locate his fastball is pitching at a disadvantage. (The heating pack, by the way, was for CC to stay warm and loose. In the post game show, Sabathia and Girardi both said nothing was physically wrong with the lefty. He just "never got in the groove," as Posada said.)
Offensively, the Yanks were always just out of reach of the Orioles. Down 6-5 in the 8th, Nick Swisher led off the inning with a double. Joe Girardi used the speedy Ramiro Peña to pinch hit, but then he gave away an out as Brett Gardner bunted. I understand the theory behind moving the runner to third. Peña could potentially score on an out. With three contact hitters in Gardner, Derek Jeter and Johnny Damon due up next though, why not let Gardner put the ball in play? As he showed in the third, good things happen when he does that.
Anyway, Derek Jeter tapped out to third, and after a Johnny Damon walk, Mark Teixeira left two runners. His 0-for-4 with 5 LOB left the Yankees just out of reach.
By the time Phil Coke and Brian Bruney combined for four earned runs in two innings, the Yanks had lost their chances. They had left 11 runners on base and couldn't deliver that blow. The game was just out of reach.
While Sabathia wasn't great, while the Yankees' five runs and 11 hits weren't quite enough, it is also important to keep it all in perspective. Game one is a loss, and what can you do? Jorge Posada showed some signs of power. Hideki blasted a homer. Damon and Jeter combined for five hits, and Robinson Cano walked twice. Anyway, we've still 161 more of these to go.
By

Mike Ashmore has the details. No real surprises, but they will have to remove two players from the roster before Opening Day to get down to the 24-man roster limit. I'm guessing that Justin Snyder and Jose Gil will get shipped down to High-A Tampa. The rotation is strong with Zach McAllister, George Kontos, Eric Hacker, Ryan Pope and Ivan Nova holding down the five rotation spots, and guys like Kanekoa Teixeira, Kevin Whelan, Mike Dunn and Josh Schmidt highlight a formidable bullpen. Chris Malec, Reegie Corona, Eduardo Nunez and Marcos Vechionacci represent a lock down defensive infield, but the outfield isn't anything to write home about. Low-A Charleston's roster was announced yesterday. · (38) ·