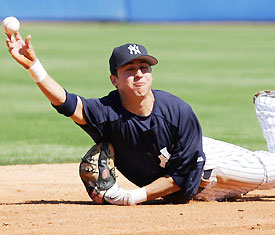 Alex Rodriguez officially hit the disabled list today, four weeks after undergoing surgery to repair a torn labrum in his hip. He was placed on the 15-day DL retroactive to March 27th, so he's eligible to be activated on April 11th. That's only five weeks out from surgery though, ahead of even the most optimistic of projections, however an assignment to the 60-day DL would have shelved him until May 26th, far beyond the worst case scenario of nine weeks of rehab. No matter how Cody Ransom performs in his stead, A-Rod's return to the lineup will be a welcome one.
As Ben mentioned earlier, A-Rod's spot on the roster will be kept warm not by Angel Berroa, but by young Ramiro Pena. This is a pretty noteworthy development to me, because it shows how committed the Yankees' front office is to getting  players that are younger, more athletic, and better defensively on the roster. Berroa is an experienced veteran with over 2,700 big league plate appearances to his credit and had an excellent camp (.371-.381-.597), so it certainly would have been understandable if the Yanks gave him the final bench spot. In fact, Joe and I advocated it in last week's radio show.
Instead the Yanks went with Pena, a career .266-.330-.357 hitters the minors. He'll jump right to the bigs without ever appearing in Triple-A because the Yanks value his top-of-the-line defense at multiple infield positions and speed off the bench. In years past they would have opted for the more seasoned player with some hardware and more of a name, it's just how the rolled. But the Yanks are a team in transition, and they don't need Pena to contribute offensively off the bench (they have Nick Swisher for that), they need him to shore up other weaknesses. It's part of a continued progression towards becoming a more multi-dimensional team that is as good at preventing runs as it is scoring runs.
Pena is just one of the first steps, right along with Brett Gardner being named the starting middle outfielder and the signing of Mark Teixeira. The next step is replacing aging and declining veterans in the final year of their contracts with young blood – like Austin Jackson – in the offseason. Ramiro Pena may or may not be able to hack it as a big leaguer, but just the simple fact that he's going to be on the Opening Day roster speaks volumes about where this team is heading.
Photo Credit: Robert F. Bukaty, AP
It's no coincidence that the Yankees invited the Cubs to stop by Yankee Stadium this weekend. In fact, it appears to be part of a Hal Steinbrenner-inspired masterplan to lure current Cubs manager Lou Piniella into the Yankee fold.
Take a look at how Pull Sulivan of the Chicago Tribune reported the story:
The Yankees could have chosen any team to be their first opponent, but Yankees general partner Hal Steinbrenner wanted Piniella to be part of the opening festivities, so the Cubs were his first choice.

Steinbrenner has told close friends he plans on hiring Piniella as a consultant when his managerial contract with the Cubs runs out after the 2010 season.
Sounds like a good plan to me. Bringing Sweet Lou aboard the Yankee ship after his managerial career is over would strengthen the Yankee Front Office and return a man who spent 11 years playing and another two-and-a-half managing the Yanks to the Bronx fold.

(click image of a much larger view)
That sorry excuse for a panoramic shot of the New Stadium was taken by me, from our seats while the Yankees were taking batting practice before today's game. Sheesh, you'd think I'd remember to at least get home plate in the picture, huh?
Luckily, I did manage to get some good shots of The Great Hall, which has banners of everyone from Reggie Jackson to Paul O'Neill, Donnie Baseball to Thurman Munson, and everyone in between. A banner alone couldn't hold Reggie's ego, so got his own wall as well. The screen in center field is frickin' huge, just massive. The obstructed view seats in right and left fields are pretty bad though, and the TV screens really don't help.
The position players stretched before the game while the pitchers played catch. Jose Veras played catch with Edwar Ramirez, CC Sabathia with Chien-Ming Wang, Andy Pettitte with someone I forgot, Joba Chamberlain with Brian Bruney, and Phil Coke with Dan Giese. Afterwards the starting rotation got together for a quick chat.
Coolest moment of the day: I was wandering around before the game, and as I walked past the entrance to the luxury suites Pilot Chesley Sullenberger walked out of the suite and took a look at The Great Hall. He's the guy that landed the plane on the Hudson a few weeks back (I'm sure you knew that already), and threw out the first pitch. I did my best to grab a picture of him talking to some people who stopped to say hi as I went up the escalator. Very cool.
You can check out my entire set of photos via my Flickr slideshow. Ben will upload his pictures at some point for you to see as well.
As far as the actual Stadium goes, the biggest problem I had with it was the levels of the sound system. We were sitting directly below a speaker, and my Mo, it was deafeningly. To whoever the lady is that goes about the Stadium asking people trivia questions and what not … don't talk so damn loud, the person is right next you! The sound system went completely silent in the sixth inning, and stayed that way for the rest of the game. It's a good thing they played these two games, now they have a chance to fix that.
Other than the PA system, the place was amazing. Monument Park seems a little too hidden, it would be nice to have it on full display as it was at the Old Stadium. The upper deck isn't nearly as steep as it was across the street, and I like the look of the dark blue seats. I'm sure some people will bitch and moan about tiny little things, but overall the place is phenomenal. I look forward to watching baseball there for the rest of my life.
Here's your open thread for the night. The Devils and Islanders are both in action, as are both Final Four games. Anything goes here, just be nice.
By

The Yankees have selected their 25th man. Ramiro Peña, 23 and with no experience above AA, has earned the back-up infielder spot while Angel Berroa has been reassigned to the Minor League camp. To make room for Peña on the 40-man roster, the Yankees DFA'd Dan Giese. There's a very good chance he will be claimed by the Padres. Peña will back up Cody Ransom, Derek Jeter and Robinson Cano for the next few weeks while A-Rod is on the DL. While Peña has never been much of a hitter, he has flashed some serious leather throughout his career and will be used for this defense.

As I said on Thursday, this is a move that doesn't really matter, but it is marginally interesting that the Yanks went with Peña. Had they opted for Berroa, they would have just DFA'd him when A-Rod is activated, but Peña will stick on the 40-man and thus limit the Yanks' roster flexibility. Peña will wear 19 on his jersey even though that number should have been retired in honor of Luis Sojo years ago. · (65) ·
We know the new Yankee Stadium has a gaudy price tag, but what about the new-look Yankees? The team had a total payroll of $209,081,577 in 2008 (source) and spent a lot of money to land CC Sabathia. A.J. Burnett and Mark Teixeira this winter.
Joel Sherman ran the Opening Day numbers yesterday, and they may be a bit surprising. The Yanks' total payroll clocks in at $207,461,739, a good $1.6 million less than last year. The team still has to decide between Angel Berroa or Ramiro Peña to that list, but either one of them will get just a prorated amount for the time they spend on the big league roster.
Basically, the Yankees managed to break even on the payroll while filling holes and making the team better than it was last year. Salary cap proponents like to bemoan the Yankees' spending ways, but they are spending wisely. They replaced players they lost dollar for dollar and did so without sacrificing the minor league depth they have. That's moneyball for you.
After the jump, the full breakdown of salary figures. This will change before the end of the year.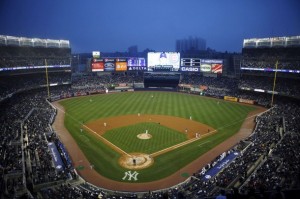 Ah finally, the last day of meaningless baseball. The only thing on the line today is the utility infielder job, but I think that's already been decided and just hasn't been announced. After the game the team will get ready for their season opener on Monday afternoon, when they'll be in Camden to take on the improving Orioles.
The New Stadium looked amazing last night, now we get to see how she looks during the day. As Ben mentioned this morning, the two of us will be there to soak it all in. Well, hopefully the weather cooperates and we won't have to soak anything in, literally. I'll be wandering around beforehand, but I'll settle in to my seat (Section 420B, Row 5, Seat 9) about a half-hour before first pitch. Stop by and say hi.
AJ Burnett is starting and will be relieved by Andy Pettitte. I'm guessing we'll see Phil Coke and Damaso Marte if any extra arms are needed since they didn't throw yesterday. Head on over to LoHud for the lineup. Enjoy the game folks.
Photo Credit: Eric Thayer, Reuters
By

Via MLBTR, Jon Heyman has a tiny little blurb about the Giants being interesting in bringing Xavier Nady back to the Bay Area at some point. It isn't clear if Heyman means they're interested in trading for the X-man during the season, or pursuing him when he's a free agent next winter. Nady, who grew up about two hours south of San Francisco and starred at Cal-Berkeley, fits their need for a power bat that can fill in at first base and the corner outfield spots. Given his contract status, the Yanks shouldn't expect much for Nady in a mid-season trade, and would probably maximize their return by offering him arbitration after the year and taking the compensation draft pick(s). · (30) ·
By

We couldn't let the opening weekend at the new Yankee Stadium go by without heading up to the Bronx to check out the new digs. While Joe is out of town this weekend, Mike and I are heading up to Yankee Stadium this afternoon to scope out the scene. While we'll be wandering the halls before the game, we'd like to invite any RAB reader who's coming to the stadium today to find us once the game starts. We'll be sitting all the way up in the Grandstand in section 420B. We're in row 5, seats 8 and 9. Come find us. · (18) ·
The Yankees played a game in the Bronx last night. They were wearing their pinstriped home uniforms. They took the field first, received a lot of applause, hit some home runs and won. Sounds good, right?
For all that is right in Yankee Universe, I couldn't shake the nagging feeling that I was watching the Yanks play a home game in someone else's stadium. The frieze looks great; the Great Hall looks, well, great; and Michael Kay called the stadium "majestic" every half inning. It will take a little while to get used to this new stadium as the home park for our New York Yankees.
That said, Yankee fans couldn't have asked for a better debut. The team blasted three home runs with Robinson Cano hitting the first one out. Derek Jeter knocked out the first Yankee hit in the new stadium, and while Chien-Ming Wang wasn't brilliant, he did enough to nail down what should be the first of many Yankee wins on the north side of 161st St.
For the Yankees, Friday night was nothing but a tune up. They left Florida with the best record in the Grapefruit League and came north to test run the new stadium. The team responded in kind. They knocked out 13 hits — including two doubles and three home runs — and plated seven as they downed the Cubs 7-4.
If we bothered to look closer, we might see a few things that weren't so encouraging. Chien-Ming Wang was off. He threw just 43 of 71 pitches for strikes, and he induced seven ground balls to five fly outs. He was missing up with his sinker, and the Cubs weren't getting good swings.
Of course, Wang's line would have looked a lot better if not for a "past a diving Jeter" play. With two outs and two on in the top of the second, Wang got a ground ball that could have been an out. Jeter ranged to his left, dove and missed it. Two runs scored, and Wang used five more pitches to get through the inning. Jeter's defensive short-comings aren't always that obvious, but tonight, we saw exactly how his lack of range can impact an inning.
To be fair, Jeter the leadoff hitter, came to bat three times and was on base three times. He scored a run and did all we could ask offensively. He's hitting nearly .400 since returning from the WBC and remains a top offensive threat at the top of a potent Yankee lineup. That defense though will always be a problem.
Anyway, enough with the negative digs at Derek. Tonight was a night to ring in the stadium and a new era in baseball history. While the Y.M.C.A. made a rather unfortunate debut at the new Yankee Stadium, everything else was as planned. Here's to many more of those victories when they count.
By

Following up on yesterday's post, the Yankees officially welcomed Reegie Corona back from the Mariners today. After hitting .281-.311-.386 in 57 at-bats this spring, Corona was assigned to Double-A Trenton, where he played last year. All of the players the Yanks lost in the Rule 5 Draft this year have been accounted for, as Corona, Zack Kroenke and Ivan Nova returned to the Yanks while Jason Jones will remain with the Twins after a trade. · (4) ·