By

A quick plug: From 9:30-10 p.m. tonight, I'll be joining Pro Baseball Central for a 30-minute discussion on the Yanks. We'll preview the season and talk about the new stadium. You can listen live at this link. Check it out. · (2) ·
Finally, some real baseball to talk about. We've been waiting all winter to talk about actual baseball, and we got it with three games this week. It didn't start off so hot, but the landslide victory today erased all the ill emotions wrought by the first two losses. Mike and I break down what we saw in the first series of the season.
An interesting question we touch on a couple of time: If Ransom continues to look this bad — and he could certainly rebound — do you place him on waivers when A-Rod comes back and stick with Pena? There's certainly a case for it. Hopefully it doesn't come to that and Ransom picks it up over the next few series.
Onto the podcast. It is available in a number of formats. You can download it here by right clicking on that link and selecting Save As. Load it onto your MP3 player and listen to it on the commute home. If you want to play it in your browser, just left click the link. You can also subscribe to the podcast feed, which will send it to you every Thursday. You can also subscribe in iTunes. Finally, we have the embedded audio player below.
Audio clip: Adobe Flash Player (version 9 or above) is required to play this audio clip. Download the latest version here. You also need to have JavaScript enabled in your browser.
Podcast: Play in new window | Download (51.8MB)
How clutch are the Yankees? Short-sighted people said that this afternoon's game was a "must win," and the Yanks delivered. Powered by 13 base hits, including three home runs, they rolled over the Orioles for their first victory of the season. A.J. Burnett had a successful debut in pinstripes, going five and a third to pick up the W. The bullpen went the rest of the way without allowing a baserunner.
A.J. looked absolutely filthy in the first two innings. His fastball ran in the mid 90s, and his breaking stuff was on for the most part. He ran into a little trouble with control in the third, and was a little shaky in the fourth, but managed an easy fifth before hitting 100 pitches with one out in the sixth. The Yanks were up 7-2 at that point, and A.J.'s victory was all but assured.
Nick Swisher, 1 for 1 with a double and a walk heading into the game, took advantage of his opportunity today, going 3 for 5 with a go-ahead homer and a double. It looked like Nick Markakis had a chance to catch the homer, but a fan ended up snagging it once it was out of play. He seemed proud. I'm guessing he was a Yanks fan.
Robinson Cano continued his impressive start with a 3 for 4 performance of his own, including a walk and a home run. After a slow start last year Cano is proving it's not an April thing. He's 6 for 11 right now with a double, a homer, and three walks. Best of all, his plate appearances are a lot better than they were at the beginning of last year. He's working deep counts in some ABs, and when he swings early in the count he's usually making solid contact. It's early, of course, just a three game sample, but it's a welcome sight to see a more discerning Robinson Cano at the plate.
Not to be overshadowed by the offense and A.J., the bullpen did about as well as it could, tossing 3.2 perfect innings, including six strikeouts. Mark Teixeira had two hits, including a game-tying homer in the fourth, his first as a Yankee. Ramiro Pena picked up his first Major League hit in his first Major League at bat. Melky got…an at bat. Way to spoil the fun, Melky.
We'll do it again tomorrow when Andy Pettitte takes the hill for his season debut in Kansas City for their home opener. Game time is 4:10, so plenty of us will hear John Sterling's voice for the first time this year on our commute home. Joy.
Keep the convo going here.
Two days, two clunkers for the Yankees and their starting pitchers. While the team is scoring runs, the starting pitchers are doing everything but preventing them, and they're doing so in dubious record-setting fashion.
For the first time in Yankee team history, the team's starting pitchers have failed to strike anybody out in back-to-back games to start the season. While Chien-Ming Wang isn't known for his K's, this achievement speaks volumes of the lack of command exhibited by Wang and Sabathia this week.
On the season, Yanks' starters have thrown 8 innings and have allowed 13 runs on 17 hits and eight walks. A.J. Burnett can't really do much worse, right?
Anyway, as Burnett prepares to make his Yankee debut at 1:35 p.m. this afternoon, there have been some good signs early on this season. Johnny Damon, Derek Jeter and Robinson Cano have been on base a combined 16 times, but the trio have scored just 4 runs among them. It will all click soon enough.
So for the Yankees, A.J. Burnett will take the mound this afternoon. The Yanks signed Burnett to a five-year, $82.5 million deal in December, and at the time, Joe didn't like it. Burnett was impressive this spring, but after watching the Yanks the last two days though, that's a pretty useless evaluation. He throws a high-90s fastball, an excellent change-up and a great curveball. When he's on, he's as tough a pitcher as anyone in the AL, and he led the league in strike outs last year.
Offensively, the Yanks are shaking things up today. Nick Swisher is making his first start in pinstripes. He bats sixth and plays right field. Jose Molina is spelling Jorge Posada, and Hideki Matsui is the odd man out as Xavier Nady will be the DH and, oddly enough, the clean-up hitter. The Yanks facing Alfredo Simon, another pitcher against whom they have never hit.
Jeter SS
Damon LF
Teixeira 1B
Nady DH
Cano 2B
Swisher RF
Ransom 3B
Gardner CF
Molina C
Burnett P
By

Just horrible news out of Southern California. Angels' starter Nick Adenhart was killed in a felony hit-and-run accident early this morning. Adenhart pitched just last night, firing six shutout innings agaisnt the A's. He was only 22. Suddenly 0-2 doesn't seem so bad.

Our deepest condolences go out to Adenhart's family and friends. · (44) ·
Over the last two days, the generally friendly Orioles fans have rained boos upon their native son. Mark Teixeira, current Yankee but a Marylander by birth, hasn't received a very warm welcome in Charm City, and I have to wonder if perhaps the Orioles fans aren't quite as knowledgeable about the game as I once thought them to be.
This story stretches back to this off-season. Orioles fans pretty much assumed Mark Teixeira would be theirs. Baltimore needed a big star to slot into the middle of their lineup. With an organization stocked with pitching, a stud catcher on the way and some solid pieces in place, Mark Teixeira could have drawn crowds like no Oriole had since the days of Cal, and he would have provided some veteran leadership and offensive pop for the team.
So the Orioles reportedly made a seven-year, $150-million offer to Teixeira. When the dust settled, he signed with the Yanks for one more year and a not-insignificant $30 million more. He also had higher offers on the table from at least the Red Sox and possibly the Nationals and Angels as well.
For his part, Teixeira says the boos don't bother him. He, after all, as an Oriole fan was booed as a kid in Baltimore for wearing a Don Mattingly jersey to Yankee-Orioles games. I expect to get booed in every single visiting stadium," Teixeira said. "The Yankees, you love 'em or you hate 'em. In Baltimore, you definitely don't love 'em."
But that's besides the point. The Orioles' fans are just misdirecting their jeers. Who among them would have eschewed that extra $30 million? Who among them would have turned down another year? Who among them would have objectively picked the Orioles — with no .500 seasons since 1997 — as a winner over the Yankees?
If anything, Baltimoreans should be booing Peter Angelos. He could have had Teixeira for a few dollars more, and Teixeira — a perfect fit anywhere — would have been ideal for a franchise struggling to compete in the AL East while facing declining attendance numbers. So boo Teixeira, Baltimore. He'll be hearing all over for years to come this year, but good luck with that whole winning thing as long as your team's current ownership is in place.
Well, two games, two stinkers by the Yanks' starting pitchers. It wasn't what we all expected when the season started, but it is what it is. When I took a look at CC Sabathia's start using Pitch f/x, we found that his velocity was fine but he struggled to find a consistent release point, likely causing his command issues. The data shows something much more interesting for Chien-Ming Wang, who threw 73 pitches on the night. Just three of those pitches were sliders, seven were changeups, and the remaining 63 were some form of fastball (either sinker or four-seamer).
Let's start with the flight paths of the fastballs, his two main weapons on the night, to get them out of the way. I was too stupid to realized that not everyone had seen a Pitch f/x graph before Tuesday's post, so I labeled these a bit more clearly. First up, bird's eye view, and as always you click any graph for a larger view.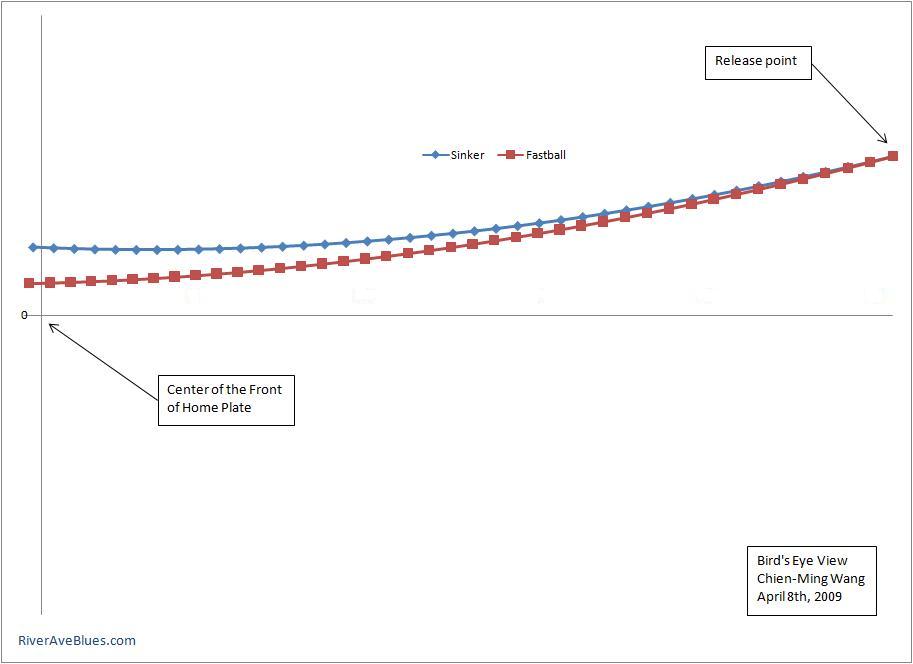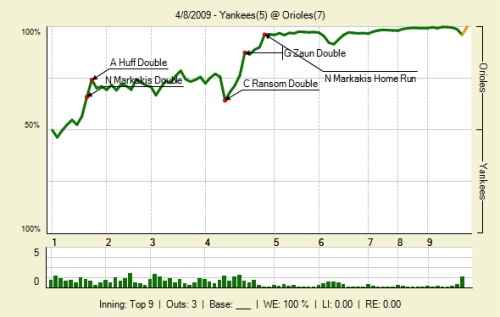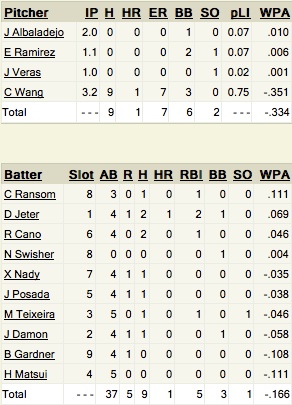 Orioles 7, Yankees 5
What is this nerdy graph?
Holy crap, this team is frustrating. They were bound to play like this at one point or another in the season, but why did it have to come at the start? It makes the whole thing so damned agonizing. You can only tell yourself "it's just a slump" so many times before you get sick of hearing it.
The game started off well enough. Derek Jeter had another exemplary leadoff at bat, walking on six pitches. Things were looking good for a second when Damon ripped one to right, but it was too close to Markakis. After Teixeira hit the first of many Yankees pop outs and Hideki Matsui grounded out, the only enthusiasm left was for Chien-Ming Wang…
…which evaporated pretty quickly. It was apparent right from the start that CMW didn't have it, and when CMW doesn't have it things get ugly. It started with a double from Adam Jones — on what I didn't think was all that bad a pitch — and continued with belt-high pitches to Nick Markakis and Aubrey Huff, both also resulting in doubles. After Melvin Mora hit one Pasta Diving Ransom, Wang finally retired the side. Two and two-thirds innings later, Wang left the game having allowed seven runs.
Wang didn't look bad in the second inning. He left one up in the zone to Felix Pie and he hit it much further than I had figured, but he kept the ball down to Zaun and Izturis, fooling us into thinking he'd settled down. But a shaky third inning turned into a disastrous fourth inning and Edwar had to finish the job. Thankfully, the bullpen took care of it from there, but the offense wasn't up to the task.
The Yanks had a chance to do some damage against Uehara from the get go, but let him off the hook by swinging at too many pitches out of the zone. Tex popped up in the first on ball four, and Matsui swung at a number of pitches out of the zone before grounding out. Most of the guys just weren't having good at bats. Robinson Cano, 2 for 4 with three good ABs; Jorge Posada, 1 for 4 with a double; and Derek Jeter, 2 for 4 with a walk and a homer, were notable exceptions.
What really irks me is that Uehara didn't look that impressive. He had some good movement on pitches, but he was all over the place. He didn't strike out anyone, and again he should have issued more than one walk. The Yanks just wouldn't let him. They came around with some life in the ninth, but this wasn't to be another April 19, 2007.
On the WPA side, Wang was obviously the goat. Hideki Matsui and Brett Gardner brought down the offense, which makes sense because it seemed like Jeter or Jorge lead off every inning. Cody Ransom's double, the biggest WPA swing in the game, kept him atop the Yanks leader board. Jeter, Cano, and Nick Swisher's walk were the only other Yankees in the black.
On a parting note, I feel bad for Jorge Posada. What should have been a fairly easy pop out turned into an adventure at the on-deck circle. On one hand he has to keep his eye on the ball, or else it might hit him on the schnoz. On the other hand he has to watch his step, or else he might trip over the donuts or pine tar rag. He did all he could; there just wasn't a good chance he was catching that ball.
Thankfully, we'll do this again at 1:00 today. A.J. makes his Yanks debut, and hopefully the lineup can score early and often against the worst rotation in the league's third best pitcher.