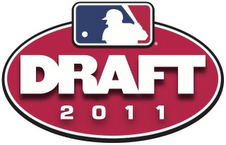 Through two days and 30 rounds, the Yankees have yet to select a middle infielder in this year's amateur draft. In fact, they've taken just nine position players total, and only two are projected to stick at an up-the-middle position long-term. That's unusual, but I'll talk about that more in-depth in tomorrow's grand recap. For now, we've still got the final 20 rounds to worry about. The draft resumes at noon ET and can be followed on MLB.com's Draft Tracker. Audio of the conference call is available through that link.  Based on last year, today's liveblog should last "only" five hours, which sounds great after yesterday's ordeal. Here's a collection of links regarding the last two days…
Here's what Keith Law had to say about the Yankees' haul in his AL Day Two recap (Insider req'd): "I always expect them to shoot more for upside than they do; they did go for some with New Hampshire prep righty Jordan Cote (3) and Virginia prep player Jake Cave (6), listed as an outfielder (he'd be a corner bat with doubles power) but also a prospect as a left-handed pitcher. Greg Bird (5) can hit but is fringy behind the plate. Right-hander Philip Wetherell (8) is probably a reliever in pro ball. Right-hander Zach Arneson (9) from Lewis & Clark State has two average pitches and probably also goes to the pen."
My favorite pick of Day Two: 20th rounder Dan Camarena, a high school southpaw from California. He reportedly sits 88-91 with his fastball and backs it up with a very good changeup and a solid curveball. I'm not sure if he'll add any velocity given his almost maxed out frame (6-foot-1, 205 lbs.), but Camarena is lauded for attacking hitters and being aggressive. High school kids with three legit pitches are fantastic picks in the double digit rounds, especially ones that could have gone as high as the third or fourth round.
Last month, KLaw mentioned 18th rounder Hayden Sharp as a pop-up guy (someone that burst onto the scene this spring), noting that he has run his fastball as high as 98 at times while often sitting 93-96. That's huge velocity from anyone, but especially from a high school kid with room to fill out his 6-foot-6 frame.
Joe and I talked about the concept of drafting makeup guys and how their work ethic could help them improve weaknesses in their game (especially on defense) on yesterday's podcast, and scouting director Damon Oppenheimer pretty much confirmed that yesterday. He told Jack Curry that "talented kids who are willing to work at defense will succeed." First pick Dante Bichette Jr. fits that mold, but so do kids like Matt Duran (4th round) and Greg Bird (5th).
Speaking of Bird, he played the whole "it's a win-win situation" card when asked by The Denver Post if he's rather turn pro or follow through on his commitment to Arkansas. Third rounder Jordan Cote had the same reaction when speaking with The New Hampshire Union Leader. You'll hear a lot of that, but it's just agent speak. Kids will cost themselves a few bucks if they come off as overly anxious to sign.
As for Bichette, Oppenheimer told Curry he doesn't "think we'll have any trouble signing him. He wants to play." He might be under contract in time for the rookie level Gulf Coast League season, which starts in less than two weeks. Chad Jennings recapped the Joe Girardi-Dante Bichette relationship last night, in case you missed it.
You can see all of the Yankees' selections right here. Probably should have mentioned that earlier.
Update: After running through Baseball America's list of the top 200 draft prospects, the following players are still available …
Jake Reed, RHP, California HS (ranked 128th overall)
Dante Flores, 2B, California HS (148th)
Chris Mariscal, SS, California HS (168th)
Michael Cederoth, RHP, California HS (169th)
Pat Connaughton, RHP, Massachusetts HS (170th)
Ricky Jacquez, RHP, Texas HS (189th)
I wrote about Jacquez earlier this spring, and I'm a definite fan. He's probably going to end up going to school though.
Update Part Deux: Here's a great article on Cote from The Concord Monitor. It says he's already asked the Yankees for more than slot money, which isn't surprising. Slot for the 118th overall pick is somewhere around $250,000.