By

The new Yankees-E. 153rd St. Metro-North stop is set to open early and on budget, according to the MTA. As I explain over at Second Ave. Sagas, the station, serving Yankee Stadium with extra trains on game days and the South Bronx at all times, will open on May 23 when the Yankees take on the World Series Champion Phillies at the Stadium. Metro-North anticipates around 10,000 fans per game through the station, and I'd imagine the originally published fares will increase when the MTA enacts its May 31 fare hikes.

In other new stadium news, Nathan's and the Yankees signed a ten-year deal yesterday. Hot dogs and crinkle cut fries from the famous Coney Island-based dog stand will find an outlet in the Bronx for the next decade. · (5) ·
There's but one battle left for a Yankees roster spot, and it's for the backup infielder. The in-camp battle is between Angel Berroa and Ramiro Pena, but if it comes down to just those two the winner is pretty obvious — or at least so think Mike and I. We break down the reasons why, plus we elaborate a bit more on Dallas McPherson, who presents the Yanks with an interesting opportunity in A-Rod's absence.
After that it's onto the reader questions, which revolve mostly around roster issues. We delve into some general baseball stuff, too, like the Tigers' decision to place Rick Porcello in their rotation. Thankfully, the Yankees aren't in that kind of situation this year. Things are set up so that the guys who still need some work are still in the minors. This is mostly notable for Phil Hughes, who pitched excellently yesterday, and will have plenty of time in AAA to hone his cutter and changeup. Armed with a 4-seamer, curve, cutter, and change, he could be a difference-maker on the Yanks in the years to come.
Onto the podcast. It is available in a number of formats. You can download it here by right clicking on that link and selecting Save As. If you want to play it in your browser, just left click the link. You can also subscribe to the podcast feed, which will send it to you every Thursday. You can also subscribe in iTunes. Finally, we have the embedded audio player below.
Audio clip: Adobe Flash Player (version 9 or above) is required to play this audio clip. Download the latest version here. You also need to have JavaScript enabled in your browser.
Podcast: Play in new window | Download (52.9MB)
By

After having his scheduled start on Monday pushed back for reasons unknown, Phil Hughes took the mound against the Pirates' Triple-A squad yesterday afternoon. He allowed one run on five hits and a walk in five and a third innings, striking out seven. He struck out the side in the first inning on ten pitches, but the fact that he needed that extra pitch cements his status as a bust. Hughes said he expects to get up to 100 pitches in his next start, which will be his last one of the preseason before heading to Triple-A Scranton. "Cutter and changeup is something I really want to get going," Hughes said. "That will be a big pitch for me, both of those. I don't think they're ever going to be go-pitches for me, just something to compliment my fastball and curveball." Elsewhere, Alan Horne continued his return from shoulder surgery with two innings in an intrasquad game yesterday. He's scheduled to throw three innings on Monday. · (55) ·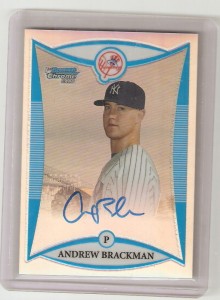 Man, it feels like just yesterday we wrapped up the TJ Rehab Watch, and now I'm here introducing you to this year's Watch already. As the title says, this year we're going to track the progress of Andrew Brackman, the Yanks' 2007 first round pick who will finally be unleashed on minor league hitters this season after missing all of last year due to Tommy John surgery. It's been a long time coming, and hopefully it'll be worth the wait.
Most of you know what this is all about, but for those of you who latched onto RAB for the first this time offseason, here's a quick primer: During the season we'll keep track of two sets of stats for Brackman – his pitching line from his most recent start, and his overall season line. You'll be able to find this info on the far right sidebar, right below the Countdown Clock for the time being. That's it, simple enough.
So what's the point of the Watch? To revel in Brackman's awesomeness. No seriously. It's there to show off his performance and make sure everyone knows how he's pitching. Of course there's always the chance that he might suck, but that's the risk. So far our previous Watchees (Phil Hughes in '06, Joba in '07, the TJ Rehab quartet in '08) haven't disappointed.
Usually I have to debate between three or four worthy candidates all winter before settling on my Watch subject, but this year it was a piece of cake. It's not often a pitching prospect of Brackman's caliber comes along, and when one does he's worth paying attention too. As exciting as Austin Jackson and Jesus Montero are, position players just don't have that wow factor. Zach McAllister and Dellin Betances? They'll have their day. Mark Melancon won't be in the minors all year, and the thought of switching to a new Watch mid-season makes me feel dirty, so he didn't make the cut either.
The minor league season doesn't start until the middle of next week, but I figured it as about time to get this thing up on the site, especially since some other sites are trying to bite our style. I keed, I keed. Enjoy.
Photo Credit: Sports Card Forum
By

Today's going to be our final Radio Show of the offseason, which is awesome because this means we'll have some meaningful baseball to talk about next week. No more Spring Training speculation, no more Hot Stove, no more waiting. It's awesome.

We're going to tackle reader questions during the entire show today, so if you have any questions you want Joe and I to answer make sure you email them in via the links on the right. The podcast will hit the site later this afternoon. · (1) ·
And then there were 27 — or 26 because one of those 27 is in Vail, Colorado.
As the Yankees return to the Bronx today for their first workout at what will always be new Yankee Stadium to me, the team has pared its active roster down to 24 with two men in camp still fighting it out. It looks a little something like this right now:
Pitchers
Jonathan Albaladejo
Brian Bruney
A.J. Burnett
Joba Chamberlain
Phil Coke
Damaso Marte
Andy Pettitte
Edwar Ramirez
Mariano Rivera
CC Sabathia
Jose Veras
Chien-Ming Wang
Catchers
Jose Molina
Jorge Posada
Infielders
Robinson Cano
Derek Jeter
Cody Ransom
Alex Rodriguez (DL)
Mark Teixeira
Outfielders
Melky Cabrera
Johnny Damon
Brett Gardner
Hideki Matsui (DH)
Xavier Nady
Nick Swisher
By all accounts, that's a pretty solid team. The pitching presents an overhauled starting five, and the seven others resemble all of the best parts of one of the AL's best bullpens. Jorge Posada assumes his rightful place behind the dish. Mark Teixeira makes Jason Giambi seem like a dim memory, and the outfield is younger and far superior in the field than the 2008 Opening Day iteration.
The only question — if one could call it a pressing question — is a debate over the backup infielder. In one corner, Ramiro Peña. The 22-year-old has never played above AA, but he has drawn impressive reviews from scouts for his defensive work at short this spring. He even managed to hit to the tune of .295/.348/.361 in 61 Grapefruit League at bats.
Those aren't terrible numbers, one might say. I am however far more inclined to believe that his Minor League line — an ugly .258/.316/.319 over four seasons — is far more indicative of his hitting ability than some early March action. Peña is an all-field, no-hit short stop, and the Yanks would start his arbitration clock — if he ever makes that far in the Majors — by bringing him up.
In the other corner is Angel Berroa. He had an excellent offensive spring, hitting .373/.383/.610, but since winning the AL Rookie of the Year in 2003, he has been an utter disaster at the plate. Last year, he made Melky look good by turning in a .230/.304/.310 line with the Dodgers in 256 plate appearances. He also can't field.
In one sense, this is an easy choice: The Yankees, defensively challenged up the middle, should go with Ramiro Peña. In an ideal world, he would spell Derek Jeter at short late in the game. However, who wants to be the one to tell Jeter he's getting yanked from a close game over his glove?
Anyone? Anyone? Bueller?
Exactly.
If the glove is out of the equation, then perhaps, the Yanks should go with Berroa. Maybe his spring hot hitting can carry over, and he could sub for Cody Ransom for a few days. That however would leave the Yanks hopin' and prayin' that no one hits the ball to third base.
In the end, the answer is easy: Just pick one, and the team can't go wrong.
Whoever makes the team will be on the roster for about six weeks until A-Rod returns from his injury. Unless Cody Ransom is utterly terrible, that player will see little to no action with the April schedule. In all likelihood, Ramiro Peña's career will be that of a journeyman late-innings defensive replacement, and Angel Berroa's could end after the Yanks cut him. If this is the biggest problem facing the Yanks right now, count me enthusiastic for the season.
Over the past two-plus years, Ben, Mike, and I have done everything we can to bring the very best in Yankees coverage to our readers. We've identified opportunities and have pounced on ones we thought would bring a better experience to RAB. So when the YES Network approached us about a possible content partnership, we were all ears. Fast forward a few months, and we're ready to officially announce our participation in the YES Network blogging network.
What does this mean for the future of the site? In terms of content, nothing will change. It will still be the three of us developing and producing every post on the site (with the exception of an occasional guest post). The only difference is that now some of that content will be featured on YESNetwork.com, alongside material from Jim Kaat, David Cone, and John Flaherty. It should make for an interesting juxtaposition: three former ballplayers and three schlubs who love the hell out of the game.
For some of you, this might not be news at all. Sports Business Journal spilled the beans a few weeks ago. Then Jason picked up the story, spreading it a bit further. So perhaps many of you knew this was coming, but were just waiting for us to actually say something about it. Our lips are not loose, thank you very much, and our ships are not sunk. Truth told, it was actually pretty exciting to see the word start to get out. We're really looking forward to exploring how YES can help us and we can help YES.
To close out, we'll share a bit of the press release, which should hit YES this morning:
Since its inception, River Avenue Blues has experienced great growth, including a 100 percent traffic increase from December 2007 to December 2008.
"Their consistent climb in traffic clearly impressed us," said YESNetwork.com managing editor Kevin Sullivan, "but in the end, it was their quality of content that proved most valuable to us. We really think that incorporating their point of view with that of our experts like Jim Kaat, David Cone and John Flaherty will really round out our baseball offering."
Have I mentioned yet that Kevin is a great guy?
By

After causing a stir about the seemingly draconian and classist policies the Yankees were attempting to put into place at their new stadium, I'd be remiss if I didn't publish a follow up. Per Ross, the Yankees have rescinded their rule prohibiting non-ticketed fans from walking through the field level concourses. While the seats may be off limits to those not destined for them, fans sitting anywhere will now be able to walk through all parts of the stadium. The Yankees seemed to have caved in after fans voiced some strenuous objections to the original misbegotten policies. · (18) ·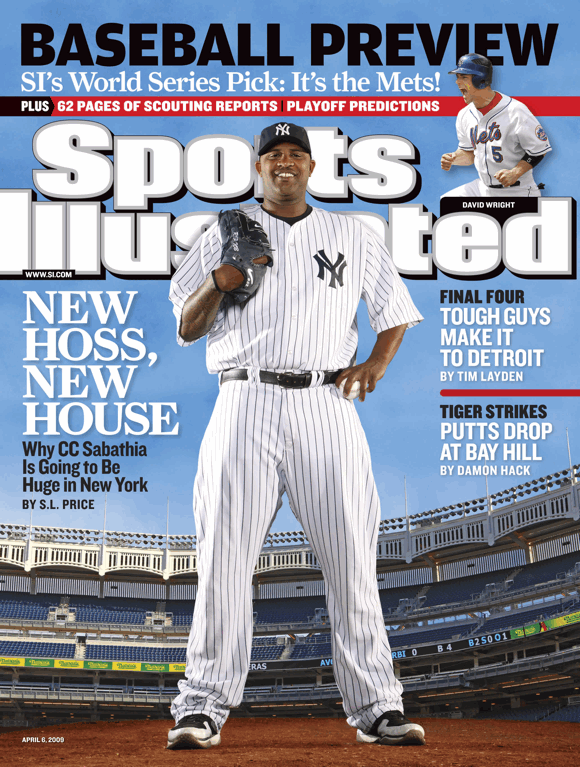 That is a very big picture of a very big man, and today, that image graced newsstands across the country. Sports Illustrated unveiled their 2009 baseball season preview this morning, and it's very Yankee-centric except when it counts. More on that in a second.
The centerpiece of the issue is a lengthy article, not yet online, about CC Sabathia. In it, S.L. Price talks about how great a fit Sabathia will be for New York. While he may not have been ready for the big stage three years ago, according to Price, after a few years of elite pitching, Sabathia has come to embrace what he can do on the mound.
I had the opportunity to read through a PDF of the profile, and it's very illuminating. I know I run the risk of sounding like a mouthpiece for SI, but check it out and see for yourself.
The SI issue also contains team profiles of each of the 30 clubs. Mostly, they read as fluff pieces focusing, as the Yanks' one does, on team chemistry and Nick Swisher's enthusiasm.
And of course, no SI preview would be complete without some season predictions divorced from reality. SI picks the Yanks, Twins and Angels as the division winners in the AL with the Red Sox as the Wild Card. The Yanks are picked to face — and lose to — the Angels in the ALCS, and the Mets are somehow picked to win the World Series. Yeah, right.
Derek Jeter update
Not to toot our own horn too much, but Joe Girardi confirmed today that Derek Jeter will be in the leadoff spot on Opening Day. Just remember where you heard it first.
The Fine Print
This is your open thread. In a few days, we'll be able to do Game Threads at 7 p.m. That will be glorious. Play nice.