By

Last summer, my dad and I took a tour inside Yankee Stadium. It was a great way to get inside the House that Ruth Built before it closed forever. Today, the Yankees unveiled the information about tours of the new stadium. Tickets are $20 with all the money going to the Yanks' non-profit organization and can be purchased ten days in advance. The tours go through the new indoor batting cages, the clubhouse, the dugout, the Yankee Museum and Monument Park. For more info on the tours, check out New Stadium Insider. · (4) ·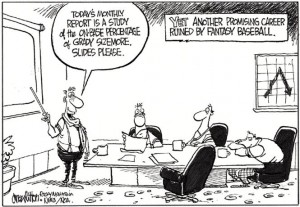 The RAB Fantasy Baseball League drafted Saturday night, but not before we hit a bit of a snafu with the keeper settings, so unfortunately we had to push the draft back a week. A few people backed out, and we went from a 20 team league to a 14 team league. Next year we're going to have to go back to Yahoo, because ESPN was a bit frustrating, especially the actual draft software.
My strategy last year was to load up on hitters early, and not take any pitchers until my last nine picks because they tend to get hurt and are just more unpredictable in general. It didn't go so well, so I scrapped that strategy all together and went back to my traditional routine of mixing pitchers in as I go. I still grabbed hitters with my first four picks, but after that I targeted some young arms with upside potential.
We have twelve stat categories, six for hitters (R, HR, RBI, SB, AVG, OBP) and six for pitchers (W, HD+SV, K, ERA, WHIP, QS). Holds + Saves instead of straight saves adds a little more flexibility to league (plus it's something different), and I took advantage of it by hording top set-up men with my last few picks. After all, what's the point in wasting a fourth or fifth round pick on a guy like K-Rod or Joe Nathan when Scott Downs or Russ Springer could give you similar stats sixteen rounds later?
The first round went Hanley, Pujols, Wright, Reyes, Braun, Rollins, Sizemore, Miggy, Utley, Tex, Lincecum, Chipper, Johan, Howard. Here's the squad I drafted (round/overall pick):
C: Russell Martin (4/51)
1B: Derrek Lee (6/79)
2B: Brian Roberts (3/34)
SS: Jimmy Rollins (1/6)
3B: Aubrey Huff (8/107)
OF: Brad Hawpe (9/118)
OF: Conor Jackson (10/135)
OF: JD Drew (13/174)
UTIL: Jack Cust (14/191)
SP: Felix Hernandez (5/62)
SP: Zack Greinke (7/90)
RP: Jason Motte (18/247)
RP: Ryan Madson  (20/275)
P: Josh Johnson (11/146)
P: Gil Meche (15/202)
P: Jered Weaver (16/219)
BN: Alex Rodriguez (2/23)
BN: Mike Aviles (12/163)
BN: Ryan Spilborghs (21/286)
BN: Chris Volstad (17/230)
BN: Jose Arredondo (19/258)
BN: Scot Shields (22/303)
Obviously I took A-Rod with an eye more towards the second half. We have eight DL spots, so I'll just slide him over and grab a player out of the free agent pool as needed once the season starts. Huff is my third baseman for the time being, and if he puts up numbers anywhere close to what he did last year, I'll be golden. He, Jackson and Aviles are eligible at multiple positions, so I have some flexibility. Most days I'll start all four relievers, unless of course I have more than three starters scheduled to pitch that day. I'd like to have someone better than Ryan Spilborghs as my JD Drew insurance, but hopefully Drew can stick it out until A-Rod comes back. I'm happy, I think I can do some damage with this team.
Anywho, here's your open thread for the night. The Nets are home against the Bucks, the Knicks are in Utah, and the Devils and Rangers will face-off in the Garden. You've also got new episodes of House and 24 on FOX, which is probably where I'll be. Talk about whatever you like here, just be nice to each other.
Oh, and don't forget to vote in this week's Fan Confidence Poll if you haven't already. Thanks.
Photo Credit: Waiting for Next Year
By

A few weeks ago, Justin Sablich of The New York Times conducting a few e-mail interviews with various Yankee bloggers. Today, he published the piece. So check it out as Cliff Corcoran, Steve Lombardi and I tackle the early questions surrounding the 2009 Yankees. I think Cliff has a point when he wonders about Jim Edmonds' availability. [Bats Blog] · (31) ·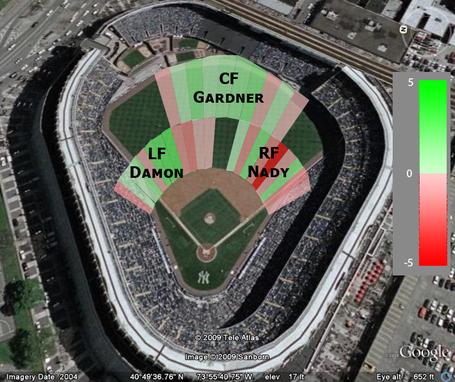 That graph comes courtesy of Dan Turkenkopf at Beyond the Box Score. Dan took the vector data from Dave Pinto's database and plotted it to show where each of the Yanks' starting outfielders excels defensively. Basically what you're seeing is how good each player is on balls hit to a specific "zone," with green being good and red being bad. The center fielder is shown above the corner guys just so you can see the overlap, it doesn't mean that balls hit to corners will go undefended or anything like that. And also don't worry about the background, the New Stadium will have the same dimensions as the old joint.
The very first thing I noticed was how bad Nady is on balls hit right at him, basically about five outs worse than expected. He's even weak to his immediate right and left, which tells me that he's just not very instinctive out there, and is at his best defensively when it's obvious off the bat that he'll need some hustle to get to the ball. You know what would be cool? If Mr. Turkenkopf put one of these together with Swisher in right instead of the X-man. (nudge nudge)
Damon is the opposite of Nady, eating up everything hit close to him, which is what you'd expect from a veteran Major League outfielder. He's also stronger going to his right, which probably has something to do with him not having to reach across his body with his glove to field balls on that side. Gardner's very strong out there, making plays on everything hit even remotely close to him. He shows the same pattern of struggling to get to balls that would require him to reach across his body with his glove, so my theory might hold a little water. Of course the small sample size police are in full force with Gardy.
Judging from the graph, it looks like the biggest problem areas are the gaps (expected), specifically the left-center field gap. And, you know, the whole Nady in right field thing. Joe and I have mentioned on the podcast several times that the hardest ball to field is the one hit right at you, but it looks like Nady is the only one in the Yanks outfield with this issue.
This is some really interesting stuff. What do you guys think?
A few weeks ago the folks at ACTA Sports were kind enough to send along a copy of The Fielding Bible Volume II, John Dewan's study on defensive metrics. Instead of reviewing the entire 400-page tome in one shot, I thought I'd address a number of issues throughout the week. We'll start off with a topic which has been beaten into the ground over the past few years: Derek Jeter's defense. As it turns out, his Gold Gloves might be justified.
This isn't to say that Jeter's range is any better than we've come to understand. He still has trouble ranging to his left, and that's probably not going to improve. Yet he's not a complete black hole out there. As it turns out, Jeter ranked best in the majors last year in Defensive Misplays, a visual metric developed by Bill James which attempts to succeed where errors fail in determining poor defensive plays. Says James:
A defensive misplay is a very specific observation of a very narrowly defined event, created in such a way as to keep the scorer's use of judgment to an absolute minimum.
An error is based on what "ought" to happen in the mind of an official scorer. A-Rod should have fielded that cleanly; Robinson Cano should have made a better throw to first. James attempts to strip the subjective observation of the scorer and create a defined set of circumstances which will determine a defensive misplay. There are 54 different types of defensive misplays. Here's his example:
Failing to anticipate the wall — Outfielder goes to the outfield wall, allowing a ball to bounce over his head back toward the infield, allowing a runner or runners to take bases which they might not have been able to take had the fielder turned and played the ball off the wall.

The scorer has to ask himself only two questions:

1) Did the outfielder go to the wall in an effort to catch the ball, and
2) Did the ball bounce over his head back toward the infield?
…
The scorer does not ask himself "Did the fielder have a real chance to catch the ball?" or "Should the fielder have chased the ball to the wall in that situation? or "Should an ordinary fielder have known that he could not catch the ball at the wall?" or anything like that. It's two simple questions: Did he chase the ball to the wall, and did the ball bounce over his head back toward the infield?
While James attempts to separate subjective judgment from objective observation, he's not always successful in The Fielding Bible. I'll agree with Mitchel Lichtman's critique: "However, as you read more about his Defensive Misplays (DM's), it becomes clear that many of them are very subjective, or at least not as objective as he claims DM's are in general." Still, it tries to add more context to the idea of an error, beyond the official scorer determining that a player messed up.
(Oh, and you'll never guess who led the league in the above-cited defensive misplay. Yes, it was Bobby Abreu, in a tie with — wait for it — Nate McLouth.)
Jeter's strength, according to James's system, is his ability to cleanly field balls he reaches. He led all shortstops last year with just 17 defensive misplays in 1,259 innings at short. Even when you count errors — which James claims were not counted in Defensive Misplays, so there's no doubling up — Jeter comes out as the best shortstop in the majors.
This puts Jeter's Gold Gloves in a bit better context. After all, it's easier to see plays that were made than those that weren't. It might not be easy for an observer to see all the balls Jeter doesn't get to. Routine grounder through the hole for a single, one might think. That's an easy observation to make, since it's difficult to determine whether Jeter should have gotten to the ball or, even more difficultly, if one of Jeter's peers would have cleanly fielded the grounder. Because he's so good on the balls he does get to, that's translated into playing good defense, hence the Gold Gloves.
When it comes to range, we know that Jeter doesn't get much respect. If you check out his UZR you'll see that since 2003 he's ranged from slightly below average to freaking atrocious (namely 2005 and 2007). Last year he was just below average by that metric. Since this is a Fielding Bible review, we'll also look at Dewan's plus/minus system. That one's a bit harsher on Jeter, rating him a -9 (-8 for fielding, -1 for his double play turning). That puts him fourth lowest among qualifying shortstops, besting only Yuniesky Betancourt (another guy who reputedly plays good D), Jeff Keppinger, and David Eckstein. During the three years from 2006 through 2008, Jeter ranks dead last at -50 — and it's not even close.
The difference between the two systems is something we should certainly explore further. While Dewan had Jeter in the cellar in terms of defensive range, UZR was a bit kinder in 2008, ranking him 11th in the majors, ahead of Jose Reyes. More notably, UZR has Jeter ahead of Christian Guzman, who ranked fifth in Dewan's plus/minus system. Clearly, there are flaws in defensive metrics. Geoff Baker, beat writer for The Seattle Times, has a comprehensive and intelligent look at defensive metrics. I highly recommend the read.
Does Jeter's ability to avoid misplays compensate for his lack of range? It's tough to say, especially when we're working with inherently flawed statistics. I will agree with Steve Lombardi's conclusion: "In a nutshell, it's his ability to avoid "Defensive Misplays" that has enabled Derek Jeter to win Gold Glove awards in the past. And, it's probably the same reason why the Yankees haven't moved him off shortstop yet." That and ego, of course.
We'll close this out with a scouting take on Jeter, also from The Fielding Bible, just to even out all this statistical talk:
Then there is the signature Jeter play, when he fields a backhander in the hole and makes his patented jump-throw. Jeter still excels at this play, but it disguises the fact that he does it because he lacks the arm strength to plant his feet and throw. His arm also causes him to play more shallow than other shortstops, cutting down on his range.
The last comment about playing shallow makes plenty of sense. Certainly, playing shallow would make it tough for Jeter to get to those up the middle balls. Regarding the first observation about the jump-throw, it might sound intuitively incorrect. You can't make as strong a throw while you're in the air, right? No, you can't, but you can also get rid of it quicker. What Dewan means here is that Jeter needs to do the jump-throw, because it would take him additional time to stop, plant, and make a strong throw. Because his arm isn't as strong, he needs a quick release. It's along the lines of Johnny Damon's arm not costing the Yanks any runs — a topic we'll visit later in the week.
You can get The Fielding Bible–Volume II
from Amazon.com for $16.29. That's our Amazon Associate code, so if you buy the book from that link you'll kick us a few pennies.
Admiration for Brian Cashman's body of work is not universal in Yankeeland. He's made a number of questionable and even downright bad moves in the past, and a number of fans have let those moves define him. While Ben, Mike, and I generally support Cashman, we also appreciate the dissenters out there. Sometimes the glasses get a bit too rosy and we need to step back for a moment. Regarding this winter, however, it's tough to say anything negative about Cashman's performance.
Exiting a sub-par (for them) 2008 season, the Yankees needed two things: a front-line starting pitcher and a bat. Pitching was an obvious need. The team trotted out Sidney Ponson and Darrell Rasner for far too many starts in 2008. No one wanted to see that happen again. The team didn't hit too well in 2008 either, and with the productive bats of Bobby Abreu and Jason Giambi headed elsewhere there was certainly a need for another middle of the lineup bat.
The bat came quickly. In mid-November Cashman acquired Nick Swisher and reliever Kanekoa Texeira from the White Sox for Wilson Betemit, Jhonny Nunez, and Jeff Marquez. There's almost nothing bad to say about this trade in itself. Swisher is a classic buy low case, and the Yanks weren't going to get much use out of the parts they traded. However, losing both Giambi and Abreu while adding just Swisher didn't seem like enough. Many fans thought that the team needed another impact bat, though Brian Cashman insistent that Swisher was good enough to handle first base every day.
Fast forward to the Winter Meetings. The Yanks had offered CC Sabathia six years and $140 million at the outset of free agency, and the Winter Meetings would certainly be a time when they tried to get that signed and sealed. This is where Cashman excelled. He laid out exactly how much the Yankees wanted CC. He not only gave the typical Yanks pitch, but went so much further for Sabathia. I mean, the man flew — commercial — from Las Vegas to San Francisco so he could pitch CC's wife. That's dedication. Before Cashman headed back to Vegas he had told CC everything he needed to hear and had an agreement in place.
A few days later the Yanks outbid the Atlanta Braves for A.J. Burnett. So shortly after Cashman makes an almost-universally heralded move in signing CC, he made a highly questionable move in inking Burnett to a five-year deal. He's a guy with a long injury history and who has pitched over 200 innings only in his two contract seasons. A number of fans panned Cashman for the move, and it's tough to argue with them. Yeah, Burnett might have lived and learned, but he's still a considerable health risk. Yet his upside is unquestionable. If healthy he could be a second ace on the Yanks staff.
The final blow came just days before Christmas, when the Yankees moved in on Mark Teixeira. All indications were that he was headed to Boston — one Boston blog even said they had an agreement in principle. After a morning of constantly refreshing Jon Heyman's blog, I finally saw the news: the Yanks had signed Teixeira. As we later learned, not only did the dollars entice the first baseman, but so did the Yankees tactics. They laid low, surveyed the scene, kept in contact with the client, and when the critical moment came to pass they swooped in and got him.
While Burnett and Swisher were nice pickups, they're not on the level of CC Sabathia and Mark Teixeira. That's not only in terms of baseball skills, but in terms of the effort put forth by the Yanks to acquire them. They played both situations perfectly. With Sabathia they made their intentions known early and sat back while the pitcher pondered his situation. Other than a few benign quips from Yanks brass about CC's offer not being on the table forever, the Yanks stayed quiet about the hefty lefty until they met with him at the Winter Meetings. Once there they alleviated his concerns about coming east and got the deal done. Ditto Teixeira. While Boston negotiated through the media, whether intentionally or not, the Yankees stayed back and pounced at the exact right moment. In the end, they were rewarded with the bat and the arm they needed heading into the winter.
Is that too rosy a depiction of the winter? I don't think so. It's just praise where praise is due. The Yankees front office, led by Brian Cashman, achieved their goals this off-season. Yes, money played a big part in it, but money was going to be an issue with both Teixeira and Sabathia anyway. We've seen teams turn down the money for a better situation (though Greg Maddux situations aren't common), and the Yanks employed an effective strategy to ensure that their high bids would win them the prize. That is certainly praise-worthy.
This past week was a bit of a slow one in Yankeeland. As expected with hardly a week left to go in the preseason, the New Yankee Stadium dominated the news. He learned about the food selection, the gates opening earlier, a new and easy way to find parking, and about some of the unfortunate TV camera angles. We do know that King George will make the home opener, but Bob Sheppard's health might cause him to miss the festivities. Sadly, the Old Stadium will start coming down in April.
On the field, the team named their starting center fielder and likely starting right fielder, and made a small but potentially significant change atop the lineup (perhaps at our behest) after Derek Jeter returned from the WBC.  The long reliever candidates battled it out but the team might not carry one anyway. Phil Hughes is continuing to work on his changeup in the minors and CC Sabathia already looks like he's in mid-season form. Alex Rodriguez is targeting a May 15th return, and the braintrust felt a need to have a heart-to-heart with A-Rod about all of the distractions.
Fangraphs rated the Yankees' organization the third best in baseball, but the Bombers are still number one in New York. As if there as any doubt.
Please take a second to answer the poll below and give us an idea of how confident you are in the team. At some point in the next few weeks I'll create a permanent link to a graph showing the change in fan confidence over time, but for now this will have to hold you over. Don't worry, I'll pretty it up eventually. Thanks in advance.
Given the team's current roster construction, farm system, management, etc., how confident are you in the Yankees' overall future?
As good as he's been this preseason, AJ Burnett finally gave us a look at his ugly side today. Facing what should pretty much be the Pirates' Opening Day lineup, Burnett allowed seven runs (six earned) on ten hits and three walks in just four and a third innings. He allowed three homers (to Eric Hinske, Ryan Doumit and Adam LaRoche) and struck out just one batter. Scheduled to throw 90 pitches, Burnett left after throwing just 83, 53 for strikes. He said his mechanics were "out of whack all day," but the good news is that his arm feels fine. Eh, it happens, no matter what time of year. Burnett's next start will be Saturday, the second exhibition game against the Cubs in the New Stadium. Ben and I will be there.
Damaso Marte relieved Burnett, allowing two of the three baserunners he inherited to score on a pair of hits before closing out the fifth inning. Mariano Rivera actually allowed a hit in the sixth inning, only the second baserunner he's allowed this preseason. He struck out the side and threw 10 of his 16 pitches for strikes, pushing his Spring Training pitching line to 6 IP, 2 H, 0 R, 0 ER, 0 BB, 9 K. Phil Coke was dominant in two innings of work, striking out four and inducing a pair of groundball outs against just one hit. He's a lock for the big league bullpen at this point. Jose Veras allowed two hits in a scoreless ninth.
As bad as Burnett was, Bucs' starter Zach Duke was even worse. The Yanks hung a seven spot off Duke (3.1 IP, 9 H, 8 R, 8 ER, 3 BB, 1 K) in the fourth thanks to a pair of bunt singles by Ramiro Pena and starting centerfielder Brett Gardner. Robbie Cano sent a ball into the people as did Nick Swisher, although Swish's hit the field of play first. Swish is now hitting  .262-.463-.405 with a 7-12 K/BB ratio (54 PA) this spring while Nady's put up .304-.323-.500 line with a 12-2 K/BB ratio (58 PA). Johnny Damon went 3-for-4 with a double, a run scored and an RBI out of the two-hole, while Cap'n Jetes went 1-for-3 with an RBI and a run scored while leading off. Jorge Posada drew a walk and went hitless in two at-bats, also committing a throwing error. I have no idea the nature of the error, so don't ask. Yankee baserunners reached base twenty times against Pirate pitching today, walking away with a 9-8 win thanks to a Carmen Angelini run scoring bloop single in the eighth.
The Yanks will be at Dunedin to take on the Blue Jays tomorrow afternoon, and I'm presuming Andy Pettitte will make the start (rather than throw in a minor league game) since the long reliever trio pitched yesterday. The Yankees only have three more games to play down in Florida, and will be back home for the two-game series with the Cubbies at the end of the week. They open the season in Baltimore a week from tomorrow.
Also, just following up on yesterday's post – the Yanks officially took Rule 5 Draftee Ivan Nova back from the Padres today and assigned him to Double-A Trenton. Nove only worked one inning stints with the Pads, so he might not step directly into the Thunder rotation to start the year.
By

Via Chad Jennings, Alan Horne throw a 25-pitch simulate inning today, his first significant action since having a partial torn labrum surgically repaired last year. The Yanks' number five prospect in 2008 was scheduled to throw in a minor league game, but Mother Nature didn't cooperate and he instead got his work in with a bullpen session. Afterwards Horne said he felt good and was more consistent with his curveball than he had been in previous sessions. He's scheduled to pitch two innings in a minor league game on Wednesday. · (26) ·
Mike Silva of New York Baseball asked us to be on his show tonight, so consider this post a gratuitous piece of self promotion. I'll be calling in around 7:15 to discuss Spring Training, the Yankees, RAB, whatever comes up really. Make sure you head on over and give a listen, I'll be on for 15 minutes or so.
Anyway, use this as your open thread for the night. The only local team in action today was the Nets, who already lost to the Timberwolves. If you hurry you can probably catch the end of the Oklahoma-UNC game on CBS. I had Pitt over Louisville in the Final, so my brackets are officially kaput. You can also head over to The College Baseball Blog and chat with Brian Foley about this weekend's action. Talk about whatever you like here, just be cool.