By

Wait, wait. Sorry. That's wrong. The Yankees are going to have face-to-face conversations with the Alex Rodriguez camp in an effort to convince the presumptive AL MVP not to opt out. I guess that's news. · (5) ·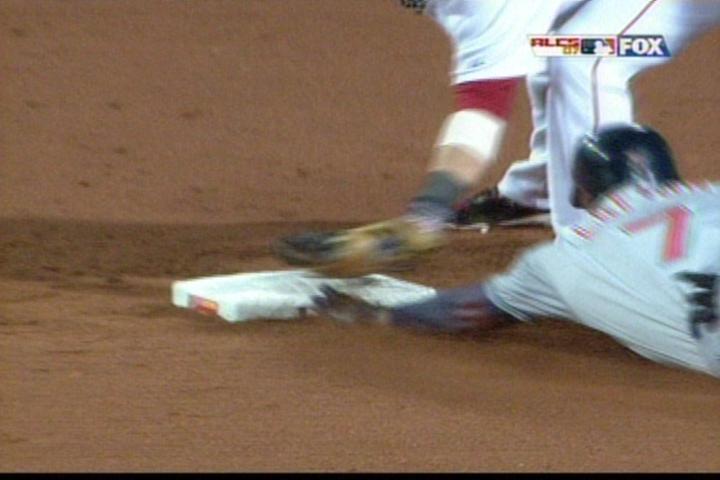 At some point, someone's going to have to do something about these terrible calls that have a measured impact on the game. This ALCS Game 7 should be tied in the top of the 7th. Instead, the Red Sox have a one-run lead because the umpires missed yet another call.
AzFL Peoria (5-4 loss to the other Peoria)
Brett Gardner: 1 for 3, 1 R – hit in every game he's played in the AzFL…been on base 19 times in 9 games
Eric Wordekemper: 1 IP, zeroes, 1 K – 8 pitches, 7 strikes…that's how relievers are supposed to do it
HWB Honolulu (8-1 win over West Oahu)
Austin Jackson: 1 for 4, 1 R, 1 HR, 3 RBI – just out of curiosity, who would you rather have – Ajax or Jose Tabata?
Brad Suttle: 1 for 4, 1 RBI, 1 K – 5 hits in his last 6 games…I think he's allergic to multi-hit games
Venezuela Winter League (a lone box score was available this morning)
Marcos Vechionacci: 0 for 1, 1 K – pinch-hit in the 9th….350-.458-.650 with a 1-4 K/BB ratio
In case you missed it in the comments the other day, Jesus Montero is tearing up his winter ball league, hitting .484 (15 hits) with 3 homers and 8 runs scored in no more than 8 games. He's near the top of the leaderboard in most offensive categories. Thanks to both Matt L and our very own JP for the heads up.
Make sure you scroll down, we've got lots of good stuff this mornin'.
By

As the hot stove season approaches, I find myself checking ESPN.com more and more. I don't like doing it, not one bit. But I really detest FoxSports.com. Anyone who employs Kevin Hench, quite possibly the least knowledgeable sportswriter on the Internet, can shove it as far as I'm concerned. Anyway, there was a report there this morning regarding Scott Boras's comments on the Torre situation. And guess what? It's going to affect A-Rod's decision!



"I would say that state of flux is a grand issue," Boras said Saturday. "We're talking about a long-term contract here, and to make that decision is difficult, knowing there are that many issues up in the air."



How long is that contract you're seeking, Scott? Ten years? Something tells me there will be at least one more period during that tenure where the Yanks are in a state of flux. If A-Rod goes elsewhere, it could actually be more tumultuous. When teams lose, they change managers. The Yankees win, so the temptation to change is lessened.

But hey, leverage comes in all forms, right. · (10) ·
Caught this one on MLB Trade Rumors, so I thought I'd share it with you. As this post's category makes clear, there are absolutely no teeth to this story. It's just something to ponder while you have your Sunday morning OJ.
Apparently, the Yanks think a package of Chien-Ming Wang, IPK, and Melky will be enough to land Johan Santana. I think they're nuts. Yes, the Twins are moving to an open-air stadium in 2009, so Wang's difficulties on turf will become less of an issue. But it will still be an issue in 2008, so if the Twins plan to contend they might not be doing themselves the greatest service by picking up Wang. Mike has said it before and I agree completely: We're not getting Santana without Joba or Hughes.
The source also mentions an interest in Aaron Rowand to take over for Melky. Does this mean we'll see Abreu's option declined? Not sure. It does create another log jam in the outfield, and I'm not sure Rowand is such a sure bet to fill it well. I'm not the biggest Melky fan (shocking), but I think he stands to put up as good a season as Rowand next year. The moral: Don't overhype this guy because he's coming off a career year. He's had two such years in his career. The rest have been below average.
Still, you could do worse, I suppose. If all of those pieces fall into place, yeah, why not pick up Santana for those three and then sign Rowand? This, though, would almost require Pettitte to come back, since we're going to need at least two 200-inning pitchers in the rotation. Having them both be lefties is something we haven't seen in quite a while.
By

Torre leaves the Yanks
The Times wants some poetry
Click here to write yours · (1) ·
By

The Olympian is reporting that Larry Bowa is heading to Seattle to anchor the third base job in Safeco. The Seattle Times has a slightly different take. Bowa has been offered the job but hasn't yet accepted. The Yanks should just step in and make Bowa an offer to stay in the Bronx that he can't refuse. Manager, bench coach, whatever. They can't afford to lose Torre and Bowa in the same week. This new era of Yankee ownership is off to one stellar start. · (42) ·
AzFL Peoria (9-3 loss to Scottsdale)
Brett Gardner: 2 for 5 – picked off first
Juan Miranda: 1 for 3, 1 RBI, 1 BB
Reegie Corona: 0 for 3, 1 BB, 1 K – 4 for 21 in the AzFL
Steven Jackson: 2 IP, 3 H, 0 R, 0 ER, 0 BB, 2 K, 3-1 GB/FB
Kevin Whelan: 1 IP, 2 H, 2 R, 2 ER, 2 BB, 2 K – the good news? one of those walks was intentional
HWB Honolulu (7-2 loss to West Oahu)
Austin Jackson: 0 for 2, 1 BB, 1 K – hasn't gotten a hit in the last 5 days
Bradley Suttle: 1 for 4, 1 K – still hitting .103-.239-.179 despite his recent "hot" streak
Anthony Claggett: 1 IP, 4 H, 2 R, 2 ER, 0 BB, 2 K
The Dominican Winter League and Venezuela Winter League scoreboards aren't updated. Since this is a daily thing, I'm not gonna bother updating the stats. Besides, the action there isn't all that exciting anyway.