By

According to numerous reports, George Steinbrenner will not be at Yankee Stadium on Sunday evening. Considering all that George has meant for baseball and all that he has done with the Yankees since buying the team in the early 1970s, I have to believe that he must be rather incapacitated if he's missing the final game. For better or worse, it won't be the same without him around. · (5) ·
By

After pulling the Carl Pavano Special this year (pitching like crap when we wasn't hurt), Jeff Marquez will be heading to the Arizona Fall League to make up for missed time. The Yanks still have one pitchers spot to fill, but it seems unlikely that Ian Kennedy or Chris Garcia will get the call. Maybe it'll be JB Cox, assuming his knee's okay? Otherwise I dunno who it could be. · (19) ·
While Mike Mussina earned himself a nice curtain call last night, Carl Pavano wishes he could win the adulation of the fans that way. Pavano, another high-priced pitcher who failed to deliver for the Yanks, won what will probably be his last start for the Yankees in a home uniform as New York triumphed over Baltimore 3-2.
Pavano threw five innings against Baltimore tonight, allowing two earned runs on six hits and a walk. He also struck out two. Somehow, improbably, Pavano is now 4-1 with a 4.99 ERA. While he probably has just two starts left in the Bronx, he is somehow pitching his way to another guaranteed contract, albeit one with incentives.
But while Pavano stymied the Orioles through five, the real pitching stars came out of the bullpen. Phil Coke, Brian Bruney, Damaso Marte, Joba Chamblerain and Mariano Rivera combined for four shut-out innings. This group gave up just two hits — both off of Rivera in the ninth. Coke and Bruney faced two batters and struck them both out; Joba faced three and walked away with three K's. With Bruney and Coke set to return and Mark Melancon and Humberto Sanchez waiting in the wings, the Yanks' bullpen is primed for a huge 2009 season.
On the other side of the ball, Brett Gardner flashed his talents. He made a stunning catch in the fourth inning and then doubled in the game-tying run. As Joe texted me at that point, "Melky who?"
With their victory tonight, the Yanks moved back into sole possession of third place. They're nine games behind Tampa and 7.5 behind Boston. They are on the verge of postseason elimination for the first time in fifteen years. Yet, the fans care about these final games at the Stadium, and the team is playing with an urgency we haven't seen all year. While it might be a little late for the Yanks' October dreams, at least they're sending the stadium out on the right note.
And so it begins, the final series at Yankee Stadium. It's only fitting that the Orioles would close out the Stadium, since the Yankees' franchise came about when the original Baltimore Orioles moved to New York in 1903. The Orioles became the New York Highlanders, who then became the Yankees in 1913. The rest is history.
If Mike Mussina's send off was any indication of what we can expect these last few games, it's going to be one exciting weekend. Sit back, relax, and enjoy Yankee baseball the next three days. They won't disappoint us.
1. Damon, DH
2. Jeter, SS
3. Abreu, RF
4. A-Rod, 3B
5. Giambi, 1B
6. Nady, LF
7. Cano, 2B – .500-.545-.600 since the benching
8. Pudge, C
9. Gardner, CF – .364-.417-.455 with 2 SB in his last 3 starts
And on the mound, Carl Pavano.
A few hours ago, Mike posted a link to the Yanks' plans for Sunday evening. As farewell ceremonies go, it sounds like a pretty swell plan, but something about it bugs me.
For ticket-holders to Sunday's game, the Yanks plan to open the stadium at 1 p.m., seven hours before the first pitch. From 1 p.m. until 4 p.m., these fans can wander around the field — on the warning track only — and tour Monument Park. Then, the normal pre-game batting practice routine starts. At 7 p.m., the Yankees will begin the pre-game ceremonies featuring former Yankees and artifacts from the stadium's past. The game is set to start at 8:15 p.m.
The catch is that anyone who enters the ballpark for the hours of pre-game explorations and ceremonies doesn't enjoy the privilege of re-entry. If you show up at Yankee Stadium at 1 p.m. and want to see the game, you're stuck in the Bronx at the stadium for the next seven hours. I'd guess that only the most die-hard of obsessed fans will go. I have tickets, and I probably won't stop by the stadium until at least Yankee batting practice at 4:40 p.m, if not later.
While re-entry isn't the norm at any sports venue across the country, the Yankees should make an effort on Sunday to accommodate fans making their final journeys to the House that Ruth Built. A re-entry system wouldn't require much thought, but it would require a little bit of work. As the number of fans who would take advantage of it are capped by the capacity of the stadium, it can be done. Yet again, though, the Yanks are neglecting the common fan. But that's why, as Cliff Corcoran so aptly wrote yesterday, they're building this new ballpark in the first place.
Update 4:28: Now that I've reflected for a few minutes on this, I realize I come across as bitter over this plan. I want to clear something up: I love this ceremony. I love the idea that fans will be able to spend time on the field and watch Yankee batting practice. I love that the team is planning to honor the stadium with former greats and an extensive pre-game ceremony. I just wish the team could find a way to be a little more flexible with re-entry on a day during which some fans could be in the stadium for ten or eleven hours.
That's one hell of a Jumbotron, ain't it?. WCBS has a gallery of photos of the ongoing construction at the New Yankee Stadium, and it looks like it's really starting to come together. The massive cranes have been replaced by the tiny work vans of small-time subcontractors, and piles of dirt have been replaced by the makings of a future field. While I am sad to see the old place go, I am pretty excited to see the new digs. Assuming I can afford to get in, of course.
(h/t/ LoHud)
Update (1:55pm): Fans will be allowed to walk on the field during a three hour "open house" prior to the Sunday's game. Great stuff.
By

Baseball America continued their look into each league's top 20 prospects with the Short Season NY-Penn League today. Tenth overall pick Jason Castro claimed the top spot, with several other fellow first rounders ranking behind him. The Staten Island Yanks were shut out though, not a single Yankees' prospect made the list. Can't argue, it was a deep league and SI's talent was rather underwhelming.

The next list of interest to Yanks' fans is the South Atlantic League, which will be released next Wednesday. I'm sure Charleston will be well represented, even though Jesus Montero will have to settle for a spot behind Madison Bumgarner & Jason Heyward. · (12) ·
By

A young Governor from Arkansas was finishing up his first year as President. A prosecutor from Brooklyn was just weeks away from winning the city's mayoralty. And Buck Showalter would lead the Yankees to the cusp of the playoffs for the first time in years. As the Yanks face the reality of a year without the playoffs, Jack Curry takes us back to a more optimistic time in Yankee history. After years of mismanagement from on hight, the team had been retooled and was a few key pieces away from the playoffs. Curry's column features all the optimism and excitement of the 1993 club that this 2008 version sorely lacked this year. · (23) ·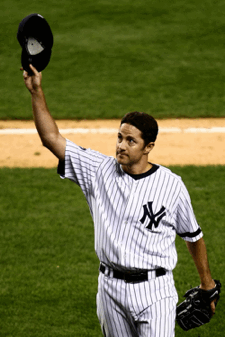 Were the season to end right now, the Chicago White Sox would be playing in October while the New York Yankees would be heading home for the first time since the strike-shortened season of 1994. After this week's four-game set in the Bronx, that hardly seems fair.
For the third time in four nights, the Yanks held the Chicago offense in check and beat up on their pitching. Javier Vazquez, pitching on three days rest, had next to nothing, and the Yanks cruised to a 9-2 victory. With that win, the Yanks staved off elimination for another day. With their magic elimination number down to one, the Yanks are delaying the inevitable while playing looser and better baseball than they have all season. Funny how that works.
But for a few minutes at the start of the game, things didn't look so easy. Mike Mussina labored through the first inning, allowing two walks in one inning for the first time since he lasted just 0.2 innings on May 20, 2008. With one run in and the bases loaded, Moose appeared headed for an early exit, and those of us sitting in the upper deck were a minute away from groaning. Not another bad Mussina start, we moaned.
Mussina, in his potential last start as a Yankee at Yankee Stadium, would have none of that negativity. He would allow only three of the last 18 hitters he faced would reach base, and the crowd gave Mussina a thunderous ovation. He tipped his cap, and the normally stoic pitcher even allowed a smile to creep onto his face. He knows as well as we do that his future in the Bronx is not guaranteed.
We'll have to save that epic debate on Moose's future for another day. I see the reasons why bringing him back would be a good idea; I see why cutting him loose would be the right step as well. Whatever the outcome, tonight belonged to Mussina, and he delivered. Maybe he'll get to that magic 20-win plateau after all.
Offensively, another Yankee with an uncertain future led the barrage. Making sure that Home Run Javy lived up to his nickname, Bobby Abreu took Vazquez deep twice in the first three innings of the game. He drove in six of the nine Yankee runs and will also cause the Yanks' front office and the team's fans to wonder about the best course of action.
Additionally, Robinson Cano drew a walk. That, in and of itself, is significant as it had not happened since August 20. Cano really must improve his batting eye.
While the old pros gave the Yanks the game, the young kids popped in today as well. Most notable was the Major League debut of number 77 Humberto Sanchez. The center piece to the deal that sent Gary Sheffield to the Tigers, Sanchez had missed much of the last two seasons with a variety of arm injures. In his first outing, Sanchez showed why the Yanks coveted him. He hit 95 on the stadium gun, and his first big league out was a backwards K. He retired the White Sox in order on that strike out and two ground balls. Sanchez — along with Mark Melancon — should be a big part of the 2009 Yankee bullpen, and this duo should allow us all to forget about Joba the Reliever.
But the kids will wait until next year. Tonight belonged to Mussina, and in his final start at Yankee Stadium, he delivered his 72nd win in those hallowed grounds.
If Mike Mussina wants to win 20 games this year, he has but one choice tonight. He must win. He will make three starts, counting this evening's, before the season runs out. If he wins them all, 20 wins will be his.
Unfortunately for Mussina, he has done little winning lately. While the Yanks are 5-2 over his last seven starts, Moose has nailed down just two W's in that period, and his ERA over that stretch of 43 innings is 4.81. Mussina will also attempt to keep his walk total lower than his number of games started. He has allowed 27 base-on-balls in 31 starts.
This could also be Moose's last career start in Yankee Stadium for the Yankees. In his Yankee career, Moose is 69-38 with a 3.66 ERA in 125 starts.
Facing Mussina will be old friend Javier Vazquez. The former Yankee is 12-13 with a 4.13 ERA. In his only 2008 outing against the Yanks, Vazquez allowed 10 hits and six earned runs in 5.1 innings of work. Meanwhile, on the year, Javy's allowed a hit per inning and has just a hair under a strike per inning. If you want to talk about the Yanks' selling low, Vazquez should enter the conversation.
In other news, Juan Miranda makes his Major League debut tonight. He kills right-handed pitching.
Gardner CF
Jeter SS
Abreu RF
Rodriguez 3B
Giambi DH
Nady LF
Cano 2B
Miranda 1B
Molina C
Mussina P