By

As you probably already know, Jorge Posada was scratched from today's game because of some discomfort in his shoulder, which according to Kat O'Brien occured when he was doing pregame stretches on Thursday. Posada played through the soreness the past two days – going 4-for-5 with a double and a homer – but the Yanks took him out of the lineup as a precaution after he told them about the pain today. Both Posada and Joe Girardi said they weren't concerned and that was a normal part of rehab, but still. You have to be a little worried, right? · (25) ·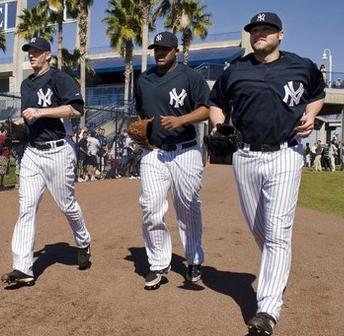 Joba Chamberlain will make his first appearance of the spring this afternoon, and luckily for all of us the game will be on YES. He'll be opposed by some guy named Liriano, and according to LEN3 ex-Yank Sean Henn is scheduled to make an appearance.
Chad Jennings notes that Brett Gardner and Phil Coke will be presented with the 2008 Kevin Lawn Awards before the game, given to the organization's Minor League Player and Minor League Pitcher of the Year. Back in September I gave those awards to Jesus Montero and Zach McAllister, respectively, but Gardner and Coke are certainly deserving.
First pitch is scheduled for 1:15. Here's the lineup, courtesy of Bryan Hoch:
Damon, LF
Jeter, SS
Teixeira, 1B
A-Rod, 3B
Posada, DH Swisher, RF
Cano, 2B
Swisher, RF Molina, C
Molina, C Duncan, DH
Melky, CF
Scheduled Pitchers: Joba Chamberlain, Mike Dunn, Jose Veras, Dan Giese, Kei Igawa, David Robertson, Steven Jackson, Kanekoa Teixeira
Based on my highly scientific system of counting the number of pitchers scheduled to pitch and comparing that to the number of innings typically played in a game, I'm guessing we'll get two innings out of Joba.
If you won't be around to catch the live broadcast, MLB Network will be replaying it at 5pm, as will YES at 7pm. I might watch all three.
Update (1:01pm): Posada's been scratched with shoulder discomfort. Hopefully it's nothing serious. No word on the lineup change yet.
Update (1:07pm): Shelley Duncan's the new DH.
Photo Credit: Reuters Pictures
By

Praising Derek Jeter for his leadership has become something of a baseball cliché over the years. There is, after all, a reason why some fans derogatorily call him Captain Intangibles. But in a recent Bob Klapisch piece, Jason Giambi praises Jeter's leadership and sounds genuinely sincere in doing so. "I'll thank Derek until the day I die," Giambi said. "What he did for me, after what I'd been through, made it possible for me to keep playing in New York. The fans forgave me because of Derek. I'll never forget that for the rest of my life."

While I generally think that Klapisch painted an accurate picture of Giambi's complex tenure in New York, I don't like how he compared the situation to A-Rod's. In comparing Giambi's steroid problems to A-Rod's he praises Jason and says the current Athletic is "unlike A-Rod, who's had two chances to come clean (and still hasn't)." This is a point blank attack that serves no purpose and is grounded in nothing more than unhealthy skepticism. It doesn't help what is otherwise a solid example of a profile piece. · (25) ·
Early on Friday morning, Bryan Hoch tossed up a brief post on the Yanks' early spring TV ratings. Usually, no one outside a few suits at YES would care much about those numbers, but take a look at what Hoch had to say:
Yesterday's YES Network telecast of the Rays-Yankees Spring Training game (1:00 pm) generated a 1.19 average TV household rating (88,000 TV households), making it the highest-rated weekday daytime Spring Training telecast ever on YES. The previous high was YES' telecast of the Yankees' game against Virginia Tech on March 18, 2008, which drew a 1.17 average TV household rating (86,000 TV households).
Keep in mind that this record-setting draw was for a mid-afternoon game on a Thursday in February, 39 days before Opening Day. While Phil Hughes started, he threw just two innings, and for the most part, a bunch of no-names destined for AAA or worse fought it out against the Tampa Bay Rays.
Of course New Yorkers wanted their first on-screen exposure to A-Rod since this whole steroid fiasco. Of course they wanted a glimpse of Mark Teixeira in those slimming pinstripes. Beyond that, though, 88,000 viewers on Day 2 of Spring Training in the New York area just shows a team that is popular beyond our conceptions of it.
This year, the Yankees are opening a new stadium, and they have the weight of baseball expectations surrounding them. They signed three of the top free agents this winter and are primed to make a run at October after missing the playoffs for the first time since 1995.
People might hate the Yankees. They met resent the success and the spending. They might boo A-Rod. But while one game does not a trend make, it seems as though 2009 will be the Year of the Yankees in New York City. Everyone will watch; everyone will talk about it; and 53,000 fans a night will actually get to be there to see it all go down, obstructed view and all.
As the toast of the town, the Yanks will find it good to be top. I just hope they can fulfill the lofty expectations as people take the time now in February to turn on the Grapefruit League in record numbers.
The Yanks dropped a close one to the Twins today after the bullpen couldn't hold a slim lead. Ian Kennedy gave up a hit and a walk (no runs) while striking out three in two innings of work, and Andrew Brackman made his spring debut in the losing effort.
Brackman was part of the bullpen that couldn't hold the game. He gave up a home run to Jason Kubel in one inning of work. George Kontos and Wilson De La Rosa gave up the other three runs as the Twins eked out a 5-4 win. The Yanks loaded the bases in the 9th but couldn't push across the tying run.
Offensively, Brett Gardner went 2-for-2 with a double, two stolen bases and a run scored. Melky Cabrera went 0-for-3 and is hitless in five spring ABs. Gardner has a stranglehold on the center field job or as much of a stranglehold as you can have on a job three games into the exhibition season. Jorge Posada, DHing again, went 2-for-3, but then again we weren't really concerned about his bat coming back from shoulder surgery. Nick Swisher picked up a pair of hits too.
To the links:
Here's your open thread for the night. The only local team in action is the Knicks, who are hosting the Sixers. You know the deal, anything goes, just be nice.
Today is a watershed day for the media but not in a good way. In Colorado, in what is the surest sign of a very troubled industry, the 150-year-old Rocky Mountain News has closed its doors. Throughout the nation — from Philadelphia to San Francisco — newspapers are facing extinction.
In New York, the so-called media capital of the world, Newsday, the Cablevision-owned, Long Island-based daily, is in trouble. The paper's parent company had to take a $404.2 million write-down on Newsday after the paper, according to the AP, "recorded an operating loss of $407.6 million on $107.1 million in revenue."
In light of this dire financial situation, Newsday is planning to charge for all online access to the paper. Facing a highly competitive online world that hasn't matured economically, this move could be the deathknell for Long Island's own paper.
PaidContent.org, the industry site for online content, had more about Newsday's decision and what it might mean for their business model:
While financial pubs like WSJ.com and FT.com have been able to get away with asking readers to cough up subscription fees because business professionals are more willing to pay for specialized business news, the thought of a general newspaper doing so when so much is free is largely considered dubious. Still, the challenges newspapers are dealing with leaves them little choice but to try to get money directly from users.

Newsosaur's Alan D. Mutter, told me he believes Newsday has a shot, but within limits. "Yes, I think they can start charging for web content. More and more publishers will, because they can't afford to produce content without doing so. You can't charge for sports scores, stock prices or generic breaking news. The key will be providing content that is valuable and exclusive."
Basically, Newsday is banking on more revenue through paid subscribers than they could generate through advertising money on a higher-trafficked but still free site. I think this could work if they keep their extensive blogs free.
On the baseball front, it's hard to consider this good news, and while RAB has contributed content to the paper's Yankee blog, it would be tough to see the paper hide its daily work behind a paid wall. Gone would be the words of Wallace Matthews, Ken Davidoff and Kat O'Brien. If the free blog posts live on though, Newsday can still drive daily visitors to its site for dynamic content, and it can maintain its place in the sports media world. No matter the outcome, though, it's tough out there for a newspaper.
By

Just like last year, Joba Chamberlain will be bringing a hard working student and their family down from Nebraska to enjoy an all-expenses paid Disney vacation. This year's lucky kid is 11-yr old Jazmine Meyer King, a student at Clinton Elementary in Lincoln, who will be joined by her parents and brother. The vacay starts this weekend, and it's great to see any player, not just Joba, giving back like this. These stories are too few and far between. · (16) ·