When I have friends over and they peak inside my room, they're always surprised by the number of Yankee hats I have. As you can see above — or here in a larger size — I have a hat for every occasion.
Since 1996, when MLB started the whole patch/marketing push, I've snapped up just about every non-Opening Day or All Star Game Yankee hat. I have World Series patches from 1996, 1998, 1999, 2000, 2001 and 2003. I have the 100th season hat from 2003, the flag patch hat from 2001, and the All Star Game patch from last season.
So when the Yankees announced a new to go along with their new stadium sleeve patch, the collector in me got a bit excited. When I saw the new patch — at left, click to enlarge — I grew even more intrigued.
These new hats, you see, are something new from the marketing guys at Major League Baseball. Instead of sticking the patch on the left side of the hat, the patch is incorporated into the MLB logo and is on the back of the hat. The new commemorative logo is subtle and classy. It incorporates the Yankee Stadium frieze, the year and the MLB silhouetted batter. Plus, this guy looks pretty good in it. Who am I to complain?
The new hats go on sale on March 1. Admittedly, I'm a sucker for new hats, and I'll have mine by Opening Day. Will you?
By

Ed. Note: The post originally scheduled for the overnight — about the new patch on the Yankee hats — will be back at 9:30 a.m. Since Manny's rejection is timely, we wanted to toss this up as soon as we could.

I'm beginning to wonder if Manuel Aristides Ramirez actually wants to play baseball this year. For the fourth time this winter, Manny and Scott Boras have rejected an offer from the Dodgers. The latest one was a one-year offer for $25 million with a player option for 2010 at $20 million, and from the sound of it, Frank McCourt isn't too keen to jump back to the table.

"We love Manny Ramirez," the Dodgers owner said in a statement last night. "And we want Manny back, but we feel we are negotiating against ourselves. When his agent finds those 'serious offers' from other clubs, we'll be happy to re-start the negotiations. Even with an economy that has substantially eroded since last November, out of respect for Manny and his talents, we actually improved our offer. So now, we start from scratch."

While the Giants remain on the periphery of the Great Manny Chase, I'm beginning to wonder if Manny isn't going to be somewhat forced to sit out. By rejecting the Dodgers again, Boras has made sure that he won't get a comparable offer from any time. Maybe Manny should stay in top shape and wait until teams come a-knockin' in June for that playoff drive push. Who knows which team might be able to use one of the game's best right-handed sluggers ever by then? · (66) ·
On the day we first reported on the potential Bank of America sponsorship deal the Yanks were set to sign for the new stadium, the Dow closed at 11510.74. Tonight, the market sleeps at 7182.08, and the potential sponsorship deal is dead.
The AP reported on the demise of a deal that could have brought the Yanks upwards of $20 million a year for the next 20 years. Ronald Blum writes:
The New York Yankees and Bank of America ended months of negotiations on a long-term, high-profile sponsorship agreement, fallout from the financial industry's decision to accept aid from the federal government.

While the sides never discussed naming rights to the team's new $1.5 billion stadium, they had talked about the possibility of a 20-year deal that would have included signage, special events and tickets.

"With the downturn in the economy and the effect on financial institutions including government support of those institutions, we have determined that it is better to enter into a traditional business arrangement with a financial institution," Yankees spokeswoman Alice McGillion said.
According to the AP, BoA had been the Yanks' official bank since 1994. It's unclear if they will continue to sponsor the team in a more limited capacity.
Meanwhile, it's a bad sign for everyone that Bank of America backed out of a deal that is both lucrative for them and for the Yanks. According to the AP Joe Goode, a bank spokesperson, noted that a spending of $1 by the bank on the Yanks generated a 1000 percent revenue return and a 300 percent income return.
"We recognize that our decision not to pursue a long-term partnership with the Yankees reflects a lost revenue opportunity for our company, however these are unprecedented times that perhaps call for some very difficult decisions," Goode said.
Let's run the Open Thread with A-Rod news tonight. That way, if you, dear reader, don't want to talk A-Rod, you can talk whatever else you want. Just play nice.
In The Times today, Marjorie Connelly breaks down a poll about Alex Rodriguez and his current popularity. The Times and CBS News surveyed 1112 people, 429 of whom are baseball fans, and they aren't big A-Rod supporters.
Sixty percent of baseball fans are bothered by steroid use by players, and 44 percent say Yankees third baseman Alex Rodriguez should not be allowed in the Hall of Fame, according to a New York Times/CBS News poll…

The 60 percent of fans who said the use of performance-enhancing drugs mattered a lot to them was up from 53 percent last year…

Nearly half of those surveyed, 47 percent, said any major league record set by a steroid user should carry a note indicating the drug use, and 32 percent said the record should be eliminated altogether. Fewer than 20 percent favored keeping a steroids-tainted record on the books…

Thirty-seven percent of fans surveyed said they believed that at least half of major league players use steroids, and another 38 percent said a quarter use them. Nineteen percent said few players use drugs.
For A-Rod, those results are largely meaningless. All the poll shows is what we already knew: Alex Rodriguez will get a chilly reception as the Yanks hit the road this year. Hopefully, it won't impact his play. A-Rod, after all, is used to a bad reception.
But on a larger level, baseball looks bad in the eyes of the public. When 74 percent of poll respondents think that at least a quarter of all baseball players are still juicing, the game has an image problem. In other A-Rod news, Yuri Sucart has been banned from the team this year.
Around NY Sports: Stephon Marbury is en route to Boston. I hope he kills the Celtics … The Knicks and Nets are off while the Devils, Rangers and Islanders all play home games at 7 p.m. … Johan Santana has tenderness in his throwing elbow.
Baseball is back, baby! After live blogging Hughes's innings, Mike and I recorded this week's RAB Radio Show. You'll notice that we're not as focused as we are most weeks. Blame it on us watching the game at the same time as we try to record the show. Oh well. It was beyond great to see some game action.
We start off by going over Phil's performance. There's not much you can ascertain from his very first start of the spring, but all in all it went well. He let a few pitches fly which grazed a couple of jerseys, but all in all he did a solid job. His only four-ball walk of the day came in an at bat where he threw all six or seven pitches to the outside edge. His fastball sat 91-92. I wonder if this means he'll ramp it up as we get deeper into the spring.
Onto the podcast. It is available in a number of formats. You can download it here by right clicking on that link and selecting Save As. If you want to play it in your browser, just left click the link. You can also subscribe to the podcast feed, which will send it to you every Thursday. You can also subscribe in iTunes. Finally, we have the embedded audio player below.
Audio clip: Adobe Flash Player (version 9 or above) is required to play this audio clip. Download the latest version here. You also need to have JavaScript enabled in your browser.
Podcast: Play in new window | Download (43.4MB)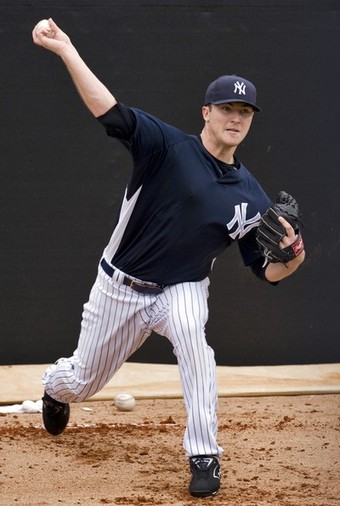 Ah, the first game thread of the year. We've been waiting for this day ever since Jon VanEvery hit that walk-off single at Fenway Park off Jose Veras in the Yanks' final game of 2008. Who cares if today's game doesn't count, it'll be great just to see the boys in action again.
But wait, it gets better! We've got ourselves a primo pitching matchup this afternoon: Phil Hughes vs Rays' phenom Wade Davis (#32 on BA's Top 100). The last time these two met was Game Four of the International League Championship Series last season, when Hughes thoroughly outpitched Davis and clinched the league title for Triple-A Scranton. It really doesn't get any better than this, does it?
The game is on YES, with first pitch is scheduled for 1:15. If you miss the live broadcast, don't worry, they're going to replay it at 7pm. Here's the starting nine:
Damon, LF
Jeter, SS
Teixeira, 1B
A-Rod, 3B
Cano, 2B
Nady, RF
Posada, DH
Molina, C
Melky, CF
Scheduled Pitchers: Phil Hughes, Phil Coke, Brian Bruney, Damaso Marte, Jon Albaldejo, Mark Melancon
Looks like we'll get multiple innings each out of the Phils, maybe Albie too. Anyone know anything about this Melancon kid?
Photo Credit: Steve Nesius, Reuters Pictures
By

So Alex Rodriguez and Reggie Jackson went out to dinner the other night, and Reggie had some advice for Alex because, you know, he's dealt with this kind of PED thing before. Coming jointly from Hank Steinbrenner, the invisible executive, Mr. October told A-Rod to "hit the baseball and hit it when it counts." Hit the baseball. And hit it when it counts. When it counts? When is that? Seems to me like it would be, I dunno, ALL THE FREAKING TIME!!! Reggie also some other words for A-Rod, saying he's disappointed in him and that when he retired he was one of the best of all time and is sad to see his career accomplishment tarnished. You really didn't think Reggie could go that long without talking about himself, did you? Even Neyer agrees this is retarded. · (32) ·
By

Just as a programming note, we'll be live-blogging Phil Hughes's performance today for those of you stuck at work. See you at 1:15. · (39) ·
By

In 2006, Japan stunned the international baseball community when they claimed the WBC title. They're back with a vengeance to defend their crown, and while many players — the pitchers especially — view this tournament as a potential audition for the U.S. Major Leagues, the Land of the Rising Sun is mostly concerned with capture another title. While the rehabbing Hideki Matsui won't play in the tournament, he is wanted for it. His fellow Japanese Yankee isn't so lucky. When asked about Kei Igawa's omission from the team, one of the Japanese reporters assigned to the team said "They think he is not so good." I don't think Brian Cashman is going to voice much objection to those sentiments. (Hat tip to PeteAbe for this amusing anecdote.) · (68) ·
While much of Ben's post about Yankees ticket prices bothered me, nothing irked me quite as much as Lonn Trost's take on the obstructed view bleacher seats. In his view, having TVs on the wall is a substitute for seeing the action on the field. This, of course, is preposterous. If I want to watch the Yankees on an HD, I'll go to my buddy's down the street. People go to games to watch the games — or at least in an ideal world they do — not watch TV.
Here's Trost's explanation (via Neil Best):
"When we built the sports bar we knew architecturally there is an architectural shadow," he said. "And that means there are a group of seats that are in the bleachers that if you are sitting very close to either the rightfield or leftfield side of the sports bar, you may not see the opposite side.

"We knew that going in, and to that extent we pre-prepared to put televisions in the wall, as well as that big screen so you don't miss anything."
He pre-prepared. Now that's some forward thinking. Problem is, pre-preparing for having obstructed seats by installing TVs isn't preparing for much, beyond fan disappointment. Again, television is no substitute for the live game. That's why people shell out so much money for tickets.
We also found out in Ben's post that Mike Francessa and his crew at WFAN were trying to get Trost on the show — you know, put a little pressure on him. It seems to have worked. As Best reports, tickets in the "architectural shadow," about 600 in total, will cost only $5. It won't allow you to see any more of the field, but at least it's admitting that those seats aren't equal in value to the full-view bleacher seats.
Also of note: The most expensive seats in the house will become open to partial season ticket plans. Why? Because they're only 70 percent sold right now. No, we don't know when they're going to go on sale.