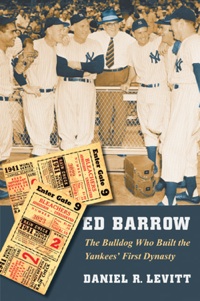 On the last page of his biography of Ed Barrow, author Daniel R. Levitt allows a long quote from Branch Rickey to close out his tome. "I say there has never been a smarter baseball man than Mr. Barrow," Rickey once said. "He knows what a club needs to achieve balance, what a club needs to become a pennant winner. I, perhaps, can judge the part, but Mr. Barrow can judge the whole."
These are glowing words from one of the men considered to be among the smartest baseball minds in the game's history. It is a quote, in fact, better served for the first page of a book. Branch Rickey, one of baseball's most famous executives, talks about Ed Barrow, one of the games most influential — but not quite as well known — executives, in positively glowing tones.
With that type of quote setting the stage, Levitt as the author of a biography would have had free reign to build up Ed Barrow's life and accomplishments in baseball. Instead, the quote is buried. This is but one of the many missed opportunities that arise in Levitt's informative but misguided biography of a man who deserves so much more.
For many Yankee fans, the name Ed Barrow is lost to time. But he was part of the game for fifty years and nearly half of those he spent constructing Yankee dynasties. He saw baseball emerge as a big business in the early 1900s, won a World Series ring as a manager, help bring the Babe and Lou Gehrig and Joe DiMaggio to New York, ushered the Yanks through the dark days of World War II and sat on a committee to bring in some of the Hall of Fame's first members. Throughout those years, he was a key player in establishing first formal relationships between minor league clubs and Major League teams and later building up the farm team system we know and love.
But Levitt doesn't always bring across just who Ed Barrow was. Early on in the book, Levitt introduces Barrow as a stubborn hot-head with little taste for the internal politics of baseball. He is very much the bulldog in the book's subtitle, "The Bulldog Who Built the Yankees' First Dynasty." While we learn this much about Barrow in the late 1890s, for the next fifty years, Levitt relies on that trope to tell Barrow's story. At turn after turn, meeting after meeting, he doesn't get what he wants because of his stubbornness.
While reading the book, I couldn't help but feel that there was more to the story. I never got a sense of who Barrow was, and he seemed almost incidental to Levitt's year-by-year recitation of Yankee — and baseball — history. Now and then, bits and pieces of Barrow's personal life are interspersed into the baseball narrative, but one gets the sense that Barrow either had no life outside of baseball or just wasn't an interesting enough person to warrant a biography.
When the book first hit stores in April, Levitt ran through the blog circuit. Rich Lederer at Baseball Analysts interviewed him, and Baseball Prospectus chatted up the author as well. Those Q-and-A's better serve to introduce Barrow than the book does, but that doesn't mean the tale is not one worth reading.
Levitt's book works best as a story of the development of the game from a pastime that was incidentally a poorly-run gathering of businesses into a big money-making business with tentacles throughout America. The appendices to the book are chock full of payroll and salary statistics from an era prior to free agency, and his superb detailing of the uneasy relationship between the Major and Minor League is a story rarely, if ever, told. In the end, Barrow, influential at the time, is almost incidental to the story Levitt ultimately tells.
Ed Barrow: The Bulldog Who Built the Yankees' First Dynasty is available on the University of Nebraska Press. Cover price is $29.95, but Amazon has it for $21.86. I am, however, a firm believer in supporting local bookstores.
By

I expected the Yanks and Red Sox to battle it out monetarily over a few free agent pitchers this off-season, but Derek Lowe? Really? I realize Lowe is a workhorse coming off a season with a 3.24 ERA. But his home-road splits are fairly dramatic, and this guy was jettisoned by Boston a few years ago because they didn't like his focus or mentality. He's going to be 36 in April, and he's not getting any younger. What's all the fuss about anyway? · (40) ·
So how about that crazy first week of free agency, huh? Blockbuster trade after blockbuster trade and megahuge free agent deals were handed out like free samples of The Jacoby Ellsbury Eyebrow Wax Kit at Penney's.
…
Okay, that was lame.
The hot stove is chock full o' rumors but a little light on the action right now. Hell, the biggest trade action of the week came from the Knickerbockers, who completed Phase I of Operation Get LeBron by chopping like, $30M bucks off their future payroll. Not exactly what we all had in mind, but that's just the way it goes.
Just to wrap up the action in Yankeeland, here's a review of the week that was…n't:
That about sums up everything you need to know. It's Friday, go do something fun. If you must be here, use this as your open thread.
Tom Boorstein gets it. The lead editorial producer for SNY.tv and somewhat recent Columbia grad is slowly emerging as one of my favorite New York-based baseball commentators. He penned a great tongue-in-cheek column on A-Rod earlier this week, and today, he takes a more serious look at Robinson Cano.
Writes Boorstein:
After 2007, the Yankees made their move by giving him a handsome contract to buy out his arbitration-eligible years. How did Cano repay their generosity? By putting up a .271/.305/.410 line with bouts of horrendous defense in the field.

Here's what could be bad news for the Yankees: There just isn't much they can do about it. As poorly as Cano played in 2008, where is the upgrade to be had? The Yankees' best hope is that the streaky player puts up lines more reminiscent of his 2007 (.306/.353/.488) or his even-better 2006 (.342/.365/.525)…

Cano has always relied on a high batting average. Let his 2008 serve as a reminder to those who scoff at the value of walks. Batting averages fluctuate much more from season to season than on-base percentages…This is why hitting streaks are overrated. Yes, it takes skill to get base hits. But patient hitters don't usually end up with long streaks. That's because their walks cut down on their chances to get hits.

What does that have to do with Cano and 2009? He needs to make sure his on-base percentage is more than 50 points higher than his average. Everyone worries about changing a hitter's approach. "He's aggressive," coaches and announcers will say. "We like that." What teams should like is "productive." Aggressive is just a euphemism for impatient.
Basically, Boorstein's analysis is spot-on. Robinson Cano must be a more patient hitter to be a more valuable piece of the Yankee lineup. Sure, if he hits .350, that's great, but as we saw in 2008, he's not going to hit .350.
It will be interesting to see how Cano and the Yanks approach 2009. He showed signs of offensive life after retooling his swing in the off-season, and he's practically guaranteed to do better next year. But if the OBP stays the same, the Yanks may not have the player they thought they had when Cano made his Major League debut in 2005.
By

While CC Sabathia, A.J. Burnett and Derek Lowe have dominated the non-Nick Swisher Yankee headlines recently, Brian Cashman is well aware of the fact that the Yanks scored nearly 200 fewer runs this year than last. To that end, reports Mark Feinsand, the team is still searching for a bat. In particular, it appears that Mark Teixeira is still on the team's radar. That's good news. Outside of Teixeira, the Yanks could pursue free agents Manny Ramirez or Adam Dunn or they could use some of their trading chits to land a slugger. Either way, I'm sure we'll see some more offense come to the Bronx before the off-season is out. · (78) ·
By

Our stint over at Newsday continues today as I take a look at the Yanks' lack of pitching depth. As it stands now, the Yanks' rotation features Chien-Ming Wang, Joba Chamberlain, Phil Hughes, Ian Kennedy and Al Aceves. It's a good thing Spring Training is still nearly three months away, and the big-name free agents remain unsigned. Check out my musings on the topic On the Yankees beat. · (36) ·
Toward the end of the day yesterday, Sports Illustrated's Jon Heyman wrote a piece with the headline, "Yankees not in ballpark for Lowe, Burnett." The article wasn't quite as accurate as that though:
The Yankees intended to make four-year offers on A.J. Burnett and Derek Lowe for about $14-15 million annually (in other words, close to $60 million each). However, Burnett's agent, Darek Braunecker, is telling teams he's only considering five-year proposals, and Lowe's agent, Scott Boras, apparently also suggested the Yankees aren't in the ballpark.
Well, maybe metaphorically, the Yanks "aren't in the ballpark" these players' agents want them to be. However, the Yankees are set to make opening offers to two of their free agent targets. As is custom in a negotiation, the agents will then counteroffer.
It's fun to dump on the Yankees. They're the big bad rich guys who want to buy up everyone. But it's less fun to stretch the truth about a contract negotiation. Don't let Heyman's piece scare you. The Yanks and Burnett or Lowe are simply involved in a business deal, and that's how these play out, bad baseball metaphors or not.
When comparing the top of the 2008-2009 free agent class, the first year that comes to mind is 2000-2001. A-Rod, Manny, Hampton, Mussina, and Juan Gone to this year's Teixeira, Manny, Sabathia, Burnett, Lowe. After browsing through some New York Times articles from November 2000, I'm wondering how Yankees fans would have reacted on blogs back then, had blogs existed.
On November 7 of 2000, Buster Olney reported that the Yankees had "an either-or interest in Mussina and Ramirez, who figure to be the most expensive free agents who are not named Alex Rodriguez." I wonder how fans would have reacted in the comments if we linked to this article. After all, the 2000 Yankees finished with just 87 wins. They could have used the upgrades both at the plate and on the mound.
Like the speculation this year about a backup plan in case CC doesn't sign, the Yankees had alternatives in mind if Mussina re-upped with Baltimore.
So Plan A for the Yankees seems to be this: Sign Mussina, and bring back Paul O'Neill to play right field for another year. Plan B: Sign Ramirez to play right field and another pitcher who would cost less than Mussina, such as the left-hander Denny Neagle or the right-hander Kevin Appier (whose agent has been contacted by the Yankees).
Neagle would have been a disaster, worse than signing Jon Garland. After posting a 5.81 ERA with the Yanks in the second half of 2000, he went out to Colorado and wasn't very good. Though he did post a 5.38 ERA in 2001, which was just a few points above the league average ERA of 5.32. Damn you, Barry Bonds. Damn you.
Ponder this, too. According to Murray Chass, the Yankees actually coveted Mike Hampton more than Mike Mussina.
They really preferred Mike Hampton to Mussina. Hampton is four years younger and left-handed. But they determined that Hampton didn't want to play in the American League.
Think Cashman would still have a job today if they signed Hampton instead of Mussina? Who knows, though. Maybe he fares better away from Coors Field. History could have written a different story for Mike Hampton had he decided to continue pitching in New York.
I can only imagine the arguments we had if RAB was around back then. Good times would have been had.
P.S. Don't pay any mind to this. It means nothing.