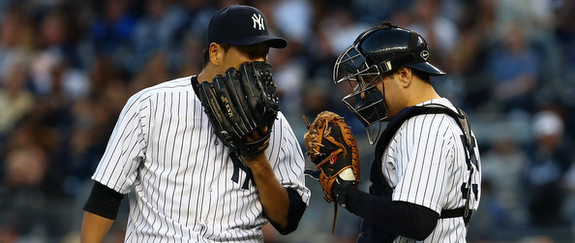 It's incredibly hard to be optimistic about the Yankees at the moment. They've looked so inept offensively that you wonder how in the world they'll ever score another run. Right now, pretty much the only way I see them playing another game in the Bronx this year is if CC Sabathia and Andy Pettitte go out and throw shutouts in Games Four and Five this week. Things are getting to be that bad.
1. Brett Gardner has to start tomorrow's game somehow. Both Nick Swisher and Curtis Granderson have been terrible, but the latter isn't even putting the ball in play — 14 strikeouts in 29 plate appearances in the playoffs (48.3%). Swisher has "only" whiffed eight times in 31 plate appearances (25.8%). Gardner takes an awful lot of strike threes but he's also one of the best pure contact hitters in the game, making contact on 90.9% of his swings since the start of 2010, the ninth best rate in baseball. Justin Verlander and Max Scherzer are the scheduled starters for the next two games and they finished one-two in total strikeouts in all of baseball this year. The Yankees need to get someone in the lineup who can at least get the bat on the damn ball these next two games, even if he only has three at-bats in the last three months. As an added bonus, Gardner would improve the outfield defense behind an extreme fly ball pitcher in Phil Hughes tomorrow. Eduardo Nunez will also be available as a pinch-hitter, so the Yankees wouldn't lose that speed element off the bench.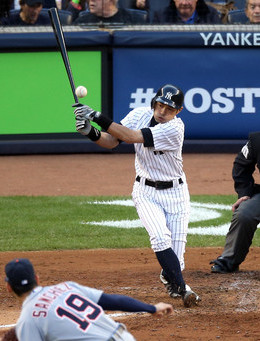 2. While on the outfield subject, I'll be stunned if the Yankees do not re-sign Ichiro Suzuki to replace Swisher next year. He's hit well for the last few weeks and looks legitimately rejuvenated by playing for a contender, plus he'll probably come relatively cheap ($5M? $8M?) on a one-year contract. I do think the Yankees need to diversify their offense going forward and a contact-oriented player like Ichiro would be a fine addition to the lineup, I'm just not sure I trust a soon-to-be 39-year-old to be that guy. That said, the career arc of historically great players is impossible to predict and his dead cat bounce could extend into 2013. I'm just terrified of Ichiro and Jeter really falling off the cliff at the same time and atop the lineup. A little youth is in order.
3. There's a pretty good chance that Hiroki Kuroda started his final game as a Yankee yesterday, which would really suck. He was fantastic all year and he's carried that over into the postseason despite the career-high workload, plus the guy comes off as a total pro. If you didn't know any better, you'd think he's been with the Yankees for years. He just gives off that kind of vibe. I don't know what Kuroda will do next season, it feels like it could be one of a million different things, but I truly hope he returns to New York for another year. In fact, I'll go as far as saying that re-signing him should be priority number one this winter, ahead of solving right field and figuring out the catching situation.
4. The Yankees have some major influence in the world of baseball, and I wonder if Joe Girardi's post-game rant about instant replay yesterday will push the league into action. He made it clear that he did not blame the two blown calls — Robinson Cano out at first in Game One, Omar Infante not out at second in Game Two — on the two losses this weekend, but he also made it clear that MLB is behind the times by not using the technology. Perhaps these two blown calls and the rant on a national stage — the post-game press conference was broadcast on TBS — will create some momentum towards expanding replay. The league is already testing the technology in Yankee Stadium and CitiField, so hopefully it's implemented next year.