By

Using the rosters as of this week and The Hardball Times' projections, RLYW has run a simulation of the 2009 season, and the results are encouraging. The Yanks end up winning the AL East 76 percent of the time and the Wild Card 19 percent of the time. They average out to be about 102-60. I'll take that. · (19) ·
"When you're down, you expect your organization to pick you up, not kick you when you're down," Pavano said. "I've had to pick myself up quite a few times the last four years."
Really? I mean … seriously?
I'm pretty sure Brian Cashman stood by this guy's side all four years, constantly reminding everyone that all of his injuries were legit. Hell, he called him up this year when he could have just left him toiling away in the minors on a rehab assignment.
Give me a break Carl. When you stay healthy for two months, then you can think about running your mouth.
Here's your open thread for the evening. The Nets are in Milwaukee, the Rangers in Buffalo. MLB Network is showing highlights if the 1996 World Series starting at 8pm. Talk about that, or whatever else you like, just be nice.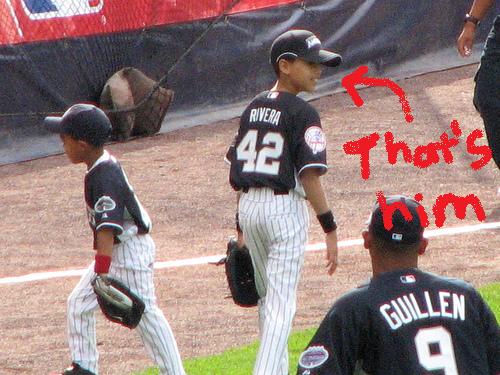 Melvin Croussett | LHP
Background
Born and raised in Santa Domingo, DR, Croussett is the child of the world's first female areo-nuclear chemical engineer and a world record setting shotputter/javelin thrower. His talent for throwing a baseball was obvious at an early age, as he used to ward off rodents at his uncle's sugar cane farm by throwing softball sized rocks at them. He initially worked at a distance of about 20 feet at age five, but eventually reached as far as 430 feet by age thirteen. Yankees' scouts first noticed him when he picked off a bandicoot at 325 feet from the back porch without getting out of his chair or spilling his beer.
As the new Yankee Stadium near completion and the date rapidly approaches for the NYCIDA to determine whether or not the Yankees and Mets deserve another round of tax-exempt bonds, more stories are coming out that don't portray the latest bond request in the latest light. Before we get to those, however, let me give some air time to the Yankees.
Earlier this week, Darrell Rovell interviewed Randy Levine about the state of Yankee economics, and the two got to talking about the stadium. Since CNBC doesn't allow embedding of their videos, watch the video by clicking below.
Rovell posted a transcript of the interview on the CNBC website. The relevant part from the Yanks' team president:
We'll, I'd like to make this very clear. The way this stadium is being constructed and financed, every single penny, every single penny, is going to be paid for by the New York Yankees. There are no taxpayer funds that are being used to fund this stadium, which is different from 99.9 percent of stadiums all over the world. No taxpayer money will be used to fund this stadium. The Yankees are funding the entire bill of the construction and, unlike today, the maintenance and operation of the stadium. The Yankees are on the hook, there's no liability for the city or any governmental agency. So this is a $1.3 billion investment in the poorest congressional district in the country. It's the largest investment in the Bronx and, in these hard times, this has generated over 6,000 construction jobs by moving us across the street from the old Yankee Stadium to the new Yankee Stadium, we're going to create approximately 1,000 new jobs. So this is a good thing.
In one sense, Levine is arguing semantics. In another sense, he's flat-out wrong. I guess it's not inaccurate to say that taxpayer money isn't being spent on the stadium itself. Tax-payer money is getting spent on infrastructure improvements in the South Bronx, but those do have a value to the community. Whether the South Bronx, though, needs more parking lots is up for debate. The Metro-North stop is a wise and overdo investment.
Levine's statement is not quite accurate though because the city isn't getting money it should be getting through taxes if they continually grant the team tax-free bonds. I'm certainly not opposed to an initial outlay of tax incentives for construction, but at some point, that outlay has to stop. When the team wants more bonds to cover cost overruns and items such as bathrooms, suites, fancy video boards and team offices. Clearly, at this point, the team should be awarded taxed bonds. Enough is enough.
Meanwhile, I'd challenge Levine on the job statement too. This work has generated a bunch of temporary construction jobs, and that's good. That "1000 new jobs" figure, however, is completely inaccurate. According to a recent examination of the Yanks' own bond application (available here as a PDF), the stadium will generate a whopping 22 new permanent jobs, and the taxpayer subsidy would be around $2 billion if this latest round is approved. An economic stimulus it is not.
Now, I know many people are fine with subsidies for the stadium. To a extent, I am too, but not to this extreme. The city needs the taxes, and the Yanks shouldn't get any exemption that others constructing $2-billion buildings wouldn't get. It's just bad government.
Hat tip to iYankees on the Darrell Rovell interview.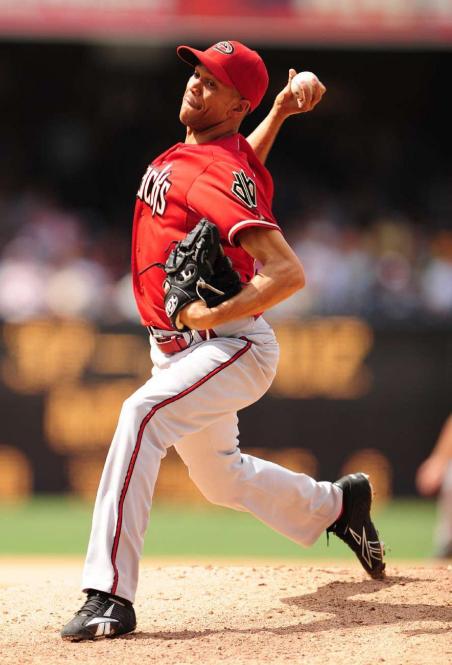 Earlier this week Buster Olney noted that baseball's free agent compensation rules are working against some of the remaining free agents, pointing out that teams are reluctant to forfeit high draft picks for guys that are considered complimentary players. Jason Varitek and The Orlandos – Hudson & Cabrera – immediately come to mind. Another such player is Juan Cruz, the ex-Cubs' prospect and Diamondbacks' setup man. Having declined arbitration after making $1.9375M last year, Cruz hit the free agent market for the first time in his career this year with the Type-A designation stamped on his back. For most teams that means losing their first round pick, but the Yanks aren't in that spot.
KLaw's 7th best available free agent (sub. req'd), Cruz's calling card has always been his control, or lack thereof.  Once considered the sixth best prospect in the game by Baseball America (back in '02) because of his live arm, Cruz's descent from future ace to setup man was due to his inability to throw strikes with any consistency. He threw strikes with only 58.6% of his pitches as a rookie in '02, improving slightly to 61.1% in '03 and 61.8% in '04. He's sat right around that level ever since. By no means is it a great strike rate, but in the last few seasons he's established himself as effectively wild.
Like I said, Cruz has a seriously live arm. It works quick and easy, allowing him to pump fastballs that have averaged just about 94.5 mph the last few years. His slider is equally electric, sitting in the low 80′s with sharp break. He still has a hard changeup left from his days as a starter, but he rarely uses it (he threw it just 4.1% of the time last year). You can get a glimpse of how filthy Cruz can be in these highlight clips from 2006 and 2007, unfortunately MLB.com doesn't have anything from last season.
While throwing strikes and limiting walks are his weak point, Cruz's biggest asset is his ability to miss bats. Hitters made contact on just 66.0% of the swings they took on Cruz's pitches last year, down from 69.9% in '07 and 77.4% in '08, meaning he got tougher to hit as he entered his prime (which, obviously, makes sense). He allowed less contact last year than K-Rod (69.3%), Joe Nathan (70.0%), Jon Papelbon (77.2%), Mo (76.3%), Joakim Soria (75.1%), Carlos Marmol (73.6%), you name 'em. Opponents hit just .192 off Cruz last year, and his strikeout rate over the past two seasons is an ungodly 12.62 Kper9, the best in baseball by more than half a strikeout. His CHONE projection for '09 is solid in case you're wondering: 68 IP, 3.31 ERA, 1.31 WHIP, 11.51 Kper9, $6.1M in value.
In a world where Kyle Farnsworth is guaranteed $9.25M in his age 33 & 34 seasons, locking Cruz up for say, $3-4M per year for his age 30 through 32 seasons would be a steal. The Nationals, Dodgers and Brewers (at least before they locked up Trevor Hoffman) have expressed interest in Cruz this offseason, and I suspect bullpen starved teams like Detroit and Texas may be lurking in the weeds. Having already coughed up their first, second and third round draft picks as compensation for Mark Teixeira, CC Sabathia and AJ Burnett, all the Yanks have to lose for signing Cruz is their fourth rounder, hardly a deal breaker (here's a list of all the Yanks' fourth round picks, basically a whole bunch of nothing). Combine that with the down financial market for free agents, and what's not to like?
There's no such thing as too much bullpen depth I say, especially when you're talking about super high strikeout guys like this. I'd love to see the Yanks lock Cruz up, sit him next to Edwar Ramirez in the Derek Zoolander Center For Children Who Can't Read Good Mariano Rivera Center for Relievers Who Can't Pitch Good And Wanna Learn To Do Other Stuff Good Too, and see what happens. They just might get something special out of it.
By

Cross the Astros off of Andy Pettitte's list of possible destinations. The lefty, currently engaged in a contract cold war with the Yankees, won't be going to Houston, MLB.com's Alyson Footer reported yesterday. Astros GM Ed Wade said that the team "[doesn't] see a scenario where he would fit into our payroll scenario at this time." Rob Neyer, meanwhile, thinks that Pettitte might be worth more than $10 million but should probably just suck it up and sign with the Yanks. We'll see. · (31) ·
By

How about some late-night breaking news? Courtesy of a few good commenters (and Mike) comes word that Daniel Cabrera, now a member of the Nationals, is finding new and creative ways of taking out the Yankees. Another Cabrera — Melky — became Daniel's latest victim. In the fourth inning of a winter league game, Cabrera hit Cabrera, and Cabrera had to leave the game. No word on the severity of Melky's potential injury.

Click here for the regularly scheduled overnight post concerning numerous Xavier Nady rumors. Now and then, Yankee news will "break" at 2 a.m. · (20) ·
The Xavier Nady rumors, it seems, never end.
On Thursday, I noted that the Yanks are listening to offers for Nady, and Joe talked about trading Nady for Aaron Harang. On Wednesday, the rumor du jour concerned Randy Winn. While a little over a week 55 percent of RAB voters said don't trade Nady, his name just keeps on popping up in trade rumors.
Today, we have both the Giants and Pirates involved in various talks over Xavier Nady. The first story comes to us via The Splash, Henry Schulman's San Francisco Chronicle-hosted Giants blog. He writes, "I've been told by a good source that Yankees GM Brian Cashman wants to keep Swisher to replace Bobby Abreu in right field and deal Nady, who becomes a free agent after the 2009 season."
Schulman goes on to speculate that the Giants could be interested. However, he's just guessing and has no further information concerning the team's interest.
Meanwhile, the Pirates seem to be talking Nady and Swisher with the Yanks. Dejan Kovacevic reports:
The Pirates have had trade talks with the New York Yankees regarding outfielders Nick Swisher and Xavier Nady, one high-level source said today, but there is little cause to expect a deal involving either coming to Pittsburgh.

In Swisher's case, he is owed $22 million the next three years and is coming off a down season in which he batted .219 with 24 home runs and 69 RBIs. Moreover, the Yankees are seeking pitching, the Pirates' most precious commodity, so the match is poor. The source described the chance of a Swisher deal being done as "a long shot."

A Nady deal is seen as even less likely, and the talks on that front have been no more than cursory. The primary reason is that the Yankees never could get back as much as they gave up for Nady and reliever Damaso Marte in the teams' July 26 trade — outfield prospect Jose Tabata and starters pitchers Jeff Karstens, Ross Ohlendorf and Daniel McCutchen — and that could make for an awkward set of circumstances.
So we have some conflicting information, and some sense of what the Yankees are expecting. It's worth noting that the Kovacevic is the latter of the two. Perhaps the Yanks are willing to listen on Swisher even if they would rather keep them. A Front Office conducting its due diligence would be better served hearing everything another GM has to say about any player.
Meanwhile, I'm not sure I agree with Kovacevic. If the Yanks are, as Schulman says, so keen on moving Nady, they may view him as the lesser of the two pieces from last summer's trade. They seem to recognize that Nady had something of a career year last year, and Brian Cashman, in looking to move Nady, seems to be betting on the belief that Nady won't duplicate his 2008 number. He wants a decent package for Nady and needs to replace some of the parts they sent to Pittsburgh last year. It is unreasonable to expect to get a full return though.
Either way, these talks were very cursory, and at the risk of sounding like a broken RAB record, I still predict Nady to be with the team come April.