Ed. Note: Yes, the Yanks are about to sign CC Sabathia for seven years. You can read our coverage of the contract right here. Now on with your regularly scheduled programming.
At this point, is anyone really surprised that the Yankees have asked for and are receiving more tax-free bonds? Charles V. Bagli, take it away:
With opening day for the city's two newest baseball stadiums only four months away, the price tag for taxpayers continues to rise. The Bloomberg administration has issued fresh estimates for utility work, lighting and the cost of replacing the parks and ball fields that once stood where the new stadium for the Yankees is being erected.

The city also plans to issue $341.2 million in additional tax-exempt bonds on behalf of the Yankees and Mets to complete the stadiums, whose combined cost is about $2.2 billion. The teams are responsible for paying off the bonds, but they pay tens of millions of dollars less in interest because payments to bondholders are exempt from city, state and federal taxes.

The city and the state are also investing more than $660 million in parks, garages and transportation improvements around the stadiums and are providing the teams with an estimated $500 million in tax breaks related to construction materials and other items. The city had planned to issue a public notice of the latest bond offering and a required public hearing on Monday but decided to wait at least a week until it completed a cost-benefit analysis. With public costs mounting, critics of the deals say the city will be hard pressed to demonstrate that the economic benefits of the stadium projects outweigh the cost to taxpayers.
Neil deMause questions the accuracy of the exact figures, but the fact remains the same. As services throughout the city — education, security and public transit — suffer, the taxpayers are yet again shouldering more of the burden of the stadium than we originally expected we would.
I realize by now the stadium is pretty much a moot point. The Yankees aren't going to fork over money denied to the public, and the new structure will open in a little over three months as scheduled. But one of the roles a healthy media should play is that of public watchdog. New Yorkers had little chance to understand the public ramifications of the new stadium because the newspapers didn't start reporting on these issues until it was far too late. The teams could have built new stadiums without these subsidies, and while there will be benefits the neighborhoods and communities enjoy from the stadiums, they won't justify the costs.
Update 10:40 a.m. by Joe: Baseball's resident economist, JC Bradbury, likes the deal. He values Sabathia at $26 million per year over the next seven.
Update 9:17 a.m. by Joe: ESPN reports that the deal is for 7 years and $160 million. That takes the AAV down a bit. It's a helluva long commitment, but the Yanks knew that they'd have to go above and beyond for CC.
I also want to note that this is complete bullshit. Mike and I are in Vegas. Couldn't they at least break this on Vegas time? It's six in the goddamn morning! And this thing broke what, an hour ago?
Update 8:32 a.m.: Early reports this morning featured a New York Post story saying the deal is all but done between Sabathia and the Yanks. ESPN.com has now seemingly confirmed this independently. According to the Worldwide Leader:
The New York Yankees were "very close" to a preliminary agreement with CC Sabathia on Wednesday morning, following an in-person meeting between Yankees GM Brian Cashman and Sabathia in California, a baseball source with knowledge of the deal told ESPN.com.

While a deal is not done, the source said there are "zero major road blocks" that would prevent the Yankees from reaching agreement with the Yankees.

"He's now excited about becoming a Yankee," said one source.
I'm off to somehow take a final despite this excitement. Don't burn down the place while Joe and Mike sleep in Vegas. We'll have more as soon as we know more.
Update 8:39 a.m.: Jon Heyman has word of the signing as well.
So the entire podcast has just been overshadowed. As we were recording, we learned that Cash is in San Fran to meet with CC and Amber Sabathia. Tomorrow, we will make sure to re-load RAB (and other relevant sites) while we record.
This is nothing but good news. No guarantees, of course. Hopefully we hear something later tonight. I can only ask one question: Why would CC request a second meeting, then request that Cashman fly out to San Fran, knowing he's in the middle of a fairly big event? It might not mean he's signing, but it's a pretty clear indicator that he didn't reject the Yankees offer.
We talk about the Girardi press conference. It was nothing breaking, but Joe dispensed the information with ease. As I said before, he seems calm and loose with the media. Hideki Matsui as a 4th OF, though? I'm not so sure I like the sounds of that.
There's plenty more, so click on through.
You can check out all of our Winter Meeting 2008 posts here. You can also check out our Twitter feed, where we give some shorter, less meaningful updates.
Onto the podcast. It is available in a number of formats. You can download it here by right clicking on that link and selecting Save As. If you want to play it in your browser, just left click the link. You can also subscribe to the podcast feed, which will send it to you every Thursday. You can also subscribe in iTunes. Finally, we have the embedded audio player below.
Audio clip: Adobe Flash Player (version 9 or above) is required to play this audio clip. Download the latest version here. You also need to have JavaScript enabled in your browser.
We appreciate any feedback. You can leave it in the comments or email either of us.
Podcast: Play in new window | Download (39.3MB)
By

Taking the old maxim that you can never have too much pitching, the Yankees, according to Jon Heyman, are making a play for all three top free agent hurlers. While we await word from the third meeting between CC and the Yanks, Heyman reports that the Yanks are willing to top the Braves' four-year, $60-million offer for A.J. Burnett by adding more dollars and either a guaranteed fifth year or a vesting option. Heyman also feels the Yanks have "a good chance" at landing Derek Lowe as they are willing to go at least four years at $64 million. That's a lotta pitching.

Update 12:19 a.m.: For those of you bemoaning Derek Lowe, Tyler Kepner has word of a different pitcher. The Times writer says that the Yanks are closing in on Ben Sheets. He doesn't confirm or deny the Derek Lowe report, for what that's worth.

Update 12:52 a.m.: One last update via the same Graziano piece from earlier. The NJ.com reporter says the Yanks may have floated the idea of an opt-out to Sabathia in case he truly doesn't like New York. It's an interesting idea, but after A-Rod burned them last year, I highly doubt the Yanks would go that route again. This may just be a sign of good faith on the part Cashman and Co. · (87) ·
By

Brian Cashman is a busy, busy man. Earlier this evening, he ducked out on the beat writers to meet with A.J. Burnett. But now reports have him jetting off to catch a bigger fish. According to Kat O'Brien, Cashman has left Vegas to meet with Mr. and Mrs. Sabathia in San Francisco. It has to be a good sign if Cashman's gearing up to pitch New York to Amber. Hopefully, Cashman will get lucky on the third date.

Update 11:30 p.m.: Dan Graziano has a very optimistic report about this meeting. I'm not counting my chickens before they hatch, but this seems like a rather promising development right now. · (181) ·
By

While nothing may come of this news, at least it's real and tangible. The Tampa Rays, as evidenced by a photograph and confirmed report on the St. Petersburg Times' Heater blog, have met with Jason Giambi and plan to talk to Bobby Abreu as well. Giambi makes a lot of sense for Tampa. He could play the Cliff Floyd role and would do so better than Floyd did in 2008. I'm not quire sure what Tampa wants or needs with Abreu, but they're just checking out all the options. · (37) ·
By

Considering baseball's checkered past with gambling the current and long-standing outright ban on players and managers placing money on their teams, it is not without some irony that the Winter Meetings are currently taking Vegas by storm. As part of the wall-to-wall media coverage of the meetings, Jack Curry took some time out to figure out how Vegas sets the odds, and his story on it is illuminating. Right now, the Red Sox and Cubs are at 5-to-1 to make the Series next year while the Yanks sit at 6-to-1, but as Curry writes, the odds can change overnight. It all it takes is the signing of one free agent. · (1) ·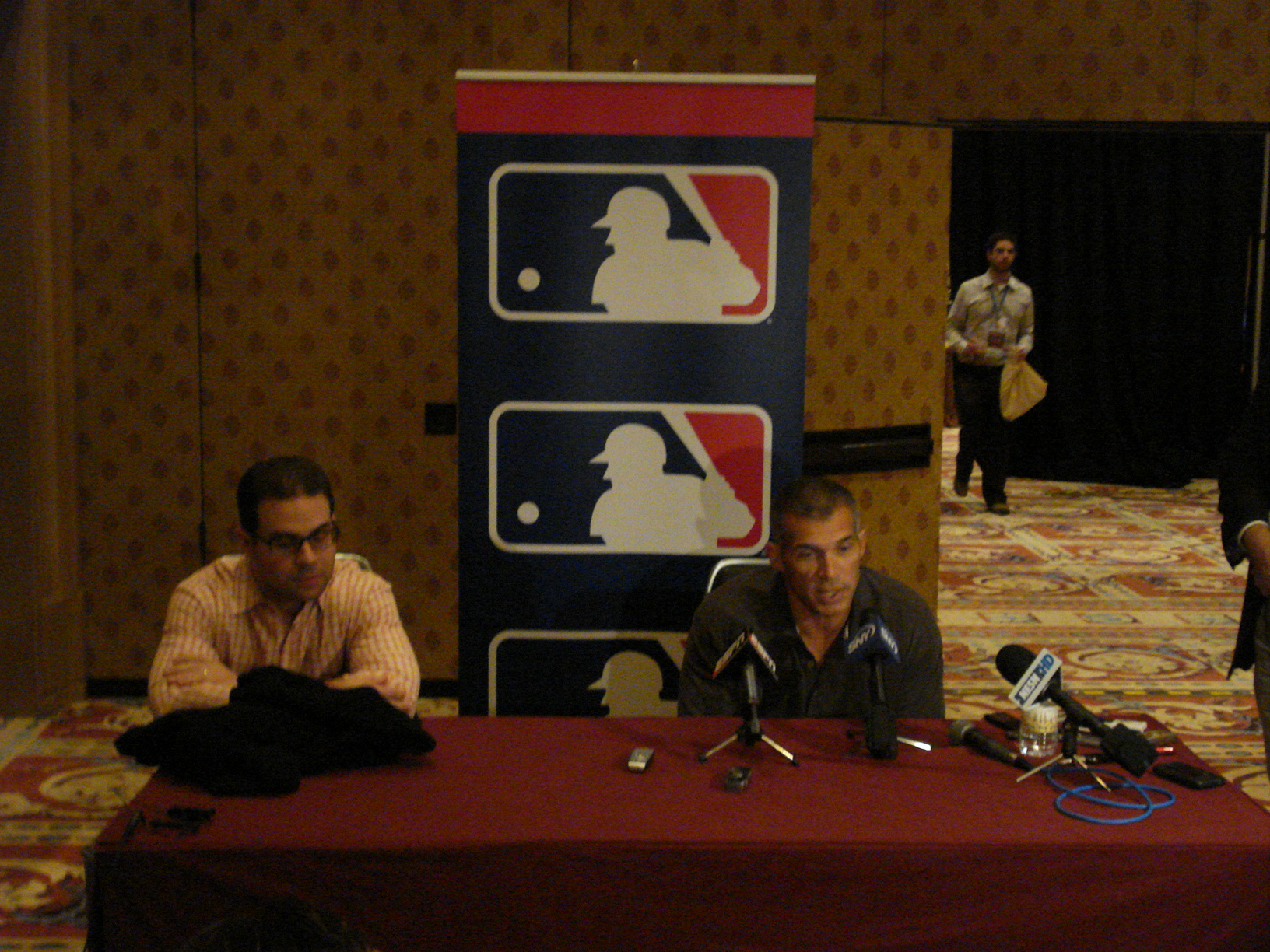 Girardi and Media Relations guru Jason Zillo
Pictures by Mike, commentary by Joe
As with most managerial interviews, we didn't learn a whole ton by listening to Girardi. He did seem loose, though, and took the time to elaborate on all answers. Judging from just this interview, I have a hard time believing he's not good with the media. Joe's a friendly guy by all appearances, and I hope he takes this into the season with him. Perhaps the media will be a bit easier on him this time around.
Here are some tidbits we picked up:
He was very impressed with Ben Sheets after meeting him yesterday. I suppose he'd have to be, considering the Yankees plan to offer him between $26 and $30 million.
On CC, he says that the lefty is still trying to figure out the whole situation. Girardi then went on to talk about his own transition to New York after the 1995 season, noting that while he wasn't getting nearly the money or years offered to Sabathia, he could understand what the free agent is going through.
On Andy Pettitte, he said that both parties are interested in bringing him back. But: "There's a process that has to take place." Emphasis mine. It seems that line is bandied about frequently regarding Pettitte. Now that we know the team's offer is $10 million, it seems that "process" means "convincing him to take a paycut."
On the coaching staff: They won't take long to mesh. He noted that Mick Kelleher has been around Spring Training for a few years, and everyone's familiar with him. Other than that, the staff remains basically the same, save for a few minor moves.
On Hideki Matsui: Girardi sees him as a fourth outfielder as well as DH. I wonder if that changes as they get further into workouts. Clearly, Hideki is more valuable as a full-time DH if that means he can stay healthy. It's a huge risk if they play him in the outfield with any regularity.
Update by Mike (5:00pm): Forgot to mention this, but Girardi said that Posada's rehab was going fine. He's throwing from 60 feet and is on schedule.
As campaign season rounded out and Barack Obama became President-elect of the United States, many in the media commented that he ran a "perfect campaign." They played everything even-handedly, took advantage of every opportunity they saw, and never lost their cool. Once this whole CC Sabathia fiasco is in the books we'll probably marvel at how perfectly he and his agent, Greg Genske, played the market perfectly.
They were dead-on from the start. The Yankees came out guns blazing with their record offer. Genske and Sabathia, however, were mum. They let the media do their work. The result were stories about the lefty's preference to pitch on the West Coast and even his — totally unconfirmed — lack of desire to live in New York. The longer we waited, the crazier the stories got. Even better, people were actually believing it.
I'm guessing that CC and Genske knew from the start that they wouldn't address the offer until the Winter Meetings. There was nothing that would behoove them to do so. They already had a record offer on hand. They knew it wasn't going away, so waiting was the best way to play this. They had little to gain by jumping on the first offer, no matter how large.
So they waited for the offers to roll in. But they didn't. Even as the media suggested that Sabathia would take less money to play out West, we heard nothing about offers from the Giants, Dodgers, or Giants. This part, I'm guessing, the Team CC did not anticipate. Yet, they knew that even if they got no further offers, they still had the one from the Yankees.
Now the Winter Meetings have rolled around, and Team CC is ready to get serious. What's the first thing they do? Request a meeting with the team with the highest bid. Then what did they do? Take meetings with anyone willing to talk. Then they skipped town, leaving behind only an air of mystery and a reported weekend meeting in San Francisco.
We've heard about CC's meetings, and we're getting word on some additional offers — the Angels and the Red Sox have placed their bids, according to Peter Gammons. Yet he has a very telling quote after mentioning these offers: "Nothing," says a source close to Sabathia, "is different than it was a week ago."
Of course nothing's different. That's because Genske and Sabathia have played this off-season perfectly.
Update by Mike (6:15pm EDT): Ken Davidoff with the quote of the day: "Sabathia didn't reject the Yankees' offer. Good Lord. How could someone report that?"
Update by Mike (5:41pm EDT): Rosenthal shot it down as well.
Update by Mike (5:30pm EDT): The crew on Baseball Tonight has shot down this rumor, citing a Yanks' official.
Update 5:17 p.m.: For what it's worth, Baggarly has updated his blog post to reflect his info that the Brewers may now be the frontrunner. A few reports have the Yanks ready to go hard after A.J. Burnett and Derek Lowe as well, but that doesn't mean Sabathia is completely out. Either this is building to a head or it's a Vegas-inspired Red Herring.
==
Because everyone's already talking about, here you go: Andrew Baggarly reports on the Mercury News Extra Baggs blog reports that CC Sabathia has declined the Yankees' offer. He writes:
It's been confirmed to me that the Giants had discussions with CC Sabathia's camp last night, and they expect to have face-to-face meetings with the left-hander in San Francisco after the winter meetings.

It sure must've have been a productive discussion, because word is that Sabathia has declined the Yankees' six-year, $140 million offer. (I must stress that's unconfirmed, but talk is spreading fast. If true, look for the Yanks to get hyper-aggressive on A.J. Burnett.)
Let me say this: Beware unconfirmed rumors. They are unconfirmed, obviously.
Second, it makes no sense — none — for Sabathia to reject the Yanks' offer. He loses all bargaining position in doing so, and the Giants, Angels or Brewers would have no reason to come close to the Yanks' generous offer. Even if he has no intention of signing with the Yanks, he is far better served to keep the Yanks' offer alive.
I don't buy this one, but there you go.