As the baseball owners met quietly in Phoenix this week to discuss the baseball economy and take care of some administrative details, the ever-popular stop-the-Yankees salary cap idea came out for the umpteenth time this postseason.
"I think there's a lot of owners that would like to have that right now," Lew Wolff, owner of the A's, said. "I think the parity is what we're looking for, and the more ways you can get to parity the better. I think it's pretty good now, but I think it could be better." Coincidentally — or not — the A's ownership has a net worth estimated at $1.5 billion.
Brewers owner Mark Attanansio, who recently paid a quarter of a billion dollars for the right to get into the ownership club, echoed Wolff's complaints. "I would ask, if it's such a bad idea, what sport doesn't have a salary cap other than us?" he said.
The AP, linked above, had more:
The Yankees' offseason spending spree has sparked renewed talk of a cap, an issue owners haven't brought up in negotiations since the disastrous 1994-95 strike that wiped out the World Series for the first time in 90 years. But not all owners are critical of the Yankees' acquisition of pitchers CC Sabathia and A.J. Burnett and infielder Mark Teixeira.

"I have no problem with what they've done," [Cubs Chairman Crane] Kenney said. "They've done it within the rules, within the confines of our agreement…

Wolff's team recently agreed to a one-year, $5.25 million year with Jason Giambi, who had bolted Oakland after the 2001 season to sign a $120 million, seven-year contract with the Yankees. Asked if the Yankees' spending concerned him, Wolff replied, "I probably should say it does, but to me it doesn't because, frankly, the more visible they are — they are baseball, traditionally. And they're not doing anything different than they've done traditionally for years. I think they benefit all of us more than they hurt us…"

"There's no sour grapes here," Attanasio said. "The Yankees are playing within the rules of the system. So you can't blame the team. You have to change the system."
I won't pass judgment on Attanasio, but it's interesting to see Kenney's comments make this article. In a way, it shows what the real fight would be if the owners try to hammer out a salary cap. In one corner would be the rich teams, the Yankees, Red Sox, Mets, Dodgers, Cubs, Angels of the game. In the other would be the Pirates, Marlins, and A's of the world. Never the twain shall meet. The players, indeed, have nothing to worry about.
As I said last week, baseball doesn't need a salary cap, and baseball probably couldn't even afford a salary cap. These owners are failing to recognize that the Yanks will have a lower or comparatively similar Opening Day payroll in 2009 as they did in 2008, and they are spoiling for a fight with each other that neither side can win. This is one sleeping dog best left undisturbed.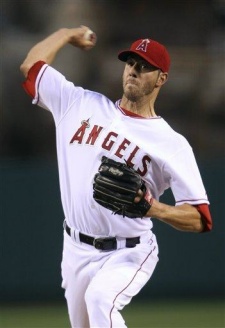 Since the off-season began, I've heard Yanks fans mention Jon Garland as a possible solution in the rotation. Those comments have heated up a bit over the past few weeks as it has become increasingly unlikely that the team signs Andy Pettitte to fill the fifth starter void. The argument usually goes something like: "He's a guy who can eat innings and give you league average pitching." If we were sure this is what Garland would bring, I could see signing him. Unfortunately, the way his stats have trended make it look unlikely.
Garland made a name for himself in 2005, posting a 3.50 ERA in 221 innings, en route to a World Series title with the White Sox. However, since that season he's not been nearly as good. Not even close. In fact, even that season his FIP was 4.24, which is not bad, but shows that his results might have been part of the randomness that baseball players experience from year to year. For more on randomness, read books by this guy. His 75.4 LOB% might have something to do with that low ERA as well.
Let's take a look at Garland's peripherals. We'll start at the basics, with his strikeouts and walks.
| Year | K/9 | BB/9 |
| --- | --- | --- |
| 2005 | 4.68 | 1.91 |
| 2006 | 4.77 | 1.75 |
| 2007 | 4.23 | 2.46 |
| 2008 | 4.12 | 2.70 |
In 2008 he walked nearly one more batter per nine innings than he did two years prior. If that was a one-year jump, it wouldn't scare me as much. Yet his 2007 figure, 2.46, sets off a red flag. Combine this with his incrementally declining K rate, and you have one messy situation.
Moving down to his other peripherals, it paints a strange picture. His line drive rate has been pretty consistent throughout his career, right in the 22 percent range, but he saw an enormous spike in groundballs last year — 49.9 percent, which was over 10 percent higher than his 2007 campaign. This means he was giving up fewer fly balls, generally a good thing, but not when your HR/FB ratio jumps up by nearly five percent (7.1 percent in 07, 11.9 percent in 08).
No, Jon Garland probably wouldn't be a poor choice to fill the fifth starter role. A 4.50 ERA/FIP, which is what the three projection systems (Bill James, CHONE, Marcel) have him at in 2009, is fine from the five hole, especially if it's over 200 innings. However, the price will not match the output, and that gap becomes wider if Garland continues his downward trend. Unless he's available for one year and around $5 million, the Yanks would do best to pass on him.
(Plus, as tommiesmithjohncarlos says: "Jon Garland is the exact opposite of Katie Holmes topless.")
By

Todd Drew was one of us. He kept a Yankee blog and frequently commented on LoHud. A few months ago, he moved to Alex Belth's Bronx Banter. In December, he had surgery for cancer, and last night, he passed away. Alex Belth remembers Drew today, and RAB sends its deepest condolences to Mrs. Drew and everyone touched by this tragic death. · (10) ·
By

With Yankee President Randy Levine's tardiness in responding to his subpoena kicking things off yesterday, the New York State Assembly's Yankee Stadium hearings were unfriendly and downright tense. There were some nasty back-and-forths between Levine and Seth W. Pinsky, president of the city's Economic Development Corporation, on one side, and Assembly Member Richard Brodsky on the other.

For solid coverage of the hearings, check out Neil de Mause's running journal of the proceedings at The Village Voice's Runnin' Scared site (Part 1, Part 2), and I highly recommend reading through it if this issue interests you. De Mause clears up some questions many RAB readers have had about the funding mechanisms and who is paying for what.

Meanwhile, few conclusions emerged from these hearings The Yankees, it seems, have not been completely transparent with their numbers but neither has the city. It also remains unclear whether someone did something wrong, who has the power to penalize anyone, who would be penalized and what the punishment would be. Now that New York City Comptroller William C. Thompson has thrown his hat into the mayoral ring, I'm sure we'll be hearing from him on the stadium issue again as well as Brodsky and perhaps Congress. The IDA vote on the bonds will go on as scheduled tomorrow, and I expect them to be approved. · (9) ·
Yes, this is in direct response to the four year, $40M+ deal Kevin Youkilis agreed to today, which bought out his two remaining arbitration years and two free agent years, with an option to cover a third. As you can imagine, Sox fans are now out in full force claiming that Youk is better than Mark Teixeira  because he spurned them for greener pastures (I'm looking at you, Fire Brand), which is just not true. Let's break it down.
Here's Youkilis' stats over the last three years:
2006: .279-.381-.429, 42 2B, 13 HR, 72 RBI, .357 wOBP, 106 OPS+, 2.3 WAR, 18.6 VORP
2007: .288-.390-.453, 35 2B, 16 HR, 85 RBI, .373 wOBP, 117 OPS+, 3.9 WAR, 29.6 VORP
2008: .312-.390-.569, 43 2B, 29 HR, 115 RBI, .402 wOBP, 143 OPS+, 5.6 WAR, 53.6 VORP

And now, Tex:
2006: .282-.371-.514, 45 2B, 33 HR, 110 RBI, .374 wOBP, 126 OPS+, 3.2 WAR, 37.7 VORP
2007: .306-.400-.563, 33 2B, 30 HR, 105 RBI, .406 wOBP, 150 OPS+, 4.0 WAR, 54.0 VORP
2008: .308-.410-.552, 41 2B, 33 HR, 121 RBI, .410 wOBP, 151 OPS+, 6.8 WAR, 67.2 VORP
To get Tex's VORP in '07 and '08, I just added his VORP totals for the two teams he played with those seasons. So '07 is VORP (Rangers) + VORP (Braves), and '08 is VORP (Braves) + VORP (Angels). I know this isn't 100% accurate because a AL replacement level 1B is different than a NL RL 1B, but it's close enough for this application. I mean, what are we talking about here, maybe a 4-5% error?
Anywho, let's average these bad boys out:
Youk: .292-.387-.483, 40 2B, 19 HR, 90 RBI, .377 wOBP, 122 OPS+, 3.9 WAR, 33.9 VORP
Tex: .298-.393-.541, 40 2B, 32 HR, 112 RBI, .397 wOBP, 142 OPS+, 4.7 WAR, 53.0 VORP
In the words of Mr. Mackey, mmmkay. Tex has considerably more power and slightly better on base skills, although it's probably a negligible difference. Youkilis had a 143 OPS+ in a career year last year, which is basically the same as Tex's average output over the last years. Also, that 143 OPS+ would be just the fourth best OPS+ Tex has put up over the last five years. It's obvious Tex has been an elite player for a much longer period of time, which makes it easier to project future performance. In fact, let's check out what CHONE projects for 2009:
Youkilis: .286-.388-.474, 35 2B, 18 HR, 79 RBI, 3.9 WAR
Teixeira:  .286-.381-.521, 33 2B, 32 HR, 108 RBI, 5.4 WAR
Heh, I'm sure some fans with boo Tex for that "subpar" performance, even though he'll still be better than Youk. Here's some other small factors that are also worth noting:
Tex is thirteen months younger
Neither player has a significant platoon split, but Tex is a switch hitter
Both players are Gold Glover caliber first basemen
Youkilis can slide over to third without incident, Tex hasn't played third since 2003
Now, obviously Kevin Youkilis is an excellent player, there's no denying that. And for ~$10M a year, he's a bargain. Based on the above however, I don't see any way you can claim Youkilis is a better player, unless you really believe last year was a true breakout year and he'll produce like that for the next three or four years while Tex plateaus at a .280-.370-.510 level.
Also, I know some people are comparing contracts, but you can't do that because Youkilis wasn't a free agent. He didn't have the leverage of going to another team and shopping his services to the highest bidder like Tex did, but if he did you can be sure he wouldn't have settled for 4/40. There's no doubt Youk is more cost effective, but Tex is the better player on the field.
Here's your open thread. Chat away.
Hopefully, most of you are familiar with Ken Burns's Baseball, a documentary on the history of the game. If not, I suggest you go drop $120 on the box set. While the creator says he'd never revisit any of his other works, he's currently working on an update to the series. It's a year away, slated for spring 2010 on PBS, and will be titled The Tenth Inning.
A great segment from the Houston Chronicle article:
"There was a guy named Pete O'Brien who said in 1858, 'You know, they don't play baseball the way they used to,' " Burns said. "Every 10 years, somebody is saying the same thing — that it's all over."

Burns clearly does not subscribe to that theory.

"Think of it. Since the end of (the original Baseball documentary), we have seen Greg Maddux and Tom Glavine and John Smoltz and the Braves," he said. "We have seen the Yankees finally coalesce under one of the game's most gifted managers (Joe Torre), throwing off the buy-buy mentality of George Steinbrenner to give him time to develop Derek Jeter and Jorge Posada and Mariano Rivera.

"Sure, we had steroids, but, man, look at what else we have to offer. The Red Sox. We have Ichiro. We have Cal Ripken. Think of the Willie Mays catch (in the 1954 World Series). Now we have a caliber of play and athleticism that produces similar (catches) all the time. The Marlins won the World Series, twice. The Rays made it to the World Series.

"We are in the middle of a baseball renaissance, as (commissioner) Bud Selig says, and, working on this, I have to agree."

As Burns contemplates the steroid era, he looks at it through the filter of American life at large.

"We live in the age of Viagra," he said. "People take (medications) to make things better. Why would players be any different?"
The series moves forward from the 1992 World Series. Count me among those who will watch this with rapt attention.
By

Via MLBTR, we hear a Dan Patrick interview with John Smoltz in which the former Brave and current Red Sox pitcher explains that the Yanks were in on his contract talks. According to the injured hurler set to come off the DL by early June, the Yanks were one of four teams — the Red Sox, Dodgers and Braves being the others — to come calling, but in the end, Boston won out. It's good to hear that Brian Cashman was doing what he could to land a low-risk, high-reward starter. If Boston wanted to guarantee more money, so be it. · (159) ·
In a time where baseball talk hits a lull, we have plenty to talk about on the podcast. The theme of the last few weeks has been building out the team, both the back end of the rotation and the bench. In our discussion, Mike and I find that the bench isn't all that bad, and that it's tough to improve since it only contains four guys, and one of those spots is locked in with Jose Molina.
There is a little concern about the other spots, though. If the Yanks hang onto both Xavier Nady and Nick Swisher, one of them can be a powerful force off the bench. Then you'd have one of Melky and Gardner, whoever isn't starting. And then utility infielder, who at this point looks like Cody Ransom. I suggest another player, someone who turned down arbitration and the money it guarantees for the chance to play for a winner. Listen in to find out who (though I'll probably say it in the comments for those who don't/can't listen).
We take plenty of questions from readers. If this bit about Ben Sheets is true, the Yanks would have to jump on it. Most teams would probably enjoy that, but he only costs the Yanks a fourth rounder — though the Mets would get away with only a second rounder. I know picks can be overrated at times, but why would a small market team spend $6 million+ and a draft pick on a player who might give them zero innings?
Onto the podcast. It is available in a number of formats. You can download it here by right clicking on that link and selecting Save As. If you want to play it in your browser, just left click the link. You can also subscribe to the podcast feed, which will send it to you every Thursday. You can also subscribe in iTunes. Finally, we have the embedded audio player below.
Audio clip: Adobe Flash Player (version 9 or above) is required to play this audio clip. Download the latest version here. You also need to have JavaScript enabled in your browser.
We appreciate any feedback. You can leave it in the comments or email either of us.
Podcast: Play in new window | Download (69.4MB)
It came as a surprise, but earlier this week we got word that Jorge Posada plans to play in the WBC. As many commenters noted, the Yankees would probably rather have him in camp working with the new pitchers. That, and he's coming off pretty major shoulder surgery. Because Posada ended the season on the DL, the Yanks have the right to deny his entry into the tournament. According to Bryan Hoch's latest, it appears that they'll do just that.
"I am sure he would love to play [in the World Baseball Classic], but he is currently rehabbing from surgery and would not be ready," Yankees general manager Brian Cashman said.
There's no direct quote, but Hoch says that Jason Zillo confirmed the team's stance. It's understandable. The WBC is a luxury. It's a nice little event we have every few years, and it's somewhat enjoyable to some fans (yeah, I'm hedging here). What's more important is Jorge's ability to play for the Yankees. He signed a huge contract after the 2007 season, and after year one he hasn't lived up to it. I would think that fulfilling his obligation to the Yankees would be more important to him than a — I don't want to say meaningless, but — meaningless tournament.
Jorge is an integral part of the 2009 club. There's no sense in risking his health by having him play in the WBC. If he just DHs, maybe, just maybe I can see the argument for allowing him to play. But even then, he's got to get to know the new guys. And Joba.
By

Following the success of Jan. 1′s Winter Classic outdoor hockey match at Wrigley Field, the NHL would like to do it again. Unsurprisingly, the new Yankee Stadium is at the top of the league's list for potential hosts. While this is a rather gimmicky game, the idea of the Rangers playing hockey outside in New York City at Yankee Stadium tickles me. It's certainly cold enough in January, as we've learned over the last few days. Somehow, the Vegas Strip and the Rose Bowl are on the NHL's short list as well. Hockey outside in Miami California (or Vegas) just doesn't make sense. (Hat tip to the shell-of-its-former-self NJ.com.) · (53) ·