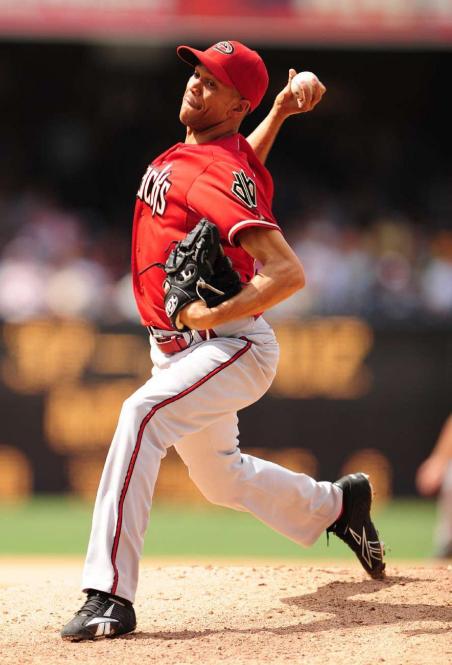 Earlier this week Buster Olney noted that baseball's free agent compensation rules are working against some of the remaining free agents, pointing out that teams are reluctant to forfeit high draft picks for guys that are considered complimentary players. Jason Varitek and The Orlandos – Hudson & Cabrera – immediately come to mind. Another such player is Juan Cruz, the ex-Cubs' prospect and Diamondbacks' setup man. Having declined arbitration after making $1.9375M last year, Cruz hit the free agent market for the first time in his career this year with the Type-A designation stamped on his back. For most teams that means losing their first round pick, but the Yanks aren't in that spot.
KLaw's 7th best available free agent (sub. req'd), Cruz's calling card has always been his control, or lack thereof.  Once considered the sixth best prospect in the game by Baseball America (back in '02) because of his live arm, Cruz's descent from future ace to setup man was due to his inability to throw strikes with any consistency. He threw strikes with only 58.6% of his pitches as a rookie in '02, improving slightly to 61.1% in '03 and 61.8% in '04. He's sat right around that level ever since. By no means is it a great strike rate, but in the last few seasons he's established himself as effectively wild.
Like I said, Cruz has a seriously live arm. It works quick and easy, allowing him to pump fastballs that have averaged just about 94.5 mph the last few years. His slider is equally electric, sitting in the low 80′s with sharp break. He still has a hard changeup left from his days as a starter, but he rarely uses it (he threw it just 4.1% of the time last year). You can get a glimpse of how filthy Cruz can be in these highlight clips from 2006 and 2007, unfortunately MLB.com doesn't have anything from last season.
While throwing strikes and limiting walks are his weak point, Cruz's biggest asset is his ability to miss bats. Hitters made contact on just 66.0% of the swings they took on Cruz's pitches last year, down from 69.9% in '07 and 77.4% in '08, meaning he got tougher to hit as he entered his prime (which, obviously, makes sense). He allowed less contact last year than K-Rod (69.3%), Joe Nathan (70.0%), Jon Papelbon (77.2%), Mo (76.3%), Joakim Soria (75.1%), Carlos Marmol (73.6%), you name 'em. Opponents hit just .192 off Cruz last year, and his strikeout rate over the past two seasons is an ungodly 12.62 Kper9, the best in baseball by more than half a strikeout. His CHONE projection for '09 is solid in case you're wondering: 68 IP, 3.31 ERA, 1.31 WHIP, 11.51 Kper9, $6.1M in value.
In a world where Kyle Farnsworth is guaranteed $9.25M in his age 33 & 34 seasons, locking Cruz up for say, $3-4M per year for his age 30 through 32 seasons would be a steal. The Nationals, Dodgers and Brewers (at least before they locked up Trevor Hoffman) have expressed interest in Cruz this offseason, and I suspect bullpen starved teams like Detroit and Texas may be lurking in the weeds. Having already coughed up their first, second and third round draft picks as compensation for Mark Teixeira, CC Sabathia and AJ Burnett, all the Yanks have to lose for signing Cruz is their fourth rounder, hardly a deal breaker (here's a list of all the Yanks' fourth round picks, basically a whole bunch of nothing). Combine that with the down financial market for free agents, and what's not to like?
There's no such thing as too much bullpen depth I say, especially when you're talking about super high strikeout guys like this. I'd love to see the Yanks lock Cruz up, sit him next to Edwar Ramirez in the Derek Zoolander Center For Children Who Can't Read Good Mariano Rivera Center for Relievers Who Can't Pitch Good And Wanna Learn To Do Other Stuff Good Too, and see what happens. They just might get something special out of it.
By

Cross the Astros off of Andy Pettitte's list of possible destinations. The lefty, currently engaged in a contract cold war with the Yankees, won't be going to Houston, MLB.com's Alyson Footer reported yesterday. Astros GM Ed Wade said that the team "[doesn't] see a scenario where he would fit into our payroll scenario at this time." Rob Neyer, meanwhile, thinks that Pettitte might be worth more than $10 million but should probably just suck it up and sign with the Yanks. We'll see. · (31) ·
By

How about some late-night breaking news? Courtesy of a few good commenters (and Mike) comes word that Daniel Cabrera, now a member of the Nationals, is finding new and creative ways of taking out the Yankees. Another Cabrera — Melky — became Daniel's latest victim. In the fourth inning of a winter league game, Cabrera hit Cabrera, and Cabrera had to leave the game. No word on the severity of Melky's potential injury.

Click here for the regularly scheduled overnight post concerning numerous Xavier Nady rumors. Now and then, Yankee news will "break" at 2 a.m. · (20) ·
The Xavier Nady rumors, it seems, never end.
On Thursday, I noted that the Yanks are listening to offers for Nady, and Joe talked about trading Nady for Aaron Harang. On Wednesday, the rumor du jour concerned Randy Winn. While a little over a week 55 percent of RAB voters said don't trade Nady, his name just keeps on popping up in trade rumors.
Today, we have both the Giants and Pirates involved in various talks over Xavier Nady. The first story comes to us via The Splash, Henry Schulman's San Francisco Chronicle-hosted Giants blog. He writes, "I've been told by a good source that Yankees GM Brian Cashman wants to keep Swisher to replace Bobby Abreu in right field and deal Nady, who becomes a free agent after the 2009 season."
Schulman goes on to speculate that the Giants could be interested. However, he's just guessing and has no further information concerning the team's interest.
Meanwhile, the Pirates seem to be talking Nady and Swisher with the Yanks. Dejan Kovacevic reports:
The Pirates have had trade talks with the New York Yankees regarding outfielders Nick Swisher and Xavier Nady, one high-level source said today, but there is little cause to expect a deal involving either coming to Pittsburgh.

In Swisher's case, he is owed $22 million the next three years and is coming off a down season in which he batted .219 with 24 home runs and 69 RBIs. Moreover, the Yankees are seeking pitching, the Pirates' most precious commodity, so the match is poor. The source described the chance of a Swisher deal being done as "a long shot."

A Nady deal is seen as even less likely, and the talks on that front have been no more than cursory. The primary reason is that the Yankees never could get back as much as they gave up for Nady and reliever Damaso Marte in the teams' July 26 trade — outfield prospect Jose Tabata and starters pitchers Jeff Karstens, Ross Ohlendorf and Daniel McCutchen — and that could make for an awkward set of circumstances.
So we have some conflicting information, and some sense of what the Yankees are expecting. It's worth noting that the Kovacevic is the latter of the two. Perhaps the Yanks are willing to listen on Swisher even if they would rather keep them. A Front Office conducting its due diligence would be better served hearing everything another GM has to say about any player.
Meanwhile, I'm not sure I agree with Kovacevic. If the Yanks are, as Schulman says, so keen on moving Nady, they may view him as the lesser of the two pieces from last summer's trade. They seem to recognize that Nady had something of a career year last year, and Brian Cashman, in looking to move Nady, seems to be betting on the belief that Nady won't duplicate his 2008 number. He wants a decent package for Nady and needs to replace some of the parts they sent to Pittsburgh last year. It is unreasonable to expect to get a full return though.
Either way, these talks were very cursory, and at the risk of sounding like a broken RAB record, I still predict Nady to be with the team come April.
By

Yankee Spring Training tickets are, by far, the hottest commodities of the Grapefruit League. The team usually sells out its slate of home games in a matter of minutes. That being said, going to Spring Training is one of the sheer joys of March, and the Yankees' Grapefruit League tickets go on sale tomorrow at 10 a.m. The scheduling and ticket information is available here, and PeteAbe always puts together a great Spring Training travel guide. If you have any inkling of heading to Tampa in March, snap up some tickets and take a trip. It's well worth it. · (1) ·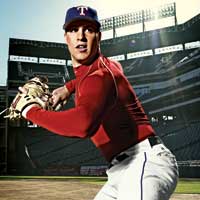 After the saga of this off-season, most people know the story of Mark Teixeira. I'm not sure how accurate this part is, but apparently before the 1998 draft the Red Sox circulated some rumors about Tex, saying he wouldn't sign. They then used their ninth-round pick to snatch him. Not pleased with how the team handled matters, Teixeira opted to attend Georgia Tech.
He thrived in college, winning the Dick Howser Trophy for baseball player of the year. Strange, though, that he won the award in 2001. Teixeira didn't play much that year. I first read about this injury in an old copy of Men's Health which, thanks to the Internet, is archived here:
In the sixth game of the season during his junior year at Georgia Tech, Mark Teixeira's cleat got stuck in the turf as he chased a fly ball. The broken ankle that resulted required surgery and 3 months of rest.
Actually, according to Georgia Tech's 2001 game logs, it was the seventh game of the season. That was in February. He didn't return until May 11, but he did it with a bang: 3 for 4 with a double and 2 RBI. He played out the rest of the season as a DH before the Texas Rangers selected him with the fifth overall pick.
Teixeira on the injury:
"My whole right leg basically lost its muscle. I couldn't walk, I felt lethargic, I gained 10 pounds. You go from being on top of the world one minute to not knowing if you'll ever be the same the next."
…
"I tried to keep the big picture in mind, and that was to be a big-league baseball player. So you have to mentally break through the pain, the fatigue, the frustration," Teixeira says. "From the time I knew I had a chance to be a big leaguer as a teenager, my motto has been, 'If someone is better than me, fine. But no one is going to outwork me.'"
According to the MH article, Tex recovered by implementing the following training regimen: "an hour of ankle-only rehab moves, 90 minutes of total-body conditioning, and batting and fielding sessions to get back into baseball shape." Of course, it goes onto say that it took "almost two years to return to his pre-injury form." Considering he OPS'd .995 between A+ and AA in 2002, I'd say that's a bit of an overstatement — and that's just one year.
You can discuss this, but you don't have to because this is the open thread for the evening. I'm guessing you're going to want to talk about Florida vs. Oklahoma. The Knicks are in Dallas, the Islanders are in Calgary, and the Devils have Atlanta at home.
By

The Yankees and Sony have agreed to a deal in which the electronics giant will outfit the new Yankee Stadium with state-of-the-art HD screens. As part of the deal, Sony becomes, according to Bryan Hoch, the official LCD television, HD television and consumer electronics manufacturer of the Yankees. In return, the Yanks' new digs will feature 550 BRAVIA and LCD HD TV sets as well as PS 3 consoles and some VAIO notebooks. According to the press release announcing the deal, Sony will air a 30-second promo prior to each game and sponsor the Yankee highlight reel.

For better or worse, this attention to screens is a part of the Yanks' plan to bring fans the most up-to-date stadium experience possible. The old Yankee Stadium was equipped with old CRT TVs, and those sets were few and far between. "Integrating Sony products into Yankee Stadium is very important to us as we near completion of what will certainly be among the most modern and technologically advanced sports venues in the world," Lonn Trost, team COO, said. · (21) ·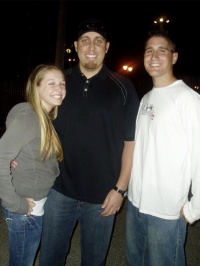 As Mike and I discussed in the podcast, and as Ben stated earlier, we don't think the Yankees should trade Xavier Nady or Nick Swisher. Yes, it would appear they have more starters than spots, but plenty can happen between now and Opening Day (and beyond). Unless they use that surplus to fill another need, or are blown away by the level of prospects offered, the Yanks would do best to stand pat and see which team has the greatest need come March. For all we know that team could end up being the Yankees themselves.
Still, it's fun to play mock-GM. As fans we do it every day. Like all faux-trade proposals, take this one with a grain of salt. It's just a suggestion, and clearly the executives on either or both sides might not think it optimal for their respective club. That doesn't preclude us from speculating.
One of the teams reportedly interested in Nady is the Cincinnati Reds. This makes sense. Over at Redleg Nation, a superb Reds blog, Chad notes that he would have loved Pat Burrell at two years and $16 million, or even Milton Bradley at three years and $30 million. Instead, they're "going to be stuck with an outfield of Willy Taveras, Jerry Hairston, Jr., and Jay Bruce." They also have options in Norris Hopper and Chris Dickerson, but neither looks like a high upside player. Dickerson had a very good 2008, his age 26 season, OPSing .863 at AAA before destroying the majors in 201 at bats (.304/.413/.608). In other words, they could use a left fielder.
Aaron Harang is coming off his worst season since 2004. He pitched to a 4.78 ERA and tossed far fewer innings, 184.1, than he had for the previous three years (211.2, 234.1, 231.2). However, he looks like a good, if not great candidate for a bounceback season. Not just because he had a stellar three years from 2005 through 2007, but because of the way his 2008 unfolded.
On May 25, Dusty Baker (who else?) called on Harang in relief during a marathon game with the Padres. He entered the game in the 13th and pitched four innings, allowing two hits, no runs, one walk, and issuing nine strikeouts. Two problems with this scenario. First, it came just three days after Harang got lit up by the Padres (5.1 IP, 5 ER, 2 HR). Of course, pitching four innings on three days' rest isn't that huge a deal. The second problem is that he didn't have time to prep like a starter would. While the effects didn't show up that game, they sure did immediately afterward.
His next outing was a four-inning, six-run debacle at home against Pittsburgh. Two starts later, in Florida, he got ripped for eight runs, seven earned, in Florida. In the 10 outings after the relief appearance, Harang tossed 51.2 innings to a 9.06 ERA, with a 1.90 WHIP. That certainly sullied his season. Before that relief sting, he pitched 74.2 innings of 3.50 ERA ball. In his last eight starts of the season, he pitched 54 innings of 2.83 ball. This isn't to necessarily say that the relief stint caused Harang's mid-season drop-off, but it's hard to ignore the circumstances.
Surely the Reds know this, which might make them disinclined to deal the righty when his value is perceived a bit lower than in years past. They also probably won't want to lose an innings-eating starter, especially considering the rest of their rotation aside from Edinson Volquez. Johnny Cueto could be good, but he's no sure thing, not at this age. Still, Harang is owed $11 million this year, a $4.25 million raise over last year, plus $12.5 million in 2010 with a $12.75 million team option for 2011 (which becomes a mutual option if traded). Do the Reds want to keep that kind of payroll committed to Harang in his 30s (2009 will be his age-31 season)?
Here's how a trade would help the Reds. They'd gain the difference between Harang's and Nady's contracts, which will be about $5 million, assuming Nady makes $6 million. If they can use that money to help them in another place, then they might consider it. Nady's salary would come off the books after 2009. Although there's not much to choose from with the 2010 free agent class, the Reds could use that money to pay Volquez, who could be a Super Two.
If the two sides are, in fact, remotely discussing a Nady swap, I'd assume Walt Jocketty is pushing Arroyo on the Yanks. This, clearly, would be a terrible move. Arroyo is still owed $22.5 million for 2009 and 2010 (counting the $2 million buyout of his 2011 option). No way do the Yanks want any part of this guy.
If Harang is in fact on the table, and for all we know he might be off limits, the Yanks might have to kick something else the Reds way. That, of course, could make or break the deal. Or this deal might not even be under consideration. Who knows. It's fun to speculate. If we're going to give up Nady, I'd want it to be for a player like Harang. Well, I'd ideally like it to be for a player like, say, Tim Lincecum, but I'm trying to display a modicum of realistic thought.
Pictured: Harang, his cousin, and my little brother.
It's the first podcast of the new year. We start things off chatting about, what else, the Mark Teixeira press conference. It's tough for guys to make poor impressions at these things, and Tex was no exception. He came off confident and aware of the pressures ahead. Another interesting tidbit: He says that being a switch hitter, it takes him longer to get into the groove because he's working on two swings. His April splits lend some stats to that anecdote.
To make room on the roster for Tex, the Yankees DFA'd Shelley Duncan. This comes as no surprise. Like all DFAs, Shelley will hit the waiver wire. If unclaimed, though, he does not have the right to declare free agency. He'll instead be forced to accept and assignment with the Yankees. If I had to venture a guess I'd say he'll be in Scranton in April.
Then it's onto the minor league contracts. The Yankees inked Jason Johnson, Angel Berroa, Jorge Vazquez, and John Rodriguez. They're all no risk moves, so it's tough to complain about them (but that won't stop some people). It looks like Rodriguez could provide some level of reward.
We touch on the Nady and Swisher rumors and come to a conclusion: Keep 'em. Depth is valuable, and becomes more valuable as we get to March and April. Unless something good comes along (Aaron Harang?), the Yankees should just stand pat and see how the spring unfolds.
At the end, Mike discusses the case of Andy Oliver. He was drafted out of high school, but chose to attend Oklahoma State. Just before the playoffs this year, he was suspended indefinitely. Why? He used an agent/lawyer to negotiate his post-draft deal. Mike explains the whole thing. While I understand NCAA's desire to keep their athletes amateur, it seems unreasonable to expect an 18-year-old to negotiate a deal without a lawyer.
Onto the podcast. It is available in a number of formats. You can download it here by right clicking on that link and selecting Save As. If you want to play it in your browser, just left click the link. You can also subscribe to the podcast feed, which will send it to you every Thursday. You can also subscribe in iTunes. Finally, we have the embedded audio player below.
Audio clip: Adobe Flash Player (version 9 or above) is required to play this audio clip. Download the latest version here. You also need to have JavaScript enabled in your browser.
We appreciate any feedback. You can leave it in the comments or email either of us.
Podcast: Play in new window | Download (43.5MB)