Via MLB Trade Rumors we learn that the Angels are having discussions with CC Sabathia. While the timing comes somewhat of a surprise — the Angels still haven't made an offer to Mark Teixeira — it was assumed from the start that the Halos would get involved. LA Times scribe Bill Shaikin notes that the Angels are reluctant to offer Tex the 10 years he seeks. Of course, Scott Boras will neither confirm nor deny the first baseman's intentions.
No offer has been officially extended, however it is believed that the Angels could offer something "in the range of Johan Santana's six-year, $137.5-million contract." Clearly, the term "in the range" could mean a number of things. Will they offer a little less? A little more? Will they match the Yankees reported six-year, $140 million offer? Or did they just leak this story to show Teixeira that they're serious?
(You have 24 hours to sign our contract. And to show you we're serious…you have 12 hours.)
We know that Sabathia could opt for the West Coast, even if the Yankees offer the largest contract. That scenario becomes more likely if the Angels offer him a deal better than Santana's, even if it's not by much. The Yanks would surely up their bid under that scenario, but how much, if anything, would be enough?
Missing out on CC could mean a number of changes to the off-season plan. The focus could shift to Teixeira. If signed, Nick Swisher would move to the outfield. Do you dish Damon or Nady at that point? Do you go into the season with an OF of Nady-Damon-Swisher and hope for the best defensively?
There aren't any easy answers to these questions. Yet the Yankees may be faced with them in the coming weeks. I do not envy Brian Cashman right now.
By

Delta Airlines and the Yanks announced a major sponsorship deal yesterday afternoon. The Atlanta-based airline will now become the Official Airlines of the New York Yankees. In return, Delta gets extensive signage throughout the new stadium, a fancy luxury suite behind home plate and advertising in Yankee publications and on the game broadcasts. Terms of the deal were not announced, and I'm sure John Sterling is already practicing his Delta commercials as we speak. · (12) ·
While Ken Davidoff described for us the language of baseball winter, I'm not so sure he meant it would go this far. Sure, we've heard "parameters" and "ideas" plenty so far, but we've also seen the word "signed" used a bit loosely.
It started with Trever Miller. Last Wednesday Bernie Biklasz of the St. Louis Post-Dispatch said that Miller would be in town for a physical on Thursday, and that "If that goes as expected, he's the LH specialist." We found out on Friday that a deal had not been finalized. This remains the case as of this writing.
Then we had the bit about Rafael Furcal this morning. This developed rather quickly. In the a.m., the L.A. Times picked up a story about a Dominican paper which claimed to have talked to Furcal. The shortstop claimed he had a four-year $48 million offer on the table from the A's, as well as an offer to play second base for the Mets. Not long after noon, the A's rumor was debunked. The Mets debunking came shortly afterwards. Furcal's agent maintains that neither offer was made.
In what might be the worst of these, Sweeny Murti of WFAN reported that the Giants signed Edgar Renteria for two years and $18 million. The shortstop's agent chimed in a few hours later, saying his client was home in Colombia and no deal was imminent. That remains the case. Looks like Sweeny jumped the gun by a lot.
As if all that wasn't bad enough, there was even a report on Odalis Perez, from ESPN Deportes, which quoted the pitcher saying: "My agent is working with National. We have an offer for two or three years and is subject to fine-tune details." That, as you can guess, has been debunked. This saves us from a mini heart attack.
Everyone's a fan of a good rumor. It makes the hot stove interesting. However, I'd rather not hear anything than hear something not true. Unfortunately, with everyone gunning for the big scoop, we're probably going to see a few more false starts this off-season. Which is a shame. When we read a player is signed, he better damn well be signed. Can you imagine if this happened with CC Sabathia and the Yanks?
By

On the front page of yesterday's Times was a lengthy story about the latest threat to the (fictional) sanctity of professional sports. Watch out folks: It's the Viagra threat. According to the World Anti-Doping Agency, the infamous blue pill offers to benefits to athletes that could lend the impotency drug more performance-enhancing capabilities than Pfizer's researchers ever intended. Rafael Palmeiro, the now-disgraced ex-Major Leaguer, once served as pitch man for the drug. Oops. · (22) ·
The Yanks are pretty desperate for pitching, it's no secret, but just how desperate are they? Apparently desperate enough to offer a contract to Perez. Oh, and not Oliver Perez. Odalis Perez.
Urge to kill, rising.
On the surface, it's one of those "what the hell are they thinking" moves. He was barely average in the NL last year, posting a 101 OPS+ (which is actually better than Oliver's 100) after starting Opening Day for the Nats. He's allowed nearly three baserunners for every two innings pitched in his career, and last year was the first time he eclipsed the 140 IP mark in four years. It's just not something you like to hear.
But chillax people. If the Yanks did make an offer (the original article is in espanol, so something may have been lost in translation), it's not to front the rotation. They're not going to pass on CC Sabathia or Ben Sheets or AJ Burnett or Derek Lowe if Perez agrees to a deal. If anything, they're just exploring all options and casting a wide net. Hey, he's better than Ponson, right?
Sit back, relax, and enjoy the football game tonight. Don't worry about Odalis Perez. The Hot Stove is chock full o' rumors that never come to fruition, and until we see some more definitive reports, don't concern yourself with this one. If you want something to worry about, worry about how embarrassing it'll be for tommiesmithjohncarlos if Ryan Grant picks up the 40 measly yards I need to beat him in fantasy this week even though Brandon Jacobs didn't play yesterday.
Here's your open thread for the night. Talk Pack-Saints, Haht Stove, stuffing recipes, whatever you like. Just keep it civilized.
By

Hideki Matsui, projected to be the Yanks' DH in 2009, will not be participating in the WBC, Ken Davidoff reported over the weekend. While a very big celebrity in Japan, Matsui is rehabbing another knee surgery, and the Yanks are not so keen on his playing during the tournament. As Davidoff notes, Matsui's decision to opt out of the tournament in 2006 upset his fellow countrymen and baseball officials. This year, however, the 34-year-old will focus on getting and staying healthy. · (5) ·
By

Hal Steinbrenner cause a mini ruckus last week when he said, in regards to CC Sabathia, that: "We made an offer. It's not going to be there forever." That sounds like a pretty Hank-ian statement, reminiscent of his "Hughes is on the table, but only for two days" ultimatum towards Minnesota last off-season. Thankfully, Jon Heyman puts the statement into the proper perspective, citing someone within the Yanks organization. No, it won't be on the table forever, but they won't pull the offer anytime soon. So can we please just forget Hal ever opened his mouth? · (31) ·
By

I received an email from fellow MLB Draft watcher Travis Orton, who mentioned that I may have been treating the compensation picks for unsigned draft picks incorrectly in our 2009 Draft Order page. I was under the impression that the comp picks are essentially "invisible," and do not effect the overall number sequencing (i.e. #8, #9, #9A, #10, #11), however Travis pointed out that last year the comp picks were counted towards the overall numbering. This is significant because my methodology pushes a comp pick back one spot for every comp pick that comes before it, meaning the Crow pick pushed the Fields pick back one spot, which then pushed the Cole pick back two spots, etc.

So Travis and I exchanged you're an idiot, I'm right friendly emails, and eventually took it Baseball America's Jim Callis, who confirmed with MLB that the comp picks do count towards the overall, meaning I've been accounting for them incorrectly. I've updated the page to reflect the correct order and numbering, while Jim has an updated draft order in today's AskBA. My mistake irreparably destroys my credit as a know-it-all blogger, but the Yanks actual benefit: the comp pick for Gerrit Cole moves up two spots, while the comp pick for Scott Bittle moves up four spots.

My bad, yo. · (34) ·
When Hal Steinbrenner officially assumed control of the Yankees last week, an era of baseball history came to close. For 30 years, George, spending billions of dollars, has gone from a wild and crazy guy devoted to winning to a somewhat tempered owner still obsessively devoted to winning. Along the way, he's made countless enemies, broken numerous baseball rules and forever altered the economic face of the game.
Earlier this year, I looked at the Boss' Bronx legacy, and then Reggie called for George to land in the Hall. Over the next few years, we'll hear a lot of those arguments — impact vs. personality — rehashed, but for now, writers are struggling with his quiet departure.
In a piece from the West Coast, Steve Dilbeck pens a Dodgers-centric paean to King George. A lot of us are too young to remember it, but the Dodgers and Yankees were primary interleague rivals during Steinbrenner's early years as manager. While that rivalry has faded, the Boss' best hyperbole came out when the Yanks and Dodgers squared off in the playoffs. Dilbeck looks back, almost fondly, on that era and wonders how the Boss managed to fade away so quietly. It truly is the end of an era of baseball history.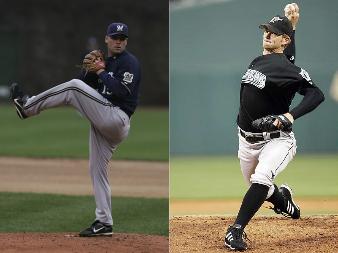 They're both free agents, they both have top notch power arms, they have an equal amount of playoff experience (zero innings), yet one has been much more sought after this winter than the other. Widely considered to be the best non-Sabathia pitcher available this offseason, AJ Burnett has been a hot commodity, drawing rumored interest from as many as eight or ten teams. Ben Sheets, on the other hand, has heard his name garner nary a whisper early in the Hot Stove League despite starting the All-Star Game just four months ago. Why is this?
In terms of pure stuff, you're looking at two very similar pitchers. Both work heavily off their fastball-hammer curveball combo, mixing in a changeup ranging anywhere from average to unhittable depending on the day. Burnett throws harder (average fastball velocity over the last four years is 94.9 mph according to Fangraphs), but Sheets isn't exactly a soft tosser, averaging 92.8 mph on his heater over that time. Both have used their outstanding stuff to post historic outings; Sheets struck out 18 Braves in 2004 while Burnett no-hit the Padres back in 2001. AJ Burnett has arguably the best arm in the big leagues, but make no mistake about it, Ben Sheets ranks right up there are well.
Unfortunately for them, these two share more than just immense talent – they've both earned the "injury prone" label. While frequent DL trips is an unquestionable negative, it's necessary to take a deeper look to see what's really going on. Here's Sheets' DL history: