After losing the second game of Saturday's doubleheader, the Yankees were going to need to some from the Royals if they wanted to win the AL East for a second straight year. They would need to take care of business on Sunday against the Red Sox while Sean O'Sullivan did them a favor an topped Tampa. It was all moot by the late afternoon, because not only did the Rays beat Kansas City in extras, but the Yanks lost to Boston for the fourth time in their last six meetings.
Spot Starter
It's tough to take any game seriously when Dustin Moseley is the scheduled starter, but the righthander actually did a half-decent job through the first four frames. The problem is that he was left in to pitch the fifth.
Boston jumped out to an early two-zip lead when J.D. Drew parked a poorly located fasted into the bullpen to drive in himself as well as Jed Lowrie. Moseley retired seven of the next ten men he faced, wiggling out of a little trouble with some double plays (one a routine 6-3 grounder, the other when David Ortiz got doubled off first after Brett Gardner caught a ball at the wall), carrying the ball into the fifth. Joe Girardi indicated before the game that the starter would be limited to 75 pitches, but Moseley was left in well beyond that and it cost them.
Sticking with the theme of the month/season/decade/millennium, Moseley retired the first two men in that fifth inning before running into trouble and walking Eric Patterson on four pitches. He started Jed Lowrie off with two straight balls before dropping a curve in for a strike, but he wouldn't fool him twice. Lowrie dropped the bat on Moseley's 93rd pitch, sending it over the rightfield fence for Boston's second two-run homer of the game. It broke a two-all tie, and gave the Sox a lead they would never surrender.
Punchless (Sorta)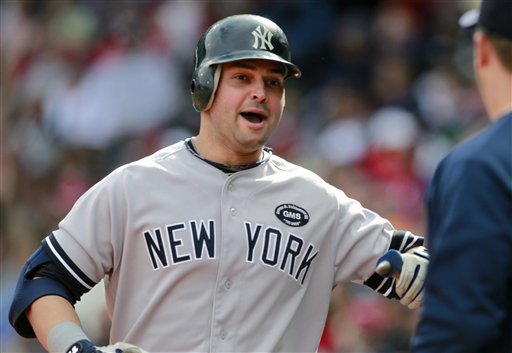 Well, that's not an accuracy way to describe the Yankee offense, thought it was rather underwhelming today. They recovered from that two-zip hole thanks to a Nick Swisher solo homer and Alex Rodriguez singling in Mark Teixeira after a two-base error by Drew. They didn't muster another threat until the eighth inning, when Jonathan Papelbon and the rest of his lolpen pals were on the mound for Boston.
Gardner doubled to lead off that eighth inning, then came around to score three batters later on a Robbie Cano single. Nick Swisher drew a walk to load the bases, but Jorge Posada couldn't capitalize and grounded out to end the inning. Marcus Thames and Curtis Granderson then made two quick outs in the ninth before Patterson extended the game and the season when he botched a routine grounder and let Gardner reach. Derek Jeter singled him in after a defensive indifference, and before you knew it it was first and third with two outs and A-Rod at the plate with the tying run on deck. Alas it was not meant to be, because Alex grounded out to third after a hard fought at-bat to end the rally, the threat, and the season.
Just two men reached base from the fourth through eighth innings, and the attack came primarily from the top of the order. Posada, Thames, and Ramiro Pena combined to reach base just twice from the 7-8-9 spots, and Tex also went hitless from his customary three-hole. Gardner and Jeter each had two hits atop the lineup, then A-Rod, Cano, and Swisher chipped in a run scoring hit each. But otherwise that's really it, they didn't work John Lackey all that much (118 pitches in 7.2 innings), though they did pick up three hits in seven at-bats with men in scoring position. It certainly didn't help that home plate ump Brian Runge had one of those "it's the last game of the season let's get out of here" strike zones.
Leftovers
Aside form Royce Ring, who threw one pitch and allowed Ortiz to reach on a bunt hit, Girardi went to his A-relievers. David Robertson, pitching for the fifth time in eight days after dealing with back spasms, allowed three of the four men he faced to reach (one hit, two walks, one strikeout), but got bailed out Boone Logan who retired the only two men he faced. Joba Chamberlain struck out the side after allowing a solo homer to Lowrie, and then Sergio Mitre chipped in a perfect frame.
It seemed like a curious move to go with the top relievers, though the game was still very close when Ring entered and Tampa was losing at the time. However, it would have been nice to give the guys, especially D-Rob, a little blow before the ALDS. Plus I really wanted to see Andrew Brackman. Good thing they're off Monday and Tuesday.
The season ended just like it started, with a loss in Fenway Park. The difference is that the Red Sox have no games left to play while the Yanks move on. Their ALDS matchup with Minnesota starts on Wednesday.
WPA Graph & Box Score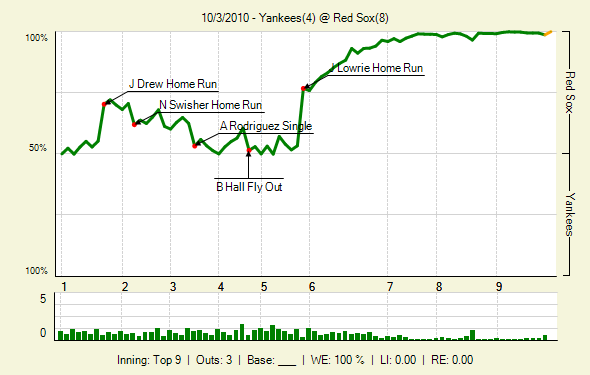 Yeah, wasn't all that close. Here's the box score, here's the other stuff. Bring on the Twins.