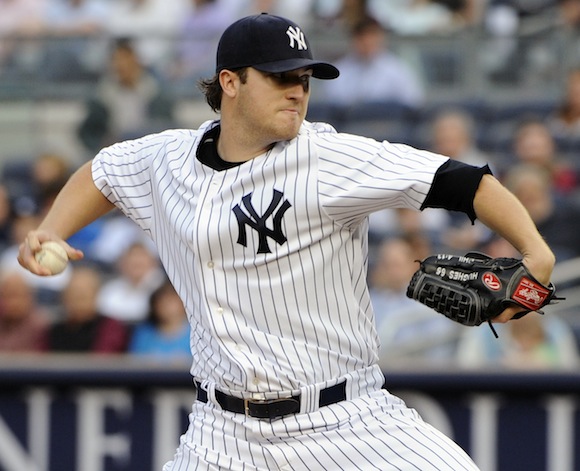 On a warm May night in Texas in 2007, those watching the Yankees and the Rangers square off saw the future for 17 outs. That night, 20-year-old Phil Hughes, making just his second Major League start, held the Texas offense hitless into the 7th until, on a curve ball, the right-hander overextended his leg and popped a hamstring. Hughes wouldn't return to the big leagues until early August, and he scuffled a bit before hitting his stride in September.
As 2008 dawned, the Yankees had enough faith in Phil Hughes (and Ian Kennedy) that they entrusted him with a starting rotation spot right out of Spring Training. The youth experience that year was an utter disaster. Hughes, a power pitcher, was winless in his first six starts and had a 9.00 ERA to go with his 1:1 K:BB rate. A rib injury derailed his season, and again, Hughes didn't return until September.
Last year, as we remember, was different. Hughes made a handful of starts in place of the injured Chien-Ming Wang, and he wasn't lit up. He wasn't great either, but he showed some flashes of being able to pitch and get outs at the Major League level. A disastrous start in Baltimore skewed his numbers, but the Yanks had enough confidence in what they saw that Hughes stayed in the pen after Wang was activated from the DL.
What happened in the bullpen was nothing short of a revelation. As a reliever, he threw 51.1 innings with a 1.40 ERA and a K/9 IP of 11.4. He got major league hitters out with a vengeance and grew confident as he did. Although we briefly feared that the Yanks would keep Hughes in the bullpen, those fears were assuaged as early as February when the team all but handed Hughes the fifth starter job for 2010.
Lost in the brouhaha over Jim Joyce's blown call and Armando Galarraga's 28-out perfect game was Phil Hughes' domination of the Orioles. He threw 7 innings, gave up 6 hits and 1 earned run on a walk and seven strike outs. On the season, he is 7-1 with a 2.54 ERA. His peripherals are equally as impressive. He's struck out 64 in 63.2 innings while surrendering just 20 walks and allowing only 4 home runs. Opponents are hitting just .203/.266/.299, and Hughes is making his case for early-season ace.
Phil has found success this year through an aggressive pitching style and the ability to both locate his fastball and have it move. He's throwing far more cutters this year than he ever has, and overall, his 78 percent fastball rate dwarfs his career norm of 61. He's establishing the zone and attacking it with his precision while using his devastating curveball as a weapon and an out pitch. It has truly been a pleasure of the early going to see Hughes excel.
There are, of course, some things to watch going forward. At last night's game, I turned to my sister in the sixth and said that the third time through the order would be key for Hughes. He faltered a bit and had his worst inning of the game when the top of the Orioles' lineup took their third cuts against him. As the season progresses and teams see Hughes again, he'll have to adjust. So far, despite a lot of Grapefruit League focus, he hasn't flashed much of the change-up, and to truly master a lineup, he'll need that new look.
Yet, Hughes has been an illustration in patience and youth for the Yankees this year. Just a two years after the non-trade for Johan Santana, Hughes has shown why the Yanks didn't want to pull that trigger, and he's an ace, young and emerging. He'll take his lumps later this year and bump up against an innings limit, but if this is the future of Yankee pitching, sign me up.