The last time Lower Manhattan witnessed a ticker tape parade, it was a different era. Bill Clinton was closing out his presidency, and in the buildup to a hotly-contested election, the Yankees had just beaten the Mets in a Subway Series. The parade through the Canyon of Heroes ran in the shadows of the city's tallest buildings.
Now, here we are in 2008 and finally — finally — another parade. Yet again, we're on the precipice of an election day — and if you live in New York, New Jersey, Connecticut or any other Super Tuesday state, go vote. The towers are gone, but the spirit of the city will be out in full force later today when Eli Manning, David Tyree, Plaxico Burress, Justin Tuck, Amani Toomer, Michael Strahan, Osi Umenyiora and the rest of the Giants will nail Tom Brady for a decisive ten-yard sack bask in the glow of an unlikely Super Bowl win.
Once the parade ends and after the Giants receive their praise from the lips of Mayor and potential presidential candidate Michael Bloomberg, New York's attention will turn to baseball. Forget the Rangers and the 14-34 Knicks. In nine days, pitchers and catchers officially report to Tampa. Most of them are already enjoying the Florida sun, and a lot of the Yankee youngsters have taken three bullpen sessions. But still we fixate on Feb. 14 when life starts the six-week march to its rebirth on Opening Day.
And that, my friends, is where you come in. With ten days to go before camp opens and a few more weeks before the games begin, the baseball news cycle is drawing to a close. A whole group of mediocre free agents and Barry Bonds remain unsigned, but after the Eric Bedard trade is mercifully completed tomorrow and Brian Roberts heads to Chicago this weekend, the wheeling and dealing will be through. That still leaves us with some time before we start obsessing over every move Joe Girardi makes and bemoaning Kyle Farnsworth's very existence.
So here's my challenge: Throw out some ideas of what you would like to see as season preview material here on RAB. We could do the ever-clichéd position-by-position analysis, but we already know the Yankees' areas of concern — young pitchers, bullpen, first base. We've been tossing around a few ideas but give us yours. It's all about that give-and-take.
Yes, there's a chance that baseball's biggest head will get a shot with the Bombers. The Yanks have expressed interest in the 30-year-old outfielder. He'd give the team a right-handed bench option.
Of course, this would be on a minor league deal, so as with Ensberg and Lane, there is no risk. If you look how the roster breaks down, the Yanks have a couple of options for bench spots:
1. Wang
2. Pettitte
3. Mussina
4. Hughes
5. Joba
6. Kennedy
7. Mo
8. Farns
9. LaTroy
10. TBA – bullpen
11. TBA – bullpen
12. TBA – bullpen
13. Posada
14. Cano
15. Jeter
16. A-Rod
17. Matsui
18. Damon
19. Melky
20. Abreu
21. Betemit
22. Giambi
23. Molina
24. Shelley
25. TBA – bench
And even Shelley's spot isn't guaranteed. So you have him, Ensberg, Lane, Nick Green, and Mench going up for two spots. Plus, it gives the team some decent insurance options should the injury bug bite during Spring Training.
By

According to Phil himself, the Yanks' young star is angling for Sean Henn's number 34. Phil says that even though Henn agreed to give up his number, it's not quite official yet. So hold off on buying those t-shirts. Anyway, realistically, who's more likely to make the team out of Spring Training? · (20) ·
By

Tim Marchman, baseball columnist for The New York Sun and one of the most underrated New York sportswriters, chimes in with his three off-season questions for the Yankees. He wonders: Is Steinbrenner going to make out the lineup card? Are the Yankees' Big Three more results than 1995 Mets' own overhyped Generation K? How many wins will it take to make the playoffs? Rehashing familiar territory, it's an apt 800-word summary of the Yanks' off-season and the questions they face in 2008. · (10) ·
By

Yeah, it would have been strange to see Donnie Baseball in Dodger blue. But I think I speak for the Mattingly fanatics when I say we wished him the best. Then we heard of his divorce filing, which was going to take him away from his hitting coach position and put him in a special assignment role. Well, it seems things are pretty bad for the Mattinglys. Kim Mattingly was arrested over the weekend
Later, police were called back to the scene, where they found Kim trying to leave as the passenger in a car. Police then arrested her. It's sad to see things turn out like this for Donnie and his wife. We wish him the best as he deals with his current situation. · (11) ·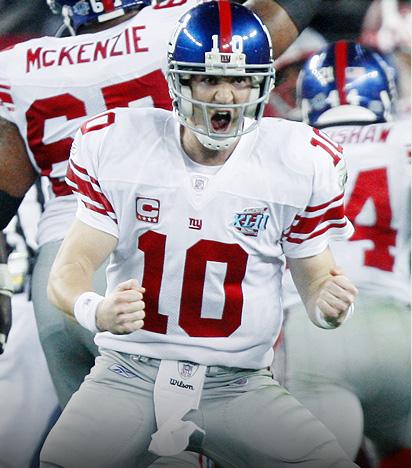 So this it it. Super Bowl Sunday. We're almost free.
Johan Santana is traded. A-Rod, Jorge, Rivera, all re-signed. And it's February. Pitchers and catchers report soon.
But for sports fans, there's one last hurdle before we can really turn our attention to baseball. For 60 minutes tonight, the Giants and the Patriots will finish up the NFL season. And maybe, just maybe, the Giants can finish their stunning postseason with a victory.
Really, it goes beyond one title game. The Giants are playing for a region. Do we really want yet another sports team from Boston winning a title? Already, Celtics fans — with no concept of the East vs. West divide in the NBA — think they could witness their team bring home Boston's third title this season. Last I checked, the Patriots haven't even won yet.
So here we are. In two weeks, pitchers, catchers and just about everyone else will be in Tampa getting ready for the season. But today, we're rooting for the Giants. Bring home a win; New York wants it.
You know it's a slow news time when we're reduced to posting stuff like this: