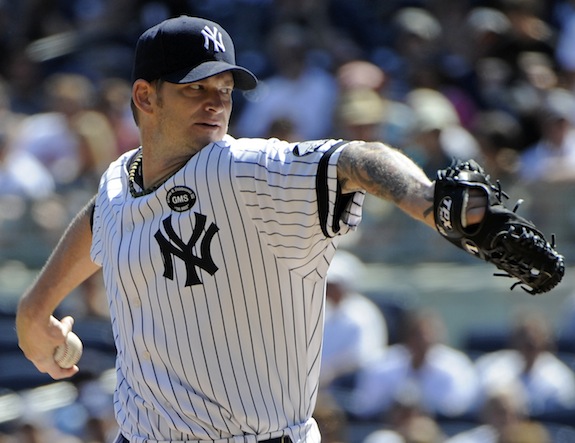 No matter what happens tonight and tomorrow, the Tampa Bay Rays will leave the Bronx in second place. By winning the first two games, the Yankees assured that, in the even of a series split, they'll have a 0.5-game lead in the AL East. Based on their remaining schedules, a split would probably give the division edge to the Rays, and that's not good enough for the Yankees. "Our goal," manager Joe Girardi said this afternoon, "is to win the division."
To put some distance between them and the Rays, the Yanks are going to have to win one, if not both, of the remaining contests this week, and tonight, the Yanks will turn the ball over to A.J. Burnett. After struggling through a terrible summer, Burnett has been better but still mediocre of late. He isn't Bad A.J., but he's not Good A.J. either. During his last four outings spanning 24 innings, he's allowed 23 hits and 10 walks for an ERA Of 4.50. After striking out just 113 in his first 150 innings, he has K'd 24 batters over his last 24 innings pitched.
Countering A.J. will be one of the Rays' better pitchers. While Tampa Bay's rotation is in shambles, Wade Davis hasn't lost a start since June 27 against the Diamondbacks. His 3.62 ERA over a span of 69.2 innings seems impressive, but he'll still give up his fair share of home runs — 10 — while his K rate remains low — 6.07 per 9 IP. His FIP is a less impressive 4.47. The Yanks beat Davis on April 10 and lost on May 19 and July 30. For what it's worth, only Brett Cecil and Felix Hernandez have beaten the Yanks three times this season.
Game time's 7:05 p.m.
Brett Gardner LF
Derek Jeter SS
Mark Teixeira 1B – Having a terrible September. Girardi said Teixeira will rest his broken toe after the Yanks clinch.
Alex Rodriguez 3B
Robinson Cano 2B
Nick Swisher RF
Lance Berkman DH
Curtis Granderson CF
Francisco Cervelli C
A.J. Burnett P
Interestingly, Tampa Bay is going with a different lineup tonight too. Joe Maddon said he wanted to give Carlos Peña the rest of the series off to "clear his head." That a tough lefty is going tomorrow night makes that move easier. Check out the Rays' starting nine:
John Jaso DH
Ben Zobrist CF
Carl Crawford LF
Evan Longoria 3B
Dan Johnson 1B
Matt Joyce RF
Jason Bartlett SS
Reid Brignac 2B
Dioner Navarro C
Update (9:55 p.m.): The Yankees have announced that the game will resume at approximately 10:05 p.m. It's the bottom of the third, and the Yankees are down 1-0. Both Wade Davis and A.J. Burnett will not be returning to the mound. Royce Ring is warming up for the Yankees, and Jeremy Hellickson will come in to pitch for Tampa Bay.