Before last night's game, the Mets had never held a lead during a game against the Yankees at Citi Field. Of course, that consisted of just four games to date. It wouldn't last forever, but it was a bit disappointing to see the streak end in the first inning. The Mets put together a two-out rally, and then did the same in the third. In fact, all of the Mets runs came with two outs, the first three coming in bases empty, two-out situations.
Biggest Hits: Wright up the middle
It felt like the Yanks and Mets played the first inning twice last night. They both started off the same way, with Jose Reyes flying out and Luis Castillo grounding out. Then came a Jason Bay hit, a double in the first and a single in the third. It didn't make much of a difference, because in both innings Ike Davis drew a 3-2 walk, putting runners on first and second with two outs.
David Wright came through for the Mets in both instances. In the first Hughes got ahead 1-2, but then threw a ball outside before coming back with a cutter. That was at the knees but was over the middle of the plate, and Wright shot it up the middle for an RBI single. The Mets got another run when Angel Pagan singled, but the Yanks caught a break when Francisco Cervelli threw out Wright, who was trying to sneak into third on the throw home.
In the third Wright saw just two fastballs, the second of which was belt high and caught way too much of the plate. Again up the middle, again the Mets picked up a run. It looked like Hughes was sticking with the strategy of high fastballs there, but just missed with the pitch. With the cutter, I'm not sure what he was doing. As friend of RAB Fire Jerry Manuel noted, going with the cutter played to Wright's strengths. Later, in the fifth, Hughes set up Wright with a first-pitch curveball for a strike, and then attacked him with fastballs high, eventually getting him to swing through strike three.
Wasted Opportunites: Gardner and Teixeira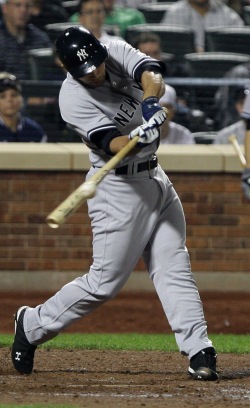 The Yanks had a few opportunities in the late innings to get right back into the game, but in both fell a little short. The first came in the seventh, when the Yanks set themselves up right away. Kevin Russo, leading off after subbing for Winn in a double switch during the sixth, singled up the middle, and Derek Jeter followed by taking all five pitches he saw and walking to first. Gardner advanced them on a ground ball, which gave the Yanks the exact opportunity they needed. Two chances with with two men in scoring position and their two best hitters coming to the plate.
Mark Teixeira worked a long at-bat off Jenrry Mejia, going down 0-2 pretty quickly but extending it another five pitches. Unfortunately, he swung through the last one, a 97 mph fastball low and away. Tex has looked bad at the plate since the Rays series started, and it has only gotten worse in the past two days.
"For as good as I felt for two weeks there, I feel the exact opposite now," said Teixeira. "I can't get any worse right now." He tried to elaborate a bit, saying, "I'm stuck between too aggressive and too patient." He said that he'd cut down on his pregame swings, and perhaps his weight lifting, in hopes of turning things around.
Joe Girardi saw it, too. "It seems like he's been having a hard time staying back." He later added, "It seems like he's not picking up the ball at times."
In the eighth the Yankees finally struck. Kevin Russo drew a bases loaded walk after going down 0-2, and then Jeter brought in a run with a grounder. That last one hurt a bit, as it was the second out of the inning. Still, with a runner on third the team had a chance to bring it within one. Brett Gardner had the task of driving him in, and he did not succeed. A grounder to third ended the inning, leaving the Yankees still down two runs.
The Yanks had chances, but just couldn't get anything going. Part of that is the top of the order 0 for 13. In fact, that's a pretty big part of it.
"It's no doubt that we're struggling in those situations," said Girardi.
Hughes brings the strikeouts, but still not sharp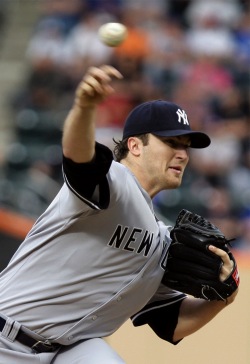 While Phil Hughes looked better last night than he did in his previous start, he still wasn't as sharp as we'd seen him in earlier efforts. As mentioned above, he caught the plate a few too many times, especially to David Wright, and that caused him trouble with the top of the lineup. He also had trouble finishing off some hitters, walking three of them — Ike Davis twice. When you walk or strike out 10 of the 27 batters you face, your pitch count will certainly climb quickly. Hughes ended with 117, a season high, 88 of which were strikes.
"I threw strikes, but not good strikes," said Hughes.
Girardi agreed. "It's not quite making your pitch."
Hughes's undoing came in the sixth. He and Angel Pagan were locked in a battle, with Pagan fouling off six of the first eight pitches. Hughes came back with a fastball on the ninth, only 91 mph and a bit outside. Pagan reached for it, though, and sliced it down the left field line. Randy Winn should have had it — he admitted as such after the game — and it fell for a double. Hughes got the next two hitters, but couldn't retire pinch hitter Alex Cora, who grounded one between Teixeira and Cano, giving the Mets a 4-1 lead.
Winn took full responsibility for the play, saying in no uncertain terms that it was his fault. It stayed straight where he thought it would hook, which explains the misplay. Still, it was a costly error for a player whose primary value to the Yankees is his defensive play in the outfield corners.
WPA graph and box score
Not good when the line stays that far away from your side.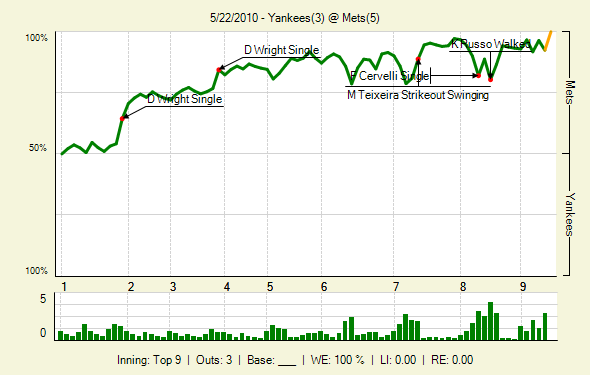 More at FanGraphs. Traditional box at MLB.com.
Up Next
It's the New York Lefties, CC and Johan, to close the series tomorrow night on ESPN at 8.