By

Pete Abraham has the scoop: Andy Phillips is returning. He speculates that Josh Phelps will be the odd man out. Methinks it's Basak. I'll update this post when we hear more. Update: Tyler Kepner says it's Phelps. While there is no official confirmation (i.e., from Brian Cashman), it would appear this is accurate. And dumb. · (5) ·
We understand that FoxSports's Ken Rosenthal has a job to do. He's the senior baseball writer, and has to come up with interesting and/or controversial reports almost daily. At this time of year, things pick up, and he's got a lot more to talk about.
Unfortunately, he's talking jibberish. At least to me.
In his latest column, he pleads with the Yankees and Rangers to get a deal for Teixeira done. He does note a problem: Texas wants Hughes, and the Yanks won't deal him. He even goes so far as to suggest that the Yanks get a reliever and possibly a low prospect in a deal for Hughes.
Back in my Off the Facade days, I would routinely answer Mark Feinsand's mail. Well, Feinsand has moved on to the Daily News, and I've moved on to River Ave. Blues, but I still love answering the Yankees.com beat writer's mail.
So let me present to you on the eve of a series the Yanks should win, my answers to Brian Hoch's mail. For his answers to the same question, check out this piece at Yankees.com.
The series against the Mets showed the Yankees' vulnerability to speed and aggression. It seemed like guys like Jose Reyes and Carlos Gomez had no chance of being thrown out against Jorge Posada. Do you think the Mets have exposed the Yankees' weaknesses in the series?
– Mitch G., Middletown, N.Y.
There's much ado made about the environment at Coors Field. It enhances scoring and batting stats, they say, because the air is thin; therefore, the balls travels further. By that logic, it would also make for some terrible pitchers, since the environment works both ways. Even with the climate-controlled baseballs, the Park Factor is still 107 (where 100 is neutral and anything above favors hitters; Yankee Stadium is a 96).
So let's look at some home/road splits for the Rockies. My hypothesis: we'll see a depression of slugging percentage on the road, mainly due to the home run factor. However, we won't see any correlating trend in batting average and on base percentage. The thin air should only have an effect on balls that leave the park. The results should all even out for those balls that stay in play. That is, if the ball does in fact carry in the thin air, a bloop may become an out, and a fly to center field may carry over the outfielder's head.
Short Season Staten Island and the Rookie level GCL Yanks kick off their seasons tomorrow. I'll be very surprised if 13th round pick Nick Chigges (22-3, 2.42 ERA in his final 2 years at College of Charleston) doesn't start Opening Day for Staten Island; he's clearly the most accomplished pitcher on the staff (but what the hell do I know?). No clue who starts for the GCL squad.
Triple-A Scranton (7-5 win over Durham)
Kevin Reese: 0 for 2, 2 R, 3 BB
Andy Phillips: 0 for 3, 1 R, 2 BB, 1 K – batting average dwindling down to .300…
Eric Duncan: 1 for 5, 1 2B, 1 RBI, 1 K
Shelley Duncan: 1 for 5, 1 R, 1 HR, 4 RBI, 1 K – 8 RBI in his last 3 games
Bronson Sardinha: 1 for 4, 1 K
Alberto Gonzalez: 0 for , 1 BB – 0 for his last 14
Juan Francia: 3 for 3, 2 R, 1 BB
Run-Elvis: 4 IP, 2 H, 2 R, 2 ER, 4 BB, 2 K, 2 WP, 1 E (throwing), 7-3 GB/FBÂ - 94 pitches in 4 innings? at least he's more economical than Julio Lugo's contract (za-zing!)
Chris Britton: 2 IP, 3 H, 3 R, 3 ER, 1 BB, 0 K – 10 H & 6 ER in his last 6.2 IP…
Edwar: 2 IP, 1 H, 0 R, 0 ER, 2 BB, 3 K, 1 Balk - when you're this dominant, you've earned first-name-only status
Jim Brower: 1 IP, 0 H, 0 R, 0 ER, 0 BB, 1 K – didn't allowed a baserunner in 6 of his last 10 outings
By

Yankee Guy, the male half of Yankee Girl Vs. Guy blog, penned an amusing piece comparing the last 12 seasons of Yankee baseball to various hot and not-so-hot women. My favorite is Anne Hathaway as the 1996 season because of this. · (7) ·
We get a lot questions about Dellin Betances around here. "How do you pronounce his name?" is a popular one. As is "Where is Dellin Betances these days?" "What is he doing in Extended Spring Training?" is a popular one too.
Well, Mike's replacements at our former MVN home have the answers in an excellent piece they wrote after attending media day at the Staten Island Yankees' facility on New York's neglected fifth borough. Eric Schultz writes:
I know Wang was scheduled to pitch, and I know I saw the big Taiwanese man tossing from the mound. Why is it, then, that his pitching line looks absurdly abnormal?
8.2 IP, 6 H, 2 R, 2 ER, 1 BB, 10 K, 0 HR, 13-3 GB/FB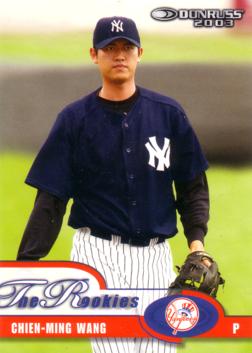 That was some performance tonight from Wang, eh? He mixed in change-ups, sliders, fastballs to keep the Mets hitters off balance. And nothing showed this more than Jose Reyes' wild swing at a change-up in the 8th in which the speedy lead-off hitter screwed himself into the ground. Wang was, in other words, nothing short of brilliant.
For Wang, it's been a long time coming. Now, that isn't to say that he hasn't been brilliant in his three years with the Yanks. But as Mike pointed out in the comments to an early post tonight, Wang's minor league numbers showed a higher strike out rate. Yet, in the Majors, Wang has relied on his very effective sinker to become one of the game's premiere groundball pitcher; his career 2.93 GB/FB ratio certainly puts Kei Igawa to shame.
But his Major League strike out numbers have been abysmal. His career K/9 IP is 3.58. Because of this, Chien-Ming's critics have routinely predicted the ever-popular regression to the means for Wang. While some of the more astute analysts recognize that Wang's stuff — and his mid-90s sinker — will lead to success even without strike out rates, others feel that it was just a matter of time before the league managed to touch up Wang.
While the detractors looked right after the righties first few starts this year, the Wanger has really turned things around since April, and he capped off a stellar few weeks tonight against the Mets. Wang recorded 26 outs tonight: 13 by ground, 0 by sea, 3 by air and 10 by strike out. That is, of course, a career high. Wang used his sinker, a great slider and an effective change-up to keep the Mets guessing and flailing all night.
We've seen signs of this rise in strike out rates all season. He fanned 5 Red Sox and 6 Angels a few weeks ago. It'll be interesting to see how the season progresses with Wang. He's 6-1 over his last 7 starts with a K/9 IP of 5.4. That is a recipe for success.
Meanwhile, the Yanks head west with a 13-3 start to June. They're 3.5 games out of a playoff spot and are playing like the juggernaut everyone thought they would. These are good times for Yankee fans.